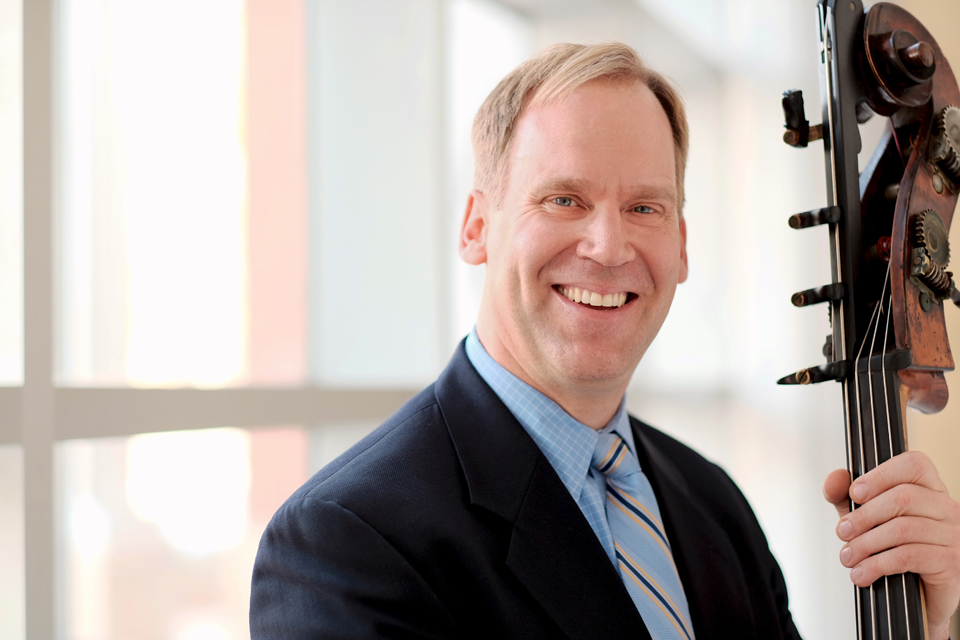 I enjoy teaching all levels of student. I love to find and nurture raw talent – it is particularly gratifying when the student has no idea that they actually are talented. I get a lot of pleasure from starting young students – even as young as seven or eight – giving them good playing habits from the start. Finally, it is extremely satisfying to have an already well-developed graduate student that I can refine into something great.
Simply, I love to teach. I think that shows. When I describe what I do for a living, I often tell people that I have a "dream job." I get to perform with fantastic colleagues, AND I get to work with talented students, each of whom is a unique gift and challenge (in the best sense of the word) that changes with each hour of my teaching day.
I work very hard to maintain each particular student's individuality as an artist. That said, I have always been very attracted to a beautiful sound. A bassist's sound should be their own – individual, effortless, an expression of their personality.
Career Highlights
Leaving Alaska, where I grew up, and attending the National Music Camp and Interlochen, MI in 1987 as a 17 year old. Being an Alaskan, I had no idea if I had any real competitive talent as a double bassist. This was relevant, because I'd just decided to attend Northwestern in the Fall as a double bass performance major. That decision felt like it was based on no real concrete information. Then, to be named principal bass of the World Youth Symphony Orchestra for 7 of the 8 weeks at Interlochen was incredibly encouraging and gave me a tremendous boost of confidence when I entered college as a bass major.
Winning a double bass fellowship in 1990 to Tanglewood Music Center and having the opportunity to perform as principal bass under Roger Norrington, and as a section bassist under Andre Previn, Seiji Ozawa, and in Leonard Bernstein's second to last concert. Bernstein's last concert was with the Boston Symphony Orchestra one week later. Another treat from that summer was performing Berlioz' Requiem with the Boston Symphony Orchestra as a member of their bass section.
Winning my first tenure-track job as a professor at Texas Tech University at the age of 26 in 1996, and moving to UNCSA in 2007.
Having the opportunity to perform with orchestras all over the nation and the world as soloist – from Brazil, to Alaska, to Texas, and most recently in 2015, with the Winston-Salem Symphony and Boise Philharmonic to perform a piece called Katabasis written for my cello/bass duo, Low and Lower, by the remarkable composer (and UNCSA faculty member) Lawrence Dillon.
Celebrating the 10th Anniversary of the Bad Boyz of Double Bass Quartet at the International Society of Bassists Convention in Colorado the summer of 2015. We are all past prizewinners of the International Society of Bassists Solo Competition, and it was great to perform together some of our greatest hits and new pieces for a large enthusiastic audience. I love each of these guys and it has been a pleasure to play with them all over the world.
Awards, Recognitions and Honors
Fellowships to study and perform at Tanglewood Music Center (1990), Aspen Music Festival (1996), Pacific Music Festival in Sapporo, Japan, (1992-1993), and the Festival Dei Due Mondi in Spoleto, Italy (1995).
Winner of the E. Nakamichi Double Bass Concerto Competition at Aspen Music Festival (1996)
3rd Prize in the International Society of Bassists Solo Competition (1997)
Organizations
International Society of Bassists
Suzuki Double Bass Committee