Meet the Lawrence Studio
Meet the Lawrence Studio
One of UNCSA's two violin studios is led by professor Kevin Lawrence and includes serious and gifted violinists from ages 15 to 26—a wonderfully diverse and hardworking group who enjoy each other and love the violin.
Lawrence's students have won first prizes in competitions sponsored by the NC Symphony, Winston-Salem Symphony, Charlotte Symphony, Raleigh Symphony, Durham Symphony and ASTA, and have performed in the finals of the Menuhin Competition, as well as the Hilton Head and MTNA competitions. Past students have continued their education at Juilliard, New England Conservatory, Yale, Mannes, Manhattan, Cleveland Institute, Indiana University, Peabody, McGill, and the Leipzig Conservatory.
---
Carlos Bardales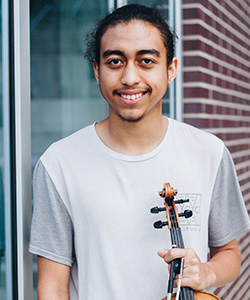 Carlos Bardales showed interest and promise in music from an early age, and began formal study in 2007 with Shelly Livingston. In 2011, after extensive study with Duke University String School pedagogue Dorothy Kitchen, Carlos began playing and performing with the North Carolina Symphony Triangle Youth Symphony; through this program he has been invited to perform at the Ovations! North Carolina Symphony pre-concert series. He now works with Professor Kevin Lawrence at UNCSA, as a college freshman. Through the generosity of Dorothy Kitchen, he plays a violin on loan from Duke University String School. Carlos has been a finalist in the Peter Perret Youth Talent Search Competition. He has attended music festivals including Greenwood Music Summer Camp (2013) and Green Mountain Chamber Music Festival (2015-17).
---
Charlotte Crater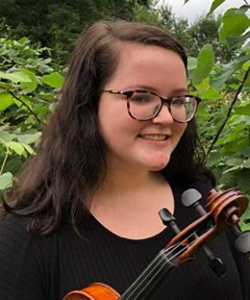 Charlotte Crater was born in Wilson, NC, and moved to Greensboro when she was three years old. Her first musical experience was picking up guitar at her school in kindergarten. She began to play the violin as she began fourth grade, through a program at New Garden Friends School, and the same year she also began to study piano at the Music Academy of North Carolina. Charlotte quickly realized that music, especially the violin, was a discipline she wanted to pursue. She participated in her school's orchestra, All-County Orchestra, Western Regional Orchestra, and also in chamber music groups through Triad Chamber Music's Young Performers Workshop in Winston Salem. She also participated in the Winston Salem Youth Symphony in tenth grade, which inspired her to consider UNCSA. Prior to her acceptance at UNCSA, Charlotte's violin teacher for five years was Jesse Suggs. She was accepted into Kevin Lawrence's studio as a High School junior, and is already seeing improvements in her violin technique, sound quality and general musical understanding.

---
Lucas Gerbe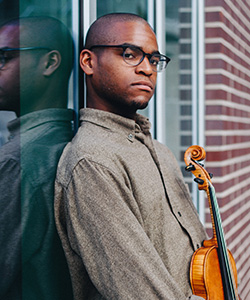 Lucas Gerbe discovered the violin as a first grade student in a class taught by Lorraine Westermark at St. Mary's Catholic School in his native Wilmington, NC. The following year be began private study with Redding Farlow Soderburg, and from his first year of high school he worked with the concertmaster of the Wilmington Symphony, Beverly Andrews. In his junior year of high school, Lucas was accepted into UNCSA to study in the class of Kevin Lawrence. Currently he is in his final year of undergraduate work at UNCSA, where he has performed as concertmaster and principal of the UNCSA Orchestra, and played in guest master classes given by UNCSA alumnus Jubal Fulks. For five summers, Lucas attended the Green Mountain Chamber Music Festival, where he has performed in a master class by Philip Setzer of the Emerson String Quartet. He plans to audition for University of Cincinnati's College-Conservatory of Music for Masters study. He has remained active in Wilmington, organizing and performing a recital to benefit St. Mary's fund for the needy in 2016, and for the Homes of Hope Orphanage in India in last year.
---
Amanda Goodwin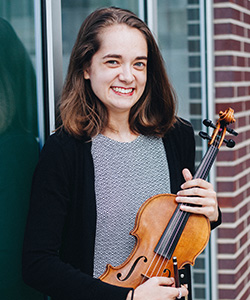 Amanda Goodwin is a graduate of James Madison University, where she received her Bachelor of Music degree in Violin Performance. During her time at JMU, she studied violin with Diana LeGrand and Dina Nesterenko. She has also had the opportunity to study with Rictor Noren, professor of violin at Boston Conservatory, and with members of the Philadelphia Orchestra at the Philadelphia International Music Festival, where she performed under renowned conductor Cristian Macelaru and studied chamber music with violist Renard Edwards. Currently she is pursuing a masters degree at the University of North Carolina School of the Arts in the studio of Kevin Lawrence. In addition to her studies, Amanda is also serving with ArtistCorps, an outreach program for high-need students in area public schools and community-based institutions, dedicated to strengthening community and learning through the use of music, movement and artistic creation. Ms. Goodwin is aspires to become a private teacher at the collegiate level
---
Ruth Kelley

Ruth started playing violin when she was seven years old at the Indianapolis Suzuki Academy. During her time there she participated in master classes by Zachary DePue and Nick Kendall, and placed in the Indiana State Young Hoosier Piano Competition (ragtime and contemporary divisions) three years in a row. After to moving to North Carolina, she studied with Rachel Watson and Katherine Wiley, and she has played for a number of theater performances and films. In the summer of 2017 she attended Vermont's Green Mountain Chamber Music Festival for the first time, and this past summer she attended the Sphinx Performance Academy in Chicago for the fourth consecutive year. This summer she will participate in the National Youth Orchestra USA, performing at Carnegie Hall, Tanglewood, and on a European tour to the Netherlands, Germany and Great Britain, supported by a complete scholarship from Carnegie Hall's Weill Foundation. Ruth is in her third year in the High School program of UNCSA as a student of Professor Kevin Lawrence.
---
Luca Kevorkian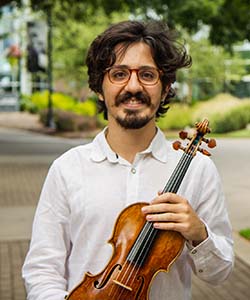 Luca Kevorkian grew up in Rio de Janeiro - Brazil, where he began his music studies in 2004 through the social project "Bem Me Quer Paquetá". At the age of 7, after hearing a string quartet performance, he fell in love with the violin and started taking lessons from UNCSA alumna Carla Rincón. He has performed as the concertmaster of Paquetá Youth Orchestra in the most acclaimed concert halls in Brazil and Germany, debutting works by several Brazilian composers. Luca has been awarded 2nd prize in the City of Fundão International Competition, held in Portugal in 2012, and 1st prize in the 15th Paulo Bosísio National String Competition, in 2013. He is also a 1st prize winner in the Chamber Music Competition of the 52nd Villa-Lobos Festival along with cellist Miguel Braga. Luca has played in many masterclasses held by violin teachers from Brazil and abroad, including Leon Spierer, Ole Bohn, Koh Gabriel Kameda, Matt Haimovitz, Pinchas Zukerman and Nadja Salerno-Sonnenberg. As a chamber music lover, he has been to Green Mountain Chamber Music Festival several times. There, he had the opportunity to meet Professor KevinLawrence, with whom he is happy to have begun his undergraduate college study this year. Luca is extremely grateful to all his teachers who shaped him to become the musician he is today. Through chamber music, he hopes to be able to change other children's lives as a community social project changed his.
---
Sarah Kissinger
Sarah Kissinger recently graduated from Macalester College with a Bachelor of Arts in Music, where she studied violin with Mary Budd Horozaniecki. At Macalester College, she was concertmaster of the Macalester Symphony Orchestra and a winner of the 2017 Macalester Concerto Competition, performing the Mendelssohn Concerto with the Macalester Symphony Orchestra. Sarah has also been honored with the Gateway Prize for Excellent Writing in the Arts, and the Lila Bell Acheson Wallace Endowed Prize. She has attended festivals including the Green Mountain Chamber Music Festival and has performed in master classes with musicians including Osmo Vänskä, Paul Watkins, Chad Hoopes and Harumi Rhodes. In August 2018, Sarah began study in UNCSA's Master of Music as a student of Professor Kevin Lawrence.
---
Wei Lin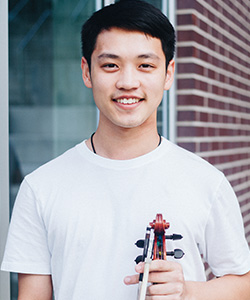 Wei Lin is a native of Beijing, China, and began his undergraduate study with Professor Hui Jin of Beijing's China Conservatory of Music in 2013. During his undergraduate years he was a member of the China Youth Philharmonic Orchestra; he also toured Italy with the group in 2015. While a student at the China Conservatory he joined the Echo Quartet, which was invited to perform in the German and Austrian embassies. He has won the China Conservatory Scholarship Award, the National Endeavor Fellowship and the Student Excellence Award of Beijing. In 2016, he won a full scholarship to attend the Asian Youth Orchestra, touring Japan, Singapore, Vietnam, China, Hong Kong and Taiwan. In August of 2017, Wei began graduate study with Professor Kevin Lawrence at UNCSA, where he also participates in the Chrysalis Chamber Music Program and has performed as concertmaster and principal of the UNCSA Orchestra. In 2018, he attended the Green Mountain Chamber Music Festival, where he performed in a master class for Paul Neubauer.
---
Jadyn Loftin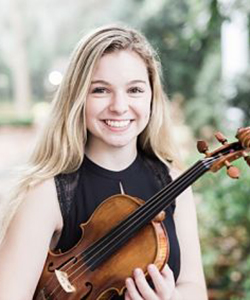 Jadyn Loftin began violin lessons at the age of eight with April McConnell in Hickory, North Carolina. Along with participation in her school orchestra program and in the Western Piedmont Youth Symphony, she has enjoyed playing weddings and other events with Deans Duets. Jadyn attended Salem Academy for her first two years of high school, and was excited to be accepted into UNCSA at the beginning of her junior year, as a student of Professor Kevin Lawrence.
---
Maitreyi Muralidharan
Critically recognized as "an accomplished violin soloist" (Classical Voice of North Carolina), Maitreyi Muralidharan is a 2018 graduate of the Peabody Institute, where she studied with Herbert Greenberg, and is currently enrolled in the Masters program at the UNCSA under the tutelage of Kevin Lawrence. Maitreyi has served as Concertmaster of Peabody's Symphony Orchestra, Chamber Orchestra, and Modern Orchestra. Raised in North Carolina, Maitreyi has been concertmaster of the NC Youth Sinfonietta and the Triangle Youth Philharmonic, with whom she performed as soloist. She has attended the Aspen Music Festival, Summit Music Festival, PRISMA, and Brevard Music Festival, where she also performed as concertmaster. An avid chamber musician, Maitreyi has performed with chamber groups in both national and international venues, including a chamber performance of new music this fall in Vienna, Austria.
---
Jose Olea-Vico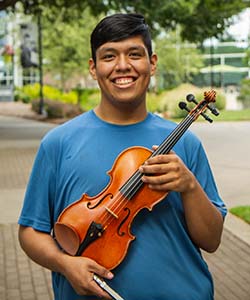 Jose Olea-Vico grew up in Winston Salem, N.C., and began playing the violin in 6th grade through orchestra classes offered in middle school. After years of school orchestra classes and self-instruction, he auditioned and was accepted into UNCSA's High School program, studying with Kevin Lawrence. After graduating from high school, he enrolled at East Carolina University, working with Ara Gregorian and Hye-Jin Kim for a year of undergraduate study. In the fall of 2017 he transferred back to UNCSA to continue work on his Bachelor's degree with Professor Lawrence.
---
Elena Schulmeister Antona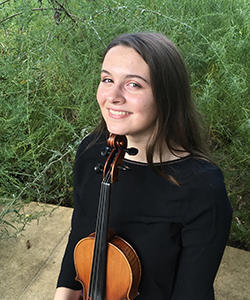 Elena Schulmeister Antona began formal violin lessons at the age of 5 at the Duke University String School in Durham, NC. She was a member of the DUSS Youth Symphony from 2013 to 2018. As a member of the DUSS Cantella String Quartet, she performed with Quartet members Ella Han, violin, UNCSA alumni Violet Huang, viola, and UNCSA alumnus Ben Maxwell, cello at venues including a Daedalus Quartet masterclass, as well as the NC Symphony's Ovation program. She served as concertmaster for the Riverside High School Orchestra and as first violinist for the Riverside High Quartet. She also enjoys playing with the Duke Wind Symphony Waltz Orchestra at the yearly Duke Viennese Ball. Elena has been a participant of music summer programs including Furman University's Summer Orchestra camp, the Austrian Summer Jazz Festival and the UNC-Greensboro Summer Music Camp, where she was selected to be concertmaster for the Junior Orchestra. This year, as a high school junior, she was accepted to the UNCSA high school program as a student of Professor Kevin Lawrence.
---
Dominique Valenzuela
Dominique Valenzuela is currently in his third year of undergraduate study at UNCSA. He moved from Texas to North Carolina to begin his training with Professor Kevin Lawrence at the age of fifteen, and has continued studying with him since. Dominique has served numerous times as concertmaster of the UNCSA Symphony, most recently under the baton of Karin Hendrickson in the school's production of Bernstein's Mass. In 2018 he joined the first violin section of the Winston-Salem Symphony and is now playing regularly with the orchestra. Along with Kevin Lawrence, Dominique's mentors include Muneko Otani and Nicole Johnson of the Cassatt String Quartet; he has performed in master classes given by Lina Bahn (University of Southern California), Lawrence Dutton (Emerson String Quartet), Andrew Irvin (Concertmaster, Arkansas Symphony) and Lewis Kaplan (The Juilliard School). When Dominique is not practicing, he studies history and politics, and he dedicates his efforts to Zanmi Beni in Haiti, an institution which houses young children orphaned by the earthquake of 2010. This summer he traveled with other artists to Haiti to work with the children at the orphanage; on his return he established a regular concert series in Winston Salem to raise awareness and support for the orphanage.
---
Bella Ward

Bella Ward is a college freshman from Chapel Hill, NC. She began playing the violin at the age of six, studying classical music with Elise Winters, Beth Blackerby, Leah Peroutka and Richard Luby. In middle school Bella was concertmaster of both of her school orchestras, and was also a member of the Mallarmé Youth Chamber Orchestra. Eager to continue her study of music at a higher level, Bella was accepted into UNCSA's High School program in 2014, studying with Kevin Lawrence and performing with the UNCSA Symphony Orchestra, in chamber ensembles and for master classes including those given by the Chamber Music Society of Lincoln Center. Over the summers, Bella has attended the Sun Valley Summer Symphony Music Institute, the Luby Violin Symposium, and Green Mountain Chamber Music Festival, where she performed in a master class by Soovin Kim. When Bella is not playing classical music she likes to write and perform original music with her family band.
---
Michele Zimmerman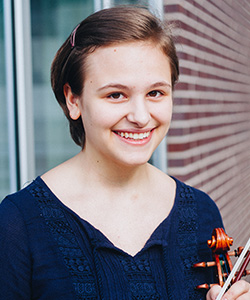 Michele Zimmerman began playing violin at the age of seven. After studies with Eric Pritchard, she came to UNCSA as a high school junior, and is now a third-year UNCSA undergraduate student. Some highlights of her musical career have included performing in master classes of Donald Weilerstein, William Preucil and Kevork Mardirossian, in quartet master classes given by the Chamber Music Society of Lincoln Center, serving as associate concertmaster and as principal of the UNCSA Symphony, and playing in combined UNCSA faculty/student chamber music performances. Michele has participated in the Luby Symposium in Chapel Hill and the Green Mountain Chamber Music Festival in Vermont. She especially appreciates the supportive, non-competitive atmosphere in Kevin Lawrence's studio at UNCSA.