Meet the Lawrence Studio
Meet the Lawrence Studio
One of UNCSA's two violin studios is led by professor Kevin Lawrence and includes serious and gifted violinists from ages 15 to 26 — a wonderfully diverse and hardworking group who enjoy each other and love the violin.
Lawrence's students have won first prizes in competitions sponsored by the NC Symphony, Winston-Salem Symphony, Charlotte Symphony, Raleigh Symphony, Durham Symphony and ASTA, and have performed in the finals of the Menuhin Competition, as well as the Hilton Head and MTNA competitions. Past students have continued their education at Juilliard, New England Conservatory, Yale, Mannes, Manhattan, Cleveland Institute, Indiana University, Peabody, McGill and the Leipzig Conservatory.
---
Ashley Abraham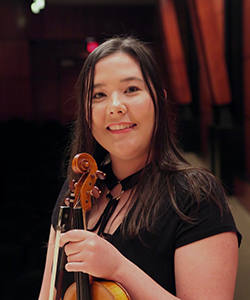 Ashley Abraham was born and raised in Miami, Florida, and began playing the violin at the age of 5. Her first serious musical experience was attendance at the Summit Music Festival in the summer of 2010, studying with her then-current teacher Misha Vitenson, first violinist of the Amernet String Quartet. In the summers of 2014 and 2015, she attended the Meadowmount School of Music, where she studied with Sally Thomas of The Juilliard School. Over the last three summers she attended Green Mountain Chamber Music Festival in Vermont. Prior to enrolling at UNCSA, Ashley studied at Biola Conservatory of Music with Elizabeth Larsen, and she has also studied with Cindy Camp. Ashley has participated in numerous master classes, playing for artists such as the late Zvi Zeitlin, concert violinist James Ehnes, Jubal Fulks, Frank Huang and Sergiu Schwartz. In August of 2018, she transferred to UNCSA to continue her bachelor's study as a student of Professor Kevin Lawrence. She has enjoyed their work together, appreciating in particular the ample opportunities to perform in master classes and concerts, as well as the positive and encouraging atmosphere Professor Lawrence's studio provides.
Ellie Dixon
Ellie Dixon is a high school sophomore from Charlotte, North Carolina. She has been playing the violin since the age of 5, beginning with renowned Suzuki teacher Geri Arnold. Ellie continued violin study with Charlotte Symphony member Kathy Jarrell until she played for Professor Lawrence in a master class and began regular lessons with him at age 14. Ellie has participated in many all-county, regional and all-state orchestras, such as the CMS All-County Honors Orchestra, the North Carolina Western Regional Honors Orchestra and the American String Teachers Association All-State Orchestra Festival. In 2019, Ellie won the Arts+ String Orchestra Solo Competition and was a Debbie Abels Strings Scholar. In 2021, she won the grand prize in the Junior Division of the Symphony Guild of Charlotte Young Artists Competition. This past summer she studied with Ann Setzer at the Meadowmount School, held online due to COVID-19. Ellie has enjoyed the numerous performance opportunities and the kind, welcoming environment at UNCSA, and she is grateful for the opportunity to continue studying with Professor Lawrence here.
Kennedy Graves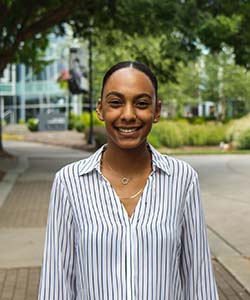 Kennedy Graves is a college junior from Cincinnati, Ohio. She discovered the violin and started playing the instrument at the age of 3, initially studying with UNCSA alumna Diana LeGrand. During her elementary years she participated in numerous Suzuki violin summer programs in Virginia, working with several different violin instructors. When she was accepted into Cincinnati's School for Creative and Performing Arts in the eighth grade, she resumed private lessons with Ms. LeGrand. Kennedy has performed in master classes given by Midori Gotō and Hillary Hahn. She participated in the Ohio Music Education Association's annual competition, earning the highest rating each year for five consecutive years, won the prestigious Corbett Mayerson Competition, and served as the concertmaster of the state ranked SCPA Chamber Orchestra. This past summer she toured the Virginia, Maryland and Washington, D.C. region as a member of the Pan American Chamber Orchestra, performing with Ms. LeGrand. Kennedy has greatly enjoyed playing chamber music as a member of several string quartets over the past several years. She is extremely grateful to all of the violin teachers who have helped shape her musical growth.
Ruth Kelley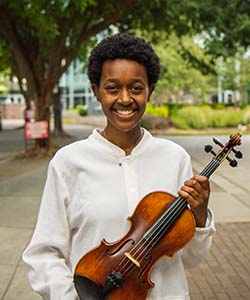 Ruth started playing violin when she was 7 years old at the Indianapolis Suzuki Academy. During her time there she participated in master classes by Zachary DePue and Nick Kendall, and placed in the Indiana State Young Hoosier Piano Competition (ragtime and contemporary divisions) three years in a row. After moving to North Carolina, she studied with Rachel Watson and Katherine Wiley, and she has played for a number of theater performances and films. In the summers of 2017 and 2021, she attended Vermont's Green Mountain Chamber Music Festival, and in the summer of 2018, she attended the Sphinx Performance Academy in Chicago for the fourth year. In the summer of 2019, she participated in the National Youth Orchestra USA, performing at Carnegie Hall, Tanglewood and on a European tour to the Netherlands, Germany and Great Britain, supported by a complete scholarship from Carnegie Hall's Weill Foundation. As a recipient of the William R. Kenan, Jr. Excellence Scholarship, Ruth is now in the second year of the UNCSA undergraduate program.
Luca Kevorkian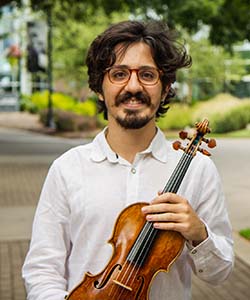 Luca Kevorkian grew up in Rio de Janeiro, Brazil, where he began his music studies in 2004 through the social project "Bem Me Quer Paquetá." Hearing a string quartet performance at the age of 7, he was immediately drawn to the violin and began lessons with UNCSA alumna Carla Rincón. Luca has been awarded first prize in the North Carolina Symphony's Kathleen Price and Joseph M. Bryan Youth Concerto Competition, the 15th Paulo Bosísio National String Competition, the Chamber Music Competition of the 52nd Villa-Lobos Festival, and won Greensboro's Euterpe Music Club Competition. Luca has played in master classes given by violin teachers including Leon Spierer, Ole Bohn, Koh Gabriel Kameda, Matt Haimovitz, Paul Neubauer, Nadja Salerno-Sonnenberg and Pinchas Zukerman. A committed lover of chamber music, he has attended Green Mountain Chamber Music Festival several times. There he had the opportunity to meet Professor Kevin Lawrence, with whom he began his undergraduate college study at UNCSA in 2018. Luca is extremely grateful to all his teachers who shaped him to become the musician he is today. Through chamber music, he hopes to be able to change other children's lives as a community social project changed his.
Finnian Long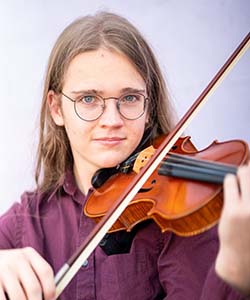 Finnian Long is a UNCSA high school senior, who calls Wilmington, North Carolina, home. As a toddler in Montreal, he began asking to play violin, and at age 5 was able to begin after-school lessons. After moving to Wilmington, he studied Suzuki method with Redding Farlow-Soderberg until the 6th grade when he began studies with Dr. Danijela Žeželj-Gualdi through the UNC-Wilmington Community Music Academy. He served as concertmaster for both the Wilmington Symphony Youth Orchestra and Junior Strings Ensemble, as well as his school orchestra, and participated in the Eastern Regional Orchestra. His time spent studying with Dr. Gualdi and attendance of Cannon Music Camp at Appalachian State helped convince him to pursue music professionally and audition for UNCSA. He is excited to be studying with Professor Lawrence and continuing to grow as a musician.
Jose Olea-Vico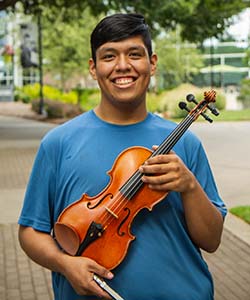 Jose Olea-Vico grew up in Winston Salem, N.C., and began playing the violin in sixth grade through orchestra classes offered in middle school. After years of school orchestra classes and self-instruction, he auditioned and was accepted into UNCSA's High School program, in the studio of Kevin Lawrence. After graduating from high school, he enrolled at East Carolina University, working with Ara Gregorian and Hye-Jin Kim for a year of undergraduate study. In the fall of 2017 he transferred back to UNCSA to continue study with Professor Lawrence; he graduated in the spring of 2021 and is now in his first year of the master's program here. Jose has attended the Luby Violin Symposium in Chapel Hill on scholarship, performing in a master class by Paul Kantor. His commitment to helping elevate the musical experience of others has led him to volunteer at Hanes Middle School, giving lessons to those who could not afford private study.
Christine Park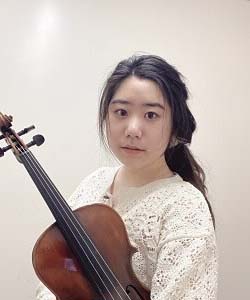 Christine Park was born in Sacramento, California, and grew up in South Korea, studying at the Peniel Middle School of the Arts. When her family returned to the US, moving to Raleigh in 2017, she continued to participate in musical activities as the concertmaster of her middle and high school orchestra, as a member of the Triangle Youth Symphony and the Triangle Youth Philharmonic, and as a member of the NC Eastern Regional, All-State and NC Honors Orchestra. In 2018 she performed in the NC Bach Festival Benefit Gala Concert, and played at Carnegie Hall in a summer program organized by the Honor's Performance Series. In 2020, Christine was selected for the North Carolina Governor's School West. After years of volunteering for music therapy and teaching assistance, she made the decision to dedicate herself to music, and came to UNCSA in the fall of 2020. In the summer of 2021, she attended the Green Mountain Chamber Music Festival in Burlington, Vermont. Christine is honored to work with Professor Kevin Lawrence, who has helped her tremendously in expanding her musical understanding and her capabilities as a performer.
Addien Quinn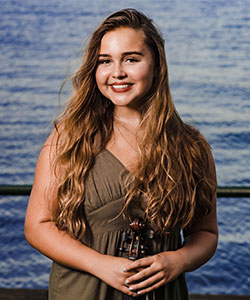 Addien Quinn fell in love with the violin while attending Merlefest with her grandfather as a toddler. She began playing the instrument at age 7 and has been involved in the performing arts ever since. In 2018, Addien became the fiddle player in "Strung Together," her family's band out of New Bern, which immersed her in an eclectic mix of Americana, folk, old-time and bluegrass music. She has performed with the band in music festivals extensively in North Carolina and has recorded several studio albums with them. She is grateful to "Strung Together" for fostering her connection with the violin and inspiring her to continue her musical development. Addien is filled with appreciation for the privilege of studying violin at UNCSA with Mr. Lawrence, to whom she is indebted for helping her grow significantly as a musician, and she is thrilled to be a part the challenging but welcoming environment she has found at UNCSA.
Keely Reitman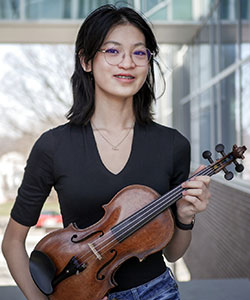 Keely Reitman is a UNCSA college freshman from Fort Thomas, Kentucky. Playing the violin has been a delight for her beginning with her participation in the string orchestra at her middle school, and she has enjoyed performing with numerous ensembles since. Keely has served as a soloist, concertmaster, assistant concertmaster and principal second with orchestras including the Highlands High School Chamber Orchestra, Immanuel School of Music Youth Sinfonia of Northern Kentucky, Kentucky All State Commonwealth Orchestra, Cincinnati Symphony Youth Orchestra and NAFME All-National Honors Symphony. She has performed in the Kentucky Music Educators Association Competition, earning the highest ratings for 5 consecutive years, and she has performed at the Kentucky Music Educators Association Convention. She has participated in several chamber groups with Immanuel School of Music Summer Chamber Ensembles (2017-2019) and in UNCSA SummerStrings (2017). Before beginning her study at UNCSA, she worked with Katharine Anderson, Michael Emmerich, Toby Goldstein, Stacey Woolley and Rachel Lee. Each has made a tremendous impact on Keely and she looks forward to further learning and growth in her work with Professor Lawrence.
Zandra Sain
Now a high school senior, Zandra Sain began study with Kevin Lawrence at UNCSA in 2019, following two years of formal instruction from UNCSA alumnus, Angela Watson. Zandra attended Northwest School of the Arts in Charlotte, N.C. for freshman and sophomore years of high school, during which they participated in several orchestra clinics and performed in the Charlotte Symphony Youth Orchestra SYP and the Youth Orchestra of Charlotte. From the beginning of high school, Zandra discovered a penchant for playing chamber music and in large ensemble, and looked for opportunities to perform with peers as frequently as possible. Having been enthralled by UNCSA's passionate and supportive community, Zandra intends to remain at the institution for college and is thrilled to have the opportunity to continue making music with the many talented musicians in the School of Music. In their free time, Zandra enjoys reading, drinking tea, making crafts and going for walks in nature.
Austen Speare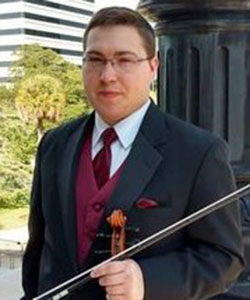 Austen Speare grew up in the small town of Irmo, South Carolina. Inspired by his grandmother, who had been a professional cellist for over 70 years, he began playing the violin at the age of 10. When he was 13, his talent was noticed by violinist Rebecca Hunter, who introduced him to Professor Neil Casey of the University of South Carolina. Over the next nine years, Austen studied with Professor Casey, and he received his Bachelor of Music in Performance from the University of South Carolina in 2019. He is now in the first year of study in the master's program at UNCSA, working with Kevin Lawrence. Austen has enjoyed performing as a member of several ensembles; he was a founding member of the Fine Thymes String Band and of the Havillten String Quartet, which was a prize winner in the Parker String Quartet Competition. At UNCSA he recently played the world premiere performance of a piano trio entitled "Journey of the Wood Thrush" by K. C. Pyle, commissioned by the Forsyth Audubon Society.
Nathan Thomeer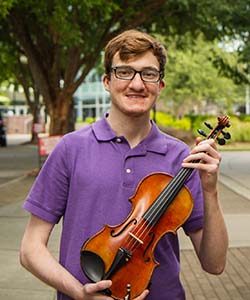 Nathan Thomeer is from in Buffalo, NY, and began playing the violin at the age of three. He received his undergraduate degree in violin performance from Baldwin Wallace Conservatory of Music, studying with Julian Ross, and he is now a first year graduate student of Kevin Lawrence at UNCSA. At Baldwin Wallace, Nathan was a finalist in the concerto competition during the spring of 2020, and served as concertmaster, assistant concertmaster and principal second violin of the Baldwin Wallace Symphony Orchestra. Nathan has participated in master classes with violinists from the Cleveland Orchestra, including Stephen Rose, Takako Masame and Miho Hashizume, and has also worked with Eric Wong, Alan Choo and Penny Kruse. Nathan attended Green Mountain Chamber Music Festival in 2018 and 2020, studying with Kevin Lawrence. In the summer of 2019, he was assistant concertmaster at the College Light Opera Company in Cape Cod, Massachusetts, where he had the opportunity to work with guest conductors including Andrew Bourgoin, Andrew Crust and Miles Plant.
Bella Ward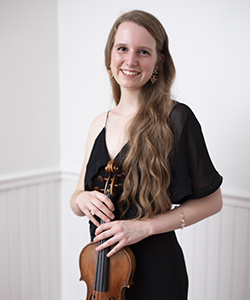 Bella Ward is a college senior from Winston-Salem, NC. She began playing the violin at the age of 6, studying classical music with Elise Winters, Beth Blackerby, Leah Peroutka and Richard Luby. Bella was accepted into UNCSA's High School program in 2014, studying with Kevin Lawrence and performing with the UNCSA Symphony Orchestra, in chamber ensembles and for master classes including those given by the Chamber Music Society of Lincoln Center. Over the summers, Bella has attended the Sun Valley Summer Symphony Music Institute, the Luby Violin Symposium and Green Mountain Chamber Music Festival, where she performed in a master class by Soovin Kim. When Bella is not playing classical music she enjoys writing original music with her family musical ensemble, Water the Band, whose first album was released in 2020. Holding several leadership roles on campus, Bella has served as a Student Community Leader as well as an executive on the Student Government Association team.
Nicholas Williams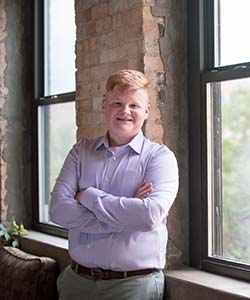 Nick Williams began playing the violin in the sixth grade. Inspired by his lessons with Joseph Walker, he began to consider music as a possible career and auditioned for all ensembles available to him, such as JERO, and his All-County Orchestra. In eighth grade, he was honored to be concertmaster of the Junior Eastern Regional Orchestra, and he served as concertmaster of his All-County Orchestra last year. He enrolled at UNCSA last year as a high school senior, and is now continuing studies in the undergraduate music program with Professor Lawrence in his quest to become a fine violinist.