Meet the Studio
Meet the Studio
One of UNCSA's two violin studios is led by professor Kevin Lawrence and includes serious and gifted violinists from ages 15 to 26—a wonderfully diverse and hardworking group who enjoy each other and love the violin.
Lawrence's students have won first prizes in competitions sponsored by the NC Symphony, Winston-Salem Symphony, Charlotte Symphony, Raleigh Symphony, Durham Symphony and ASTA, and have performed in the finals of the Menuhin Competition, as well as the Hilton Head and MTNA competitions. Past students have continued their education at Juilliard, New England Conservatory, Yale, Mannes, Manhattan, Cleveland Institute, Indiana University, Peabody, McGill, and the Leipzig Conservatory.
---
Carlos Bardales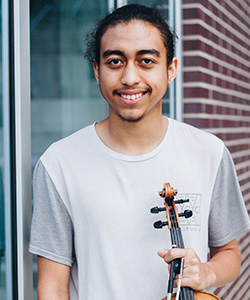 Carlos Bardales showed interest and promise in music from an early age, and began formal study in 2007 with Shelly Livingston. In 2011, after extensive study with Duke University String School pedagogue Dorothy Kitchen, Carlos began playing and performing with the North Carolina Symphony Triangle Youth Symphony; through this program he has been invited to perform at the Ovations! North Carolina Symphony pre-concert series. He now works with Professor Kevin Lawrence at UNCSA. Through the generosity of the Duke University String School Youth Orchestra, he plays a violin on loan from Duke University String School. Carlos has been a finalist in the Peter Perret Youth Talent Search Competition. He has attended music festivals including Greenwood Music Summer Camp (2013) and Green Mountain Chamber Music Festival (2015-17).
Phillipp Elssner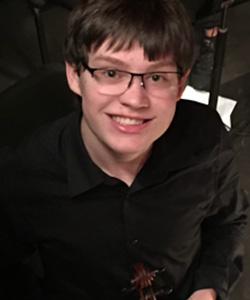 Philipp Eissner graduated from the UNCSA High School program in 2017, having spent his junior and senior year of high school as a student of Kevin Lawrence. In 2017, he won first prize in the North Carolina American String Teacher's Association Competition. With the support and dedication he found from the UNCSA faculty, Philipp made the decision to continue his violin studies and further his academic education at the Cleveland Institute of Music, developing his skills and technique under the tutelage of Jan Sloman. He hopes to one day be able to perform in a major orchestra. Philipp is grateful to the professors at UNCSA for their commitment to helping him grow as not only a musician, but as a person; without their contribution to his development, he would not be the musician he is today.

Lucas Gerbe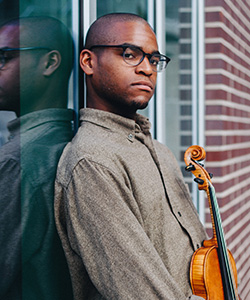 Lucas Gerbe discovered the violin as a member of a class given by Lorraine Westermark for first grade students at St. Mary's Catholic School in his native Wilmington, N.C. As Lucas' musical gifts became apparent, he began studying privately with Redding Farlow Soderburg, and from his first year of high school he worked with the concertmaster of the Wilmington Symphony, Beverly Andrews. In his junior year of high school, Lucas was accepted into UNCSA to study in the class of Kevin Lawrence. Currently he is a college junior at UNCSA, where he has performed as concertmaster and principal of the UNCSA Orchestra and performed in guest master classes given by UNCSA alumnus Jubal Fulks. Lucas attended the Green Mountain Chamber Music Festival from 2014-16. He has remained active in Wilmington, organizing and performing a recital to benefit St. Mary's fund for the needy in 2016, and for the Homes of Hope Orphanage in India in 2017.
Amanda Goodwin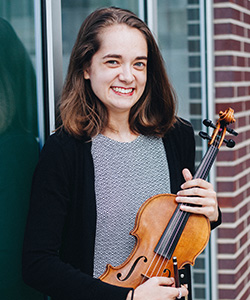 Amanda Goodwin is a graduate of James Madison University, where she received a Bachelor's degree in Violin Performance. She began study with Kevin Lawrence for her Master's degree in violin at UNCSA in 2017. During her time at JMU, she studied with Diana LeGrand, Wanchi Huang and Dina Nesterenko. She also gained orchestral experience under the direction of Dr. Robert McCashin, and chamber music experience working with Carl Donakowski. Amanda has also had the opportunity to study with members of the Philadelphia Orchestra at the Philadelphia International Music Festival, including violist Renard Edwards and renowned conductor Cristian Macelaru. Accepted as a member of ArtistCorps UNCSA, she is currently working with high-need students in area public schools and community-based institutions to strengthen community and learning through the use of music, movement and artistic creation.
Ruth Kelley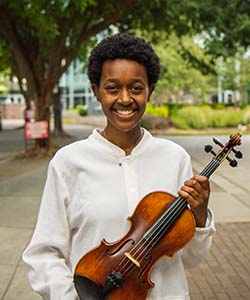 Ruth started playing violin when she was seven years old at the Indianapolis Suzuki Academy. During her time there, she participated in master classes led by Zachary DePue and Nick Kendall, and placed in the Indiana State Young Hoosier Piano Competition (ragtime and contemporary divisions) three years in a row. After to moving to North Carolina, she studied with Rachel Watson and Katherine Wiley, and has played for a number of theater performances and films. In the summer of 2017 she attended Vermont's Green Mountain Chamber Music Festival for the first time, and Sphinx Performance Academy in Chicago for the third consecutive year. Ruth is in her second year in the High School program of UNCSA as a student of Professor Kevin Lawrence.
Hannah Lee
Seventeen year old Korean-American violinist Hannah Lee is from Cary, N.C. At the age of five, she began her piano studies and she won first place in four consecutive North Carolina MTNA piano competitions. She began playing the violin at the age of nine. In her sophomore year of high school, she transferred from a public school to UNCSA as a violin major, to study with Kevin Lawrence in pursuit of a music career. In 2015, Hannah won first prize in the Raleigh Music Competition, receiving the Wieniawski Prize; as winner of the 2016-17 Peter Perret Youth Talent Search Competition, she performed as soloist with the Winston Salem Symphony in March of 2017. She has performed in master classes with Violaine Melançon, Ara Gregorian and Min-Young Kim of the Daedalus Quartet.
Andrew Licht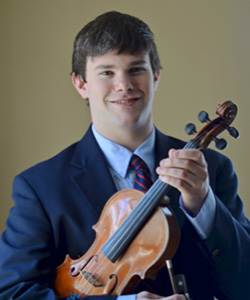 Andrew Licht is a native of Massachusetts, where he was involved in both the Boston Youth Symphony Orchestras and the Joy of Music Program Chamber Orchestra. He currently holds a Bachelor of Music degree in Violin Performance from the University of Massachusetts in Amherst, and a Master of Music degree in Violin Performance from UNCSA. At the University of Massachusetts, he studied with Elizabeth Chang, and received regular chamber music coachings with Juilliard Quartet cellist, Astrid Schween, and from Kathryn Lockwood of the Lark Quartet. While at UNCSA, Andy was a student of Kevin Lawrence, and received regular chamber music coachings from Dmitri Shteinberg and Eric Larsen. Andy is excited to be fulfilling a well-rounded career in music. He is currently a member of ArtistCorps, an Americorps program dedicated to bringing arts to youth through teaching and performing in local schools and community organizations. He primarily serves at Diggs-Latham Elementary School, Old Town Elementary School and the Salvation Army. Andy is also working as a violin teacher at the Winston Salem Symphony's Academy of Music and Dance. He performs around North Carolina as violinist for the Fayetteville Symphony Orchestra, and has appeared in concert with several other groups including the Long Bay Symphony, Opera Carolina, North Carolina Summer Rep and the Durham Savoyards.

Wei Lin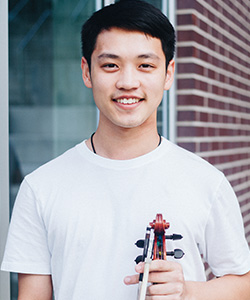 Wei Lin is a native of Beijing, China, and began his undergraduate study with Professor Hui Jin of Beijing's China Conservatory in 2013. During his undergraduate years he was a member of the China Youth Philharmonic Orchestra, which performed at the China Conservatory National Music Hall and the National Centre and Zhongshan Concert Hall. He also toured Italy with the group in 2015. While a student at the China Conservatory, he joined the Echo Quartet, which was invited to perform in the German and Austrian embassies. He has won the China Conservatory Scholarship Award, the National Endeavor Fellowship and the Student Excellence Award of Beijing. In 2016, he won a full scholarship to attend the Asian Youth Orchestra, touring Japan, Singapore, Vietnam, China, Hong Kong and Taiwan. In August 2017, he began his graduate study with Professor Kevin Lawrence at UNCSA, where he also participates in the Chrysalis Chamber Music Program.
Avital Mazor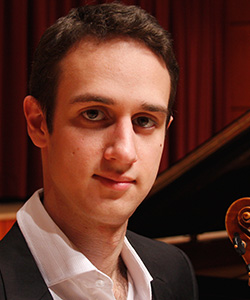 Avital Mazor has performed extensively in North America, Europe and his native Israel. Having begun his career as soloist at the age of 10 with the Holon Orchestra, his later solo engagements include the Emeritus Orchestra and the IASA Chamber Orchestra. In 2016 he won both the Audience Prize and the third prize of North Carolina's Rosen-Schaffel Competition. He served as concertmaster of the Israeli Youth Philharmonic Orchestra, the Jerusalem Academy of Music and Dance Symphony and the UNCSA Symphony Orchestra, and has played under the baton of conductors such as Zubin Mehta, Gustavo Dudamel, Ilan Volkov, Avner Biron, Frederic Chaslin and Michael Sanderling, with appearances in such venues such as the Berlin Konzerthaus, the Royal Albert Hall in London, Heichal haTarbut in Tel Aviv, the Jerusalem Congress Center and the Franz Liszt Conservatory Hall in Budapest. He has participated in numerous festivals throughout the world including Festival d'Aix en Provence in France, the Ravello Festival and Ravenna Music Festival in Italy, the Green Mountain Chamber Music Festival in the United States, and in Israel, the Jerusalem Chamber Music Festival and Keshet Eilon. A graduate of the Jerusalem Academy of Music and Dance, Avital received a Master of Music degree from UNCSA in 2017, studying with Kevin Lawrence. He is now a full scholarship post-graduate certificate student of Lucie Robert at the Mannes School in New York. He has participated in master classes with world-renowned musicians such as Miriam Fried, Ivry Gitlis, Vadim Gluzman, Shmuel Ashkenasi, Paul Watkins, Daniel Phillips, Ani Kavafian and Gyorgy Pauk.
Avital Mazor has been a recipient of the America-Israel Cultural Foundation scholarship each year from 2007 to 2017. From 2012 to 2015 he was granted a position of a "musician of excellence" from the Israeli Defense Force. His commitment to community engagement includes three years as a string ensemble coach and private violin teacher at the Ofakim Conservatory and hundreds of guided recitals throughout Israel with pianist Evgenia Podolich.
Jose Olea-Vico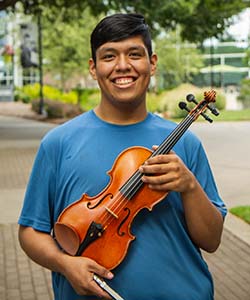 Jose Olea-Vico grew up in Winston Salem, N.C., and began playing the violin in 6th grade through orchestra classes offered in middle school. After years of school orchestra classes and self-instruction, he auditioned and was accepted into UNCSA's High School program, studying with Kevin Lawrence. After graduating from high school, he enrolled at East Carolina University, working with Ara Gregorian and Hye-Jin Kim for a year of undergraduate study. In the fall of 2017 he transferred back to UNCSA to continue work on his Bachelor's degree with Professor Lawrence.
Bella Ward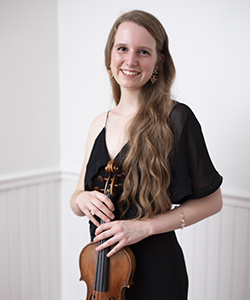 Bella Ward is a high school senior from Chapel Hill, N.C. She began playing the violin at the age of six, studying classical music with Beth Blackerby, Leah Peroutka and Richard Luby. In middle school Bella was concertmaster of both of her school orchestras, and was also a member of the Mallarmé Youth Chamber Orchestra. Eager to continue her study of music at a higher level, Bella was accepted into UNCSA's High School program in 2014, studying with Kevin Lawrence and performing with the UNCSA Symphony Orchestra, in chamber ensembles and for master classes such as those given by the Chamber Music Society of Lincoln Center. When Bella is not playing classical music she likes to write and perform original music with her family band. She plans to enroll at UNCSA for college.
Nicole Wendl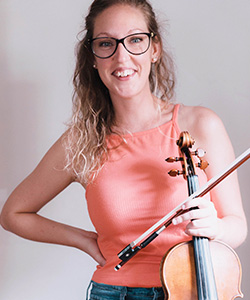 Violinist Nicole Wendl is an active orchestral player based in the greater Triad area of North Carolina. After completing a bachelor's degree studying with Carolyn Stuart in her native Florida, she earned a master's degree in Violin Performance under the direction of Kevin Lawrence at UNCSA. Currently she can be found playing in the sections of Greensboro Symphony, Fayetteville Symphony, Western Piedmont Symphony and Salisbury Symphony. As a freelance violinist, she has shared the stage with touring bands and musicians including Kansas, Alan Parsons Project, Idina Menzel and Natalie Merchant. During her two years at UNCSA as a member of the Giannini String Quartet, Nicole enjoyed extensive concertizing and teaching in Spain, performances in master classes by the Chamber Music Society of Lincoln Center and successes in competitions such as Enkor and MTNA.
Since 2014 Nicole has held the position of Resident Director at Green Mountain Chamber Music Festival, working closely with GMCMF Artistic Director Kevin Lawrence to ensure the festival's success. Most recently, she is the recipient of the Kenan Spotlight Fellowship, working to create a strong digital footprint for the string department of the UNCSA School of Music.
Anna Wright
High school sophomore Anna Wright came to UNCSA in the fall of 2017 as a violin major, studying with Professor Kevin Lawrence. She began her playing at the age of three, and has been studying ever since. Anna comes from a musical family; she grew up with four older brothers who each play a stringed instrument, and with two younger brothers and sister who play also. After teaching for many years from their home, Anna's parents recently opened a music school where Anna teaches violin and viola, as well as works as a receptionist to help manage the family business.
Xueao Yang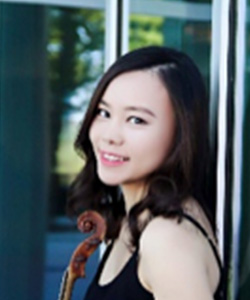 A native of China, Xueao Yang began studying the violin at age of four, and was accepted into the prestigious Central Conservatory of Music in Beijing at the age of twelve. After her first year of college at the Peabody Institute in Baltimore, she transferred to UNCSA, where she studied for four years with Kevin Lawrence and received an Artist Certificate in 2016. Xueao is currently continuing her study at McGill University as a student of Violaine Melançon, with the support of the Lloyd Carr-Harris String Scholarship and the Schulich Entrance Scholarship. She has performed in solo masterclasses for Donald Weilerstein, Peter Winograd, Lucie Robert, Qian Zhou, Ian Swensen and Daniel Philips. She has attended music festivals such as Pacific Music Festival, Madeline Island Music Festival, Zodiac Music Festival and Green Mountain Chamber Music Festival. In the summer of 2017, she was invited to participate in the McGill Chamber Orchestra mentorship program.

Michele Zimmerman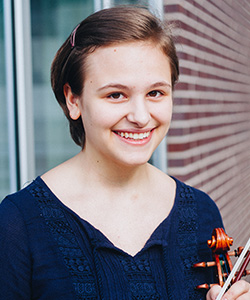 Michele Zimmerman began playing violin at the age of seven. After studies with Eric Pritchard, she came to UNCSA as a high school junior, and is now a second-year UNCSA undergraduate student. Some highlights of her musical career have included performing in solo master classes of Donald Weilerstein, William Preucil and Kevork Mardirossian, in quartet master classes given by the Chamber Music Society of Lincoln Center, playing as concertmaster and as principal of the UNCSA Symphony Orchestra and in combined UNCSA faculty/student chamber music performances. Michele has participated in the Luby Symposium in Chapel Hill and the Green Mountain Chamber Music Festival in Vermont. She especially appreciates the supportive, non-competitive atmosphere in Kevin Lawrence's studio at UNCSA.