Fifth annual High School Organ Festival and Competition to be held Jan. 29-31
Drawing on Winston-Salem's rich history and bounteous resources of pipe organs and organ music, the fifth annual High School Organ Festival and Competition will be Friday through Sunday, Jan. 29-31, 2016, sponsored by the School of Music, the Winston-Salem Chapter of the American Guild of Organists and Salem College.
This year's event commemorates UNCSA's 50th anniversary by offering a new prize: the $300 Margaret Sandresky Bach Prize, named for the university's first organ professor.
Festival Director Timothy Olsen, who is UNCSA's Kenan Professor of Organ and associate professor of organ at Salem College, said the festival will utilize three of Winston-Salem's exemplary organs, with recitals at UNCSA, Salem College and Augsburg Lutheran Church.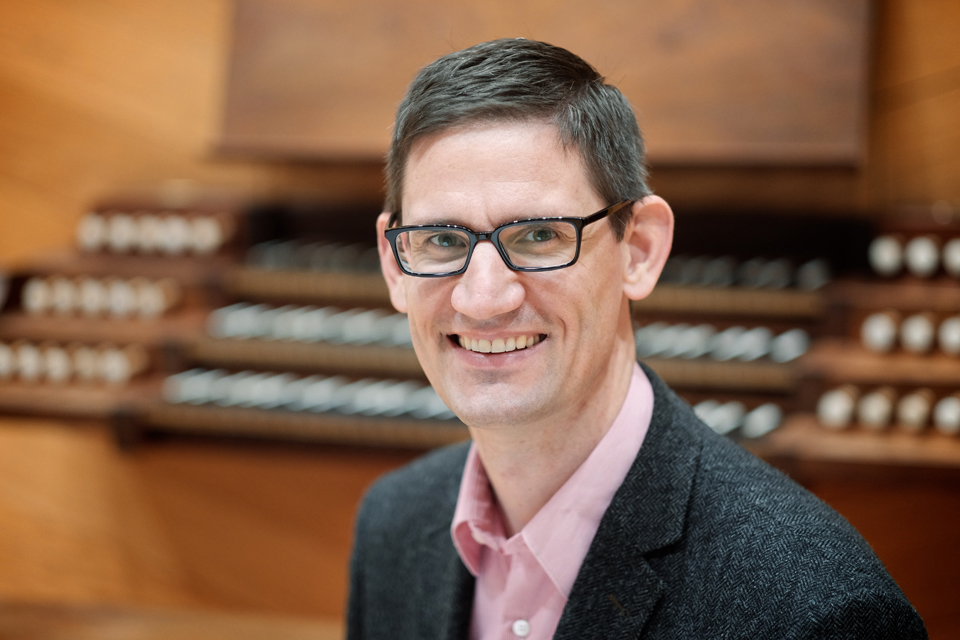 "Organ music is deeply woven into the culture and heritage of Winston-Salem," Olsen said. "Our High School Organ Festival and Competition highlights the abundant resources we have in this area, and offers a tremendous performance and learning opportunity for student participants."
The schedule includes recitals by organ students at UNCSA, students and faculty of Salem College, and seven competitors (from North Carolina; New Hampshire; New York; Tennessee; Connecticut; and Ontario, Canada). Recitals are free and open to the public.
Also on the schedule are master classes and workshops by local music faculty experts, including Olsen; Suzy Perkins, a violinist and instructor of Alexander Technique at Wake Forest University and Salem College; and Barbara Lister-Sink, artist in residence and professor of piano at Salem College.
Student competitors will perform two organ works – one by Bach and a hymn – to compete for prizes that include the Thomas S. Kenan, III First Prize of $2,000 or one year of in-state tuition to UNCSA; a second prize of $1,000 or a $3,000 scholarship to UNCSA; third prize of $500, sponsored by the W-S American Guild of Organists Chapter; the John and Margaret Mueller Hymn Prize of $350; and the Sandresky Bach Prize. All prize winners will receive a volume of Wayne Leupold's edition of the "Complete Organ Works of J.S. Bach." Leupold is a Colfax, N.C.-based author and publisher of organ music, pedagogical materials, books and hymnaries.
The schedule for the weekend follows:
Friday, Jan. 29
7:30 p.m.: Recital by UNCSA students on the Sarah Graham Kenan Organ, a 1977 Fisk organ, in Crawford Hall of Gray Building
Saturday, Jan. 30
10 to 11:30 a.m. and 1:15 to 3:15 p.m.: Competitors perform at Augsburg Lutheran Church, 845 W. Fifth St., on the 1968 Casavant with further modifications by Létourneau in 1997.
4 p.m.: Winners recital at Augsburg Lutheran Church
7:30 p.m.: Recital by students and faculty of Salem College on the 1965/2013 Flentrop organ at Shirley Recital Hall of Salem's Elberson Fine Arts Center, 500 East Salem Ave.
Sunday, Jan. 31 (all in Crawford Hall)
1:30 p.m.: Workshops on Alexander Technique by Perkins and injury-preventive keyboard technique by Lister-Sink
2:30 p.m. Master class with Olsen
4 p.m. Optional individual lessons with Olsen
Jan. 20, 2016