Athletic trainer at UNCSA receives statewide award
Athletic trainers at the University of North Carolina School of the Arts (UNCSA) are 2-0, according to the North Carolina Athletic Trainers' Association (NCATA). David Wilkenfeld, who has been with UNCSA Health Services since 2010, is the association's 2016 Athletic Trainer of the Year for Clinical and Emerging Practices. In 2014, Head Athletic Trainer Laura Santos received the award.
Emerging practices refers to work settings for athletic trainers that are outside the traditional field of intercollegiate and professional sports. In addition to performing arts, emerging practices may include military installations, industrial/occupational settings, hospitals and clinical environments.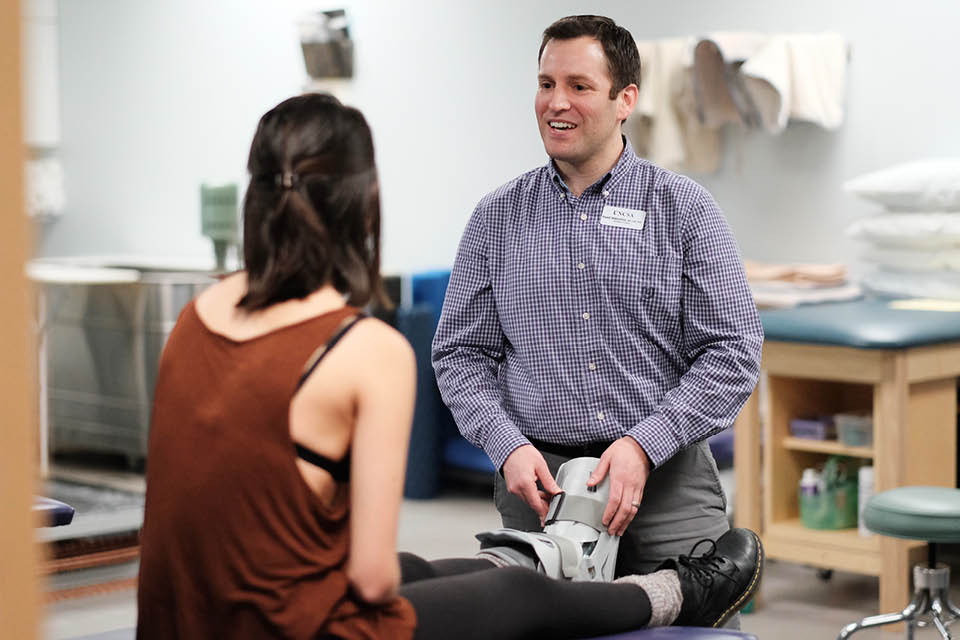 "In treating our performing artists, athletic trainers are dealing with acute and repetitive use injuries caused by factors such as the use of musical instruments, costumes, footwear, stage apparatus and performance props," explained Joe Rick, interim director of Health Services. "They create awareness and address health and performance issues like core strength and posture, body image and eating disorders, and the physical demands associated with rehearsal and touring."
Vice Provost and Dean of Student Affairs Ward Caldwell said the athletic trainers play a crucial role in keeping students healthy and strong. "They work closely with arts faculty and health care providers both on and off campus to help artists meet the physical demands of our rigorous training programs.
"Our staff is focused on teaching students how to be safe and to maintain their health and wellness," Caldwell said. "David has been a tremendous resource, and he is very deserving of this award."
Wilkenfeld is an alumnus of the North Carolina Athletic Trainers' Leadership Institute and currently serves as the emerging practices representative to NCATA board of directors. He is a member of the National Athletic Trainers' Association and will speak on clinical education practices at the association's Clinical Symposia & Expo in Baltimore June 22-25. He is a certified instructor for the American Red Cross and a member of the International Association of Dance Medicine and Science.
He is working toward an Ed.D in kinesiology at the University of North Carolina at Greensboro. He has an M.S. from the University of Tennessee at Chattanooga and a B.S. from the University of California at Davis.
June 15, 2016