Creating the sights and sounds of two Christmas film favorites
Clark Griswold's epic light display. Buddy The Elf's maple syrup addiction. There's something about a good Christmas movie—and its characters—that never gets old. Maybe it's their unfailing, endearing and, at times, overwhelming Christmas spirit that keeps us coming back to them year after year in pursuit of our own holiday cheer.
And for filmmakers who helped bring those classics to life, the nostalgia is twofold. From shooting in sub-zero temperatures to harnessing the power of the human voice, School of Filmmaking faculty members recall their work on two beloved Christmas films:
"

Christmas Vacation

"

was no vacation

For Cinematography faculty Tom Ackerman, there are several moments in "National Lampoon's Christmas Vacation" (1989) that stand out. As Director of Photography for the film, he recalls the challenges of shooting on the frozen ski slopes of Breckenridge, Colorado.

"As far as movies go, 'Christmas Vacation' was a pretty large undertaking," he says. "We shot the snow scene exteriors in Breckenridge." Anyone who's seen the movie will know about Clark's out-of-control sled journey down the side of the mountain.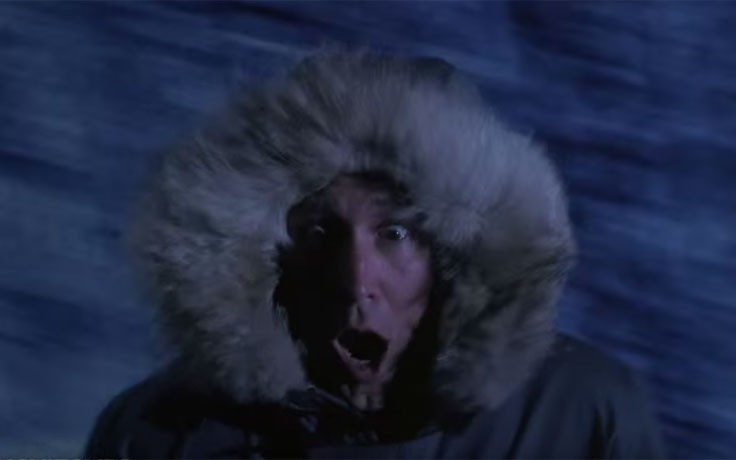 Sledding scene from "National Lampoon's Christmas Vacation" (1989).
"I recall the work in Breckenridge with a mixture of pride and pain," Ackerman says. "It was very difficult for the cast and crew. We were at over 10,000-feet in altitude and it was extremely cold." The work also required some challenging stunts by the crew using techniques like rear screen projection.
But the hard work ultimately resulted in the iconic scenes called to mind whenever one mentions the Christmas classic by screenwriter John Hughes. "John Hughes was a master storyteller," says Ackerman who also worked with Hughes on "Dennis the Menace" and "Baby's Day Out." "When he wrote a joke, it was a very visual joke. It had to be done very precisely with intricate camera work. He was our cheering section."
"The movie has a life of its own," Ackerman adds. "For many people, it's a family event that they wouldn't considering doing Christmas without—and that's very rewarding."
What's in a burp?
For Sound Design and Picture Editing faculty Wade Wilson, Sound Designer for "Elf" (2003), the film was all about the auditory—including that infamous 13-second burp.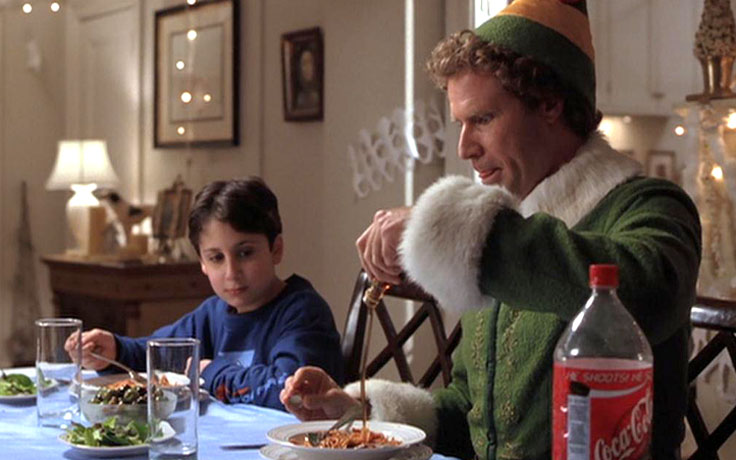 Burp scene from "Elf" (2003).
"I remember well creating the burp," Wilson says, "because nobody actually burps for 13 seconds." Even the best of belches, like the ones produced by downing a can of one's favorite soda, only last about three seconds.
The process started by trying to string together several natural burps in a design lab, but the effect wasn't quite right. The next step was to reach out to voice actors, including Maurice LaMarche—90s kids would recognize him as the voice behind The Brain from "The Animaniacs" and "Pinky and The Brain" or, more recently, Kif Kroker in "Futurama."
Apparently, as LaMarche once told A.V. Club, creating the sound of a sustained, deep burp is a bit of a lifelong hidden talent (one that got him in trouble plenty of times in fifth grade). So he was asked to come to the studio and do his thing. "He would sink his head down into his neck, and make a burping sound for several seconds," Wilson recalls. "He could only do about 10 in a row because it hurt."
Possibly one of the more lucrative burps in history, LaMarche said he still receives residual checks for the uncredited belch each year.
But despite the amount of work that went into it, the burp isn't even Wilson's favorite sound associated with the film. Neither are the numerous sounds—the Clausometer, sleigh bells, horses' hooves or reindeer—from the scenes with Santa's sleigh that he's fond of.
"I remember attending the premiere at the Director's Guild and hearing the laughter of the audience," he says. "It is one of the few films I've worked on that I watched after and laughed. I remember thinking, 'This is special.'"