UNCSA gives students the edge in music performance
There is a silence before a music performance. A person coughs, a chair squeaks. Breaths are held. For some musicians, performing can be scary – causing sweaty palms, nausea, trembling. At UNCSA School of Music, students major in music performance. There are no minors in music or teaching degrees offered. As carefully as music students learns to play a piece, they are also taught how to perform.
Frequent performances help students become confident and comfortable in front of audiences. UNCSA offers many opportunities for students to strengthen their skill in music performance. Students receive weekly lessons and play in weekly master classes where they receive immediate feedback. As the musician develops a piece for a performance, the School of Music offers a chance to practice during a weekly Performance Hour, in which students play to all music students and faculty. There are wind and symphony orchestras, a jazz ensemble and several instrument ensembles to give students practice performing.
Music performance skills
"Having strong performance skills is the substratum of building a foundation in many careers in music," says Saxophone faculty Robert Young. "My students at UNCSA have many opportunities to sharpen these skills. There is the obvious participation in wind ensemble and jazz ensemble. Students also perform in saxophone quartets and mixed chamber ensembles throughout the course of their study. I try to encourage them to perform as much as possible because growth in performance is best learned by becoming more comfortable on stage."
Horn faculty Dr. Maria Serkin says her assignments consist of a variety of materials, which include transposition exercises and orchestral excerpts that will ground a musician's performance with strong technical skills.
"Transposition studies allow horn players to develop the most standard orchestral horn repertoire—they are currently working through rigorous transposition curriculum," Serkin says. "I also encourage students to audition for summer festivals, which require lengthy and challenging orchestral excerpts. Additionally, I occasionally involve guest artists for orchestral horn master classes and mock auditions."
A rigorous curriculum
UNCSA has a music program from 9th grade to graduate-level. Instruction is based on the skill level, not the academic level of the musician. In studios, academic levels are mixed as well as in the orchestras and ensembles.
I believe the music curriculum is more rigorous than when I was a student.

Kenneth Frazelle, (HS Music '74) Composition & Orchestration faculty
"I believe the music curriculum is more rigorous than when I was a student," says Composition & Orchestration faculty Kenneth Frazelle, who is also an alumnus of the school. "Counterpoint and aural skills have become their own classes; technology enables student to explore current implements in sound and gives them a taste of scoring for films. The music students themselves are far more diverse in their tastes and activities: many play in bands, sing in pop groups," he says. "I encourage arrangements of unique ensembles and music from the pop world in my Orchestration class."
A unique learning environment
The uniqueness of UNCSA is that the School of Music is one of five art conservatories on campus in Winston-Salem, N.C. This community of artists provides a rich environment to nurture creativity.
"As a 15-year-old high school student, I was fortunate to play for modern dance classes, write music for drama productions and work with visual arts majors," says Frazelle. "These kinds of interactions have a profound effect on how we connect sound, movement, color, space, and a deepening spectrum of emotional and spiritual insights."
Collaboration leads to success
Whether through the School of Music or through meeting other students in a residence hall, students are encouraged to collaborate and thus increase the variety of music performance opportunities.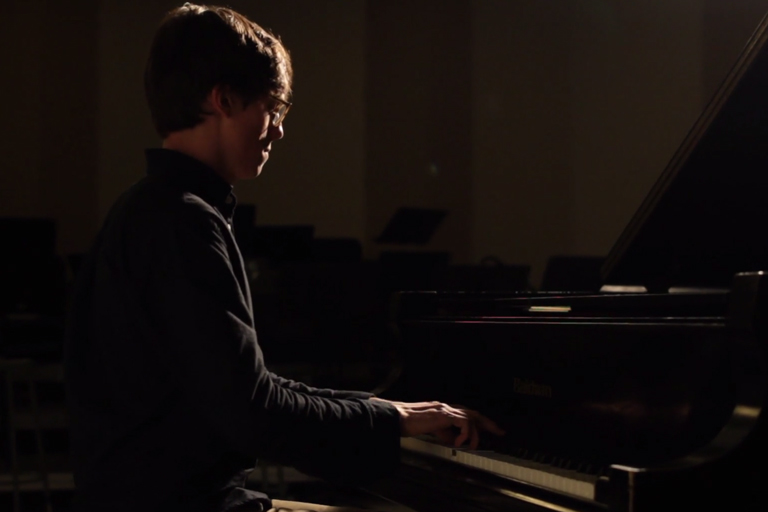 School of Music student Owen Dodds collaborated with the UNCSA Symphony Orchestra on Ravel's Concerto in the fall of 2016.
"Students are encouraged to imagine unique projects that involve other disciplines -- dance, lighting, drama," says Young. "As professional musicians, they will have to collaborate with others within one's discipline or cross disciplinary to birth their ideas. I am always grateful to see that UNCSA fosters this kind collaborative artist."
Serkin, who like the majority of the UNCSA music faculty continues to perform professionally, says that UNCSA sets the music student up for success in a variety of music performances.
"The opportunities at UNCSA mimic the opportunities a freelancer would encounter in a major metropolitan area," Serkin says. "Here, they have the opportunity to be involved with opera and dance productions, film recording sessions, Broadway musicals and dramas and innovative collaborations, in addition to standard orchestral, wind ensemble and chamber music experiences."