Grammy Award-winning chamber ensemble Eighth Blackbird performs at UNCSA on Oct. 5
Nationally acclaimed contemporary chamber ensemble Eighth Blackbird will perform at Watson Hall on the UNCSA campus on Saturday, Oct. 5.
Hailed as "one of the smartest, most dynamic contemporary classical ensembles on the planet" by the Chicago Tribune, Eighth Blackbird will also conduct a residency in the UNCSA School of Music during their visit.
The Watson Hall concert will begin at 7:30 p.m. Tickets are $25 for adults and $20 for students with a valid ID. Order tickets online or call 336-721-1945.
The program for Oct. 5 includes Nina Shekhar's "ice 'n' SPICE," Andy Akiho's "Karakurenai," Fjola Evans' "Eroding," Holly Harrison's "Lobster Tales and Turtle Soup," Molly Joyce's "Less is More," Viet Cuong's "Electric Aroma," Jonathan Bailey Holland's "The Clarity of Cold Air," and Julius Eastman's "Stay On It."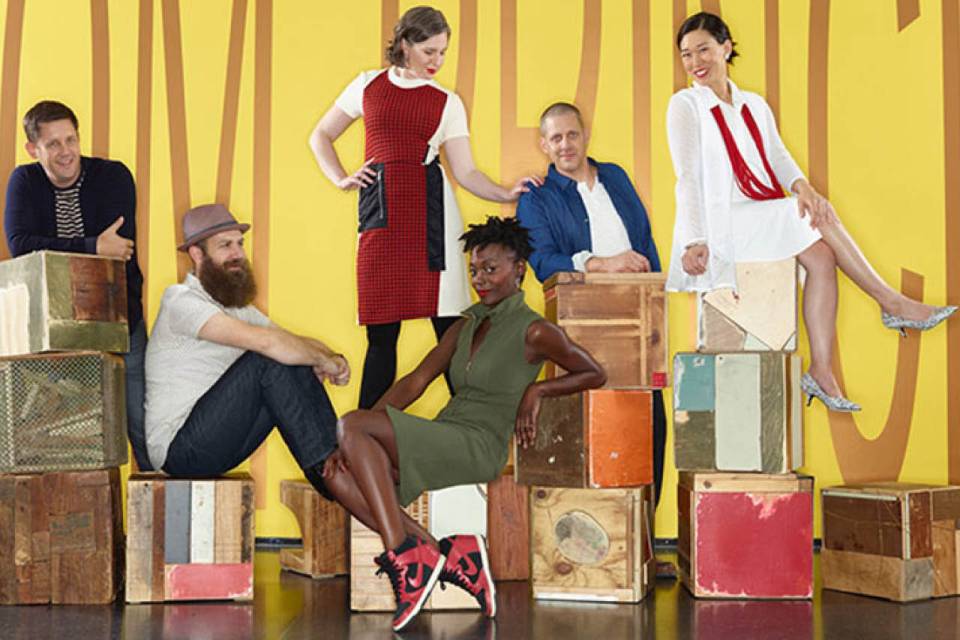 Eighth Blackbird's mission is to move music forward through innovative performance, advocacy for music by living composers, and its legacy of guiding an emerging generation of musicians.
The ensemble began in 1996 as a group of six entrepreneurial Oberlin Conservatory students and quickly became "a brand-name defined by adventure, vibrancy and quality," according to the Detroit Free Press. Over the course of more than two decades, Eighth Blackbird has continually pushed at the edges of what it means to be a contemporary chamber ensemble, presenting distinct programs nationally and internationally, reaching audiences totaling tens of thousands.
The sextet has commissioned and premiered hundreds of works by composers both established and emerging, and have perpetuated the creation of music with profound impact, such as Steve Reich's "Double Sextet," which went on to win the 2009 Pulitzer Prize.
The ensemble's extensive recording history, primarily with Chicago's Cedille Records, has produced more than a dozen acclaimed albums and four Grammy Awards for Best Small Ensemble/Chamber Music Performance. "When We Are Inhuman," their most recent album, was released on Aug. 30, 2019. "Singing in the Dead of Night," written for Eighth Blackbird by Michael Gordon and Pulitzer Prize-winning David Lang and Julia Wolfe, will be released on Cedille Records in spring 2020.
One of the smartest, most dynamic contemporary classical ensembles on the planet.

The Chicago Tribune
Eighth Blackbird first gained wide recognition in 1998 as winners of the Concert Artists Guild Competition. Since 2000, the ensemble has called Chicago home. Receiving the prestigious MacArthur Award for Creative and Effective Institutions, Chamber Music America's inaugural Visionary Award, and being named Musical America's 2017 Ensemble of the Year have supported Eighth Blackbird's position as a catalyst for innovation in the new music ecosystem of Chicago and beyond.
The name "Eighth Blackbird" derives from the eighth stanza of Wallace Stevens' evocative, imagistic poem, "Thirteen Ways of Looking at a Blackbird": "I know noble accents / And lucid, inescapable rhythms; / But I know, too, / That the blackbird is involved / In what I know."
Eighth Blackbird is involved in several activities with students during their Oct. 4-7 residency in the UNCSA School of Music. They include an interactive performance workshop, visioning sessions about conceiving and creating your own project, a recording session with student compositions, and coaching sessions.