Interactive "Soundscape" installation is open at Stevens Center through Feb. 25
Students in the School of Design & Production (D&P) have created an interactive installation, "Soundscape," that explores the information we exchange, the spaces where we exchange it, and the technology that assists that conversation. The installation is free and open to public viewing in the lobby space facing Fourth Street in the Stevens Center any time the box office is open (11 a.m. to 6 p.m., Monday through Friday and an hour before curtain at all UNCSA performances), through Feb. 25.
The exhibit consists of several scenes using media and visuals from the decades spanning 1920-2020, including a "dining table scene," "family room scene," "social club scene," "media hub" and "street scene," inviting viewers to create their own narrative as they walk through the space. Organizers compare the exhibit to an "escape room," where visitors discover a story in nonlinear fashion.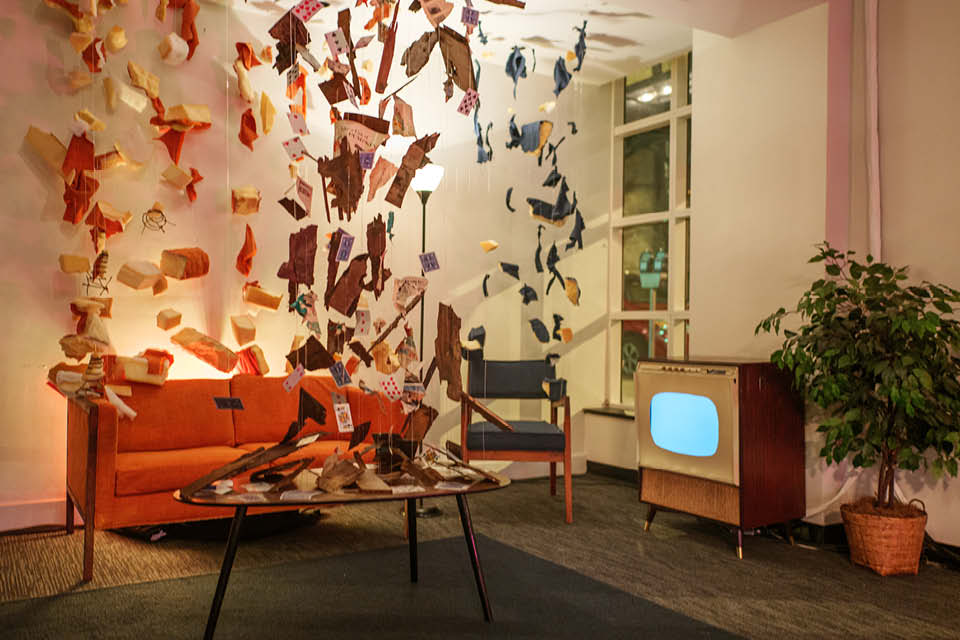 "We are thrilled to present the first ever "Soundscape" installation, conceived of and created entirely by students of UNCSA's School of Design & Production," said Jason Romney, director of the sound design program. "It is not often that D&P students' work is spotlighted on its own. This installation showcases the creativity and ingenuity – as well as technical and engineering skill – that goes into all our students do. These kinds of interactive spaces are happening all throughout the entertainment world and offer a wealth of opportunities for employment for our graduating students."
The installation, which students have been working on since September, comprises a variety of materials that are sourced from previous shows performed at UNCSA, donations from local stores and restaurants, as well as fully fabricated goods from the shops of Design & Production. Over 400 hanging points are used throughout the installation, with each line mapped out and prefabricated in the D&P shops on campus. A dinner table set for eight – custom-built by student artisans in the stage properties program – appears to fracture into the ceiling; the foam pieces of a chair – reupholstered to contain hidden rigging – are hung above it, giving it a deconstructed appearance. Viewers can press buttons on a computer to create sounds, and turn the dials of a radio to hear recorded programs. Notes on a desk provide clues to the "story."
Co-creators of the installation are: Nick Albanese, sound designer; Erin Morales, scenic designer; Adia Matousek, properties director; and Jake Frizzelle, show lighting designer. The creative team includes students from sound design, stage properties, lighting, and scene design programs.
Get the best news, performance and alumni stories from UNCSA.
SUBSCRIBE TO OUR NEWSLETTERS