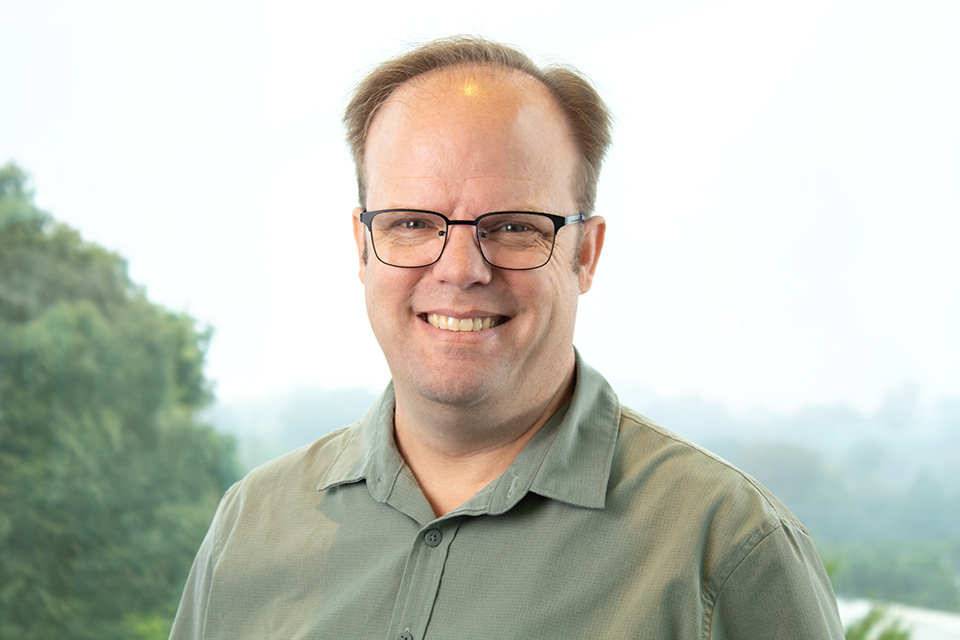 Director of Sound Design Jason Romney has taught courses in sound design and technology to students at UNCSA since 2001. He has supervised student Production Sound Engineers and served as an advisor.
Romney's Theatre Sound Design credits range across the country, from Florida to Maryland and Illinois, Vermont, Utah, North Carolina and more. In addition to teaching, he works on productions with local theatre companies and directs UNCSA's Quality Enhancement Plan.
I want my students to be able to accept any sound job they are offered, so I try to keep their education balanced equally in all the areas of specialization within theatre sound. Above all, I encourage them to be the kind of person that others want to work with.

Jason Romney

Jason Romney is one of the most inspiring professors that I have had the pleasure of learning from in all of my years of academia. He puts his whole heart into every lesson and I always feel like I come out of his classes, or any teaching moment that he willingly and excitedly takes the time for outside of class, with a new perspective on not only the particular subject, but a new way of thinking overall. … Jason teaches Sound Design, but he also teaches self-confidence, perseverance, and that your value is about who you are as a person.

Sound Design student

His teaching is well-planned and thoughtful, on top of being absurdly knowledgeable about the subjects he teaches. He maintains professional and personal relationships with his students in a way that makes every crew call or class a joy.

Sound Design student
Credentials
Sound Design experience with Children's Theatre of Charlotte, Imagination Stage, Alliance Theatre Company, Playmakers Repertory Company, Weston Playhouse Theatre Company, Florida Studio Theatre, Triad Stage, Piedmont Opera, Utah Festival Opera, Hot Summer Nights at the Kennedy, Elon University, Twin City Stage, No Rules Theatre Company and Unicorn Theatre Company.
Career Highlights
Part of a three-person team that developed the sound system diagramming guidelines for the United States Institute for Theatre Technology (USITT). These guidelines are now used by students and professionals all over the country.
Have designed the sound for many Theatre for Young Audience (TYA) productions, including a few world premieres, with some of the most respected TYA companies in the country, including the Children's Theatre of Charlotte and Imagination Stage.
Co-authored a book titled "Digital Sound & Music: Concepts, Applications, and Science." Available in print from Franklin, Beedle, and Associates and electronically at digitalsoundandmusic.com.
Awards, Recognitions and Honors
UNCSA Excellence in Teaching Award, 2019
Awarded a $500,000+ research grant from the National Science Foundation in partnership with a computer scientist at Wake Forest University to develop interdisciplinary curriculum that bridges the world of computer science, digital sound and music.
Nominated for 2014 Outstanding Sound Design for Musical Theatre – "The Secret Garden" and "Pinkalicious," Children's Theatre of Charlotte

Nominated for 2011 Outstanding Sound Design for Musical Theatre – "How I Became a Pirate," Children's Theatre of Charlotte
Organizations
Vice-Commissioner for Sound Awards at the United States Institute for Theatre Technology (USITT)
Theatre for Young Audiences USA
Theatrical Sound Designers and Composers Association (TSDCA)
Education
M.F.A. Sound DesignUNC School of the Arts
B.F.A. Theatre Design & ProductionUtah State University