The Evolution of Camille A. Brown
Choreographer, dancer and performer Camille A. Brown (Dance '01) has grit – and has recently claimed another Bessie Award nomination and her third Princess Grace award. Some might say she's lucky, but Brown and her teachers at UNCSA would say otherwise.
"As a young woman, from the very start she studied with an indomitable will, curiosity, careful note-taking and a very large gift for and love of dance," Contemporary Dance teacher Trish Casey says. "She was young, strong in mind and body, fearless of work and determined. She was very talented."
Like any other artist, Brown has had to deal with rejection. She will tell you she sat in the audience seats rather than being on stage during her early years at UNCSA.
"As dancers, we all experienced times when we were not the chosen one," Dean of the School of Dance Susan Jaffe says. "I have many of those stories too. Camille's story is inspiring to students and can help them persevere in times that are seemingly rough."
By her third and fourth year, Brown was cast in various pieces, including guest artist repertory and faculty pieces. It was in the school's rehearsal spaces, though – performing for herself – that she found her voice and started to play her hardest role – herself.
"The most life-altering things that have happened to me have been because of some sort of rejection," Brown says. "You can use rejection to liberate yourself. If I was immediately cast in things and just had it all when I first arrived at UNCSA, I don't know if I would have found and understood the importance of choreography. Your obstacles are just as important as your successes. Your obstacles are leading you into your successes."
Your obstacles are just as important as your successes. Your obstacles are leading you into your successes.

Camille A. Brown, first female choreographer Princess Grace Award recipient
Brown says she had always liked putting movements together, but didn't know exactly what that meant until she took the composition improvisation class at UNCSA.
"I learned to understand the meaning of actually having a voice and creating your voice. It gave me a certain freedom and a safe place," Brown says. "Even if I wasn't able to perform for an audience, I could still come to the rehearsal studio and perform for myself, create things and play."
Casey, who taught Brown in her first composition course of her curriculum, remembers her distinctly.
"Even then, in the early days when she was just beginning her training with us," Casey says, "she had the gift of 'drawing one in.' She was interested. Her work was interesting."
The creative track of UNCSA's Dance program, Casey says, "is the rich and excellent basis for young artist-citizens to begin finding their voice. The goal is to develop a well-trained dancer, one with stamina, resilience and versatility, who is resourceful and who is able to use his or her imagination for creative expression and problem-solving."
"To the degree that we are able to forge this curricular partnership with the students," Casey says, "they are primed to go out and begin to take on the challenge of further and more specifically shaping their identity by researching what matters most to them, and finding the 'spring' of their work. Camille Brown has done exactly this – IS doing exactly this."
Creating a trilogy
This quest for voice and identity weaves itself through Brown's choreography works. As a black female she is creating an identity trilogy of work that began with "Mr. TOL E. RAncE," for which she won a Bessie Award for Outstanding Production in 2014. "BLACK GIRL: Linguistic Play," which is nominated for a 2016 Bessie Award for Outstanding Production, showcases the rhythms and gestures of childhood play and explores black female identity. And as a 2016 John Simon Guggenheim Fellow, she will begin developing the third part of her trilogy, titled "Ink," which will premiere in late 2017 or early 2018. Separately, the three works will look like completely different pieces, but put together they are a commentary on race and perception from different lenses.
Meanwhile, Brown has been racking up numerous successes and accolades. In addition to her Bessie nomination and award, her award list includes:
2016 Jacob's Pillow Dance Award
2015 Ted Fellow
2015 Doris Duke Artist Award
2015 USA Jay Franke & David Herro Fellow
2015 Lucille Lortel nomination for Outstanding Choreography for "The Fortress of Solitude"
Two-time NEFA National Dance Project grant recipient
Three-time Princess Grace Award recipient for Choreography and for Works in Progress Residency and Statue Award
Sharing her experiences
The Queens native returned to UNCSA as a 2015 guest artist to teach two master classes and to talk with dance students about how her experiences at UNCSA helped her to become a success in the world of dance.
Though Brown's themes focus on identity and race, she advises young artists to talk about what they want to talk about through their art. Sometimes it's political, sometimes it is not.
"With 'BLACK GIRLS,' I knew I was going to talk about black girls and black women, but it took the creative process to actually figure out 'What about them?' You can go in so many ways," Brown says. "I thought there must be something else that I can still contribute to this political climate, but something that can make people feel good about who they are. I decided to talk about black girls from our authentic selves through game play."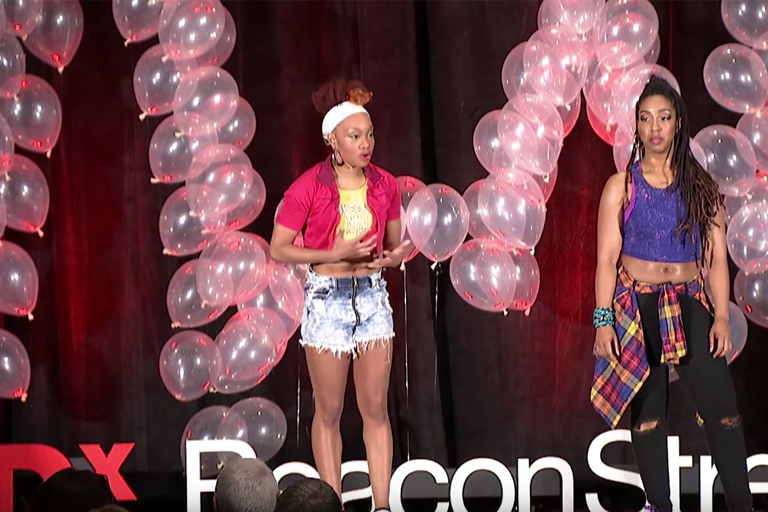 Camille A. Brown talks at TEDxBeaconStreetSalon about the creative process for "BLACK GIRL: Linguistic Play" and the experience that changed the direction of the process and her performance life.
"I believe healing is just as powerful as protest," Brown says. "Being able to laugh through your pain is just as important as your anger. We need all types of art to keep going."
Upon graduating with a Bachelor of Fine Arts degree from the University of North Carolina School of the Arts, Brown became a member of Ronald K. Brown's African-contemporary company until 2007. She won Hubbard Street Dance Chicago's competition for emerging dance makers at age 22. She received numerous commissions and formed her own company, Camille A. Brown & Dancers. Under her company, she not only has her own repertory, but she is also involved in choreographing theatre projects and has numerous community and social engagements initiatives. People are always evolving, she says, and she wants her works to show her evolution.
I want the piece I choreographed in 2016 to look different from the piece I choreographed in 2012. I want it to look like I have lived life within those four years. I want people to see my progression.

Camille A. Brown
"I want the piece I choreographed in 2016 to look different from the piece I choreographed in 2012," Brown says. "I want it to look like I have lived life within those four years. I want people to see my progression. What are the things that I have gathered in my life and my experiences that I can share on the stage? We are constantly works in progress."
Creating a work takes time – usually about one or two years. In the beginning, Brown spends time researching and exploring her theme. After about six months, she'll begin to work with the dancers in her company. She says she likes to marry structure with her creative identity and the creative identity of her dancers. The money that comes from her awards has freed her to do her art the way she wants to.
"She is an artist, choreographer and a performer. She is an activist, educator and an advocate for the power of art to reach and teach," Casey says. "For everything that has been a part of the recipe of Camille A. Brown, we are grateful and celebrate how she is using her art to make herself known in the world."