International choreographer Helen Simoneau on continued connections with UNCSA
UNCSA School of Dance alumna Helen Simoneau (B.F.A. '02) has had quite the busy year—performing in the Dance Stages Shanghai Dance Festival, choreographing for the Oregon Ballet Theatre and completing a residency at her alma mater, to name a few.
As the founder and artistic director of her own dance company, Helen Simoneau Danse, Simoneau has become a highly sought-after choreographer by companies, schools and festivals and has been described as "a choreographer-on-the-rise" with a style that is both "athletic and smooth" by Dance Magazine.
We caught up with Simoneau between projects to learn more about her time at UNCSA and how her career has grown.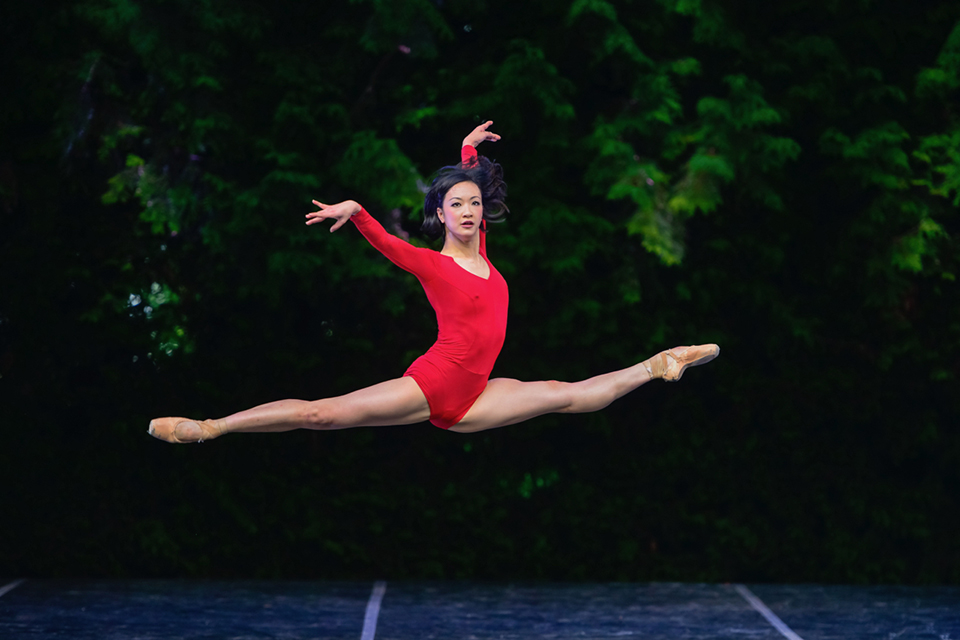 The Oregon Ballet Theatre performing "Departures" by Helen Simoneau. The work premiered at the Rose Garden Amphitheatre in Portland, Oregon.
Why did you choose UNCSA?
I was looking for an environment where I could receive good training. I was new to dance and had a lot to catch up on. Being around other dancers with a lot more experience and training was intimidating, but was exactly what I wanted. I knew it was the ideal place for me to grow.
What have been the most significant moments of your career so far?
One moment that stands out is when I won an international award for choreography. I presented a solo that I also performed at the Internationales Solo-Tanz-Theater festival in Stuttgart, Germany. This was back in 2009 as I was just getting started as a choreographer. This moment was pivotal and allowed me tour my work throughout Germany, Greece and Brazil. This solo has subsequently been performed in many other countries and helped me launch my career.
Do you have a favorite artist that you have collaborated with?
Nathalie Joachim. She's a composer I worked with for my first and only evening-length work, "Land Bridge." Nathalie graduated from Juilliard and is now based in Chicago. She is co-artistic director and flutist of the four-time Grammy winning contemporary chamber ensemble Eighth Blackbird, and co-founder of the critically acclaimed urban art pop duo, Flutronix.
Editor's note: Eigth Blackbird is a frequent guest and collaborator with the School of Music.
Talk a little about some challenges you've encountered and how you overcame them:
One challenge for me was that when I arrived at UNCSA I really had no idea what I was doing. I was 17, had little to no dance training and English was very much a second language. Although I could speak it fluently, much of the casual ways people would talk, expressions and American slang, were completely over my head.
I had never taken classes conducted in English, and arrived in class to dissect a Shakespeare poem. It was overwhelming. Luckily, I found that everywhere I asked for help, it was given, either by my dance faculty, my English teacher Mr. Morgan or my peers. It was a competitive environment, but I was an underdog and that served me well.
Editor's note: Simoneau is originally from Quebec, Canada, and speaks French as her first language.
How did UNCSA prepare you for your career?
UNCSA gave me solid technical training. I started with none, but with the help of faculty who believed in me I was performing lead roles by my senior year. The amount of information I learned during those years is astounding. When I was in school, I never thought of myself as a technical dancer, but I noticed right away upon graduation and through summer programs that peers, teachers and choreographers commented on my training. They wanted to know where I had trained as they recognized a clarity to my movement that they identified as good technique.
Whether I was in NYC or Montréal, this happened regularly. Of course, from there I had to work on my artistry and confidence, finding my voice, all the things you learn post B.F.A. Really, the development of a dancer doesn't stop at graduation. UNCSA gave me a solid foundation that allowed me to tackle multiple styles of movement.
Do you have any connections you made at UNCSA that you still maintain today?
So many! I tell students when I teach to look around, as their classmates will be their initial network in the professional world. This is still true for me. When I started my company in 2009, almost all of the dancers were former UNCSA classmates. When I had my first show in NYC at Joyce SoHo, my former classmate Carrie Wood was my lighting designer. Some of the people I went to school with are still my closest friends. It is not uncommon to run into each other in NYC, one person rehearsing across the hall from the other, or at each other's shows. It's a community I am grateful to part of.
Talk a little about your close connection that you maintain with the school, coming back as a guest artist and working with students and recent graduates:
It has been a privilege to be invited back so often to work with the students. UNCSA is a unique place for me, a cherished environment that has served as an artistic home. I love working with the immense talent that resides there, and am grateful for the continued opportunity to teach and choreograph.
There is a special shorthand available to me with this program. It is, of course, different than when I was there, but essentially these current students are cut from the same cloth. When I teach, I also take class. Stepping back into Brenda Daniels' class, I relive all the lessons I learned and it only confirms how foundational my experience at the school was.