Megan West pursues her acting dreams on the set of multiple hit TV shows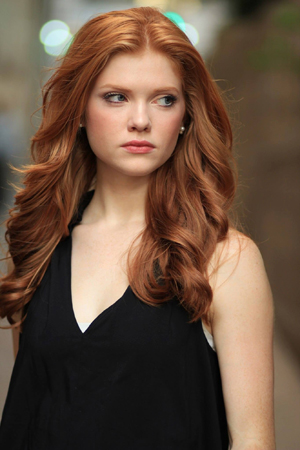 Megan West ('13) is on set and hears the lead actor doing voice warm-ups. Ahhh, now she feels at home. At least, that's what happened on the set of NBC's Constantine.
"Constantine was such an interesting experience," West remembers. She played Imogen, a fallen angel masquerading as a good angel in order to trick the leads, complete with unwieldy costumes and painted contact lenses.
"We were filming in a barn in Georgia. I was in a gown and heels, I had in contacts, it was impossible to see … everything was against me," she laughs. But the actors were welcoming and one in particular used that familiar technique. "The lead actor, Matt Ryan, was a theatre actor and he was doing voice warm-ups on set."
After being on the sets of several television shows, West has learned to watch each of the actors to understand and compare their different processes. "Matt was really using his words, being loud before a take. I was supposed to be this crazy character and it opened me up to realizing that it's okay to vocalize in the TV world."
It also helped her realize that the bag of tricks she brought with her to New York from the School of Drama at UNCSA could be very useful. "Other actors are fascinated by it," she says of her voice work, "and some people think it's weird. But then they see the process and how it affects you."
But it's the caliber of training at UNCSA that attracted her here in the first place. As a high school student exploring her college options, West was already a seasoned performer. She began acting at age 6 at HITS Theatre in her hometown of Houston, Texas, and attended a performing arts high school.
"My acting teacher told me about School of the Arts," she says. "It wasn't an option – she told me, 'You're going to audition for this school.' " West did audition here, along with 13 other schools, most of which she got in to. "When I visited and saw the performances and classes, the caliber of the training, the abundance of passionate students, I thought 'This is it.' "
At UNCSA, she was intrigued by Bob Francesconi's mask and movement classes. "They are like no other, I don't think any other schools have that," she says. "To have that freedom with your body is amazing."
That connection with her body helped her get through a particularly difficult and rewarding performance while she was still a student at UNCSA. "We were doing Comedy of Errors in a circus-style show," she remembers. "There were so many different elements – music, singing, dance – it really combined all of our training." Add to that one more element, West was sick with a 104-degree fever just before opening night. Even after putting off the show for a night, she took the stage in a haze. "I barely remember doing the show," she says.
Hanging from hoops and ropes during her monologue, she could feel her voice slipping. "But I had the training," she says. "I just kept thinking to myself, 'Breathe deeper.' " Not only did she make it through the show, but an agent who was in the audience that night told her she had a great performance. "He didn't even notice I was sick. That speaks a lot about the training at UNCSA. It was such a cool experience."
It's an experience she's carried with her to various sets and stages and one that's taught her to trust herself and her training. It's tricky, she says, coming onto the set of a television show like TNT's Public Morals or ABC's How To Get Away With Murder where the actors with recurring roles already have an established process. "You are coming into someone else's home and each set is different," West says.
Each set is different and so are the actors' personalities, sometimes in surprising and inspiring ways. On Public Morals, a 1960s mob drama, she played actor Brian Dennehy's granddaughter, sassy and spoiled Rosemary Patton.
I learned so much, a lot of small things," she says. In their scenes together, Dennehy had the option to do his coverage first and leave the set while another actor read lines with West. "But he said, 'No, I'm not leaving. That's not acting.' It was so refreshing to see an actor in his 70s who is still that dedicated and was willing to stay and work with me.
In addition to her television roles, West has spent time on the theatre stage. She's worked with the off-Broadway Classic Stage Company on the play A Month In The Country with actors Peter Dinklage, Taylor Schilling and Anthony Edwards, and is contracted for an upcoming play, Nathan The Wise. Her first independent film, The Eyes, a psychological thriller, is scheduled to be released in February.
Although the life of perpetual auditions, flying back and forth between New York and Los Angeles and always waiting for that next call can be exhausting, it can also be thrilling and West is amazingly upbeat. Auditioning for roles is a constant push-and-pull between hope and heartbreak, she says. "You have to be so vulnerable and dream about getting that role, or you won't be into it. But at the same time, you have to be willing to get your heart broken and accept that that's just not your story to tell."
It helps to have a strong community of UNCSA graduates with her in New York who are all going through the same thing, and one in particular, her boyfriend and fellow Drama alum Stephen Friedrich. "We have been dating since we were freshmen at UNCSA," she says. "We grew up together, and we know each other's quirks. He's an incredible actor and we are cheerleaders for each other." Plus, "I can't imaging dating a doctor and doing voice warm-ups," she laughs.
Meanwhile, she will keep up her pursuit of the creative life and reaching her artistic dreams. "There are so many different ways to live a creative life," she says. "I watch alumni come back and they all have such different careers, but everyone is happy and that's what I want to be."
It sounds like she is well on her way.