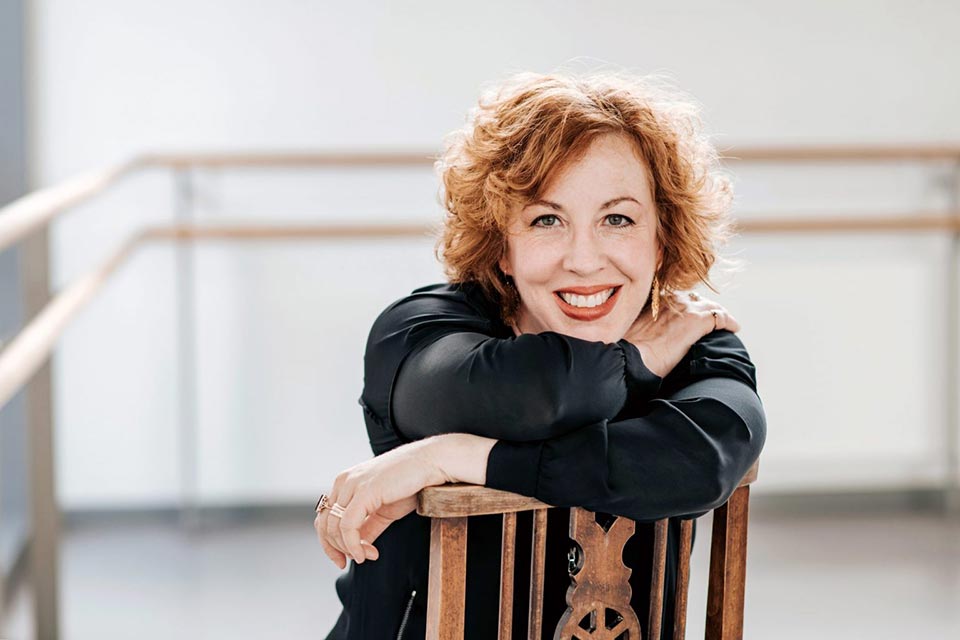 Helen Pickett is a San Diego, California native and has created over 40 ballets in the U.S. and across Europe. From 2012-17, she was Resident Choreographer for Atlanta Ballet. "The Crucible," her new full length work for Scottish Ballet, which premiered at Edinburgh International Festival, has won the UK Theatre Critics Award and the Herald Angel Award. The Guardian newspaper called it, "…a riveting gift of a show." Pickett also won Best Choreographer and Best Dance Production for her full length work, "Camino Real," in 2015 with art critic Manning Harris wrote that the work would "become a legend in the dance world." In 2014, she won Best Choreographer for "The Exiled."
In June 2020, Helen started work on "Home Studies: Dance for Film," a Zoom Choreography Triptych. She made this work from June through mid-August, for dancers from Boston Ballet, Royal Swedish ballet, Les Grands Ballet Canadians, Charlotte Ballet, Alvin Ailey American Dance Theater and Dance Theatre of Harlem. It was shown at Virtual Pathways Dance Festival in September 2020. In August 2020, Scottish Ballet premiered, "Trace," a duet created for film, in My Light Shines On: An Evening with Scottish Ballet for the Edinburgh International Festival.
Throughout her career, Helen choreographed work for: Boston Ballet, Royal Ballet of Flanders, Ballet West, Dance Theatre of Harlem, Semper Oper/Dresden Ballet, Vienna State Opera, Scottish Ballet, Pennsylvania Ballet, Kansas City Ballet, Oregon Ballet Theatre, Alberta Ballet, Tulsa Ballet, Charlotte Ballet, Atlanta Ballet, Washington Ballet, Aspen Santa Fe Ballet, Louisville Ballet, Ballet X and Smuin Ballet. In addition, she choreographed for the Chicago Lyric Opera, "Les Troyens," and, in London, an evening length, multi-media musical, "Voices of the Amazon."
The New York Choreographic Institute awarded her a Fellowship Initiative Grant in 2006. In 2007, Dance magazine named Helen one of 25 to Watch. She received a Choreographic Residency from Jacob's Pillow in 2008. Helen was one of the first choreographers to receive the Jerome Robbins Foundation's New Essential Works Grant.
Pickett has collaborated, as an actress and choreographer, with installation video artists and filmmakers including Eve Sussman, Toni Dove and Laurie Simmons. Pickett, a founding member of Eve Sussman's The Rufus Corporation, played the Queen in "89 Seconds at Alcazar," which premiered at the 2004 Whitney Biennial. Pickett also acted in Sussman's feature length film, "The Rape of the Sabine Women." She choreographed the bubble dance and played Sally Rand in Toni Dove's video installation and film, "Spectropia." Helen choreographed the dance sequences for Laurie Simmons' "The Music of Regret," which premiered at Museum of Modern Art in New York.
For over a decade Helen performed with William Forsythe's Ballett Frankfurt and, during her last season, simultaneously performed with The Wooster Group Director Elizabeth Le Compte, in the OBIE award winning "House/Lights" and "North Atlantic." From 2005-12, Helen reprised the speaking role, Agnes, as a guest artist with The Royal Ballet of Flanders, in William Forsythe's "Impressing the Czar." From 2013-17, Helen performed Agnes with Semper Oper Ballet.
Helen created a choreographic intensive for college age choreographers entitled, Choreographic Essentials, and a motivational creative workshop for the general public entitled Step into Courage. She has taught Forsythe Improvisation Technologies throughout the United States. In addition, Helen is a mentor to young choreographers, undergraduate and graduate students throughout the United States. She was Distinguished Visiting Artist at UNCSA from 2016-20.
Education
M.F.A. DanceHollins University