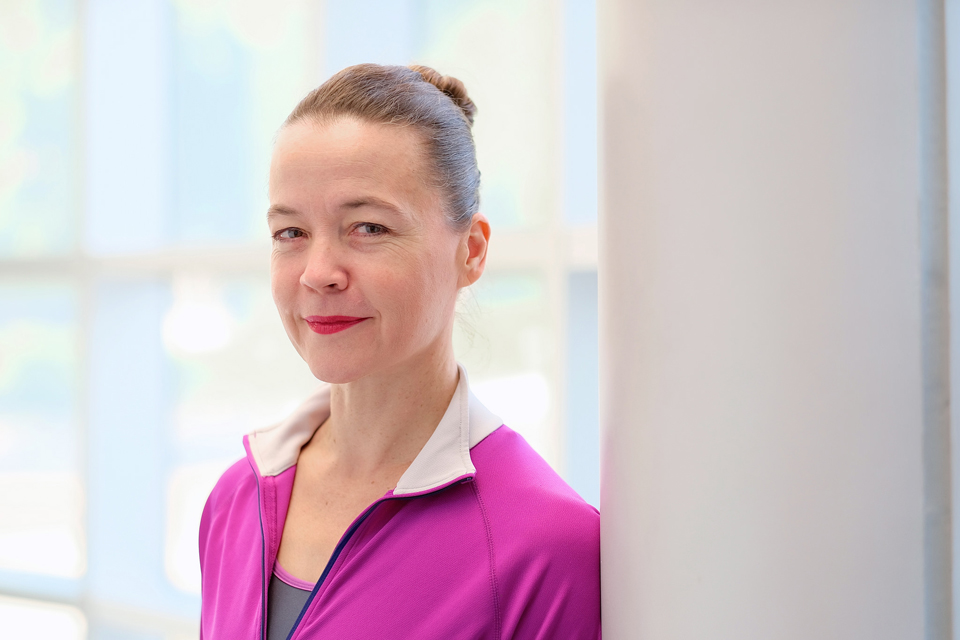 From the tradition of thorough training in the classical arts, I gladly carry forward the legacy of classical ballet shared with me by the great teachers with whom I have been fortunate to study. I endeavor to guide a dancer's development as a learner, an artist, and an individual, through careful and rigorous instruction in ballet's best techniques.
I work with students to develop a thorough understanding of classical ballet movement vocabulary. This mastery enables versatility and freedom of expression in performance; not only in Swan Lake, but also in a postmodern work by the likes of Merce Cunningham, or something as current as Dean Susan Jaffe's choreography. My objective is to train fluent dancers who understand the process of achieving different movement styles through mastering the refinement of classical ballet line and technique.
Education
Central Pennsylvania Youth Ballet Teachers Workshop
Maestro Enrico Cecchetti Diploma Awarded, England
Nancy and Murray Kilgour – Teacher Training
American Ballet Theatre ABT Certified Teacher – Certified to teach all levels of the National Training Curriculum developed and endorsed by the Jacqueline Kennedy Onassis School of Ballet at ABT
Professional Coaching – Elena Tchernichova of the Kirov, Georgina Parkinson of the Royal Ballet, and private training under Gilbert Mayer of the Paris Opera Ballet
Royal Ballet School – Graduate Certificate & Advanced Cecchetti Certificate, Honors. Two years training under the tutelage of Julia Farron, Nancy Kilgour, Lynn Wallis, Nora Roche, David Drew, and Richard Glasstone
Additional Ballet Training – Five years training with Olga Fricker and Sheila Darby, Los Angeles; Margaret Craske, New York.
Pilates Method Alliance – Certified Pilates Teacher
Kane School of Core Integration – Pilates Apparatus Certification; Pilates Mat Certification; Basic, Intermediate, and Advanced Choreography; Advanced Teaching Techniques
Robert Fitzgerald – Studied Pilates with Fitzgerald, who trained under Joseph Pilates, and whose focus was teaching dancers and injury rehabilitation
Wellesley College – A.B. cum laude
Credentials
Zerbe danced for eight years with American Ballet Theatre, under the direction of Mikhail Baryshnikov, appearing in all of the classical ballets in ABT's repertoire. Her roles included "Dance of the Big Swans" in Swan Lake, and the "Lilac Fairy" in The Sleeping Beauty. She danced many neoclassical ballets by George Balanchine, including the first principal couple in Bourrée Fantasque, as well as the postmodern choreography of Merce Cunningham: appearing in his Duets on the PBS series Dance in America.
Zerbe began her ballet training with Olga Fricker and Sheila Darby in Los Angeles. She then attended The Royal Ballet School in London, where she studied under Nancy Kilgour, among others. As a professional, she was coached by Elena Tchernichova from the Kirov, Georgina Parkinson of the Royal Ballet, and trained with Gilbert Mayer of the Paris Opera Ballet. After ABT, Zerbe earned her bachelor's degree from Wellesley College with honors, participated in the launch of the teacher training program at the JKO School at ABT, becoming an ABT® Certified Teacher for all levels, and earned her Maestro Enrico Cecchetti Diploma. Zerbe continued her training under Murray and Nancy Kilgour at the School of Alberta Ballet and proudly carries these pedagogical giants into her teaching at every opportunity. In addition to teaching both students and professionals, Zerbe coaches for competitions, and serves as Ballet Mistress in professional schools and companies.
Career Highlights
Working for and training to be a teacher with the most influential teacher of my development as a dancer.
Participating in the arc of development of students becoming professional dancers.
Dancing the "Lilac Fairy" with Cynthia Gregory as "Aurora" and with V.G. in the audience.
Being on stage at the Shrine Auditorium, Los Angeles, in the corp de ballet when Gelsey Kirkland and Mikhail Baryshnikov danced the second act of Giselle.
The exhilarating process of rehearsing and then performing "Odette" in Act II of Swan Lake at the Royal Ballet School.
… any moment in Leopold Allen's hair & make-up chair.
Awards, Recognitions and Honors
"…[Zerbe] is tall, dark, slender and gifted with the most beautiful classical line, expressive arms and lovely feet and legs. More importantly, there is a flow to her dancing, a sense of moving through the steps and of showing the choreography as a whole." Judith Cruickshank, The Times (London)
What Anna Kisselgoff called "Zerbe's … fleet nuanced dancing" earned her notice in Sir Kenneth MacMillan's Anastasia. The New York Times
"… It wasn't just [Zerbe's] mime, however, but her touching graveness, her unforced manners, and the sure-centeredness of her dancing that made her the best of the Lilac Fairies, the one who really brought home the meaning of this character." Joan Acocella, Dance Magazine, senior editor.