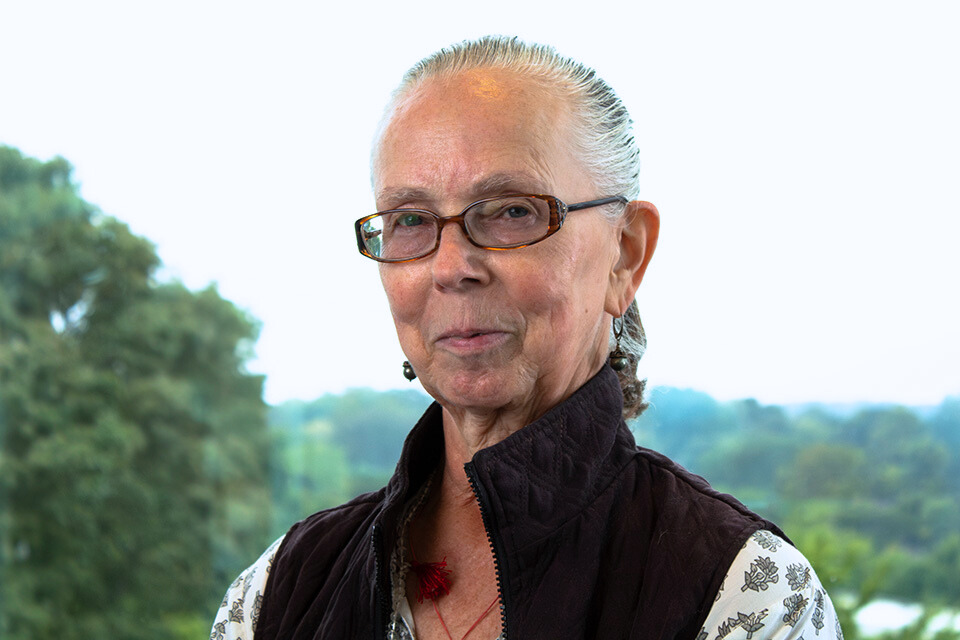 My approach to the training of aspiring dance professionals is one that relates the rigorous, risk-taking, and humbling endeavors of art (dance) training to the art of living. My teaching is very much about making connections within oneself as pertains to specific coursework, as well as crossing over the borders of other areas of study in their educational experience. This wider perspective of consideration and application across studies aids in the development of the artist as citizen.
Instruction is informed largely through imagery is offered to create alternate pathways of understanding to supplement and support more conventional language in training the dancer. The students are encouraged to enter into a journey of life-long learning and inquiry as they build a strong technical, creative and intelligent foundation in dance. This paradigm suggests fostering patience with "not knowing", and discovering a way of working with the whole of the self, even in such specialized circumstances, in a more mindful and curious manner.
I prepare my students by:
Addressing them as human beings who dance. First things first.
Encouraging them to consider the role and nature of an "artist"- one who is ever-curious, ever-noticing, ever-associative in their translation of what is happening around them into their developing artistic expression.
Showing them a great love of process.
Showing them a great love of learning.
Teaching them the value of a strong work ethic.
And, ideally, seizing any "teaching moment" to turn their thoughts to the question of authenticity. Someday, therein, will unfold their greatness, their true voice and their true beauty.
Credentials
Danced with the companies of Pauline Koner, Don Redlich and Marcia Plevin. Additional teaching credits include Victorian College of the Arts, Melbourne, Australia, University of Southern Mississippi, and Southern Methodist University. Directed creativity-based workshops for dance educators, choreographers and professional dancers in New Mexico, Texas and North Carolina. Special projects include "A Dance Gathering" in Dallas, Texas, which continues to serve as an annual event hosting professionals' work from around the country, as well as "Thinking, Making, Doing Together", a choreographic intensive for dance artists in collaboration with members of the Bill T./Arnie Zane Dance Company. Surrendering in a Champion's World, a dance film, choreographed and co-directed by Ms. Casey, received an award at the RiverRun International Film Festival and was later entered into the Santa Fe Film Festival.
Prior areas of concentrated study: Body-Mind Centering with Bonnie Bainbridge Cohen, Ideo-kinesis with the late Andre Bernard and Iyengar Yoga. Continuing education and mentorship: Irene Dowd in Neuromuscular Re-education/Functional Anatomy. Currently a Healing Touch apprentice working toward certification. She has been a member of the School of Dance faculty at UNCSA since 1989, where she teaches technique, composition/improvisation, other dance-related courses and choreographs.
Career Highlights
Long-standing vital connections with various alumni that are treasured both professionally and personally.
Working on many of the original choreographies created in my time here – especially my first, Blue Moon, Grove, and Surrendering in a Champion's World (Dance and Film version)
Travel/study/retreat to Scotland, Turkey, Brussels, Lithuania and Italy to connect, renew, converse and dream with colleagues from over 35 years of my professional life.
Continued study with teacher and mentor, Irene Dowd.
UNCSA Faculty Council Chair, two terms, and long-standing service to Faculty Council as School of Dance Representative.
Awards, Recognitions and Honors
UNCSA Teaching Excellence Award (1997, 2005)
North Carolina Board of Governors' Life-time Award for Excellence in Teaching (2005)