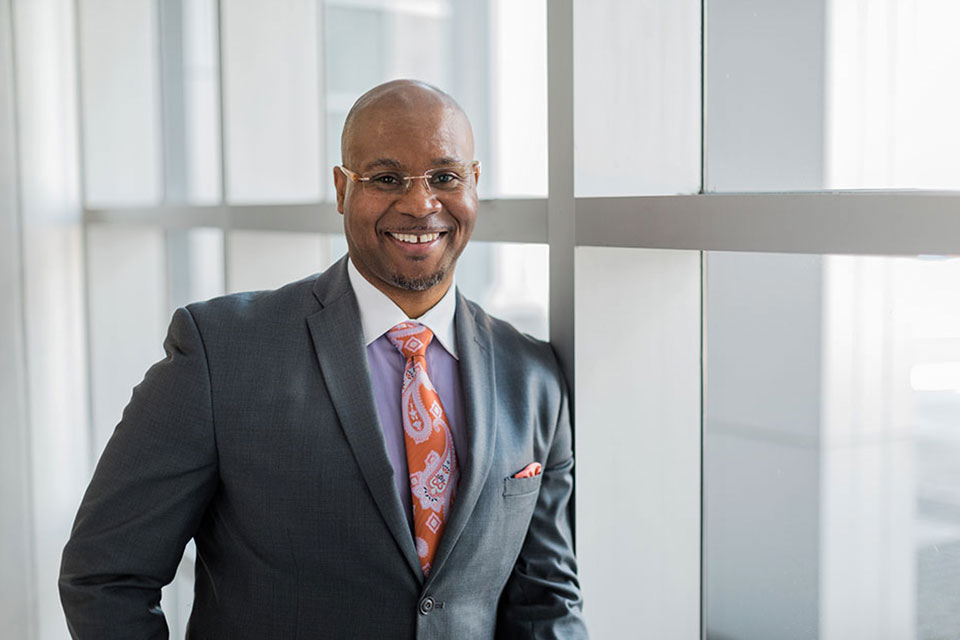 As the senior academic officer at UNCSA, Patrick J. Sims reports directly to the chancellor and provides overall academic leadership for the school's high school, undergraduate and graduate programs.
Sims joins UNCSA from University of Wisconsin–Madison, where he has served as Chief Diversity Officer (CDO) since 2013. Named Deputy Vice Chancellor for Diversity and Inclusion and Elzie Higginbottom Vice Provost in October 2018, he became the first endowed Chief Diversity Officer in the nation.
Sims' responsibilities as CDO included developing and implementing a campuswide vision for diversity, equity and inclusion (DEI). Notable achievements include increasing enrichment and support services for students who are first-generation, low-income, or from historically underrepresented communities; collaborating to develop recruitment and retention strategies for faculty and staff of color; and creating capacity-building experiences around DEI for all faculty, staff and students. Additionally, he led a shared governance process that resulted in the proposal and adoption of cultural competency resolutions for all employee governance groups and secured a unanimous endorsement of an institutional statement on diversity. He also helped to expand philanthropic support for the programs and the division.
His service at UW-Madison began in 2003 when he was brought in as a guest artist as part of the Lorraine Hansberry Project, which recognizes the contributions of Lorraine Hansberry and other Black women playwrights to American theater. A year later, he joined the Department of Theatre and Drama as an assistant professor where he created the Theatre for Cultural and Social Awareness, an interactive theater-based training model that dramatizes sensitive subject matters for universities, corporations and nonprofit organizations in the United States. During his time in the department, Sims became the first African American to move through the tenure and promotion process to achieve the rank of full professor; his research and scholarly expertise include acting, directing, devised theater and solo performance exploring the historical legacies of slavery and lynching in the United States.
He also served as a member of the core faculty for the First Wave Scholarship Program, the first academic scholarship program of its kind in the country that uses the principles and aesthetics of hip-hop as the anchoring philosophy for scholarly and artistic achievement. The program is nationally recognized for creating original performances that are as rigorous in their critique of social and racial injustice exploration as they are compelling works of art.
In addition to his work at UW-Madison, Sims was an education artist at the Oregon Shakespeare Festival and Milwaukee Repertory Theatre.
Education
Certificate, Management Development ProgramHarvard University
MFA Theatre, Professional Theatre Training ProgramUW-Milwaukee
BA Theatre Studies & PsychologyYale University