Filmmaking alumnus forges a trail with set design work on "Vacation," "Dirty Grandpa"
Nathan Krochmal is blazing a trail through the professional film world in a place that's known to some as the "Wild West" of filmmaking. No, it's not Los Angeles or New York – it's Atlanta – and for the talented 2014 UNCSA graduate, it's a land of opportunity.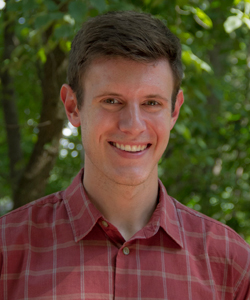 Krochmal, an alumnus of the Production Design program in the School of Filmmaking, has worked as a set designer on films such as "Vacation" and "Dirty Grandpa" and Tyler Perry's television series "If Loving You Is Wrong."
In fact, it was at Tyler Perry Studios where he got his start in Atlanta. "I connected with another alum from Design and Production, Sally Wood," he says. Wood ('86) works in the Art Department at Tyler Perry Studios and helped him jump headfirst into his career just after graduation.
His passion for filmmaking, though, began long before his career took off. "When I was in 8th grade, I would make backyard films instead of book reports," Krochmal remembers. "In high school my friends and I started entering film contests, and toward the end of high school we started winning."
It set him on the course toward a degree in filmmaking and he completed two years of a film and video production degree at a college in his home state of Michigan. As he dove deeper into the filmmaking experience, though, he realized he needed a program that was more intensive with the ability to specialize.
"My dad had a friend whose son went to UNCSA and I decided to check it out," Krochmal says. He did check it out, applied and was accepted, transferring to the school despite the fact that he would have to begin all over again as a college freshman.
He took it all in stride, embracing the fresh start. "It helped to set a new foundation," he says. "I really treated it kind of like a job. I came back and put the pedal to the metal."
It was one of the things he liked best about UNCSA, the ability to test his limits. "The school gives you the chance to push yourself as hard as you want to," Krochmal says. For him, that meant keeping busy while exploring the worlds of production design and art direction.
"I don't know of any other school where you get that kind of hands-on training," he says. It really hit home for him as he worked on a wintry scene for a student production, using dry ice and creating snow effects. "I think UNCSA definitely helps prepare students as well or better than other film schools out there."