Meet the Horn Studio
Meet the Horn Studio
Students in the UNCSA Horn Studio range from high school to graduate-level studies. The studio is led by Dr. Maria Serkin.
Maria Serkin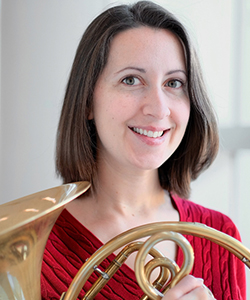 Maria Serkin is the Associate Professor of Horn and the Assistant Dean of Academic Affairs at the University of North Carolina School of the Arts. Previously, she held teaching positions at the University of Virginia and the New World School of the Arts in Miami. Dr. Serkin served as principal horn with the Florida Grand Opera, Palm Beach Symphony, Sarasota Orchestra, and the Charlottesville Symphony, and was a fellow with the New World Symphony. She earned undergraduate and graduate degrees from the Eastman School of Music and New England Conservatory, and a Doctorate of Musical Arts degree from the Manhattan School of Music.

Dr. Serkin has performed Boston Symphony Orchestra, Kansas City Symphony, Rochester Philharmonic Orchestra, Spoleto Festival USA, National Repertory Orchestra, Pacific Music Festival, Boston Early Music Festival, and was a fellow at the Tanglewood Music Center. Her New York and Miami recording credits include work with The Public Theater's Shakespeare in the Park, Gloria Estefan, and ESPN. Recent performance highlights include extensive work with the Palm Beach Chamber Music Festival, Palm Beach Opera, and the North Carolina Symphony. In July, she premiered Kenneth Frazelle's Hearken (Blue Ridge Airs III) at the 50th International Horn Symposium. An avid educator, Dr. Serkin has taught horn master classes extending from the Eastman School of Music and The Juilliard School, to the Hawaii Performing Arts Festival.
Elijah Barclift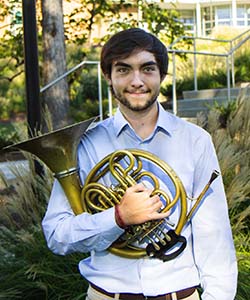 Elijah Barclift is from Greensboro, North Carolina and a high school junior at UNCSA. Elijah was recently named the 2021 North Carolina Representative for the Music Teachers National Association's Senior Brass Competition, the Northeast Horn Workshop High School Solo Competition Winner, and the Northwest Horn Workshop High School Low Horn Excerpt Winner and Solo Competition runner up. As a young freelancer, he has recently performed with the Raleigh Symphony Orchestra. Elijah was the principal horn of the North Carolina All-State Honors Band in the seventh, eighth, and ninth grades. Elijah's parents are band directors and were his first music teachers. Before coming to UNCSA, he studied with Dr. Mary Burroughs and Dr. Maria Serkin.
Gabrielle Figueroa-Diaz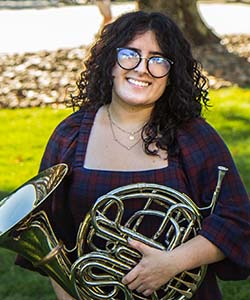 Gabrielle Figueroa-Diaz is from Miami, Florida and is a first-year undergraduate horn student at UNCSA. Prior to starting at UNCSA, she attended Interlochen Arts Academy and studied under Corbin. She also received additional training from Dr. Caiti Beth Mckinney (artist-in-residence with the Khaos Wind Quintet at the University of Miami). She has been playing horn for six years, and is an alumna of Miami Music Project, an El Sistema program spanning across South Florida. She has also performed with the University of Miami Honor Band in 2019 and 2020, and performed alongside New World Symphony in 2020. Outside of school, she enjoys drawing, reading, and writing.
Logan Fischer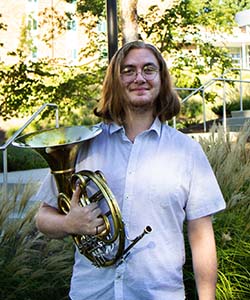 Logan Fischer, from Naples, Florida, is an undergraduate senior at UNCSA, pursuing a bachelor's degree in horn performance. Logan is an active freelance musician in North Carolina and beyond, and has performed with the Chamber Orchestra of the Triangle, the Raleigh Symphony Orchestra, and the Kentucky Symphony Orchestra. At UNCSA, he has enjoyed performing with the graduate woodwind quintet, various chamber ensembles, and the orchestra. He has spent summers at the Eastern Music Festival as well as the Philadelphia International Music Festival. Logan's principal teachers include Dr. Maria Serkin and Kirsten Bendixen-Mahoney, and additional studies with Joy Branagan and Ryan Little. His true love for music lies in the collective experience of chamber ensembles. When not performing he enjoys brewing coffeeand studying psychology.
Myles Moore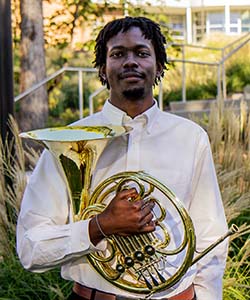 Myles Moore is from Charlotte, North Carolina and a first-year graduate horn student at UNCSA. Recently, Myles was a featured soloist at the North Carolina Choral Directors Association Conference in Raleigh. He enjoys performing with UNCSA's large ensembles and the graduate brass quintet. Prior to coming to UNCSA, he studied music education with a concentration in horn at Winston Salem State University. Myles plans to pursue his doctorate in music performance, and aspires to teach at the college level.
Cameron Pollard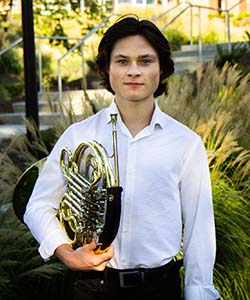 Cameron Pollard is originally from Gastonia, North Carolina and is a high school senior at UNCSA. He started his musical journey on the piano before starting the horn in the seventh grade. Cameron was appointed four times to the South-Central District Concert Band. In 2021, he won the principal chair position for the North Carolina All-State Concert Band. While living in Charlotte, Cameron was the principal horn player in the Youth Orchestra of Charlotte. Before attending UNCSA, Cameron studied with Frank Portone, former Principal Horn of the Charlotte Symphony Orchestra. Cameron aspires to pursue a career as an orchestral horn player.