Meet the Organ Studio
Meet the Organ Studio
Students in the UNCSA Organ Studio range from high school to graduate-level studies. The studio is led by Timothy Olsen.
---
Matthew Cates
Matthew Cates is an organist, pianist, harpsichordist, improviser and composer. He has performed in many venues across the United States and Europe, including the Washington National Cathedral, Duke University Chapel, Église de La Madeleine, Église Saint-Eustache de Paris, St. Bernard de La Chapelle, The American Cathedral of Paris and Notre Dame d'Auteuil, among others. Additionally, he has performed at the Flagler Museum in Palm Beach, Florida, and at West Point Military Academy as the "Class of 1936 Distinguished Organ Recital."
Matthew currently studies organ as a Kenan Organ Scholar at UNCSA with Dr. Timothy Olsen. He also studied at L'Académie Internationale d'Orgue in Paris, France. He has performed the complete works of Maurice Duruflé, and enjoys music from all periods; however, he finds the French culture the most natural and fluid for himself.
---
Carson Hayes
Carson Hayes gave his Carnegie Hall debut on the piano in 2014 as part of the InterHarmony International Music Festival's "Rite of String" recital series. He holds a bachelor's degree in piano performance from UT–Knoxville and a master's in piano performance from Florida State University. An active music festival participant, he's attended the Gijon International Piano Festival in Gijon, Spain, the Brancaleoni International Music Festival in Piobbico, Italy, and the InterHarmony International Music Festival in Arcidosso, Italy and Sulzbach-Rosenberg, Germany, among others.
He has performed in masterclasses for Andre Watts, Byron Janis and HJ Lim. In 2015 he won the FSU Young Artist Concerto Competition and Performed Rachmaninoff's First Piano Concerto with the FSU Philharmonia Orchestra. Carson began organ lessons in January of 2020 when he assumed music directorship of Parkway Presbyterian church. He now is in pursuit of a master's degree in organ performance at UNCSA where he studies with Dr. Timothy Olsen. He enjoys hiking, backpacking and spending time with his wife, Caroline, and their two-year-old son, Joel.
---
Joshua Sobel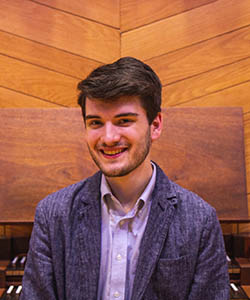 Joshua Sobel began playing piano at the age of three and organ at the age of nine. He has played a wide variety of organs at venues across the US and abroad. He has been praised by competition judges for his "ease and confidence" at the organ. A specific skill is improvisation—Joshua was improvising on the piano before he could read music. Joshua was awarded First Prize and Hymn Prize in the 2020 UNCSA High School Organ Competition, and subsequently decided to pursue his studies with Dr. Olsen at UNCSA. As a recording engineer, he has had recordings featured by the Organ Historical Society, the American Guild of Organists, the Oxford University Press and others. Other interests include aviation, spaceflight and developing new methods of music education.
---
Adam Waldo
Adam Waldo started experimenting on his own with different musical instruments in middle school, but only started pursuing music seriously when he began organ lessons at the age of 14. He entered into the UNCSA High School program as a sophomore, and after graduating he continued at UNCSA to pursue his B.M. studying organ with Dr. Timothy Olsen. What Adam finds most attractive about the pipe organ is the range of what it allows one to do on one's own. It has the ability to be very quiet and intimate while also being able to grow to overpower an entire orchestra. That range and diversity of the organ led Adam to write several transcriptions over the past years. To Adam music in its highest form is a way to express and feel those things which one does not allow oneself to express in daily life. It is through that expression that music can graduate from pleasant sound to art.
---
Jenna Waters
Jenna Waters is a second-year master's student at UNCSA, working towards a M.M. in Organ Performance. She received her undergraduate degrees in Sacred Music and Organ Performance from Lenoir-Rhyne University (Hickory, NC) in May 2020. Currently, she serves as the Director of Music at Mt. Olive Lutheran Church in Hickory, NC, and she is serving her second year as UNCSA's graduate teaching assistant for music theory. Jenna loves the challenges of playing the organ and improving her skills at the instrument. She enjoys opportunities to play a variety of organs and adapt as necessary to each. After graduating, she plans to spend time working full-time in a church music setting to gain more experience. Outside of music, Jenna enjoys working with horses, hiking with her dog and spending time with her family.
---
Lauren Willard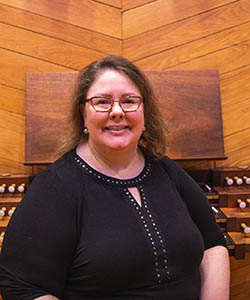 A native of Valdosta, Georgia, Lauren Willard began her collegiate studies in music at Carson-Newman University in Jefferson City, Tennessee, and completed a Bachelor of Music Degree in piano performance at Valdosta State University. In 2019 she completed a second Bachelor of Music Degree at Salem College with dual majors in organ and vocal performance, and subsequently received a Master of Music Degree in Organ Performance and Pedagogy with an Emphasis in Injury-Preventive Keyboard Technique. Lauren is currently working towards the post-graduate Professional Artist Certificate in Organ at UNCSA studying with Dr. Timothy Olsen. Her PAC Project is focused on creating a catalog of organ music that is appropriate or adaptable for smaller hands.
Lauren has served Valdosta and Winston-Salem area churches in a variety of capacities, including music director, organist, pianist, youth and children's choir director, handbell director, and vocal soloist. Most recently she has held the position of organist at St. Anne's Episcopal Church in Winston-Salem since August 2019, and has performed as vocalist at a number of local churches. Additionally, she teaches a private studio of thirty piano, voice and organ students.
---
Julianne Zhu
Julianne Zhu is a first-year graduate student and has been playing the organ for four years. Born and raised in Shanghai, China, Julianne came to the U.S. for college and graduated from Wake Forest University with a B.A. in music performance and psychology. At Wake, she collaborated with the orchestra, the concert choir and played at the Lovefeast. She is interested in other instruments as well, such as harpsichord and viola da gamba, and she used to want to be an opera singer. Besides music, Julianne enjoys arts and crafts, swimming and was an air rifle shooter once upon a time.