Meet the Trombone Studio
Meet the Trombone Studio
Students in the UNCSA Trombone Studio range from high school to graduate-level studies. The studio is led by professor John Ilika.

John Ilika
Coming from a background as an accomplished freelancer also as Principal Trombone of a major symphony orchestra, John has familiarity with both worlds. Whether you want to play commercially, or prepare for a orchestral audition, he has been there—and he's been successful. He has been on faculty at UNCSA since 2010.
---
Darien Baldwin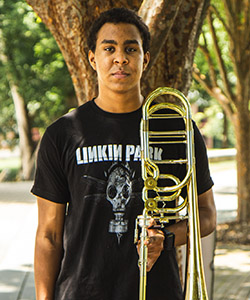 Darien Baldwin joined UNCSA as a tenor trombonist in Fall 2020. After being accepted, Darien began getting more invested in music, deciding to pick up bass trombone, becoming a doubling trombone student at UNCSA. Now he is focused mainly on bass trombone working towards a professional career as a bass trombonist while still maintaining the tenor trombone.
In the 2020-2021 school year, he performed with many chamber/brass ensembles at the school being bass trombonist of the new Bergstone Brass, 2020's Nutcracker, and even co-arranging the music for as well as performing a Star Wars show in the performance Brass Wars. Darien would be accepted as the bass trombonist for NYO Jazz 2021, spending over a month in New York with the incredible jazz band where he would record an album with world-class players such as Melissa Aldana, Sean Jones and Wycliffe Gordon. In addition to studying with John Ilika, Darien frequently takes lessons with George Curran (New York Philharmonic) and takes online masterclasses in Slide School hosted by Nathan Zgonc (Atlanta Symphony) and Brian Hecht (Dallas Symphony) to further his skills even more on trombone.
---
Elijah Van Camp-Goh
Elijah Van Camp-Goh is a college freshman at the University of North Carolina School of the Arts where he is studying trombone as a recipient of the Frank Kenan Scholarship. He hails from Wilmington, NC. Elijah also attended UNCSA for his senior year of high school. In his free time, Elijah enjoys playing tennis, making computer music, and playing video games.
---
Devin Cawley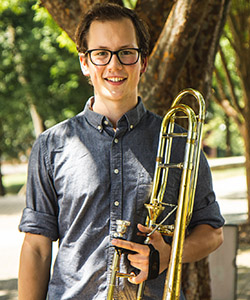 Originally from the Maryland DC area, Devin Cawley is starting the second year of his graduate studies in Trombone performance at the University of North Carolina School of the Arts. Devin graduated from St. Olaf College in 2020 with his Bachelor's degree in Music Education where he studied with Dr. Art Haecker, Dr. Timothy Mahr and Linda Berger.
As a performer, Devin has toured with the St. Olaf Band, soloed with the Norseman Band and played in the QuintEd Brass quintet in Minnesota. At UNCSA Devin has played with the UNCSA Orchestra, Jazz band and many small chamber groups including the Nutcracker chamber orchestra.
As an educator, Devin has been in K-12 classrooms teaching instrumental and general music. This year Devin started working with ArtistCorps to assist in community engagement and to support the arts in schools around UNCSA. Devin has also been a Cabin Counselor at Blue Lake Fine Arts where he assisted in Band rehearsals and played with the Blue Bone Trombone Quartet.
---
Lawson Gardner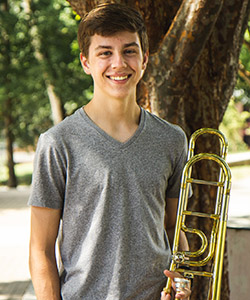 Lawson Gardner is a jazz trombonist from Asheville, North Carolina, and currently a senior in the UNSCA high school academic program. While jazz is his primary focus and he intends to pursue jazz studies in college, he still actively tries to maintain his classical sensibilities while in school and become a well-rounded musician. His ultimate goal is to be a freelance musician in New York City, with his primary areas of focus being straight-ahead swing and big band.
When he was a toddler, Lawson was exposed to classical music through a narrated CD of Prokofiev's "Peter and the Wolf" with an accompanying picture book. Listening through the work and reading the book became a nightly routine for him and his family, and he could recite the story along with the narration by the age of 3. Intrigued by the ability of music to tell such a vivid story, listening to classical music became one of his favorite pastimes at a very young age.
Lawson fell in love with jazz after his first experience at NCMEA All-State jazz in 2018, in which he was surrounded by skillful improvisors and serious students of the craft. He began listening to jazz music daily and learning the language, and still enjoys digging into vocabulary and transcriptions to expand his musical toolbox and improve his ear. Outside of music, Lawson enjoys baking, running, and movies.
---
Thomas Holladay-Muñoz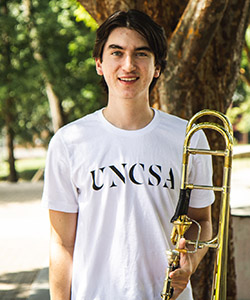 Thomas Holladay-Muñoz is a tenor trombonist from Winston-Salem, North Carolina and is currently in his first year of the undergraduate program at UNCSA. He is currently pursuing classical studies as his area of focus but also has a jazz background. He hopes to one day be a member of a symphony orchestra along with being a freelancer.
Thomas comes from a family of musicians and was first introduced to the trombone in 2nd grade where he began to fill his summers playing in youth brass bands, eventually coming to compete in state level competitions in both jazz and national competitions for classical performance before finding himself at UNCSA for his junior year of high school.
Thomas also enjoys playing sports, traveling, esports, and spending time with family and friends.
---
Mason Waterman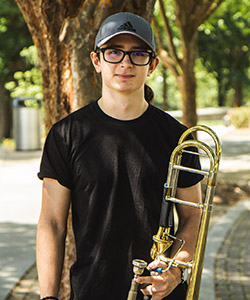 Mason Waterman is a sophomore in high school here at UNCSA. He's been playing trombone for four years and has developed a very big sound. He is from Havelock, a small town in Eastern North Carolina, where he was first exposed to music through the 2nd Marine Aircraft Wing Band. He attended Havelock High School and took lessons from the assistant trombone professor at East Carolina University, Dr. Mark Whitfield. Mason has played in a variety of ensembles, from tuba choirs to marching band to wind ensembles which has given him the opportunity to perform many contrasting styles of music. His goal is to attend college for trombone performance and have a career playing in a symphony or military band.
---
William Penn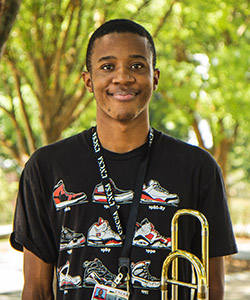 William Penn is a trombonist from Winston-Salem, North Carolina and a first-year senior in the UNCSA High School program. His main pursuit is classical music but he likes to work on jazz as well when he gets the chance so that he is more flexible as a musician and just because he enjoys it. William plans to major in music performance in college and eventually live and perform in a big city like New York or Chicago.
William learned to play the trombone in 6th grade and discovered his passion for it in 8th grade which is when he began immersing himself into the world of classical music and soon jazz as well by listening to recordings and jumping on any chance for ensemble experience whether it was concert band, orchestra or trombone choir.
Besides playing music William also enjoys movies, shows, exercise, chess, reading and listening to music.