Meet the Trumpet Studio
Meet the Trumpet Studio
Students in the UNCSA Trumpet Studio range from high school to graduate-level studies. The studio is led by David Dash.
David Dash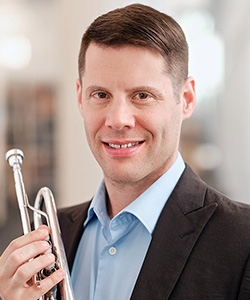 David Dash joined the UNCSA Music faculty in 2017 and is a member of the Grammy Award winning Santa Fe Opera. Previous to his UNCSA appointment, he was Assistant Principal Trumpet of the Naples (FL) Philharmonic and a member of "The President's Own" United States Marine Band, where he performed as a soloist and toured much of the United States. He has also performed with the symphonies of Baltimore, Atlanta, Charlotte, San Francisco and the Los Angeles Philharmonic. Dash is a Yamaha Artist and a graduate of Rice University and the Manhattan School of Music.
---
Anthony Lacivita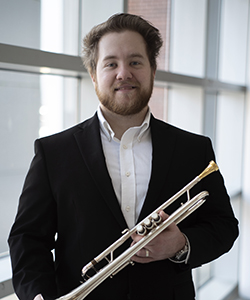 Anthony Lacivita is a freelance trumpet player and current graduate student at UNC School of the Arts, studying under the direction of Dave Dash, former member of the Presidents Own Marine Core Band. Lacivita received his BFA from Gardner Webb University under the direction of the world famous orchestral trumpet player, Tim Hudson, and received annual masterclasses from the former principal trumpet of the Boston Symphony, Charles Schlueter. In addition to working on a Master's Degree in trumpet performance, he is also teaching privately at Separk Music, and performing as a local musician in the triad area at various churches, retirement homes and special events, and preparing for professional orchestral and military band auditions.
---
Darrion Keck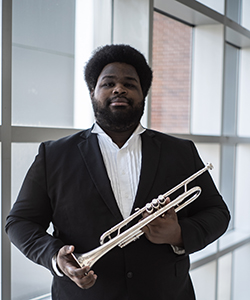 Darrion Keck is a 2nd year graduate student at UNCSA. He performs in the Pickled Brass Quintet, UNCSA Jazz Band and UNCSA Wind Ensemble. Keck earned his undergraduate degree in Music from Winston-Salem State University (WSSU). During his time there he participated in the Intercollegiate Music Association's Concerto Competition as well as playing lead trumpet in the jazz ensemble. He also sat first chair in the WSSU symphonic band and wind ensemble as well as being trumpet section leader in the marching band. Keck performs in several different show bands and groups in nearby states and will be heading to Anaheim, California this summer to join the 2019 Disney All-American College Band. During his free time Keck enjoys relaxing, spending time with family and friends, playing his favorite video games. When Keck finishes his master's degree, he plans on looking into several different avenues of performance and is considering going on to pursue a Doctorate of Musical Arts.
---
Julio Jeri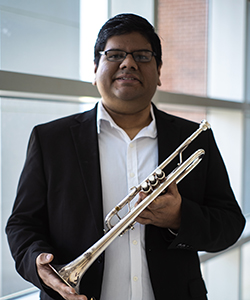 Julio Jeri is a first-year graduate student at UNCSA. He is from Peru and started playing trumpet at age nine. He earned his bachelor's degree at Wingate University where he participated in all ensembles and performed as soloist with the Wingate University Wind Ensemble.
He has played with the Charlotte Civic Orchestra, Western Piedmont Symphony, Charlotte Jazz Orchestra, Queen City Brass Band, Charlotte Concert Band, Orquesta Mayor, Fuzion Latina and his own groups Ambassadors Peruvian Music and Charlotte Brass Quintet. He has done recording collaborations with the Charlotte Jazz Orchestra, Ryan Saranich with Pocket Language and Dylan Gilbert with Hectorina.
Jeri is an active freelance musician in the Winston Salem area and teaches trumpet at the Community Music School and Kernersville Music Academy. He also participates as an officer for Cross the Line, connecting students with chamber music performance opportunities, and Grace Notes, collecting and repairing gently used donated instruments and providing them for students who need them.
At UNCSA, Jeri performs with the orchestra, the jazz ensemble, brass quintet and trumpet ensemble. He was a finalist of the UNCSA 2018 Concerto Competition and is the recipient of the Jenny L. S. Koortbojian music scholarship, Bill and Judy Watson Leadership Scholarship in Music and Kenneth L. Wilmot Sr. Music Scholarship. Jeri studies with Dave Dash and his past teachers include Richard Harris, John Harding, Scott Bauer, Gordon Hann, Craig Retzlaff.
---
Tyler Stephenson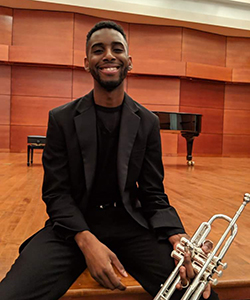 Tyler Stephenson is a first-year graduate student at UNCSA, having received his bachelor's degree at the University of North Carolina at Greensboro in Trumpet Performance. Tyler is involved with the Wind Ensemble, Orchestra and Nutcracker pit orchestra here at UNCSA. When he isn't playing trumpet, Tyler enjoys video games, cooking and listening his favorite composers such as Shostakovich, Mahler and Tchaikovsky!
---
Mikeal Swanhart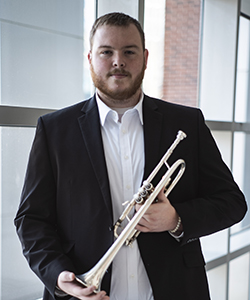 Mikeal Swanhart is in his first year as a graduate student at UNCSA. He performs in the Chrysalis Brass Quintet, UNCSA orchestra and UNCSA wind ensemble. Swanhart earned his undergraduate degree in Music Education from UNC Greensboro in May 2018. During his time at UNCG, Swanhart performed with one of the best wind ensembles in the nation. The wind ensemble undertook a European tour during the summer of 2016, performing in eight different cities, most notably in Dvorák hall in Prague, Czech Republic.
Swanhart also attended the National Trumpet Competition in 2017, where he participated in the small ensemble division. In middle and high school, Swanhart won positions in All-District and All-State honor bands in North Carolina. During the summer of 2013 Mikeal attended the North Carolina Governors School for instrumental music. This experience allowed Swanhart to really blossom as a person and a musician. During his free time Swanhart likes to spend time with family and friends, including bowling and playing his favorite video games. When Swanhart finishes his masters degree he plans on taking auditions for professional playing jobs and earning his Doctoral of Musical Arts degree.
---
Zoe Mark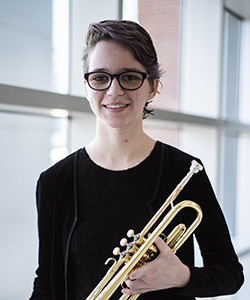 Zoe Mark is a sophomore at UNCSA studying trumpet. She performs in the UNCSA Wind Ensemble. Mark taught herself how to play the trumpet in high school and helped run the student led marching band at her school. Prior to playing the trumpet, Mark studied the violin and viola, where she played with the California State University Northridge Youth Philharmonic. In high school she marched in the Tournament of Roses New Year's Day parade. She performed for three years with the Los Angeles Unified School District All City All District Honors Marching Band. She has also played in historic jazz clubs throughout Washington D.C. such as Blues Alley and Twins Jazz with the George Washington University Jazz Orchestra. Outside of music, Mark enjoys reading books, traveling and the magic of rubber ducks. Mark has earned her Girl Scout Gold Award and is the recipient of the John Philip Sousa Band Award at Cleveland High School.
---
Eli Wright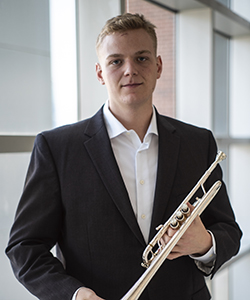 Elihue Wright is a second year undergraduate student. Wright was Born and raised in Southern Pines, N.C. He first picked up the trumpet at age 12 and has been looking at life from the behind the bell of a trumpet ever sense. In 2017, Wright obtained a high school diploma from UNCSA with a concentration in trumpet performance.
Wright went on to pursue his education at the University of Utah in Salt Lake City, where he was awarded the Advisory Board Top Freshman Scholar Award. Wright has now returned to UNCSA for the opportunity to study trumpet with David Dash, and to be closer to family. Wright is an active Christian and hopes to spend his life glorifying god through the power of music. Ephesians 6:10-20, Corinthians 15:52, Ecclesiastes 3:1-8
---
Ariel Mejia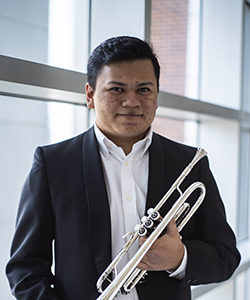 Ariel Mejia is currently a high school senior at UNCSA, where he is a trumpet major, composer and arranger. In his freshman year, he was a finalist in the Loonis McGlohon Young Jazz Artist competition and performed with Wynton Marsalis and the Jazz at Lincoln Center Orchestra. He placed first in the competition the following year. In May of 2018, he was selected to play with the Blumey Pit Orchestra, conducted by composer David Dabbon.
Most of his education in jazz was with the Jazz Arts Initiative in Charlotte, NC. This organization is very dear to him, because this is where he learned how to improvise and develop his own style and voice. He has studied with Jason Robison and Dr. Michael Hackett and is currently studying with David Dash and Kenny Rampton. He enjoys listening to the music of the 1920s, particularly Bix Beiderbecke, Paul Whiteman and Bill Challis. His dream is to pursue a career in jazz, including composition, arranging, and leading his own jazz orchestra.
---
Jimmy Cabaniss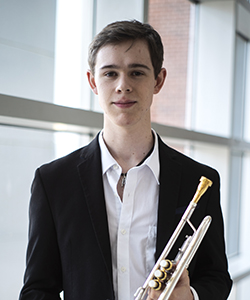 Jimmy Cabaniss, now a junior in the high school program, is in his third year at UNCSA. He participates in the Wind Ensemble, under the direction of Dr. Mark Norman, and the Jazz Band, under the direction of Ronald Rudkin. In addition he co-founded the UNCSA Relish Blues Jazz Combo. His primary trumpet teachers are David Dash and Cathryn Cabaniss and he has studied with Ashley Hall, Anita Cirba, Mark Clodfelter and Jay Meachum. Recently, Cabaniss participated as a semi-finalist (2016, 2017, & 2018) in the prestigious National Trumpet Competition as well participating in the Summer Jazz Workshop at UNC Wilmington and receiving the jazz award "Talent Deserving Recognition" for trumpet. In his free time, Cabaniss enjoys interning in the music department at his former middle school, performing on his drum set, electric bass and guitar in his rock band and competing in triathlons. Cabaniss is very passionate about music and it is his goal to become a world class trumpeter.