Meet the Studio
Meet the Studio
Students in the UNCSA Trumpet Studio range from high school to graduate-level studies. The studio is led by David Dash.
David Dash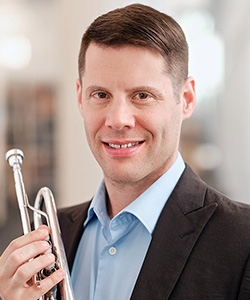 David Dash joined the UNCSA Music faculty in 2017. In the summer, he performs with the Santa Fe Opera. He was Assistant Principal Trumpet of the Naples (Fla.) Philharmonic and a member of "The President's Own" United States Marine Band, where he performed as a soloist and toured much of the United States. He has also performed with the Baltimore, Atlanta and San Francisco symphonies, the Florida Orchestra, Sarasota Opera and the Santa Fe Chamber Music Festival.

---
Chloe Adkins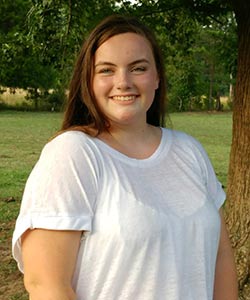 Chloe is a junior in high school. She started playing the trumpet in 7th grade and is in her second year at UNCSA. Chloe has been a member of the UNCSA Wind Ensemble for two years and was also a member of the UNCSA High School Brass Quintet in 2016-17, where she performed "Maria" from the musical "West Side Story" at a local middle school. Her most memorable performance moment was her first concert with the UNCSA Wind Ensemble. Performing at the Stevens Center exceeded far beyond her greatest expectations, and ever since she has treasured every performance alongside her studio. Before moving to UNCSA, Chloe lived in Wilson, N.C. While there, she participated in marching band for three years, and was a member of the Carolina Gold Drum and Bugle Corp and Carolina Gold Winds. During this time, she developed a passion for teaching younger students and volunteered at the middle school she once attended. Outside of music, Chloe enjoys competitive horseback riding and was the vice president of her local 4-H club for three years.
---
Jimmy Cabaniss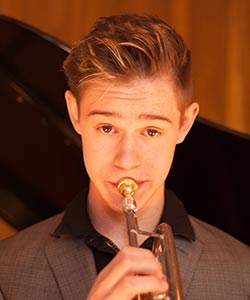 Jimmy, now a sophomore in the high school program, is in his second year at UNCSA. He participates in the Wind Ensemble, under the direction of Dr. Mark Norman, and the Jazz Band, under the direction of Ronald Rudkin. His primary trumpet teachers are David Dash and Cathryn Cabaniss and he has studied with Ashley Hall, Anita Cirba and Mark Clodfelter. Recently, Jimmy participated as a semi-finalist (2016 and 2017) in the prestigious National Trumpet Competition as well participating in the Summer Jazz Workshop at UNC-Wilmington and receiving the jazz award "Talent Deserving Recognition" for trumpet. In his free time, Jimmy enjoys interning in the music department at his former middle school, performing on his drum set, electric bass and guitar in his rock band and competing in triathlons. Jimmy is very passionate about music and it is his goal to become a world class trumpeter.
---
Andrew Flick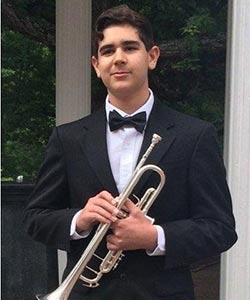 Andrew Flick is a sophomore in high school who has had the passion for trumpet since the age of 12. He is now attending his second year at UNCSA, and has performed with the UNCSA wind ensemble for two years, and also has been a member of the UNCSA high school quintet. During his first year at UNCSA, Andrew performed two solo pieces in which he learned a tremendous amount of new skills and techniques. Andrew's most memorable experience at UNCSA was his first quintet performance at a local middle school where he not only performed, but also gave a short lesson to the trumpet students there. Before attending UNCSA Andrew lived in Lexington, N.C. where he attended his local school and performed with their wind ensemble and marching band. He also participated in All-County, All-District, and All-State honors bands. Outside of playing trumpet, Andrew enjoys playing the mandolin, working on computers and cycling.
---
Christian Orr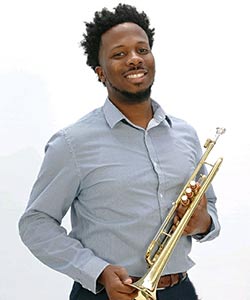 Christian Orr, a second-year graduate student from Goldsboro, N.C. is actively involved in various ensembles at UNCSA such as Jazz, Wind Ensemble, Orchestra, Brass Quintet and Trumpet Ensemble. He began playing trumpet in the 6th grade at Goldsboro Middle School, winning multiple awards throughout middle and high school. Prior to attending UNCSA, Christian received his bachelors degree in Music Education at Winston-Salem State University. While at WSSU, he was in various ensembles such as Jazz, The Red Sea of Sound Marching Band, Symphonic Band and Brass Quintet under the direction of Dr. Michael Magruder and trumpet professor Dr. James Armstrong. Christian is also a member of Real Men Teach, an organization for aspiring male teachers, and he's also a member of Kappa Kappa Psi, National Honorary Band Fraternity Inc. When Christian is not playing trumpet he enjoys a good game of basketball and fellowship with friends. Upon graduation from UNCSA, Christian will continue his career as a music educator and performer.
---
Krishna Palanivel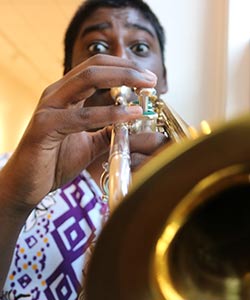 Krishna Palanivel is a current high school senior at UNCSA. He picked up the trumpet at age 8 and has actively studied with Don Eagle of the North Carolina Symphony, Andrew Kozar, Ashley Hall and Judith Saxton. Since beginning high school at UNCSA in 2014, Krishna has enjoyed performing with the UNCSA Symphony Orchestra, Jazz Ensemble, Wind Ensemble and various brass/trumpet ensembles. Recent accomplishments include being a semi-finalist in the National Trumpet Competition and being nominated to attend the North Carolina Governor's School. He plays and listens to a wide variety of music, with an acute interest in contemporary compositions including works for trumpet and electronics. Krishna's modern day inspirations include Mark Gould, Brian McWhorter, Thomas Hooten and Markus Stockhausen. He proudly performs on Bach and Schilke instruments.
Outside of school, Krishna is an active Eagle Scout and volunteers with Bugles Across America. He loves to travel, with recent trips to South Africa, Dubai and India. Krishna hopes to pursue degrees in Economics and Trumpet Performance.