Meet the Bieler/Orenstein Studio
Meet the Bieler/Orenstein Studio
The violin studio of Ida Bieler and Janet Orenstein attracts talented students from the United States and around the world, including Europe, Canada, South America and Asia. The studio atmosphere is energetic, supportive and enterprising, and in the last three years alone its members have won top prizes in many competitions including the MTNA National Young Artist Performance Competition, Rosen-Schaffel, NC-ASTA, MANC, Euterpe Music Club, NC Symphony's Kathleen Price and Joseph M. Bryan Concerto Competition, WS Symphony's Peter Perret-Youth Talent Search, Tennessee's Symphony of the Mountains Competition, and have gone on to top universities and conservatories including Yale, SUNY, Rice, Bard, NEC, Indiana, Eastman, NYU, the Robert Schumann University for Music & Media in Düsseldorf, Mozarteum University Salzburg.
The studio is also dedicated to teacher training, as Ida Bieler has brought her award-winning Vivaldi Project—a teachers' training program aimed at educating underprivileged children—from Düsseldorf to the U.S. Through the UNCSA ArtistCorps program, students learn and teach her exciting method in regional public schools, sharing their expertise and love of music with the surrounding community.
---
Heather Blake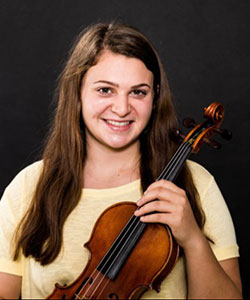 Heather Blake, 18, began studying under the direction of Ida Bieler and Janet Orenstein when she entered UNCSA's High School Program in 2019. She was the alternate winner for the North Carolina MTNA Competition Senior Strings Division in 2020 and won first place in the Winston-Salem Symphony's Peter Perret Competition in 2021. Additionally, she has been awarded the David Stewart Wiley Senior Scholarship, the Sara Dalton Honoree Scholarship, and was a two-time recipient of the Sandra Smith Music Scholarship. She has attended the Roanoke Symphony Orchestra's Summer Music Institute, the University of North Carolina School of the Arts Summer Strings Intensive, the Philadelphia International Music Festival, and the Green Mountain Chamber Music Festival.
Heather has an extended devotion to humanitarianism and volunteer work, resulting in her nomination for the Hugh O'Brian Youth National Leadership Award and Conference and membership in the Société Honoraire de Français. She organized and promoted a studio-led recital honoring and profiling music of Black composers as well as performed outreach concerts at venues such as the Brookridge Retirement Community in Greensboro, North Carolina. At UNCSA, Heather also holds a position as an academic peer tutor within the High School Academic Program and is actively involved in helping the Pickle Pantry.
She is a high school representative for the Cross the Line Project, a student-led music organization serving the underprivileged, and is a student representative for Virginia's Blue Ridge Music Festival (VBRMF), a classical music outreach organization. Through VBRMF, Heather played a key role in developing the Blue Ridge Strings Program, which both funds and organizes violin and cello lessons to elementary aged students in Floyd County, Virginia. She holds a teaching position in this program in addition to her private violin students.
Laurence Brooke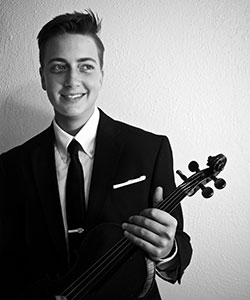 Described as "versatile" and "well-rounded," violinist Laurence Brooke brings a passion and vitality to his music both on and off the stage. Though trained as a classical violinist, he was raised in the mountains of southwest Virginia where bluegrass has influenced his approach to music.
He began studying violin at the age of 10 with Mike Mitchell, after being exposed to the fiery, toe-tappin', foot-stompin' genre of bluegrass and old-time in Floyd, Virginia. During his studies with Mitchell, Brooke was taught a classical technique that went hand-in-hand with an appreciation for traditional and heritage music.
Brooke received his Bachelor of Music degree in 2019 from the University of Miami Frost School of Music. There, he developed a passion for chamber music to match his love of orchestral works. Also a burgeoning champion of new music, Brooke was the sole violinist in the resident quartet at Escape to Create, 2020, a composers festival in Florida. He attended the Castleman Quartet Program during his undergrad summers, and also worked as a strings ensemble director for the Roanoke Symphony Orchestra's summer program for the youth symphony.
He has studied with Benedict Goodfriend, Charles Castleman, and is currently pursuing a Master of Music degree under the tutelage of Ida Bieler and Janet Orenstein at UNCSA.
Marta Djorovic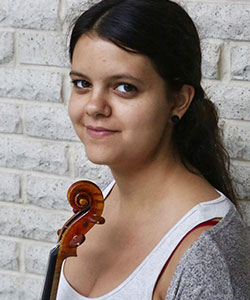 Marta Djorovic was born in Belgrade, Serbia and began playing violin at the age of 6. After graduating from high school, Marta started her studies at the University of Music and Performing Arts in Graz, Austria. In 2018, she was awarded the Kenan Excellence Scholarship, enabling her to pursue an undergraduate degree in violin performance at UNCSA. Marta has played in numerous orchestras and chamber music ensembles, giving concerts in the U.S., Portugal, Italy, Netherlands, Austria, Montenegro, Slovenia and Serbia. She appeared as soloist with Mokranjac Chamber Orchestra in Belgrade, and gave a solo recital at Chiesa della Santa Maria della Pieta as part of Venice Biennale 2019. As well as teaching for the Vivaldi Project and ArtistCorps in North Carolina, Marta is an active member of social projects abroad, such as Cross The Line Project. When in Serbia, she gives concerts and music workshops for refugees and underprivileged populations.
Rosemary Nelson
Rosie Nelson is a high school senior at UNCSA, studying violin with Ida Bieler and Janet Orenstein. She grew up in Chapel Hill, North Carolina, where she began studying violin with the Suzuki method at the age of 3. She was inspired to pursue music by her middle school orchestra director, Ann Daaleman, and her former violin teacher, Jessica Sun. Rosie has studied chamber music with the Mallarmé Youth Chamber Orchestra and participated in the North Carolina All-State Honors Orchestra and the ECU Next Generation Initiative. In the summers of 2018 and 2019, she participated in the UNCSA Summer Strings program and the Green Mountain Chamber Music Festival, respectively. In addition to music, Rosie likes reading books and spending time in nature.
Elena Rang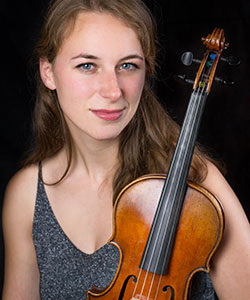 German violinist Elena Rang is an enthusiastic musician who enjoys performing chamber music and solo repertoire. During her career, she has performed and studied throughout the world, including Peru, Canada, Spain and Germany, always aiming for an understanding among cultures through the language of music. Elena wants to inspire people through performing and teaching. In 2012, Elena volunteered her services in Peru, where she gave violin lessons to underprivileged children, rehearsed with the youth orchestra, and coached smaller ensembles. In 2018, she completed her bachelor's degree in music education, English and pedagogy at Hochschule für Musik und Tanz Cologne. Elena had the opportunity to meet violinist Ida Bieler, who inspired her greatly, and supported her efforts to study in the United States. Currently pursuing her master's degree at UNCSA with Profs. Ida Bieler and Janet Orenstein, Elena is the studio's teaching assistant and part of the Vivaldi Project.
Roni Shitrit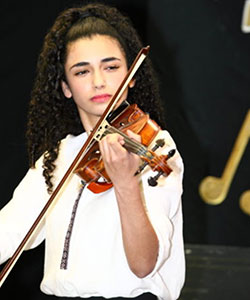 Roni Shitrit was born in 1999 in Israel. She began her violin studies with Mr. Oscar Shraiberman at the Ramla conservatory when she was 5 years old. She is currently pursuing her undergraduate studies at UNCSA with Professors Ida Bieler and Janet Orenstein.
Roni was a member of the Young Israel Philharmonic Orchestra of the Jerusalem Music Center. She participated in the David Goldman Chamber Music Program for Outstanding Young Musicians, the Huberman Program, Keshet Eilon, and the Ilona Feher Violin Program.
Roni participated in masterclasses with many world-renowned violinists, including Benjamin Schmidt, Miriam Fried, Grigory Kalinovsky, Itzhak Rashkovsky, Michaela Martin, Michael Kopelman, Hagai Shaham, and Daniel Heifetz.
Roni is the first prize winner in the 2021 MTNA Young Artist National Competition and one of the prizewinners of a national competition in Israel (2017). For her contribution to the community, Roni received a scholarship from the American-Israel Cultural Foundation, as well as from the Rotary Club for performances she gave in Ramla.
Ruth Shumway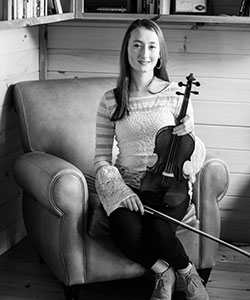 Ruth Shumway is a 16-year-old violinist from Charlotte, North Carolina, who began playing the violin at the age of 3. She has performed for many events, most notably for the North Carolina Governor's Martin Luther King Day celebration in 2014, and for the international orchestra Iguazu en Concierto in 2015. She was a member of the Charlotte Symphony Youth Orchestra from 2015 to 2018, and is proud to currently attend UNCSA as a senior under the tutelage of Janet Orenstein and Ida Bieler.
Ada Walker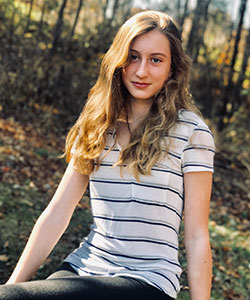 Ada Walker began playing the violin at age 5 at the Music Academy of North Carolina in Greensboro. She began her serious studies of the violin at age 11 with Rebekah Carlson, at the same time also playing in the Greensboro Youth Symphony with conductor Evan Feldman. Ada began private studies with Janet Orenstein and was accepted to UNCSA one year later, where she is now a junior in the high school program.
Yaruo Zhou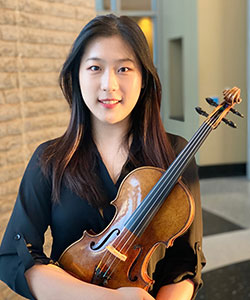 Yaruo Zhou was born in Shenzhen, China, first encountering the violin at the age of 5. After her family moved to Sweden in 2014, Yaruo began her formal studies in 2017 with Professor Haiou Meng, a member of the Royal Stockholm Philharmonic Orchestra (Kungliga Filharmonikerna) since 1995. In 2013 and 2014, Yaruo passed the examination for Grade 5 Music Theory and Grade 8 Violin, with distinction, by the Associated Board of the Royal Schools of Music (UK). While living in Sweden she was a member of the Stockholm Youth Symphony Orchestra (Stockholms ungdomssymfoniorkester) for three years, touring with the orchestra through many countries including Sweden and Germany. She attended Nordiska Musikgymnasiet for a year before continuing her violin studies at UNCSA, entering in eleventh grade. In the summer of 2019, she attended the Green Mountain Chamber Music Festival in Burlington, Vermont.