Meet the Bieler/Orenstein Studio
Meet the Bieler/Orenstein Studio
The violin studio of Ida Bieler and Janet Orenstein attracts talented students from the United States and around the world, including Europe, Canada, South America and Asia. The studio atmosphere is energetic, supportive and enterprising, and in the last three years alone its members have won top prizes in many competitions including the Rosen-Schaffel, NC-ASTA, MANC, Euterpe Music Club and Symphony of the Mountains, and have gone on to top universities and conservatories including Rice, Bard, NEC, Indiana and the Robert Schumann Hochschule in Düsseldorf.
The studio is also dedicated to teacher training, as Ida Bieler has brought her award-winning Vivaldi Project–a teachers' training program aimed at educating underprivileged children–from Düsseldorf to the U.S. Through the UNCSA ArtistCorps program, students learn and teach her exciting method in regional public schools, sharing their expertise and love of music with the surrounding community.
---
Sarah Harrigan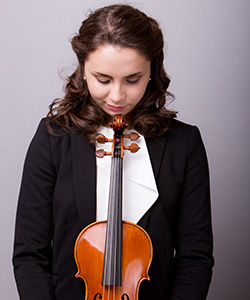 Sarah Harrigan began her violin studies at the age of seven in New Brunswick, Canada. She pursued her undergraduate studies at Dalhousie University with Philippe Djokic, and at the Royal Academy of Music with Richard Ireland. Performances have taken her across Canada and abroad, to venues such as the Musikverein Hall and Royal Albert Hall, among others. Sarah has performed and participated in summer festivals such as the Domaine Forget Academy, Orford Academy, the NAC Young Artist Program and Bozsok Music Festival, and spent two summers touring with the National Youth Orchestra of Canada. She has collaborated with artists such as Murray Perahia and Ida Bieler and has worked with some of the world's leading conductors, most notably: Marin Alsop, Semyon Bychkov, Mark Elder, Emmanuel Vuillaume and Jane Glover. Sarah is currently pursuing her studies at UNCSA under the tutelage of Ida Bieler and Janet Orenstein, where she is a member of the Chrysalis Chamber Music Institute and a teaching fellow with the Vivaldi Project.
Joohyun Lee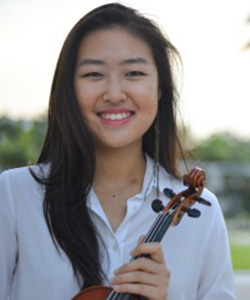 Violinist Joohyun Lee has been recognized as an emerging artist of fine collaborative intuition and a deep passion for music. Joohyun made her Carnegie Hall recital debut in 2013, after earning prizes in the American Fine Arts Festival and American Protégé competitions. She earned her Bachelor of Music degree in violin performance from Ithaca College, under the tutelage of Susan Waterbury, founding member of the Cavani String Quartet. During her time at Ithaca College, she received an award at the James J. Whalen Academic Symposium for her original research on Felix Mendelssohn's 1834 concert aria "Infelice!" for soprano, violin obbligato, and orchestra. An aspiring chamber musician, she has worked with members of the Shanghai and Manhattan String Quartets, Orpheus Chamber Orchestra, A Far Cry and the Scheherazade Trio. She has studied at the Castleman Quartet Program, Taconic Music, and Laura Bossert and at Terry King's LyricaFest. She has also worked with members of the Berlin Philharmonic, Philadelphia, Cleveland, Metropolitan Opera, Rochester Philharmonic and Louisiana Philharmonic orchestras. Joohyun recently completed a Master of Music degree at the Frost School of Music at the University of Miami. In Miami, she played with the Henry Mancini Institute Orchestra, New World Symphony, Palm Beach Symphony and South Florida Symphony. She was also an instructor at the Frost Preparatory Program and a teaching assistant to Charles Castleman. Joohyun continues her studies at UNCSA as a part of the Chrysalis Chamber Music Institute and the studio of Ida Bieler.
Delphine Skene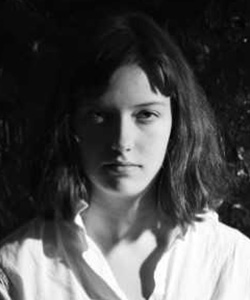 Born in Canada, Delphine Skene first encountered the violin at the age of 10, and began her formal studies at age fourteen. She has performed and participated in master classes in Belgium, Canada and Germany, with Ivry Gitlis and Maxim Vengerov, among others. Recently, Delphine was awarded first prize at the Euterpe Scholarship Competition in Greensboro, N.C., and at the NC-ASTA competition. Delphine is currently pursuing a Bachelor's degree at UNCSA under the tutelage of Ida Bieler and Janet Orenstein. Her violin and bow are generously on loan from Canimex Inc. of Drummondville, Québec, Canada.


Julian Smart
Julian Smart is an undergraduate student at UNCSA. From Boone, N.C., he began playing violin at the age of three and currently studies violin with Ida Bieler and Janet Orenstein, as well as viola with Ulrich Eichenauer. Julian attended and graduated from the high school program at UNCSA and, after attending Waseda University in Japan for a year, he decided to return to UNCSA to continue his musical studies. In addition to Western classical playing, Julian enjoys performing across many genres of music including jazz, folk and contemporary. Apart from music, Julian enjoys hiking, skiing and snowboarding.
Eva Wetzel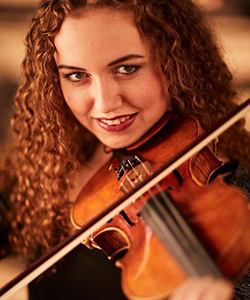 Born in Schleiz, Germany, Eva began studying piano at age three and violin at age four. She first worked with Professor Ida Bieler in the pre-college program "Schumann Junior" at the Robert-Schumann-Hochschule Düsseldorf. In 2013, Eva came to UNCSA, where she earned her high school diploma is now pursuing a Bachelor's degree in the studio of Professor Bieler. She has given multiple solo-recitals in Germany and the U.S., and has collaborated with the Vogtland Philharmonie Greiz-Reichenbach and the LJO Thüringen. Eva has won many national and international competitions, including "Jugend Musiziert," "Karel-Kunc," the Omega Talent Hunt, the MANC String Competition and Rosen-Schaffel Concerto Competition. She has participated in master classes with Viera and Julia Fischer, Rudens Turku, Anne-Katrin Lindig, Ida Bieler and Kyung Sun Lee. She had the opportunity to attend the Aspen Music Festival and School as a Kenan Fellow to study with Professor Cornelia Heard. In her free time, she enjoys swimming and looking at cute puppies and lions. Eva plays a violin by Marc de Sterke from 2011.
Sarah Anderson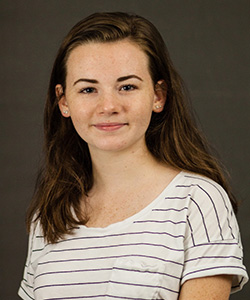 Sarah Anderson is in her senior year of high school at UNCSA, studying with Professors Ida Bieler and Janet Orenstein. Before attending UNCSA, she attended the UNCSA SummerStrings program in 2015. She is from Black Mountain, N.C., and began playing the violin when she was eight years old. For three consecutive years, she was part of the Asheville Symphony Youth Orchestra, and also played the clarinet and oboe for four years with her school band program. She loves UNCSA for its welcoming and challenging environment. Outside of music, she was previously on student council for three years, is an active soccer player and enjoys reading and hiking in her free time. Sarah is excited to pursue political science with a music minor in college.
Sophie Anderson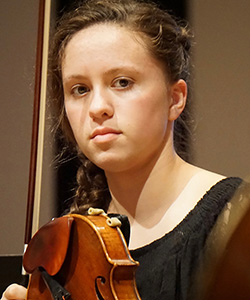 Sophie is a high school senior currently studying with Professors Ida Bieler and Janet Orenstein. She began her violin studies in her middle school orchestra at the age of 11. Before coming to UNCSA as a high school junior, she played in the Winston-Salem Youth Symphony and in various chamber groups through the Young Performer's Workshop. Her solo performances include Lalo's Symphonie Espagnole with the RJR High School Orchestra and the Corelli Christmas Concerto with the Winston-Salem Symphony. During the summer she has attended North Carolina Governor's School and Eastern Music Festival. She made her debut as a solo screamer with the RJR Orchestra in "Curse of the Rosin Eating Zombies from Outer Space." When she is not practicing, she enjoys biking and climbing trees.
Jessie Burdette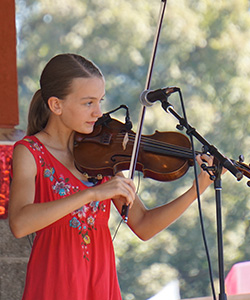 Jessie Burdette is a ninth-grader studying violin with Ida Bieler and Janet Orenstein at UNCSA. She has wide experience as a performer, playing fiddle and singing lead vocals with her sisters in their Americana band, The Dan River Girls. The band's first CD, "The Dan River Girls," was released in 2015 to wide acclaim. Their second CD, "Sounds of Skye," was released in June 2017 and pays tribute to their Scottish heritage. Jessie spends her summers in Scotland, studying Celtic fiddle with the great Scottish fiddler Alasdair Fraser. She also studies bluegrass fiddle with the legendary Rex McGee and voice with Martha Bassett. In her spare time, she enjoys swimming, running, hiking and baking.
Emily Lin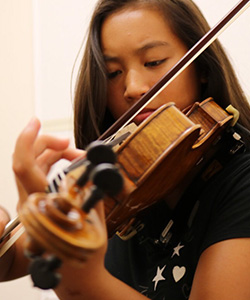 Emily is currently a high school senior studying with Professors Ida Bieler and Janet Orenstein. She began studying music early on, starting piano at the age of four and violin at age five. As a pianist, Emily has won first place in the NCFMC Competition, the Young Artist Piano Auditions and the APTA Sonatina Competition. She also won second place in the CAPTA Sonatina Competition. After attending UNCSA, Emily began to focus on developing her violin technique. As a violinist, Emily has enjoyed playing in many orchestras and chamber groups. She has also won second place in the MANC 18th Annual String Competition and was a finalist in the 2013 Junior Division and 2016 Senior Division of the Peter Perret Competition. She is excited to pursue violin as her career in the future.
Leigh Siler
Leigh Siler is from Asheville, N.C., and is currently a sophomore in UNCSA's high school program, studying under the direction of Ida Bieler and Janet Orenstein. Leigh has been playing violin for ten years and has enjoyed playing in the Asheville Symphony Youth Orchestra and in various other chamber music groups. One of her most memorable music highlights was working with Midori Goto, accompanying her as a member of the orchestra and performing for her in a master class. She is very excited about studying violin at a new level at UNCSA and already loves her classes and the people in them. In the future, she hopes to become a music therapist, helping people with special needs. Outside of music, Leigh loves backpacking and trail running.
Lucia Kobza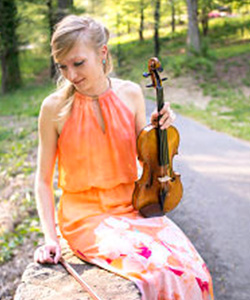 Lucia Kobza is a Swiss musician with Czech-Polish origins, known to be an energetic performer and passionate teacher. She received her Bachelor's and Master's degrees from Hochschule der Künste Bern with distinction. Following her mentor Professor Ida Bieler to the United States, she studied under her tutelage at UNCSA and was honored with the Graduate Performance Award both for her Master's degree and Professional Artist Certificate. Lucia is currently pursuing her Doctorate at Stony Brook University in New York, in both violin and viola performance with Emerson String Quartet's violinist Philip Setzer and violist Lawrence Dutton, as well as Silk Road member Nicholas Cords.
As member of UNCSA's Giannini String Quartet and participant of UNCSA's Chrysalis Chamber Music Institute, she enjoyed exciting performance opportunities such as playing in master classes at the Lincoln Center in New York and performing with Silk Road Ensemble's Pipa virtuoso Wu Han. At Stony Brook University Lucia joined the Steinem String Quartet, which was honored ​to ​be chosen to participate in Philip Setzer's String Quartet Intensive. She is looking forward to joining the freshly founded Emerson Chamber Music Institute. The quartet has had several thrilling performance opportunities, such as premiering Emerson violinist Eugene Drucker's "Levertov Settings" for string quartet and voice at Carnegie Hall.
Lucia is not only an avid chamber musician, she is also a dedicated teacher. She served as teaching assistant to Ida Bieler at UNCSA and is also working as a teaching assistant at Stony Brook University. While at UNCSA, Lucia Kobza was very engaged in the community of Winston-Salem, teaching at Salvation Army's Academy for Music and Arts, Community Music School of Winston-Salem and the UNCSA summer strings program (2015-16). In New York she leads a private studio and teaches at the Music Academy of Long Island.
Lucia has held orchestral positions as co-principal in the Greensboro Symphony, Assistant Concertmaster of the Western-Piedmont Symphony and ​as ​member of the Winston-Salem Symphony. Lucia Kobza has won 1st Prize of the MANC Competition, 1st Prize of the NC ASTA Competition 2014 and 2015 and won the UNCSA Concerto Competition 2014. Lucia enjoys spending her free time outdoors, going for walks and admiring nature, as well as reading books and watching Stephen Colbert and John Oliver's shows on YouTu​be​.
Kevin Murphy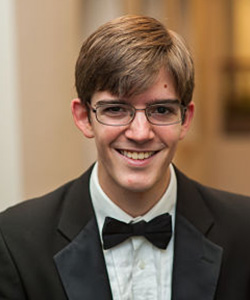 Violinist Kevin Murphy recently completed the first year of his Master of Music degree at the Rice University Shepherd School of Music as a scholarship student of Kathleen Winkler. He attended the UNC School of the Arts in both the high school program, graduating as a student of Prof. Kevin Lawrence; and in the undergraduate program, earning his Bachelor's Degree studying with Ida Bieler and Janet Orenstein. He made his debut with the Winston-Salem Symphony at age 16 and soloed with the UNCSA Symphony Orchestra as the winner of the 2015 Concerto Competition. He has appeared numerous times as concertmaster and principal second violin in the UNCSA Symphony and Nutcracker Orchestras, and participated in the Shepherd School Symphony Orchestra tour to Carnegie Hall in 2016. In 2013, Kevin spent a semester at the Robert Schumann Hochschule Düsseldorf in Germany, where he honed his German language skills and completed an independent study about Robert Schumann. His other previous projects include "Chaconne" by choreographer Brenda Daniels, a collaboration with the UNCSA School of Dance involving eight performances of the Bach Chaconne with dancers. Kevin has attended the Aspen Music Festival for two summers with a full scholarship from the Thomas S. Kenan Institute, where he studied with Naoko Tanaka of the Juilliard School. He plays a violin by Marc de Sterke.

Nathalie Schmalhofer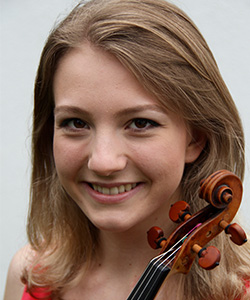 The German-Canadian violinist Nathalie Schmalhofer recently earned her high school diploma at UNCSA and is currently studying her Bachelor of Music degree with Ida Bieler at the Robert-Schumann-Hochschule in Düsseldorf. Achievements include first prize for Best Interpretation of a Modern Piece, second prize in the German National Youth Competition, the Culture Prize in Bobingen, Alois-Kottmann Prize and scholarship from the Yehudi-Menuhin-Foundation. Nathalie has won numerous competitions in the U.S., and played at the winners concert in New York at Weill Hall (Carnegie Hall). Schmalhofer served as youth judge at the International Leopold-Mozart-Competition and has appeared as soloist with the Romanian State Philharmonic Orchestra, Winston-Salem Symphony and others. Nathalie attended the Aspen Music Festival, Talis Festival and the Eastern Music Festival on full scholarships, where she won the Concerto Competition and performed with the Eastern Symphony Orchestra. She studied Beethoven's Triple Concerto with Kent Nagano.

Emilia Sharpe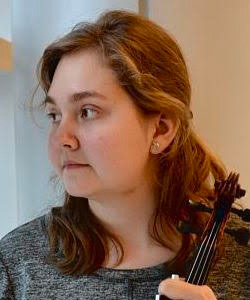 Emi is a 2016 graduate of UNCSA's High School program and remained the following year enrolled as a partial undergraduate student. She is pursuing her bachelor's degree at the Robert Schumann Hochschule in Düsseldorf, Germany, where she will continue studying with Ida Bieler.
Emi, a native of Winston-Salem, N.C., frequently subs in the Winston-Salem Symphony and performs around the Winston-Salem area. She has won first prize in competitions such as the American String Teacher's Association NC and the Omega Psi Phi Talent Search and has won prizes and recognition in the Music Academy of NC competitions. In the summer of 2015 she participated in the selective Boston University Tanglewood Institute, and was also selected twice as a member of Carnegie Hall's National Youth Orchestra of the USA. As a member of NYO-USA in the summers of 2016 and 2017, she has held the positions of Concertmaster, Assistant Concertmaster and Principal Second. She has worked with legendary conductors Christoph Eschenbach, Valery Gergiev and Marin Alsop and has played with soloists Emanuel Ax and Denis Matsuev. With NYO-USA, she has performed in notable halls such as Het Concertgebouw and Carnegie Hall. She also enjoyed playing on all-expense paid performance tours to Amsterdam, Copenhagen, Montpellier, Prague, Guadalajara, Quito and Bogota.