Winston-Salem Light Project examines "Reflections on Time"
"Reflections on Time," the 2017 Winston-Salem Light Project (WSLP), is scheduled for 7:30 p.m. to 10 p.m. on Tuesday through Thursday, April 4-6, and for 7:30 p.m. to 11 p.m. on Friday and Saturday, April 7-8, at Merschel Plaza, located at the intersection of Fourth and Trade Streets in downtown Winston-Salem. The annual outdoor lighting installation by students in the School of Design and Production (D&P) at the University of North Carolina School of the Arts uses lighting and projection to visually transform architecture.
This year's project is inspired by "Einstein's Dreams," a fictional collage of short stories by Alan Lightman exploring what might have been on Einstein's mind in 1905 as he developed his theory of relativity.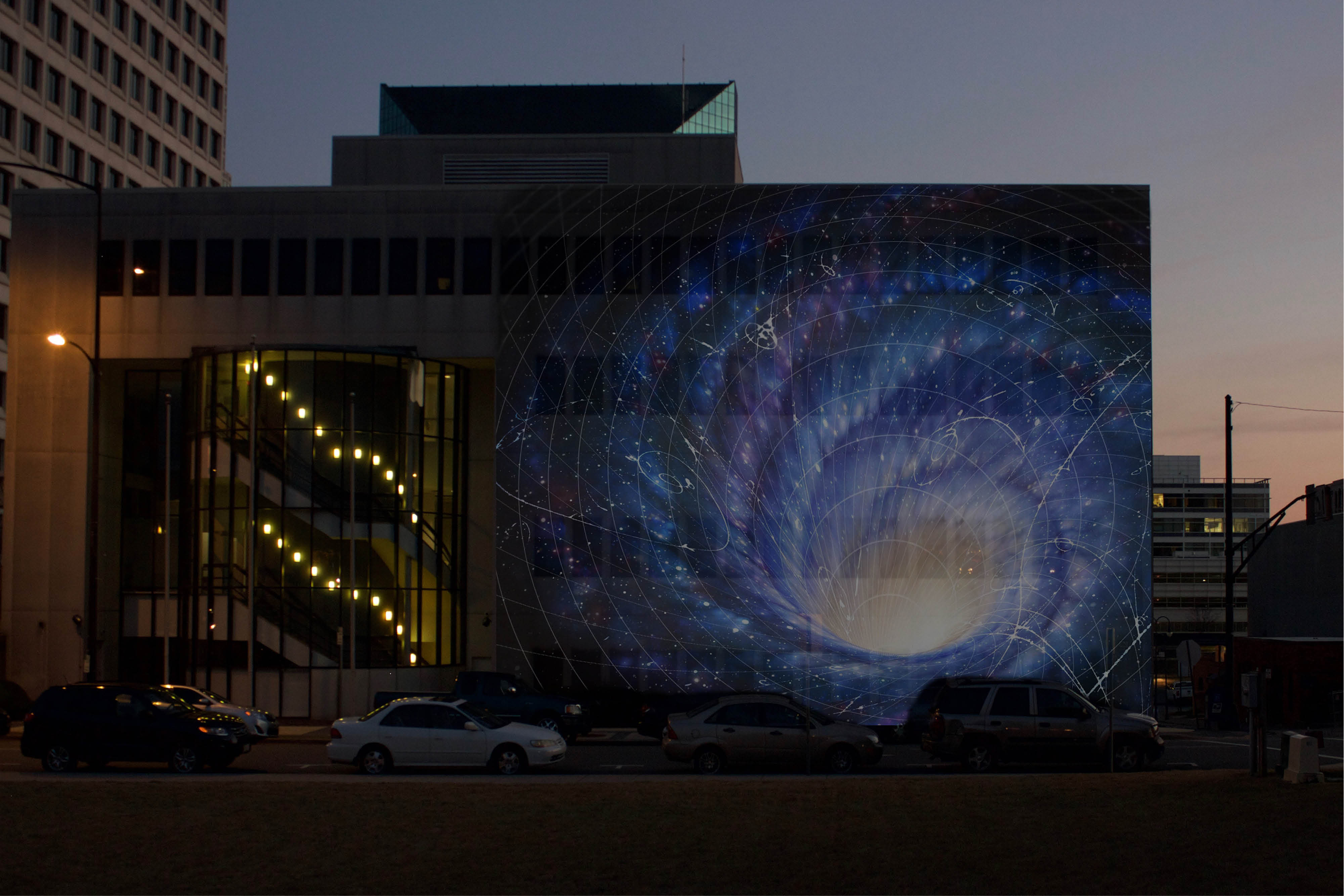 "It's an idea I've had in my back pocket for a while," said Norman Coates, director of D&P's lighting program. Coates founded WSLP in 2008 to expand the knowledge and experiences of his students using public art. Students apply concepts and techniques learned in the pursuit of theatrical design to architecture and public art.
Senior lighting design students each chose a chapter, or dream, they wanted to illustrate. Patrick Angle, of Columbus, Ind., chose a chapter about memory. "It's the concept that things we take for granted as being permanent are not permanent," he said.
Lorenzo Lagola of Calabasas, Calif., said his story explores the idea that there is no time – only images. "So many things happen that you don't think about. In one moment someone dies but someone is born," he said. "We are not defined by our construct of time."
Coates said what began as a class project is now a year-long class. In the fall semester, students work with ideation and explore the concept. Spring semester is devoted to execution. In addition to their designs, each student is assigned a different role in the project, such as marketing, accounting, logistics or infrastructure.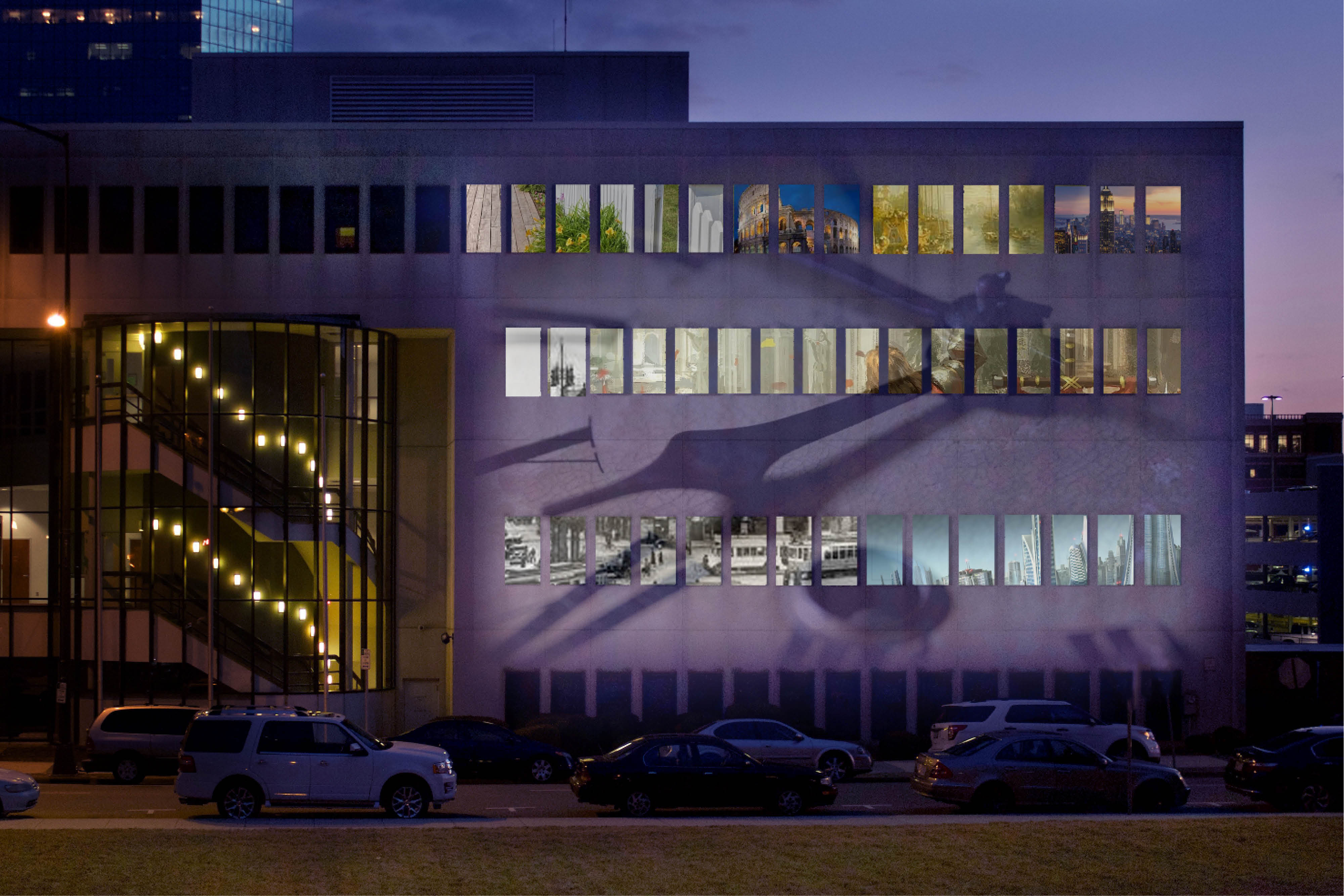 "These are not something you ordinarily would learn in a lighting design program," Coates said. "It gives the student experience they can take into their careers."
During its nine-year history, WSLP has illuminated such downtown landmarks as UNCSA's Stevens Center, the Millennium Center, and the First Baptist Church on Fifth Street. This year's location offers spectators an expanse of lawn to relax and reflect. A soundtrack will accompany the display.
"We invite everyone to pause on their way to and from dinner, RiverRun screenings, or other events downtown," Coates said. "Spend a half-hour or so and explore your own concept of time."
In addition to Angle and Lagola, student designers include Abby May of Riverview, Fla.; Joseph Naftal of Great Neck, N.Y.; Connor Schwarz of Kernersville; Tyler Q. Roach of Santa Clarita, Calif. and Matthew Tillet of Severn, Md.
WSLP is supported by a grant from the Arts Council of Winston-Salem & Forsyth County, lighting equipment from Susan and Gilbert Mathews of Lucifer Lighting, and projection equipment from Cirque du Soleil.