Senior Showcase: Music grad builds community around classical music
Sami Eudy has attended the UNCSA School of Music for two years, and will soon depart with a M.M. in Flute Performance. In such a short amount of time, she has made a lasting impression on the on-campus music community, as well as in Winston-Salem, as the founder of the Cross the Line project.
Ahead of graduation festivities, we asked her to reflect on her time in North Carolina and share what's ahead:
What are you doing after graduation?
After graduation, I will be moving to Texas to join the Dallas arts community and pursue a career in arts entrepreneurship.
If you could say thank you to one person at UNCSA, who would it be? Why?
I would thank Rebecca Nussbaum, Director of Career Development and Community Engagement. I had the opportunity to serve as her graduate assistant during my two years at UNCSA, and it was one of the most enriching experiences of my life. Rebecca challenged me to find something that would inspire my passion and bring meaning to my community. She also taught me how to take that passion and turn it into a concrete, actionable plan. Rebecca is a mentor to me and so many other students at UNCSA. She consistently puts her own needs second to those of the people around her and is always searching for creative ways to better her community.
What's your favorite performance you were a part of at UNCSA? Why?
For the Collage Concert in the fall of 2016, I performed Greg Pattillo's "Three Beats for Beatbox Flute" with a contemporary dancer, Katherine Neumann.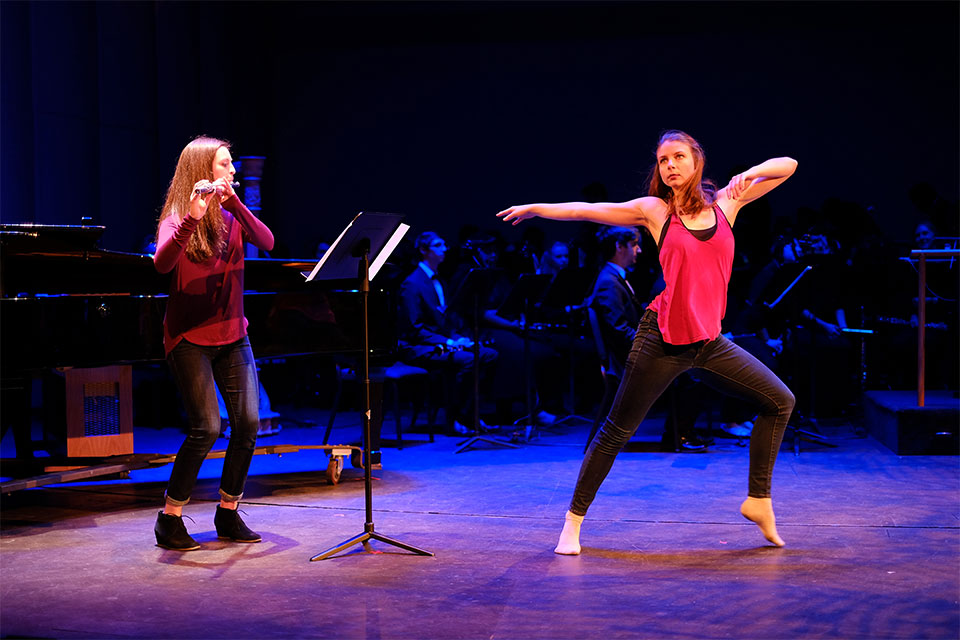 Sami Eudy and Katherine Neumann performed "Three Beats for Beatbox Flute" at the School of Music's fall 2016 Collage Concert.
Collaborating with Katherine was such a unique experience. Sharing our perspectives on the music, the movement, and what we wanted to create together enhanced my interpretation of the work.
Because our different mediums, we viewed the visual and audial aspects of performance differently. We were able to walk through the process of choreographing, making wardrobe decisions and choosing tempos together in a way that neither of us had experienced before. It was an exciting process and we were both extremely pleased with the final product, which Katherine went on to perform as a part of the Pluck Project.
Tell us more about the Cross the Line project. How did it start and what do you hope for its future?
The Cross the Line (CTL) project makes classical music accessible to the Winston-Salem community. Our purpose is to challenge ourselves and our audience to break the fourth wall and to cross the line between audiences and classical musicians.
I started CTL at the end of my first year at UNCSA. I felt like there was a niche that needed to be filled in Winston-Salem to connect musicians with the community. I wanted to find creative ways for people to have positive experiences with classical music.
In addition to expanding the popularity/accessibility of classical music, an important part of Cross the Line's purpose is to develop the skill set of the students who work on the Student Executive Board and to provide opportunities for growth to the entire student population of the School of Music. We have the freedom to try things and fail when we're in this university system—a freedom that, arguably, we won't have when we leave. I wanted to take advantage of that.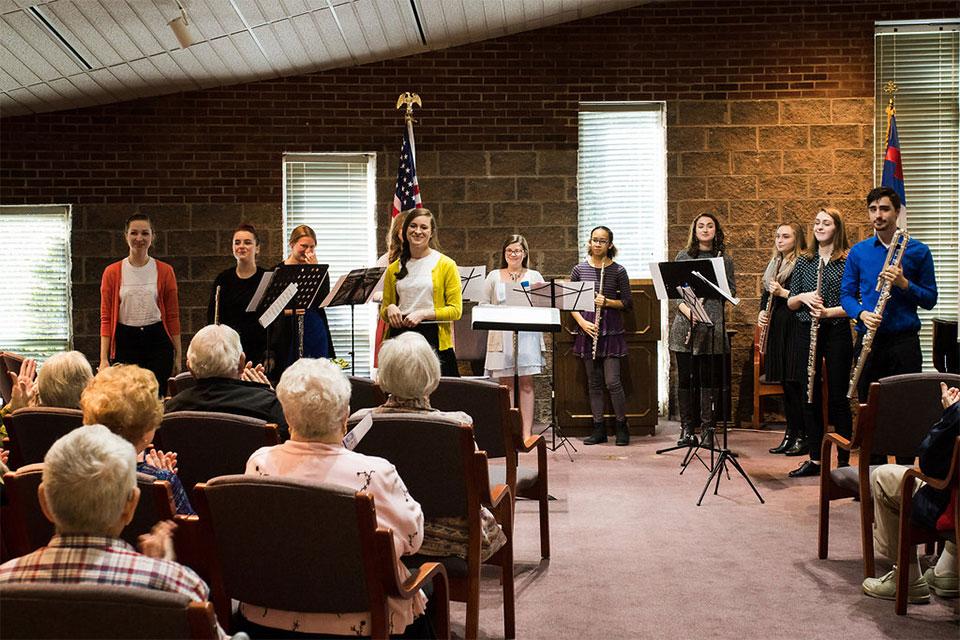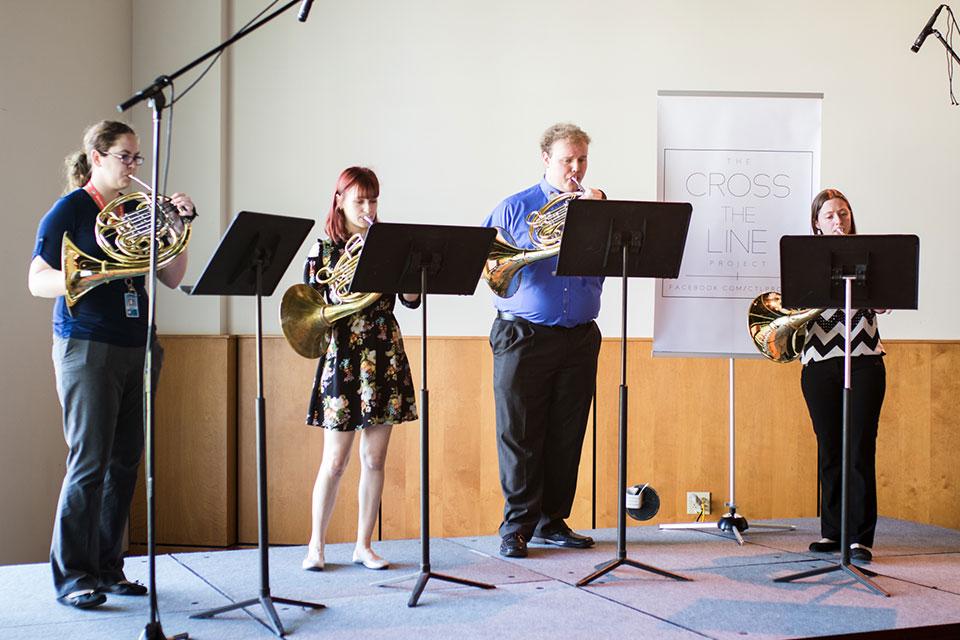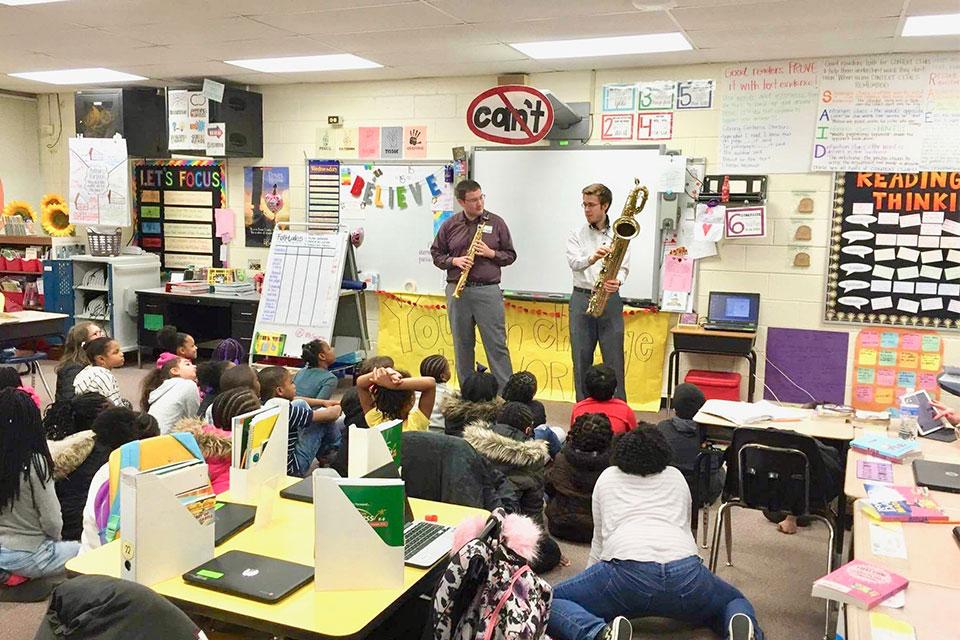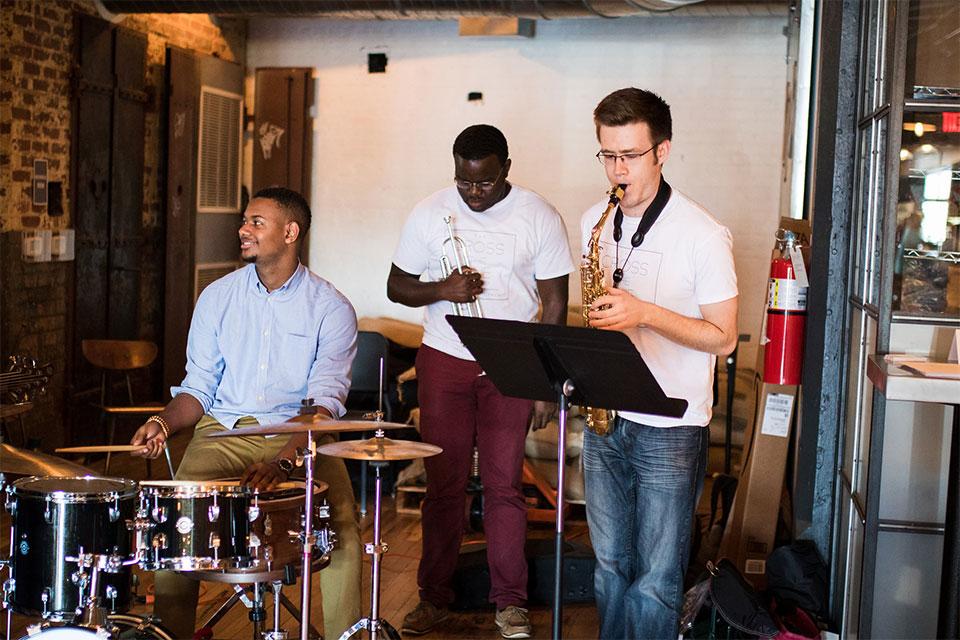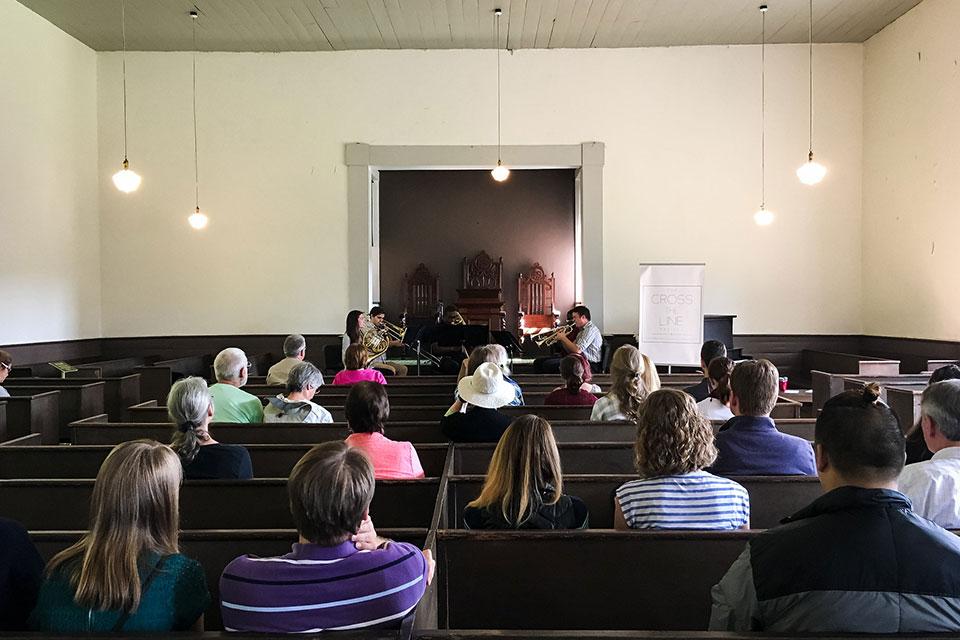 In the 2016-17 season, we received grants from the Arts Council of Winston-Salem and Forsyth County, Wells Fargo and the Arts & Science Council of Charlotte-Mecklenburg. We gave 65 musicians performance experience and reached over 740 audience members. Additionally, CTL brought Grammy Award-winning artist Matt Albert to UNCSA for a residency this spring. He taught master classes, gave lessons and worked with both seminar classes and student composers.
I love that CTL is student-run, student-driven and structured to evolve as the needs of the student and community change. We had an incredible number of students apply for the Student Executive Board for the 2017-18 season and I am excited to watch as the new leadership continues to develop the mission and potential of this organization.
What's something valuable you learned at UNCSA?
Figure out what you care about and what you want your life to look like, then be prepared to work for the things you value.
While we are in school we invest hours into practice and score study in order to put on our best performances. We pour through books and memorize dates to prepare for music history tests.
As we graduate and enter the world, ready to contribute to society, we have to prepare to invest in the things by which our lives will be marked. We must invest in our families, invest in our friends, invest in our government, and invest in our communities.