UNCSA presents "Black Magic" at National Black Theatre Festival
An award-winning play written by a 2017 graduate of the School of Drama at the University of North Carolina School of the Arts will be presented Aug. 1 and 2 at the National Black Theatre Festival in Winston-Salem. "Black Magic" by Tony Jenkins is the story of seven dead black men who were victims of racism and violence. The play premiered last summer at the New York International Fringe Festival, where it was one of three "best play" award winners.
Performances are at 3 and 8 p.m. on Tuesday, Aug. 1 and Wednesday, Aug. 2 in the Gaines Ballroom of the Embassy Suites, 460 N. Cherry St. in downtown Winston-Salem. Tickets are $27 and are available online.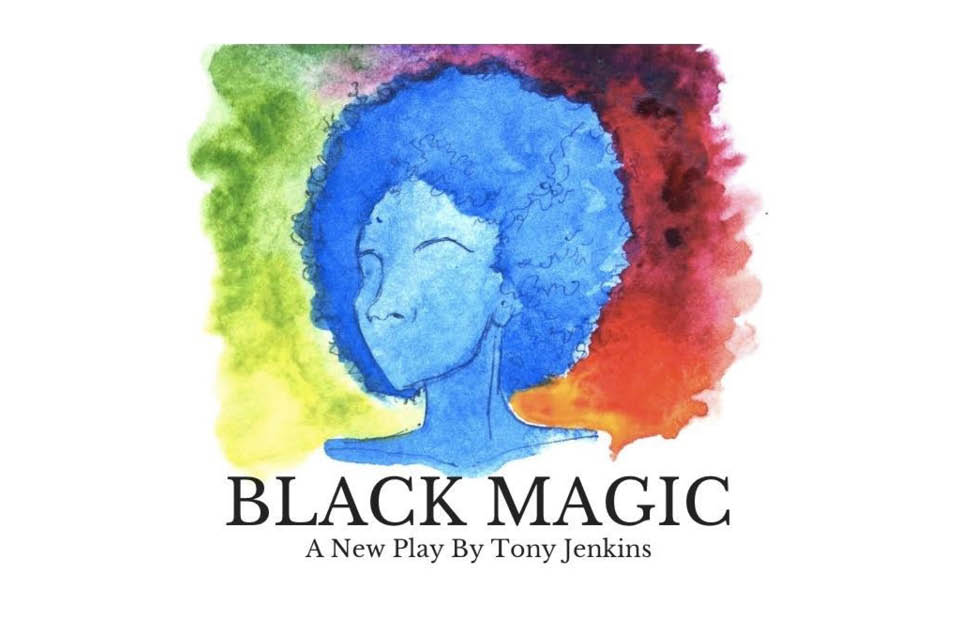 In the play, the dead black men, portrayed by UNCSA alumni and students, confront life, love, death and the systems that killed them. Incorporating spoken word, dance and red nose clowning, "Black Magic" explores the paradox of the African American experience: how we can disappear and still be here, forever.
"Black Magic" is being presented in the NBTF Fringe program, which highlights collegiate theatre in an ongoing effort to cultivate the next generation of black theatre professionals.
Jenkins, who is from Winston-Salem, co-directs the play with classmate Chessa Metz of Concord. Metz also choreographed the play.
"I think of this play as a work of necessity," Jenkins said. "In the wake of so many police shootings and wrongful deaths, the play was born out of the question: what if these men, these people, could tell their own stories of their lives? Beyond the headlines and the media coverage and the seemingly endless cycle of death, if the dead had one opportunity to come back and speak to one person or one group of people, what would they say?"
From that question, Jenkins added, "came an outpouring of love and fierce reclamation. At times the play feels like a ritual, a haunting. At times, a celebration of life. Always an open invitation to mourn and laugh and stand with us."
UNCSA School of Drama faculty member Krisha Marcano is producing "Black Magic" for NBTF with funding from UNCSA's Semans Art Fund, which supports special projects that promote the students and faculty. "I'm looking forward to networking in the lush festival community and exploring ways the UNCSA School of Drama can be more present in the local theatre scene," said Marcano of her first NBTF experience.
"The NBTF Fringe program gives young black actors an opportunity to be involved in a festival where the community has created an eco-system to tell their stories," she added. "For young artists to gain an understanding of their important contribution to society is a blessing and an inspiration."
Marcano said audiences also have a lot to gain from the collegiate productions. "They get to see the high-caliber talent we are growing right here in Winston-Salem, alongside the world-class professional artists that NBTF brings to town."
When "Black Magic" premiered in New York, Theatre Reviews Limited noted the play "is not always easy on the mind but it is undyingly kind to the spirit of forgiveness and reconciliation. The play's message transcends race, color, sex, sexual status, and age: its rich and enduring questions connect with all who seek to move East of Eden with a renewed spirit of hopefulness rooted and grounded in love."
Theasy.com said it is "theatre that electrifies every possible nerve-ending of its audience.
"Some of theatre's most beautiful moments are when the vision and talents of everyone involved collaborate to near-perfection, to the point that the piece isn't simply a performance but a mirror that enchants, inspires, and questions its audience," the review continued.
Carl Bryant, a recipient of the Larry Leon Hamlin and Sylvia Sprinkle Hamlin / Urban League Endowed Scholarship at UNCSA, appears in "Black Magic." The scholarship offers talented students of color the opportunity to access UNCSA's world-class training. Bryant, a rising senior in the School of Drama, spent a semester teaching alongside Mabel Robinson at the North Carolina Black Repertory Company's Teen Theatre Ensemble. He played the title role in UNCSA's November 2016 production of Steven Adly Guirgis' "The Last Days of Judas Iscariot." From Darlington, S.C., he is president of UNCSA's Artists of Color organization.
Other members of the cast include:
J. Andrew Speas, a Winston-Salem native who studied vocal performance in UNCSA's School of Music with Marilyn Taylor. He is a graduate of the N.C. Black Repertory's Teen Theatre Ensemble. His collaborative work, "Bullying" premiered with N.C. Black Repertory Theatre in 2016. He has previously appeared at the NBTF in "Excelsior" and "By a Black Hand." He will study acting and musical theatre at the University of North Carolina at Greensboro;
Christian O. Jiménez, a 2017 graduate of the School of Drama from Freeport, N.Y. who will join the cast of the Walt Disney World Company in Lake Buena Vista, Fla. For the past three summers, he's been a member of the Winston-Salem Dash Pack, appearing at BB&T Ballpark and accompanying Bolt, the team mascot at special appearances;
Winston-Salem native Lance Smith, a 2016 graduate of the School of Drama high school program and rising sophomore in the undergraduate program;
Darron Hayes of Winston-Salem, a 2017 graduate of Drama high school program who will attend Pennsylvania State University to pursue a B.F.A. in musical theatre;
James Alton from Hickory, a rising senior;
Malik Childs, a rising junior from Detroit, Mich.
About the creative team
Tony Jenkins (Co-Director/Playwright) is an actor, playwright, spoken word poet and director from Winston Salem. He has travelled with his writing throughout his home state and to national stages as a keynote presenter at the Harvard Graduate School of Education, the NAACP, the North Carolina Arts Council and the National at Risk Educators Conference, to name a few.
Jenkins studied at the University of North Carolina School of the Arts where he received his B.F.A. in Acting. Some of his favorite roles include Dorimant in "The Man of Mode," Clay in "Dutchman," and Bynum in "Joe Turner's Come and Gone."
His first play, "Baggage Claim," premiered at Lincoln Center through Lincoln Center Education. He performed in and co-directed his second play, "Black Magic," which won Best Overall Play at the 2016 NYC International Fringe Festival. He is currently workshopping his third play "Riverboys."
Jenkins has worked with the arts non-profit organization Authoring Action since the age of 15. Soon he will begin a William R. Kenan Jr. Fellowship at Lincoln Center Education in New York City.
Chessa Metz (Co-Director/Choreographer) is a New York City-based actor and a 2017 William R. Kenan Jr. Fellow with Lincoln Center Education. A recent graduate of UNCSA's School of Drama, Metz was the co-director and choreographer of the world premiere of "Black Magic," which won Best Overall Play at the New York International Fringe Festival in 2016. Metz is a classically-trained actor, singer and dancer who works both as a performer and freelance dance instructor/choreographer. She is from Concord, N.C.
Krisha Marcano (Line Producer) joined UNCSA's School of Drama as an assistant professor of theatre dance in August 2016, directly from the first national tour of "Motown The Musical." She graduated with a B.F.A. in dance from the State University of New York at Purchase and an MBA from Kenney College. She went on to dance for the Martha Graham Dance Co., Alvin Ailey American Dance Theater and the Micheal Mao Dance Co. She made her move to musical theatre with the first national tour of "Fosse, the Musical." Marcano's Broadway credits include Disney's "Aida," "Sweet Charity," "The Color Purple" (Squeak, original cast) and "Motown The Musical."
Marcano has taught at the Ailey School, Dance Theatre of Harlem, Harlem School of the Arts, The Joffrey Ballet School and The New Studio, Tisch NYU. She is a founding member of The Broadway Collective, teaching musical theater dance across the country. She is also the CEO of The Artistry Center, offering education and coaching on artistic and entrepreneurial wellness.
About National Black Theatre Festival
NBTF is the international outreach program of the North Carolina Black Repertory Company, founded by the late Larry Leon Hamlin. The Festival has been held biennially since 1989 and attracts thousands of national and international patrons, theatre professionals and scholars to Winston-Salem, NC. The National Black Theatre Festival® was named "A Top 20 Event" by the Southeast Tourism Society. For additional information and a schedule of events, call the Festival office at 336.723.2266 from 9:00 a.m. – 5:00 p.m. Monday through Friday or visit us online at www.nbtf.org.