Musicians from U.S. Marine Corps Jazz Orchestra join UNCSA students and faculty for free concert
The University of North Carolina School of the Arts presents a free concert by a seven-piece jazz combo composed of members of the Marine Corps Jazz Orchestra, with an opening set by the award-winning UNCSA Jazz Ensemble, at 7:30 p.m. Tuesday, Feb. 13 in Freedman Theater of the Alex Ewing Performance Place.
Though the concert is free, tickets are required. Reserve tickets online or call the box office at 336-721-1945.
Formed in 2008, the Marine Corps Jazz Orchestra comes together once a year for a two-week tour and includes the top jazz players from across the 10 U.S. Marine Corps Field Bands. In addition to the UNCSA concert, this year's tour by a smaller ensemble includes Ohio State University, Cincinnati Conservatory of Music and the University of Kentucky.
"We're pleased to offer our audience the opportunity to hear these excellent jazz musicians, who also happen to serve our country in the U.S. Marines," said Ronald Rudkin, who directs the UNCSA Jazz Ensemble and teaches in the School of Music. "Our student musicians are excited to share the concert stage with them."
Rudkin, a saxophonist, is one of two members of the UNCSA music faculty who will sit in with the Marine Corps musicians. John Beck, a former soloist with the U.S. Marine Band who directs UNCSA's percussion department, will also perform.
The UNCSA School of Music had planned to present a concert by the full 20-member Marine Corps Jazz Orchestra, but the orchestra's scheduling issues necessitated the smaller group. "The band will present a mixture of original compositions, music by jazz greats like John Coltrane, Oliver Nelson, and Joe Henderson, and more well-known American standards," Rudkin said.
The 20-piece jazz orchestra has toured annually for almost a decade, performing jazz in the styles of Stan Kenton, Count Basie, Duke Ellington and others. The orchestra has played at the Monterey Jazz Festival, Lincoln Center (in a performance featuring Bob Mintzer), the Berklee College of Music, the Illinois State Music Conference, and a Northwestern University showcase with guest soloist Victor Goines.
Musicians scheduled to perform at UNCSA include Gunnery Sergeant Jason Knuckles, tenor saxophone, Sergeant Madeline Young, baritone saxophone, and Sergeant Benjamin Tucker, electric bass, all stationed at the Parris Island Marine Band in Beaufort, S.C.; Sergeant Michael Borowski, guitar, and Lieutenant Corporal Taylor McManaway, percussion, both stationed at Marine Corps Recruit Depot in San Diego, Calif.; Gunnery Sergeant Alan Phillips, trumpet, stationed at Camp Lejeune in Jacksonville, N.C.; and Sergeant Ivan Arden, alto saxophone, stationed at the 3rd Marine Expeditionary Force Band in Okinawa, Japan.
About John Beck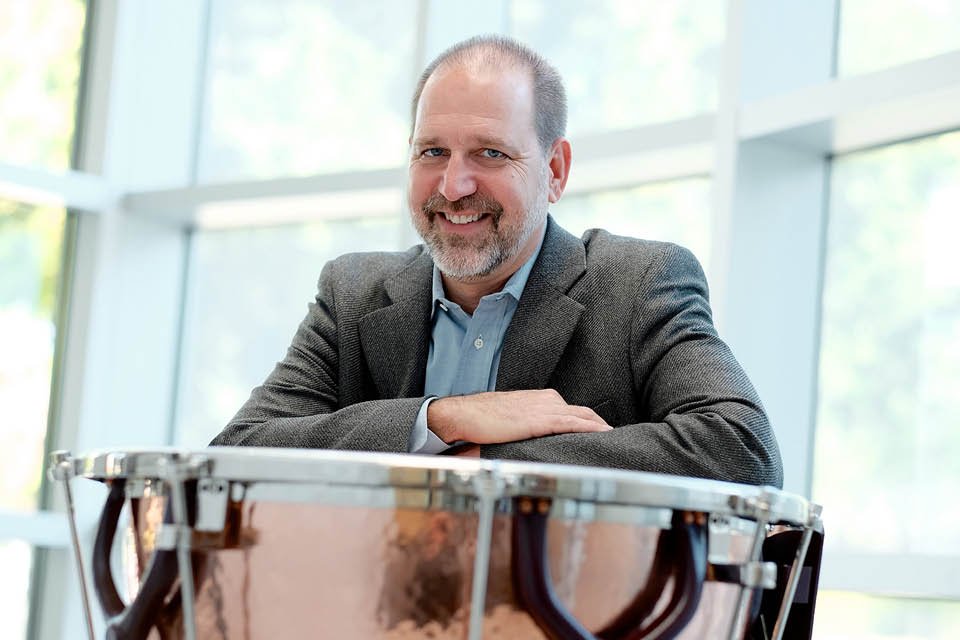 John R. Beck has been a member of the faculty at the University of North Carolina School of the Arts since 1998. He is a performer with the Winston-Salem and Greensboro symphony orchestras, Brass Band of Battle Creek, and the Philidor Percussion Group. A former member of the U.S. Marine Band, for 10 years he also performed regularly with the National and Baltimore symphonies, Washington and Baltimore operas, and the Theater Chamber Players of the Kennedy Center. Beck has toured the United States as a xylophone soloist with the Jack Daniel's Silver Cornet Band, Brass Band of Battle Creek, and the New Sousa Band. He is a Past President of the Percussive Arts Society and presents clinics endorsing Yamaha percussion instruments, Zildjian cymbals, and Innovative mallets.
In 2006, he received a UNCSA Excellence in Teaching Award. In 2016-17, he received a Faculty Leadership Grant from the Thomas S. Kenan Institute for the Arts to document the use of community drumming as an adjunct therapy for cancer patients undergoing chemotherapy.
About Ron Rudkin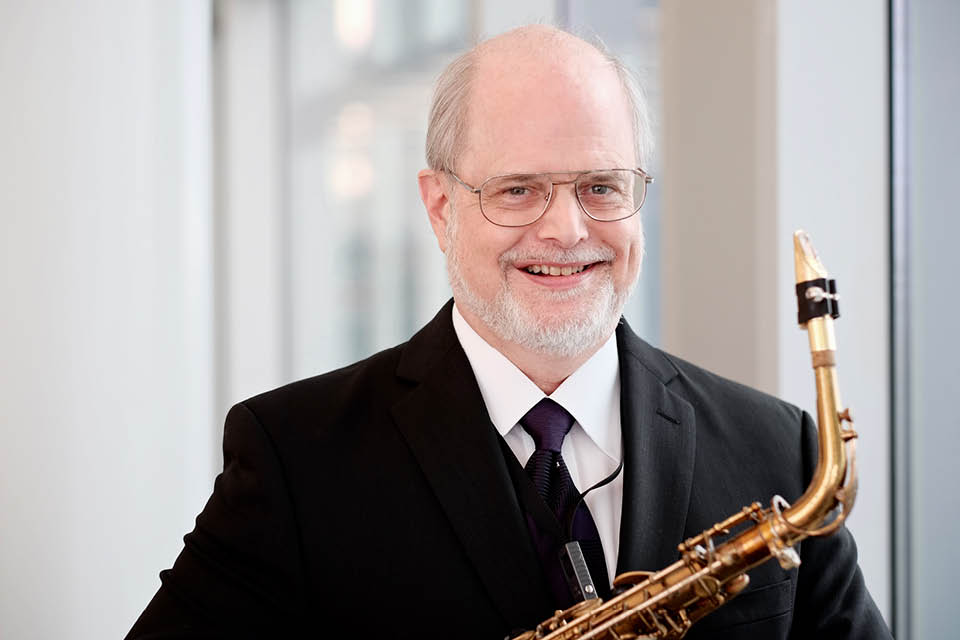 Ron Rudkin directs the UNCSA Jazz Ensemble and jazz program and teaches music theory. In addition to maintaining an active performing career on saxophone, clarinet and flute with his own jazz groups and dance band, Rudkin plays clarinet in the Winston-Salem Symphony and has appeared with the North Carolina, Greensboro, Charlotte and Western Piedmont symphonies.
An experienced band leader and arranger, he has led professional groups in performance with numerous celebrities from the worlds of entertainment, pop and jazz. His pops arrangements and compositions for symphony orchestra featuring solo saxophone or saxophone quartet have been performed by regional orchestras as well as orchestras around the United States and abroad.
An active jazz educator and clinician, he has directed the UNCSA Jazz Ensemble in concert at jazz festivals, concert halls and events across the Southeast.