Alumni write and produce dark, comedic mini-web series about NYC experiences
Moving to New York City after graduation is a well-documented pilgrimage for many UNCSA alumni, and there's an extensive network of Fighting Pickles waiting to welcome them. 2014 School of Drama graduates Mike Labbadia, Gus Halper and Maddie Meigs live and work in NYC, where they co-founded Produced by Actors to pursue meaningful projects that showcase their creativity, skill and resourcefulness.
Produced by Actors' first mini-web series, "Today in New York" premiered on July 15, 2018, and tells the tale of a young woman's first (and last) day living in New York City. Labbadia, Halper and Meigs wrote and produced the series. Labbadia directed the episodes, while Meigs acted in the principal role and Halper was the on-set producer, handling logistics. All episodes are available to watch online.
Why did you form Produced by Actors? What is your mission?
Mike Labbadia (ML): We were at Deacon Brodie's (a bar in Hell's Kitchen, NYC), about a year and a half after we graduated, and that's where the idea was born. I was coming off a show and was feeling a bit down that I had nothing coming up. It's easy to tell a story of powerlessness as an actor; that you can't make things unless someone lets you. As many actors of our generation have proven, it doesn't have to be that way. Empowerment is definitely at the core of the company.
It's easy to tell a story of powerlessness as an actor; that you can't make things unless someone lets you. As many actors of our generation have proven, it doesn't have to be that way. Empowerment is definitely at the core of the company.

Mike Labbadia
Maddie Meigs (MM): Our mission is to grow as more well-rounded or multi-hyphenate artists, and to take advantage of large platforms and engaged audiences that are accessible to anyone, if you put out good content and work hard. With each project, we've taken on a new level of artistic responsibility. We commissioned our first two scripts from other writers and hired directors, but for "Today in New York" we wrote and took on full creative control—as well as the producorial work.
What is the UNCSA alumni network like in New York? Do you collaborate with other alumni often?
ML: UNCSA is all over NYC. In past couple years, the school—and especially (Alumni Relations Manager) Amy Werner—is doubling down on connecting alumni to each other and to the university again; it's really nice.
MM: I don't know how it happens, but UNCSA makes such great people. And yes, I collaborate all the time with fellow alumni. With every project I produce or work on there is always at least one other UNCSA person involved. We all speak the same language.
Gus Halper (GH): Not only in New York! I often find myself on set with at least one other alum of UNCSA. The school has an amazing reputation in the industry.
Why is it important for actors to learn to create and produce their own work?
GH: I would say that only a select few actors in the world are consistently involved in projects that bring them real fulfillment. Creating your own work seems the only way to guarantee that you're making the kind of work you want to be making, the way you want to be making it.
ML: Even people whose careers you would die to have... so many feel discontent and not artistically satisfied. If you aren't one of those living the "#dream," then creating and producing is everything. You realize that the old fantasy of being plucked from the thousands and thousands of actors out there is slim to none. Personally, I don't like waiting for someone else to give me a break.
How did your experience at UNCSA prepare you to produce your own work?
ML: UNCSA is like artist dream camp. You are constantly being challenged… you are in a beautiful land where everyone is making art and filled with passion, and you are too. For better or for worse, that's your standard now. Now I feel like I'm trying to live my life like I am a first-year and create my own version of UNCSA in my life.
GH: UNCSA set a standard for the quality of work that I want to be engaged in. It also encouraged us to produce our own pieces during Intensive Arts and Keys to the Kingdom. Those experiences were invaluable.
MM: I made a project each year at Intensive Arts, which was a huge test in making artistic decisions very quickly. Senior year, I was elected by my class to be the Artistic Director for Keys to the Kingdom. We did a fundraiser and produced a "season" of 5 plays in the last 2 months before we graduated. I have never been busier in my life! Those experiences taught me about getting over my idea that other people won't want to help or that they won't be as excited about a project as me. More often than not, when I ask people for help, they say yes.
You had to raise $8,000 to support this project. How did you come up with the funds?
ML: Pyramid scheme.
GH: We also started a Bernie Madoff-esque investment scheme. It was wildly successful; I would highly recommend it to any alumni.
MM: Now that that's out of everyone's system… We ran a really successful Kickstarter campaign that we are all really proud of! We shot a Kickstarter trailer over the course of a day, all over the city.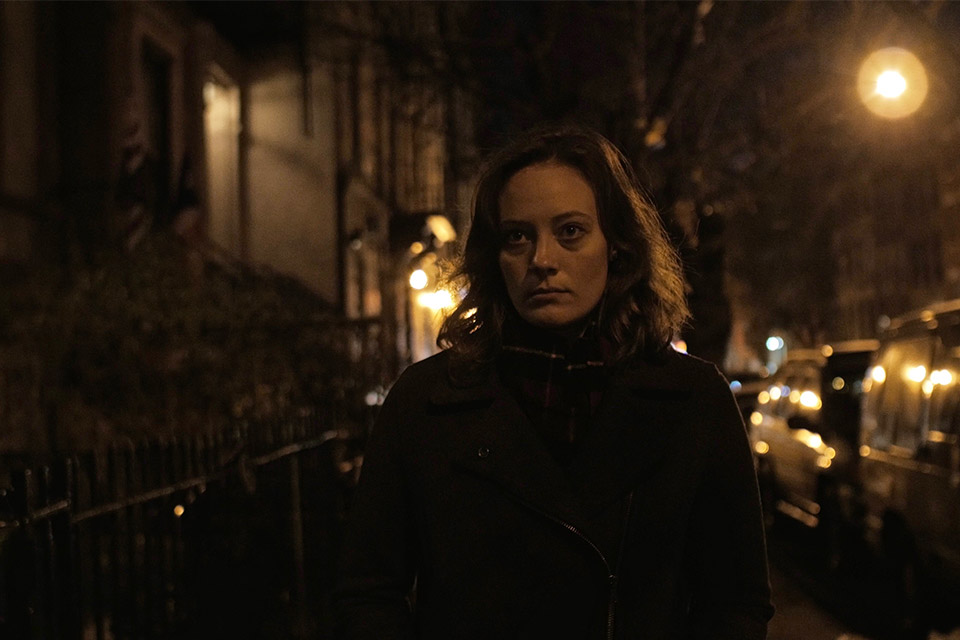 Watch the "Today in New York" Kickstarter trailer.
The genre our web series is in—millennial trying to "make it" in NYC—is such a saturated genre and can sound boring and unoriginal. We believed our take on it was unique, so the challenge was to communicate that through our campaign. We did a lot of research on what makes Kickstarters successful, and a lot of what we found was that visual elements were crucial. We themed everything specifically and used a lot of GIFs to get the series' sense of dark ironic humor across. It took a ton of work, but we communicated our message, got people really excited and ended up raising $1,000 more than our goal.
ML: It was hard work, but we are lucky to have a very supportive community.
Why is it important to tell this story? How did your personal experiences contribute to the script?
MM: Our main character attempts to make connections and is often disappointed with how those connections turn out, or disappointed with other's intentions to connect with her. I think it was important for us to examine what connecting in NYC looks like, because it relates to the whole experience of starting adulthood—seeking connection and often ending up feeling isolated.
GH: I think NYC can be really overwhelming, and I think that's important to talk about openly. All of our personal experiences contributed directly to the writing of this series. I don't think there's a single thing in all five episodes that hasn't happened to one of us in this city, with one big exception…
ML: That's some good suspense building!
What challenges did you face during production?
GH: One of the specific challenges we faced was trying to get a Screen Actors Guild (SAG) agreement before production. We found out really late in the game that they required hundreds of dollars of insurance that we just couldn't afford. Had we known about it earlier, we might have been able to budget some of it in, but we didn't find out until it was too late.
MM: In fact, we had to recast nearly the entire series one week before production because of the SAG issues. It was intense.
ML: The fear and anxiety that goes around getting money for a project is pretty exhausting. It's comparable to asking for Showcase money, but it's just you, and you don't have an esteemed institution behind you. One of the main challenges for me has been post-production, because that's a whole element that as an actor you're like, "What's this? I thought we wrapped and there are still 50 billion things to do!"
MM: Each phase of the process is different and involves a totally different crew with different goals and different skills. It's a steep learning curve at times.
What advice do you have to share with current or prospective Drama students?
ML: Enjoy your time at school. Start to challenge yourself a bit… get some film kids together and shoot a little short, or get some classmates together and put up a play in one of the studios. Do it all completely on your own. Set aside time to write a few pages for that idea you've put on the backburner, or schedule a brainstorm session with a classmate you respect. Expand your definition of 'what you do' and 'how much you can handle.'
GH: Never listen to advice. It's always more revealing of the person giving it than it is helpful to the person receiving it. That being said, you should listen to Mike's advice. It's really good.
MM: Create friendships and creative connections with people in all the other schools besides yours. I don't think I took as much advantage of that as I could have when I was at UNCSA.
If you could do something on your bucket list right now, what would it be?
GH: Travel around South East Asia. Or find the perfect Vindaloo.
ML: New Orleans sounds really good right now. Also, I'd like to finish writing a feature, and I really want to develop a theater piece about peasant farmers in Sicily, pre-Risorgimiento.
MM: I'd like to produce a documentary series that takes me to different countries. I'm still forming ideas of what that would be, but it sounds like we are all pretty excited about travel and art.