Summer of dance and drama instilled self-affirmation for contemporary dancer
Undergraduate Contemporary Dance student Lauren Smith has traversed the spectrum of the performing arts this summer, studying both dance and drama to diversify her interests and talents as an artist. From behind-the-scenes administrative work for the UNCSA Summer Dance program to studying with famed choreographers and acting instructors, she reflects on a summer of self-discovery:
Describe your summer experience in one word:
Vigorous. This summer has been a refreshing challenge to my choreographic mindset and physical capacity. There were many days I was drenched in sweat and challenged, both mentally and physically, for demanding periods of time. But I never questioned my passion nor my attitude towards working hard. I am a strong believer that the more I test myself to step into the unknown (literally!), the closer I am to achieving my wildest dreams.
How did you discover the opportunity to participate in the Summer Dance Professional Studies program?
It's a funny story, actually. I first found out about UNCSA through attending the summer program in 2015 and, by chance, Catherine (Cat) Miller cast me in her piece for the show. This was also the summer I auditioned and was accepted into UNCSA's college program as a contemporary dance major for the following year.
Once I started school, Cat was promoted to Director of Summer Dance and remembered that I was a student at the school. She asked me to be her "boots on the ground" for the program and it was through my work that I started promoting the Professional Studies program.
As soon as I heard Victor Quijada and Sidra Bell were the inaugural choreographers, I knew I had to grab the rare opportunity to work with such accomplished, intelligent leaders of the dance world.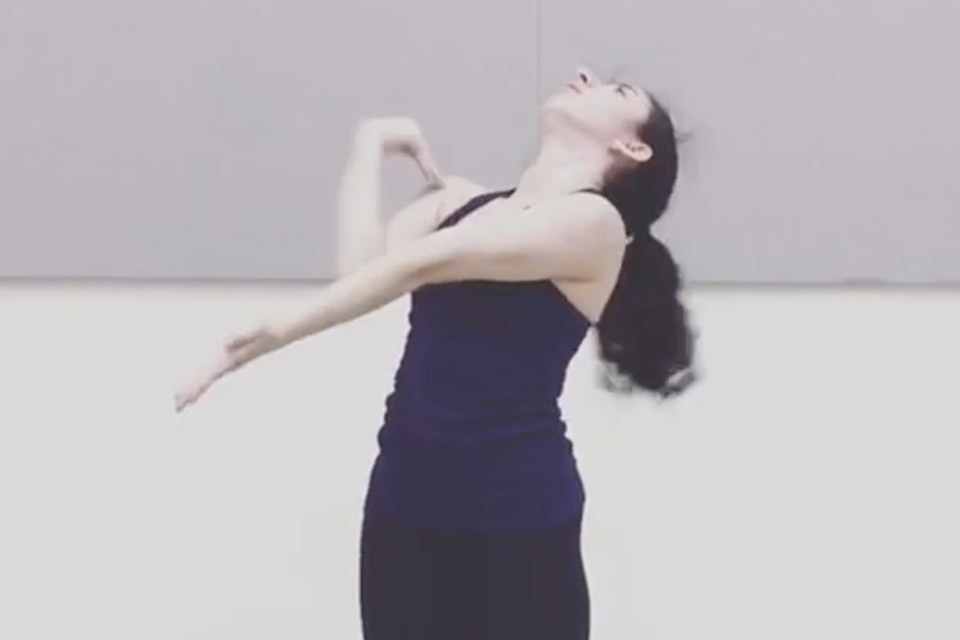 Watch a clip of Lauren Smith's work with mari Meade, Choreographic Development Residency Mentor.
How did you prepare for the program?
I wrapped up the school year with performances of "A Choreographic Offering" and "Spree" and, as a result, my strength, stamina and endurance improved. However, after pushing my body for an entire school year, I understood that in order to move my training forward I needed to take a break.
To unwind and relax my mind, I traveled home to Singapore, spent some time in Bangkok and visited my cousins in Los Angeles, where I explored the LA dance scene and exposed myself to commercial artists and new ways of moving. Right after, I arrived back at UNCSA, hungry for more (as always!). My enthusiasm and appetite for cultivating my technical, artistic and choreographic abilities will never truly be fulfilled.
What was surprising about your training with Victor Quijada?
Victor's intensity and ambition caught me off guard. I could not believe that such a renowned, gifted figure in the dance world was so eager to invest in a group of dancers who were fresh to his carefully crafted technique, the RUBBERBAND Method. He believed so strongly in every individual and encouraged us to keep investigating, even when we were doubtful of the possibilities.
His method is incredibly valuable and useful to all forms of dance technique and will only help a dancer further his or her skillset. This is necessary to survive the demands of the world of the performing arts. I cannot thank Victor and Lea Ved, his inspirational assistant, enough!
What were your main responsibilities working for UNCSA Summer Dance?
My main responsibilities were organizing orientation, assisting with audition processes, checking in on the dancers/faculty/staff, assuring that the dance boards had correct information and taking photos and videos of the program for social media. I organized the signups for the brand new workshop, "Transcendent Dancer (Mindset training for Dancers)," led by Dean Susan Jaffe and Catherine Board. The workshop focuses on dancers engaging a healthy mindset to ensure progress and growth for future opportunities. It is innovative and highly beneficial towards shaping a lasting career.
Share a special/favorite moment from your summer:
I was fortunate to attend Yale's Conservatory for Actors, a five-week drama intensive which focuses on improvisation, text analysis, acting technique, scene study, voice and movement. It pushed me to trust my natural instincts and understand reasonings and motives different from my own.
The first time I had to present my scene in front of my section group, I was put on stage, where I usually felt confident and at home, but instead it evoked an unfamiliarity and uneasiness I hadn't experienced in a long time. Instead of communicating through movement, I was vulnerable in a new environment and felt completely exposed – stripped of my innate emotional, mental and physical defense mechanisms. I expressed my soul in a previously foreign form and it was intimidating.
That moment was special because I had to navigate new territory and study how to "begin again." I jumped into a world that was exciting and thrilling, yet that I had limited knowledge in. I am now a more tenacious, versatile artist because I did it.
How does what you're doing this summer relate to your future career?
Attending Yale's Summer Conservatory for Actors strengthened and expanded the education I already receive from UNCSA in more ways than I initially expected. It extended the way I present myself and my skills in different artistic fields and proved the importance diversification holds for me in the long run. Dance has so much expression already. The innate interwoven nature of dance with acting stresses how beneficial a strong foundation in drama is. There are so many connections between the two disciplines and I believe my movement improved immensely from exposure to the fundamental acting techniques.
As an artist, I am not interested in limiting myself to one clean cut definition. I am not solely a dancer, or a choreographer or an actor… but I am a combination of all my experiences and training I have received.

Lauren Smith
I plan on choreographing for all sorts of projects, ranging from big dance companies to theatrical productions to commercial work. Along the way, I would love to dance and act on stage and in film. As an artist, I am not interested in limiting myself to one clean cut definition. I am not solely a dancer, or a choreographer or an actor… but I am a combination of all my experiences and training I have received. I believe the more diverse I am as an artist, the more distinct and original my creative work will be.
What did you learn about yourself through your summer experience?
I always consider myself a work in progress, and this summer reinforced that notion. It is hard for me to be self-affirming, since I hold myself to such high standards and high expectations. I struggle with gaining confidence in my work and trusting my artistic intuition fully, especially with choreography. However, with empowering mentors, teachers, and peers who believe in my abilities, I am beginning to fairly judge my progress and set reasonable goals.