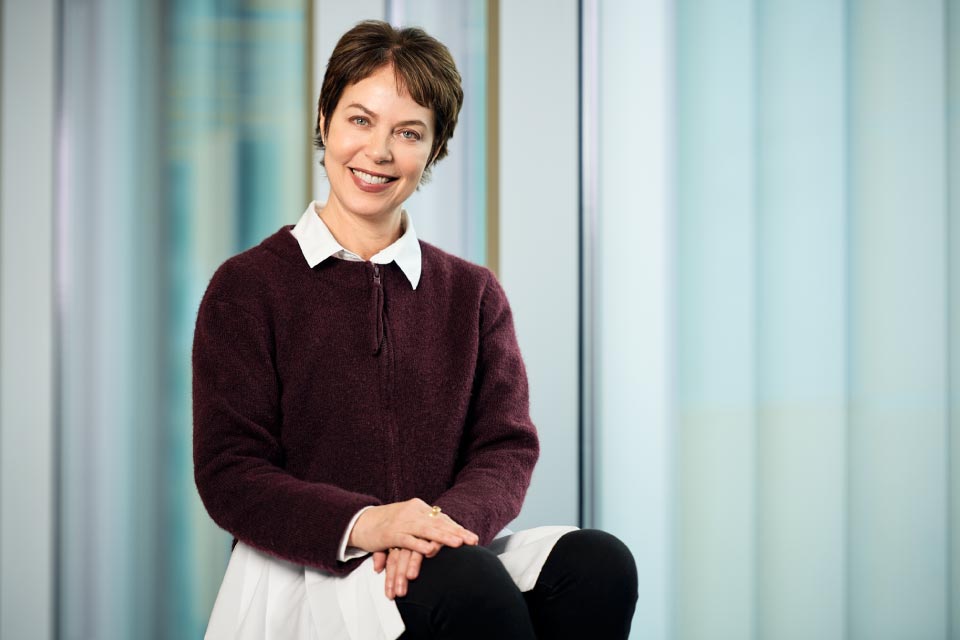 I enjoy empowering dancers by giving them the tools they need to know their own bodies and approach to technique, artistry, and movement quality, in a comprehensive way. If a dancer knows how to move with clarity, musicality, and refinement, then artistry can blossom to its full potential without extraneous mannerisms that interfere with the quality of their unique expression.
Purity of movement, with detailed epaulement, musicality, fearlessness and presence, is what I believe helps the students of UNCSA stand out from others in their field. This is because we have four major performance programs every year. Our students learn and perform the styles from the classics in contemporary dance and classical ballet, as well as the works of the top choreographers in the dance world.
Credentials
Declared by the New York Times as "America's Quintessential American Ballerina", Susan Jaffe was a principal dancer with American Ballet Theatre for 22 years, a career which began in 1980. Prominent in the international dance scene as well, her European engagements included performances with The Royal Ballet, The Kirov Ballet, The Stuttgart Ballet, Munich State Opera Ballet, La Scala Ballet in Milan, Vienna State Opera Ballet, Royal Danish Ballet, Royal Swedish Ballet, and English National Ballet.
Ms. Jaffe's versatility as a dancer allowed her to tackle a large range of choreographic works which included her acclaimed interpretations of the classics like Swan Lake, as well as the dramatic works of John Cranko, Antony Tudor, Agnes de Mille and Kenneth MacMillian. She also worked with and danced the works of many prominent choreographers such as Jiri Kylian, Twyla Tharp, George Balanchine, Jerome Robbins, Lar Lubovitch, Nacho Duato, Glen Tetley, James Kudelka, Roland Petit, David Parsons, Mark Morris, Merce Cunningham, Ronald Hynd, Frederick Ashton, Ulysses Dove and Lynn Taylor Corbett.
Advisor to the Chairman of the Board of American Ballet Theatre
Teacher at the Jacqueline Kennedy Onassis School of American Ballet Theatre 2003-2010
Co-Founder and Co-Owner of Princeton Dance and Theater Studio, and Co-Director from 2003-2010
Co-Founder and Co-Director of DanceVision Inc. 2007-2010
Ballet Master at American Ballet Theatre from 2010-2012
Dean of Dance, University of North Carolina School of the Arts 2012-present
Choreographed works for: American Ballet Theatre Gala, American Ballet Theatre Studio Company, The Jacqueline Kennedy Onassis School of American Ballet Theatre, Grand Rapids Ballet, Company C Contemporary Ballet, Configurations Dance Theater, Lemon Spongecake Contemporary Ballet, Princeton University, Texas Christian University, Goucher College, The Youth America Grand Prix Gala, Princeton Dance and Theater Studio, DanceVision Inc. and UNCSA.
Career Highlights
Debut professional performance danced with Alexander Godunov in a pas de deux in American Ballet Theatre's opening night gala at the Kennedy Center in 1980
Danced first Swan Lake as Swan Queen with Baryshnikov
Worked with luminaries such as: Mikhail Baryshnikov, Natalia Makarova, Irina Kolpakova, Jiri Kylian, Twyla Tharp, Kenneth MacMillian, George Balanchine, Merce Cunningham, José Manuel Carreno and Julio Boca
Appointed as a Ballet Master of American Ballet Theatre; I had the honor of working with the great dancers of today for two years
Appointed Dean of Dance at the University of North Carolina School of the Arts
Awards, Recognitions and Honors
New York Magazine's Woman of the Year Award, 1998
Dance Magazine Lifetime Achievement Award, 2003
Honorary Doctorate, Texas Christian University, 2010
Organizations
Board Member: Youth America Grand Prix
Board Member: Dance Magazine Awards