Grammy Award-winning, all-female mariachi band to perform at the Stevens Center
Hailed by NPR as "mariachi girl magic," Flor de Toloache won a 2017 Grammy for Best Ranchero/Mariachi Album – the first time women have won in the category – for "Las Caras Lindas." The all-female mariachi fusion band will perform at 7:30 p.m. Saturday, Sept. 14, at the Stevens Center, 405 West Fourth St. in downtown Winston-Salem, launching the "UNCSA Presents" American Music Series for 2019-20.
The Hispanic League of Winston-Salem will co-host the concert as the capstone event of Fiesta, its annual celebration of Latin culture.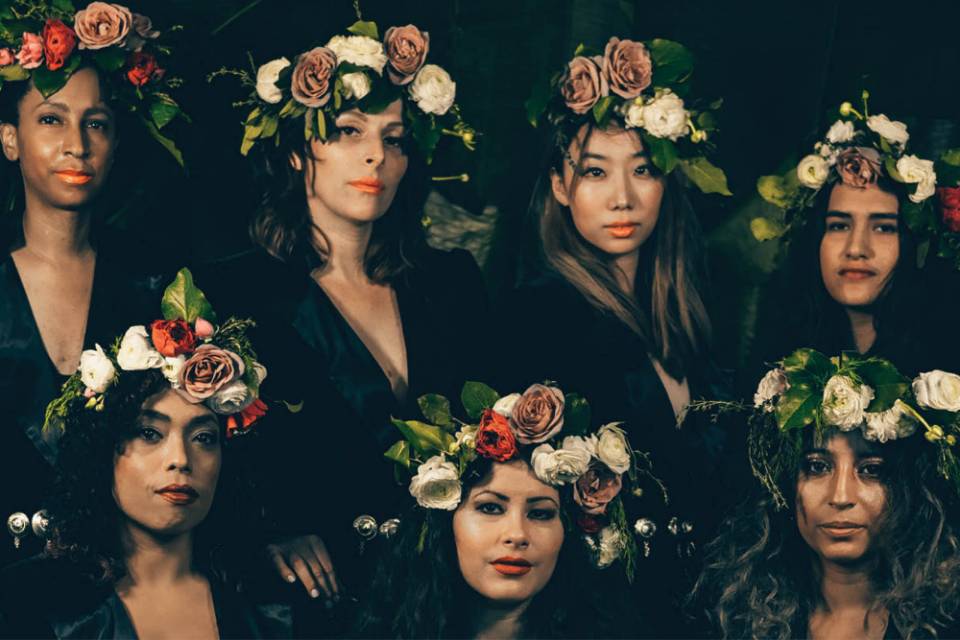 "We're incredibly excited to offer what might be the nation's first all-female mariachi band," said Wiley Hausam, UNCSA's managing director of performance facilities, who curates "UNCSA Presents." "In a genre that is dominated by men, Flor de Toloache performs a rich and powerful blend of music that transcends the traditional boundaries," Hausam continued. "Their style is unique, and their sound is truly moving. We're especially pleased to offer this concert in conjunction with the popular Fiesta event presented by the Hispanic League."
Mari Jo Turner, executive director of the Hispanic League, said, "We are thrilled to partner with UNCSA to bring Flor de Toloache to Winston-Salem and to celebrate Fiesta with us on Sept. 14. It is rare that we have the opportunity to experience the entertainment of Grammy Award winners in our community and we know this is going to be a fabulous concert. We hope everyone joins us for all of Fiesta."
Fiesta 2019 takes place from 11 a.m. to 7 p.m. downtown, in the area surrounding the Milton Rhodes Center for the Arts. It features Latin music and food, arts and crafts, children's activities, a dance contest, parade of flags and a naturalization ceremony.
Flor de Toloache's latest album, "Indestructible," is a bilingual collaboration with John Legend, blending traditional Mexican music with reimagined pop covers. Released in May, it was featured on NPR's "First Listen" program, with critic Marisa Arbona-Ruiz noting, "The album is a testament to the beauty, power and indestructibility of women and a celebration of one of Mexico's most enduring, borderless art forms."
Flor de Toloache, named for a flower known as "Mexico's love potion," has captivated audiences around the world by blending their diverse cultural backgrounds with unique and modern arrangements. With members hailing from Mexico, Puerto Rico, Dominican Republic, Cuba, Australia, Colombia, Germany, Italy and the United States, the band was formed in New York City by lead singer Mireya Ramos, who grew up in Puerto Rico listening to her Mexican father perform mariachi, and Shae Fiol, a half-Cuban singer from Oregon who plays the vihuela, a small, guitar-like instrument.
Dating back to at least the 18th century, mariachi is a style of Mexican popular folk music with distinctive instrumentation (violins, guitars, basses, trumpets and the vihuela) and clothing (silver-studded charro outfits and wide-brim hats), often performed by strolling musicians. It is regarded as an integral part of Mexico's culture and history, though in recent years its popularity has spread across the world.
More about Flor de Toloache
As the opening act of Black Keys' singer Dan Auerbach's new band, The Arcs, they've played to sold-out audiences in the United Kingdom, Germany, Holland, Italy and France. In the United States, Flor de Toloache has captivated crowds at legendary venues including Terminal 5 in New York, Nashville's Ryman Theater at The Grand Ole Opry and at Coachella. The group's live performances have been praised by Rolling Stone, Billboard Magazine, The New Yorker, GQ Magazine and The New York Times, and the band was featured in O, The Oprah Magazine. Following a highly praised NPR "Tiny Desk Concert," Flor de Toloache made an appearance on "The Late Show with Stephen Colbert" and BBC 2's "Later with Jools Holland."
Their current tour includes concerts in New York, Los Angeles, San Francisco, Atlanta, Chicago, Nashville, Denver and Austin, along with other cities across the country.