Drama faculty member composes music for Venice Biennale exhibition
As an artist, being an integral part of an official exhibition at the 58th International Venice Biennale has been an incredible opportunity for Greg Walter. As a faculty member in the UNCSA School of Drama, it has also been a chance for him to share that opportunity with fellow faculty members, students and alumni.
The Venice Biennale is a celebration of contemporary art that takes place every other year in the Italian city and showcases innovative and cutting-edge work by visual artists from around the globe. Walter composed music to accompany "Processional," a series of abstract paintings by his longtime friend and Los Angeles-based artist Todd Williamson, and one of just 23 official exhibitions at the event.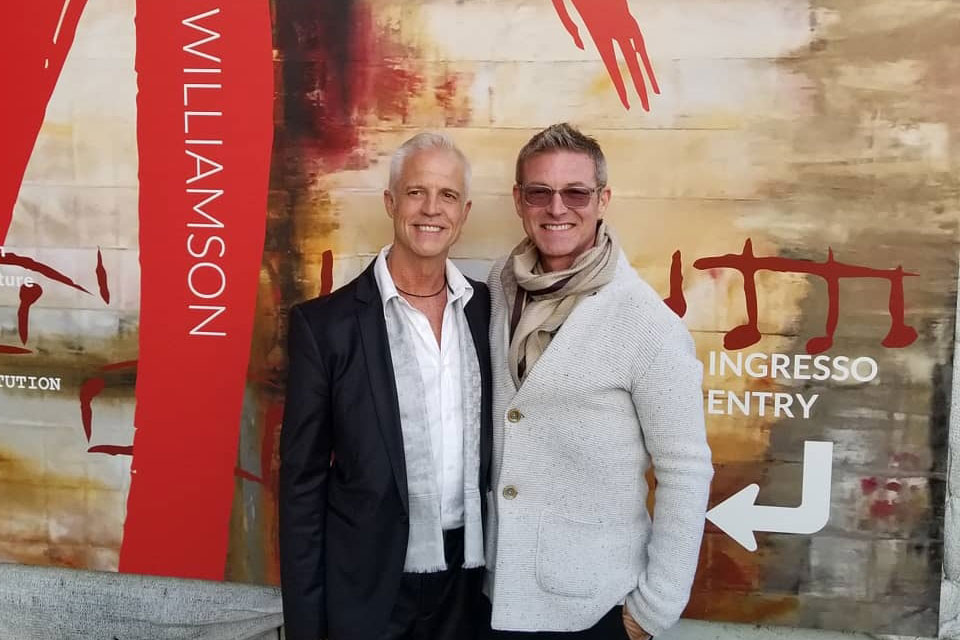 Compilation of Williamson's artwork in the church of Santa Maria della Pieta and Walter playing at the opening of "Processional."
Listen to the full audio for "Processional" here.
The idea of combining an art exhibition with a musical composition, Walter says, started as a conversation between old friends. Walter and Williamson, college roommates and best friends from their days at Belmont University, were traveling on a train from Zurich to Venice in 2008 when the concept for a combined exhibition first came about.
"While the viewer sees the completed artwork," Walter says, "the music provides the aural development and exhibition of all the voices that come together to complete the artist's final creation and idea."
Walter and Williamson were able to realize this concept twice before the Biennale composition, first in Nashville, Tenn., in 2009, with "I Reach with Outstretched Arms." Their second collaboration, "Surveillance: Polyphony of a Landscape" occurred in Naples, Italy in 2015. The composition is titled "I Must Dream."
When Williamson received funding last year to make his dream for the Biennale into a reality—the exhibition was sponsored by the Pollock Krasner Foundation and presented by the MAK Center for Art and Architecture— he immediately called Walter to compose the music for their third collaborative composition.
The two collaborated entirely by phone for the first few months of 2019, as Walter composed the piece, bouncing ideas off of each other. Once the music was finalized, it was recorded in what Walter calls a "total UNCSA production."
The recording, featuring students and faculty from the School of Music, took place at Ovation Sound studio in Winston-Salem.
It features Vice Provost & Dean of Academic Affairs Karen Beres as the pianist and her husband and retired University of Oklahoma professor Lance Drege as the percussionist, plus students from the School of Music, including: Marta Djorovic and Julian Smart on violin, Luca Kevorkian on viola, Adithya Muralidharan on cello, Andres Maldonado on clarinet, Ryan Roikola on bassoon and Brittany Thomas on French horn.
School of Music alumnus Bill Stevens was recording engineer and producer, School of Drama staff member Damon Carmona was responsible for music editing and School of Filmmaking alumnus Shamus Sass filmed the session.
The 10-minute audio recording, Walter says, is being played on a loop at the exhibition for the entire seven months of the Biennale. The Biennale typically has an attendance of at least half a million visitors.
When "Processional" opened in May in the church of Santa Maria della Pietà (also known as Vivaldi's chapel, because the famous composer lived and taught there for many years), Walter and Williamson were there. They were even joined for a few days by Djorovic, who made the trip from her home in Serbia.
"One of my biggest memories is watching people sit in front of the paintings, listening to the complete recording—sometimes over and over in one sitting," Walter recalls. "People were actually observing and listening to our collaboration live in the Vivaldi Chapel. They were taking time to take our project to heart, allowing the music to help them see deeper into the paintings."
The exhibition received buzz from publications like Forbes, which named it as one of its "Twelve Essential Offsite Exhibitions."
"The exhibition is a statement on power, thought provokers and influencers in today's society and how they wield that power for good or bad," Williamson says. "Both the art and the music express the same theme and directly relate to one another."
He incorporates quotes from those "influencers," people who can change the world with a single quote or tweet, including figures like Oprah Winfrey, Donald Trump and Kylie Jenner.
The music Walter composed plays into these themes. The piece starts with a playful fugue, representing, he says, the beginning of life when parents speak and children listen.
As it changes, it represents that time in life when authority is beginning to be questioned and we try to understand our own thoughts and motivations.
It closes with a nocturne, representing self-realization, peace and truth—for better or for worse.
This kind of work, Walter says, is a whole different outlet than his work at UNCSA as a voice instructor in the School of Drama. Having his work featured in an exhibition at the Venice Biennale, he adds, provides a different level of exposure and validation.
The music and several paintings travel next to an exhibit at the MAC Museum in Singen, Germany.
Despite the Biennale and the time and creativity he's dedicated to his work, Walter still sees plenty of room for growth and exploration.
"After two years of developing the ideas that Todd Williamson and I had for the Biennale," he says, "coming up with the themes, the instrumentation, the overall form, I still see things that I would edit and change in the music—it is still in development and may always be. We have many ideas of where our next exhibit might lead our creative process and collaborations to land. It is very exciting. We are both still artists-in-training, seeking out the next challenge to better our artistic visions."