Payment plans available for fall 2022 term beginning May 13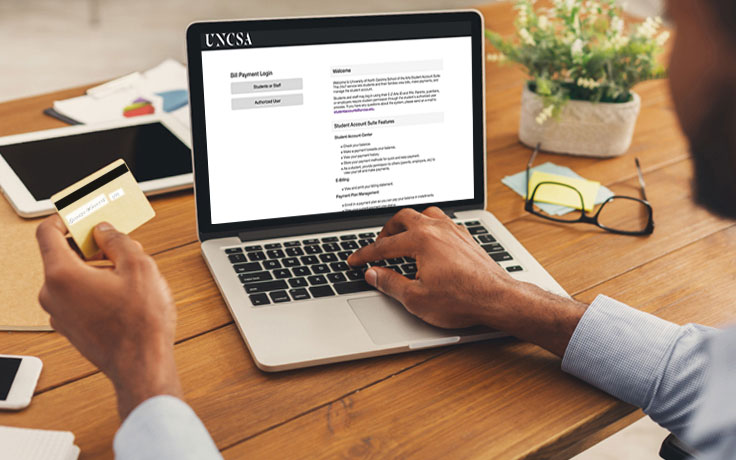 Payment plans will start up for the fall 2022 term on May 13, and can be accessed through UNCSA's online billing portal, TouchNet.
Students: Access TouchNet through E-Z Arts by logging in and clicking on the "Student" tab, then "Student Accounts" and finally "TouchNet."
Parents: After being made an Authorized User, you may log in directly through TouchNet's landing page.
Payment plans are available one at a time, with most payments available to earliest enrollees. The first plans available, between mid-May and mid-July, are estimated payment plans that require a user to put in estimated amounts for tuition, fees and financial aid in order to calculate payments. Charges for fall 2022 are provided in the plan details during enrollment or by completing a quick estimated charge calculator. Financial Aid amounts can be found in your package details on E-Z Arts by clicking on the "Financial Aid" tab, then "Award" and "Award for Aid Year." When selecting the Aid year, be sure to choose 2022-2023. Questions regarding Financial Aid may be directed to the Financial Aid Office.
Estimated Payment Plan Instructions (PDF)
Please note that all estimated payment plans are converted to actual payment plans after bills are completed and distributed in early July. Payment amounts may increase or decrease depending on the accuracy of the estimated used during plan set-up. Please be sure to check your payment amounts prior to each scheduled payment.
Enrollment dates for the fall 2022 payment plans:
| Enrollment dates | Due at sign-up | Remaining number of payments | Payment due dates |
| --- | --- | --- | --- |
| May 13 – June 14 | 20% + $50 | 4 | Jul 1, Aug 1, Sep 1 and Oct 1 |
| June 15 – July 14* | 25% + $50 | 3 | Aug 1, Sep 1 and Oct 1 |
| July 15 – Aug 4** | 34% + $50 | 2 | Sep 1 and Oct 1 |
*TouchNet will be unavailable for account payments and payment plan enrollments June 25-30 due to fiscal year-end.
** August 4 is the bill due date and last date for on-time sign-up.
If you have any questions, please reach out to the Bursar's Office at 336-770-1416 or studentaccounts@uncsa.edu.
Contact: Matt Horvat
May 3, 2022