ArtistCorps Alumni Stories: Sarah VanSkike
Sarah VanSkike (School of Music '17) served in ArtistCorps while pursuing her master's degree in flute performance. She's currently working as an instrument repair technician in the Chicago area, and recently caught up with us via email.
What made you decide to serve in ArtistCorps?
When I contacted Rebecca Nussbaum to discuss employment opportunities in the Winston-Salem area, she encouraged me to consider serving through ArtistCorps. It was a perfect fit; it allowed me to develop my teaching skills and to bring music instruction to those less apt to receive it.
Tell us about a moment from your service that really stands out to you.
While serving in a middle school, the band director asked me to bring in a saxophone in hopes of engaging a disinterested student. I discovered the problem was not with the student, but rather the poor condition of the school instrument. Using my repair skills, I was able to improve the saxophone's playability, thus easing the student's frustration and making the band experience more accessible. Poor quality or unplayable instruments are very frustrating to new learners and unfortunately, this is a rather common occurrence.
How did that moment shape your perception of service?
It really made me think about how the absence of resources affects students and the different ways we can serve that need. In ArtistCorps training we discussed the different types of resources. In my case, I could help with my limited repair experience, but the true deficit was financial in nature and I could only do so much with my time to offset that.
What was your biggest takeaway from serving in ArtistCorps?
Through ArtistCorps, I served students spanning a wide range of ages. My takeaway is that music education benefits learners of all ages. For example, using developmentally appropriate methods, I taught pre-school children to apply musical concepts including pitch, sound dynamics and tempo. Early and continued exposure to music can have great immediate and long-term benefits for students.
How has ArtistCorps influenced your life and work since you left service?
After completing my Masters in Flute Performance, I left ArtistCorps to pursue my interest in band instrument repair at the Minnesota State College Southeast in Red Wing, Minnesota. ArtistCorps helped me realize the impact that a poorly-maintained instrument can have on a young musician's development and passion, which gave me the drive to make this career move.
What are you up to now?
I am currently employed as a Woodwind Repair Technician at Quinlan & Fabish Music Company in Burr Ridge, Illinois, a Chicago suburb. I primarily service flutes, but I'm beginning to branch out into oboes and clarinets.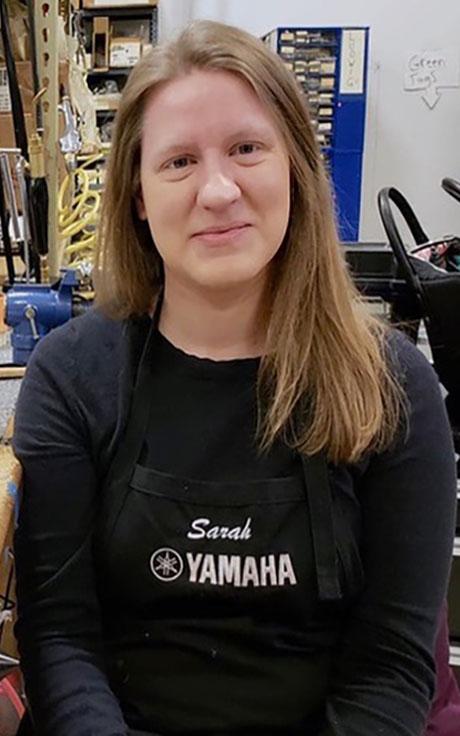 What's next for you?
I still have so much to learn as a repair technician and I feel like I am in the perfect place to do it. I hope to further develop my repair skills and eventually pursue a Straubinger Certification so I can service professional instruments as well.