Alumnus Christopher Baine's software fuses arts and technology
As a sound designer and composer on the Washington, D.C. theatre scene for more than 15 years, alumnus Christopher Baine (Sound Design '06) is no stranger to creative problem-solving. When he noticed the need for a new tool that no one was filling, he decided to build it himself.
He started his own company, Avae, and developed Canvas—a software that aims to fill the gaps between technology and the arts and simplifies design for sound, lighting and other designers. In addition to being named UNCSA's first Artpreneur of the Year for his work on Canvas, Baine's sound and composition work has earned four Helen Hayes Awards and seven nominations.
For Baine, the leap from designing sound and composing music to writing code and developing software was not as unusual as one might think.
Arts & Technology
Sound is a combination of both the creative and the technical, he says, in the way that the technology of a microphone enhances an artist's singing voice. "So, technology is a part of who I am and it was easy to sidestep into developing this tool."
Baine had known for some time that he had a need for a tool like Canvas, but it was when he wrote the music and designed sound for "When She Had Wings" at Imagination Stage in Bethesda, Maryland, that he was able to turn that desire for a new tool into action. Listen to "When She Had Wings" below:

"This was a dream project for me," he says. He spent about three months working solely on "When She Had Wings," creating ways to integrate sound, music and electronics.
The music was built upon sounds made by objects on the stage–a weather vane that squeaked when it moved, a piston that tapped the side of a flower pot for a hi-hat effect when an actor touched it.
When he finished the show he was exhausted, but inspired. "While I was working, I just kept thinking, 'I wish I could…'" Finally, Baine told himself that he would create the tool he needed since no one else was.
He spent two and a half years designing Canvas full-time, scaling his previous coding skills into a full-blown software program and learning about every aspect of building a business, from funding to marketing and everything in between.
He also drew on his hard work and experiences from his career as a sound designer and composer. From his earliest days as a teenager working the sound booth at his local church and professional theatres in his hometown of Charlotte, North Carolina, he has been in the business of problem-solving.
Early roots in sound
"I was in a band in high school and someone needed to figure out how to plug in the microphone," Baine says. So, he volunteered. He also helped run sound for his church. "I would play with the knobs in the middle of the service to see what they did," he laughs.
And when his parents told him it was time to get a job, he started calling theatres in Charlotte, asking if they had any openings in sound design. He remembers one of the first times he worked on a show.
"I was working on the world premiere of a musical called 'Thumbs' by Rupert Holmes," he recalls. "It was a comedy and there was a part where someone got their thumb cut off with a knife. I went to a friend's studio with a bucket of fried chicken and a knife and started experimenting." And that's, in part, how he discovered the art of sound design.
When it was time for college, UNCSA was the only school he applied to and he came to Winston-Salem to study with instructors like David E. Smith. "He's a very clever guy and he's so into electronics and how things work," Baine says of Smith. "He taught me that the art of design is to do it in a subliminal way that enhances a show."
A growing career path
After graduation, he moved around a bit and when a friend was awarded a Kenan Fellowship in D.C., he found himself headed to the nation's capital, where he almost immediately found work—and hasn't stopped since.
"It's a tough career path to be an artist or designer," he says. "I didn't have an advanced degree, and I started at the bottom. I was typically doing 20-30 shows per year, or about two per month. It's a constant cycle of design, production, and on to the next one."
Although there isn't as much time to flex your creative muscles, he says, the time crunch is a valuable experience. "You learn your art really well. You learn what works and what doesn't and to solve problems because you see a lot of problems working at that pace."
And it has helped fuel the development of Canvas.
A full, early-access version of Canvas was released in Fall 2018. Baine's early adopters include people he knew from high school and college, but he's also gotten the attention of designers on Broadway and at companies like Disney.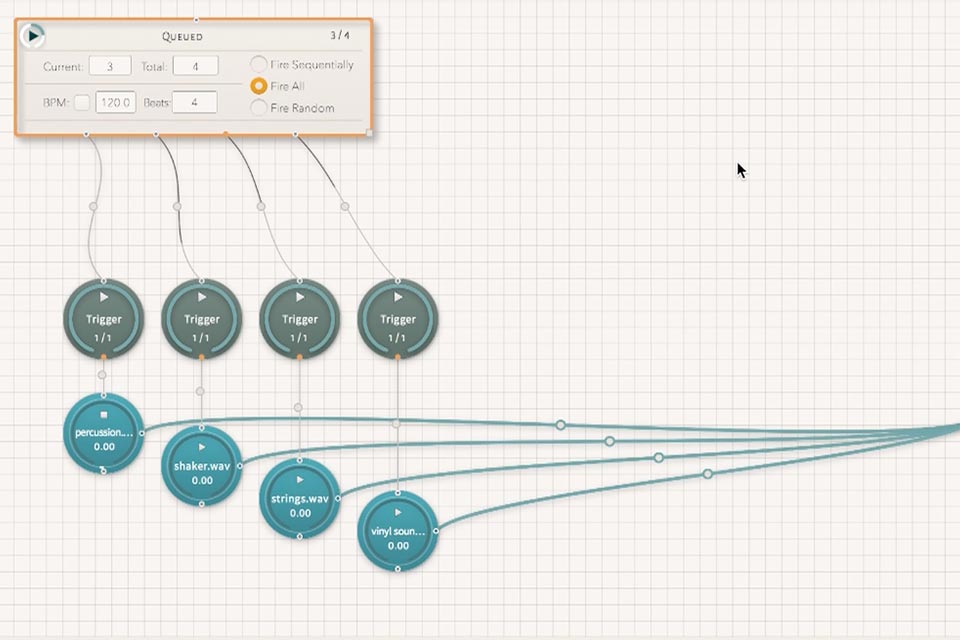 Watch Canvas, a new tool for sound designers in action.
"We're continually updating and learning new things," he says. "It's a product that allows for growth and we listen to the feedback we get."
The Artpreneur award has brought him full circle at UNCSA. When he heard about the initiative from Jason Romney, Director of the Sound Design program, he knew that Avae was a perfect fit. "What they're looking for is exactly what Avae is–a technology company for artists," he says.
"UNCSA is one of the leading arts colleges in the country, with some of the most creative people teaching and learning there," he says. "To have that recognition from Jason and UNCSA, where I basically grew up, means the world."