Celia Weston shares lessons from a storied acting career
From stage to screen, Celia Weston has had an impressive, four-decade long career with more than 40 roles in movies like "The Talented Mr. Ripley," "In The Bedroom" and "Far From Heaven." She received an Independent Spirit Award nomination for the film "Dead Man Walking" and a Tony nomination for "The Last Night of Ballyhoo."
Weston, who had a featured role on the television show "Alice," has guest starred on shows like "Law & Order: Special Victims Unit," "Frasier" and "Desperate Housewives." She co-started in "Memphis Beat" and has a recurring role on "Modern Family." Through all of it, she's taken the lessons she learned at UNCSA, and made audiences laugh, cry and engage with her gripping performances.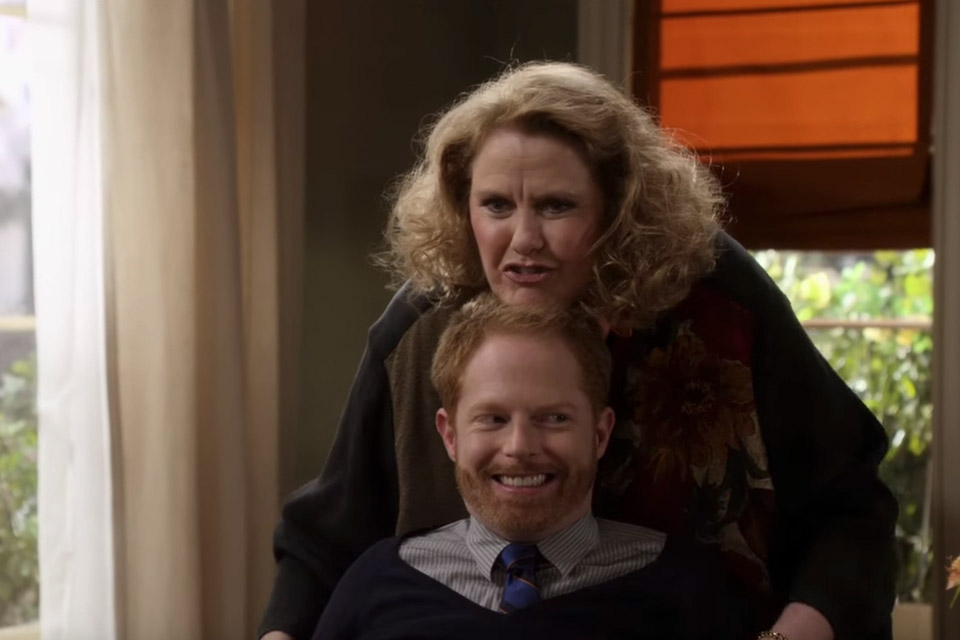 Watch Celia Weston as Cam's mom, Barb, on ABC comedy hit "Modern Family."
How did you get to UNCSA?
I was attending [nearby] Salem College, and very happy there, but knew there was nothing I was studying that I wanted to major in. I was double majoring in art and psychology. The head of the drama program came up to me and stuffed a flyer in my books. The flyer was for an audition to summer theater at the Mill Mountain Theatre. I flew to Roanoke and auditioned for the artistic director and he hired me as the leading lady for the season.
I had no training and here I was with roles like Elizabeth Proctor in "The Crucible." I always say I had an angel on my shoulder with him. It was at Mill Mountain Theatre where I met a number of UNCSA graduates.
I had the chance to go to NYU, but wasn't given any money. My father had died the year before and I really wasn't ready for New York. The UNCSA faculty invited me, and I went back to Winston Salem, where I attended UNCSA.
Describe your experience at UNCSA.
I was already working as an actor, never having received any training. I thought, "gosh they have invested in me, I'm just going to be an open peach and to soak that all in." In a way that wasn't a good approach, because I didn't understand that I had a gift or instinct.
Recently I heard the New York Times theater critic Jesse Green have a conversation with the actress Estelle Parsons. She said that you can't really teach acting, you just guide a person who has the gift. That's what I think happened to me at UNCSA—I had some good teachers who helped guide me.

Celia Weston
Fortunately, there were teachers at UNCSA that reminded me that I came to the table with a gift. Recently I heard the New York Times theater critic Jesse Green have a conversation with the actress Estelle Parsons. She said that you can't really teach acting, you just guide a person who has the gift. That's what I think happened to me at UNCSA—I had some good teachers who helped guide me.
Is there a specific performance during your UNCSA education that stands out?
Yes. I was working on a difficult play called "Waiting For Lefty," set during the depression. It was about a woman who had no food, no shoes, no way to feed her children, and she was at the depths of despair. I was playing it as a 20-year-old who had come from privilege and had no idea of that character's level of pain.
My teacher was Bob Murray and he came up to me and said something that upset me and made me angry. His intention was to engender in me the emotion that I needed to play full the scene with which I was struggling, personally having had no painful, desperate experience in my young life to draw upon. When he saw in my face that I then had a sense of it, he turned me right back to play the scene. And I understood what he did as it happened. It was thrilling and in no way irresponsible of him. In essence it was 'The Method' approach to acting. After my performance, I looked through the windows and saw other students watching and clapping for me. It was a breakthrough.
Another important experience for me was when I studied in London with fellow students. We worked and also received a cultural education — we met actors like Sir Lawrence Olivier and Ronald Pickup and Constance Cummings. It was just thrilling. I learned so much that summer about the British approach to acting. It was an intense and wonderful time.
Describe your transition from UNCSA the start of your acting career in New York.
At that time, we were really shot out of a cannon and into the world. I moved to New York and another alum from the school introduced me to the Rehearsal Club, which was a beautiful brownstone building right next to the Museum of Modern Art. It was $52 a week, which included your room and two meals a day. I was in New York for three days when I got cast in an equity production of Woody Allen's play, "Play It Again Sam"—all because a School of the Arts chum was working with a casting agent involved in the production
I had no agent or anything; I just did what everyone else did. I went to open calls, got there at 7 a.m., had breakfast did my audition and did it all over again. I did as many showcases as I could. A casting director hired me for a lead role, and that went well, and then I was cast in my Broadway debut, "Loose Ends," with Kevin Kline. Things took off from there.
How did UNCSA help you in networking in the business?
I've had great luck with the relationships that I've made because of my UNCSA connection. For instance, I was in "Observe and Report" with Seth Rogen, which was written and directed by Jody Hill (Filmmaking '99). I also worked with him, Danny McBride (Filmmaking '99), and David Gordon Green (Filmmaking '98) on "Vice Principals." Angus LacLachlan (Drama '80) offered me the part in "Junebug" two years before they made the film. I also was in his film "Goodbye To All That."
What do you tell students who you talk with today?
I'm honest with young actors. I tell them if there's something else they want to do, to do it. This is a tough business, and it's not entirely in your hands. There's a lot of providence. It's difficult for me to relate to actors just getting started because when I was in their shoes there was more of an opportunity to be seen. People really cared about the theater—there were only so many entertainment options. I tell them they have to network however they can and they can't be lazy. I tell them that they need to learn to keep their emotional health about them for when the doors don't open… because there's so much that you can't control about what parts you get.
How has growing up as a Southerner influenced the way you portray Southern culture in your acting?
I'm proud of being from the South. It's a beautiful culture in a lot of ways. I feel very lucky to have had the opportunity to have the upbringing that I did. I bring a lot of what I learned growing up in the South to everything I do. For instance, I tell young actors, "Don't be late and if you are late don't give all the reasons, just do the work. Always be professional. Have integrity. And good manners are a passport through life." I really do believe that.