Peter Hedges continues to make meaningful work with UNCSA-trained actors
When Peter Hedges, a 1984 University of North Carolina School of the Arts School of Drama graduate, was writing and directing his latest film, "Ben is Back," he practiced what he preaches to current and former students of his alma mater:
"While you're at school, make meaningful relationships with your classmates," he says. "Then, then once you're outside of school, or even while you're in school, make work together that is meaningful to you and, hopefully, to the world."
"Ben is Back" landed in theaters on December 7. It's about a mother, Holly Burns (Julia Roberts), who is fighting for her addict son Ben, who is played by Lucas Hedges, Peter's son, who also studied at UNCSA. The plot unfolds over the course of a day that begins with Ben leaving rehab and unexpectedly showing up at Holly's family home during the Christmas holidays.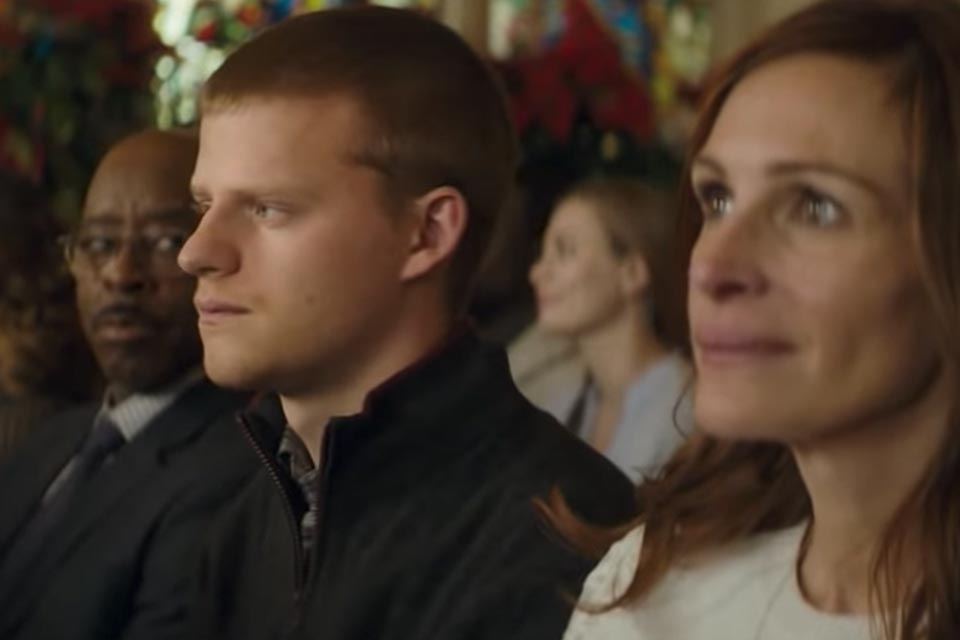 Watch the trailer for "Ben is Back," a film written and directed by UNCSA alumnus Peter Hedges.
Peter Hedges completed much of the film's screenplay over a six-week period during summer 2017 when several of Lucas's UNCSA classmates were living at the Hedges' home in Brooklyn. He saw a familiar-but-golden opportunity: Every few days, he gathered the students together to read out loud what he had written, assigning each student a different part.
"They would be giving me feedback by saying, 'I think this scene works' or 'That scene didn't,'" Hedges says. "This was very much how I wrote my early plays. There were so many echoes of the way I operated when I was producing student work at UNCSA and, later, for The Edge Theater." Along with nine UNCSA alumni, including Joe Mantello and Mary-Louise Parker, he founded The Edge, a theater company that produced 12 of Peter's plays over a three-year period.
During a recent interview, Hedges elaborated on the pivotal role that UNCSA played in launching his career as a writer, director and producer. He also shared several contributions that UNCSA alumni made to "Ben is Back."
First things first: Your son Lucas is on quite roll, having landed parts in such films as "Lady Bird" and "Three Billboards." What was it like to direct him in a film you had written?
It was a thrill. Julia said that she wanted Lucas to do the film, and she convinced him to consider it seriously. I have such high regard for his talent and his work ethic. Because he's becoming such a consummate artist in his own right, it wasn't hard to direct him. I tried to create a safe space where he and Julia and the other cast members could make their magic.
I understand that you and Lucas aren't the only UNCSA people making meaningful work together in "Ben is Back."
Competition for the part of Spider, a drug addict, came down to three actors, two of whom had studied recently at the School of the Arts. David Zalvidar (Drama '15) got the part. He gave an audition that my casting director calls one of the finest he's ever seen.
Tim Guinee, who was a year behind me in school, and Leon Brown, who appeared in a play of mine that became a video while we were students at the school, appear in a 12-step meeting in the middle of "Ben is Black." One of my favorite musical groups, Bandits on the Run, includes two School of Drama graduates: Sydney Shepherd and Regina Strayhorn. After the group played my birthday party, we had them record one of the Christmas carols on the film's soundtrack.
Let's talk about your time at the School of the Arts. You studied acting but also began writing plays at school and seeing them staged on campus, along with interdisciplinary work that you produced. How did that happen?
I hit a wall in the middle of my junior year and I begged my father in Iowa to come pick me up and bring me home because I was having such a hard time. Wisely, he urged me to try to do something positive to change my situation. "Give that a go for two or three weeks, and if that doesn't work, I will come get you," I recall him saying.
This calmed me and I wrote my first play for a classmate who was struggling in school in a similar way. My intention in writing the play was to show anyone who came to see it what a tremendous talent she was. I never imagined that I was beginning what would become my writing career.
So, I'm guessing that one fortunate circumstance led to another…
Yes, that play led to my getting a grant to produce original student works my senior year. This came from the Semans Creative Arts Fund, which was funded generously by the late Mary Semans and her late husband. The Semans remain my heroes. Their grant enabled me to produce five evenings of work my senior year, including not only my plays but also original choreography and music, all presented by the Onyx Ensemble.
You took on this project in addition to fulfilling the usual requirements of every acting student. You must have been extraordinarily busy.
I was, but it was worth it. We were expected to be very responsible and intentional in what we did. I'd meet with every dean, go through our plan and make sure I was meeting the grant's requirements. I learned a lot, about everything from purchase orders to budgeting, which I'd never done except with my own spending money.
I began to see myself as more than just an actor. I also saw myself as a writer and as a producer. I believe that leaving school with that skill set has made all the difference in my life.

Peter Hedges
I began to see myself as more than just an actor. I also saw myself as a writer and as a producer. I believe that leaving school with that skill set has made all the difference in my life: I essentially produced my own work until I reached a point where the work was at a level where other people would want to produce it for me.