Alumna brings stories to life as award-winning casting director
Tiffany Little Canfield (B.F.A. Directing '00) is one of the most in-demand casting directors in the business, casting roles for Broadway, TV, film and commercials. Emmy-nominated for her work with "This is Us" and "Grease, Live!," she has also cast films including "The Greatest Showmen," "Into The Woods" and "The Intern," along with TV shows like "Smash" and "I'm Dying Up Here."
Most recently, the LA-based casting director, who works with Telsey + Company casting, worked on Disney's "Mary Poppins Returns." She spoke with us about casting for this much-anticipated release, as well as her time at UNCSA and its impact on her career.
Share a bit about your childhood. Where did you grow up? How did you become interested in the arts?
I was born and raised in Sacramento, California. When I was in the 7th grade, I got involved in speech contests and the same teacher ran the drama program. She asked me to take drama class for my elective. I fell in love with theatre and then attended a magnet school for the Arts in Sacramento, where my focus was acting.
How did you become interested in attending UNCSA?
I had a wonderful teacher named James Edmondson, who was an associate artist at Ashland Shakespeare Festival. He directed me in a production of "Uncle Vanya" at PCPA Theatrefest, where I was attending the acting training program. He suggested UNCSA and thought that directing for the theatre might be a good fit for me.
How did your time at the School of Drama shape you?
Honestly, it was the most important time in my life. I had always done well in school, but UNCSA was the first time I felt treated like a professional that had a place in this industry. I've found that the most important part of an artist's life is when they realize there is (or could be) a place for them. I think we are all afraid of not finding a place where our talents are recognized and validated. Once we find that place, we can gain the confidence to approach the real world.
UNCSA was the first time I felt treated like a professional that had a place in this industry. I've found that the most important part of an artist's life is when they realize there is (or could be) a place for them.

Tiffany Little Canfield
Do you recall a memorable performance from your time at UNCSA?
The production of "Dead Souls" that I saw when I was attending callbacks was life changing. It was directed by John Dillon, and the audience traveled with the show. The actors used prosthetics and even furniture to change the shape of their bodies and faces … they were completely transformed.
How did you become interested in casting? Did you start your career as a casting director?
I had no idea casting was a career. I didn't know it was a job. But when I got my feet under me in New York, I wanted to do an internship or assistantship in something where I could learn how the world of NY theatre worked. I answered an ad looking for an assistant on Baz Luhrmann's production of Puccini's "La Boheme" on Broadway. I had just seen "Moulin Rouge" seven times. It was Baz that drew me to apply for that position, not the idea of casting. But after about one month I knew I had found a path for myself."
Tell us a little bit about what your day to day looks like.
Oh, I'm so lucky. I work on a variety of projects at any given time. I start my day by looking at emails and seeing if there are any 'casting crisis' or immediate needs. Then I typically go through submissions and do some research to find new actors that might be appropriate for the projects that I am working on.
I work with the best people in the business, so I often spend some time brainstorming with my colleagues. I may have an audition session, where I work with actors on scene work. I may have a producer session, which means auditions with the full creative team. Those are very exciting days, because it is the time when you get to share your work and truly collaborate on putting together the cast.
Lin-Manuel Miranda said that Mary Poppins was made to make people feel "deliriously happy." Tell us about the experience of casting for "Mary Poppins Returns," and how you approached casting for a revisit to a classic film.
I would describe it as deliriously happy and incredibly challenging. We knew that we were dealing with an iconic piece of film and wanted to strive to do our very best in creating a new piece. The pressure was immense. We wanted everyone in the film to be specific, individual and characterful. They needed to fit into the world of Mary Poppins.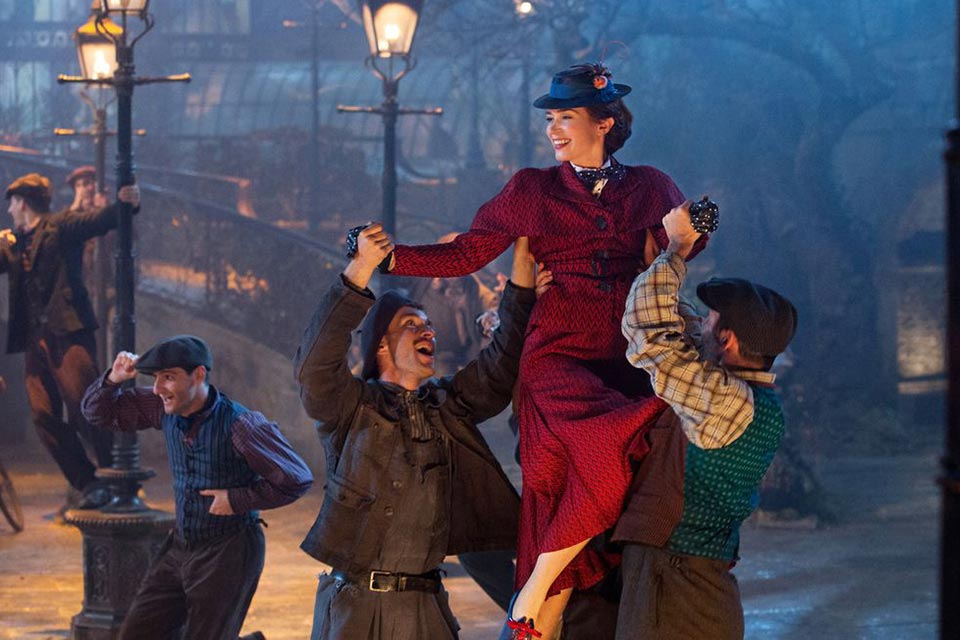 Tiffany Little Canfield was casting director for "Mary Poppins Returns," which features Emily Blunt, Lin-Manuel Miranda, Ben Wishaw, Emily Mortimer, Angela Lansbury, Colin Firth, Meryl Streep and Dick Van Dyke.
You've worked on projects from film to Broadway, commercials to opera. What are the differences in casting for these projects? What are the similarities?
The biggest difference is the time frame. Broadway and films take the longest to put together, while commercials and episodic television are the quickest. There are positives and negatives to both. The similarities are striving to find the most appropriate talent for the particular job. That never changes. But the jobs change … which is what makes it fun, you get to look at talent in entirely new way.
Two UNCSA alumni, Jake Lacy and Jon Daly, are part of Showtime's "I'm Dying Up Here," which you worked on. Have you worked with other UNCSA alumni? How does the UNCSA experience set graduates apart?
I've worked with tons of UNCSA grads! I think the nurturing yet challenging environment at UNCSA creates a special place where an actor gets excellent training, but still retains their individuality. All of the actors that I have worked with at UNCSA have a process to approach a role, but none of them are the same. There is a deep sense of individualism in each UNCSA actor. They aren't putting out carbon copies of a 'type' of actor.
What is your advice for students who are considering a career in casting?
My advice is to develop your taste, see everything, read criticism…everything. Study fine art and other disciplines. And then, DO INTERNSHIPS while you are in college. There is no traditional or set way to become a casting director, but almost everyone I know started out in some sort of internship.
Heading into 2019, what projects are you most excited about?
I am very excited about a new television series I am working on with John Logan, one of my favorite writers. I'm also working on a film version of the Broadway musical "In The Heights" and a limited series on FX about the life of Bob Fosse and Gwen Verdon. Also, I'm working with one of my favorite directors, Richard Jones, on a production of "Judgment Day," to be produced at the Park Avenue Armory. I'm also working with another of my favorite directors, Julie Taymor, on her film about Gloria Steinem. I'm very excited about 2019!