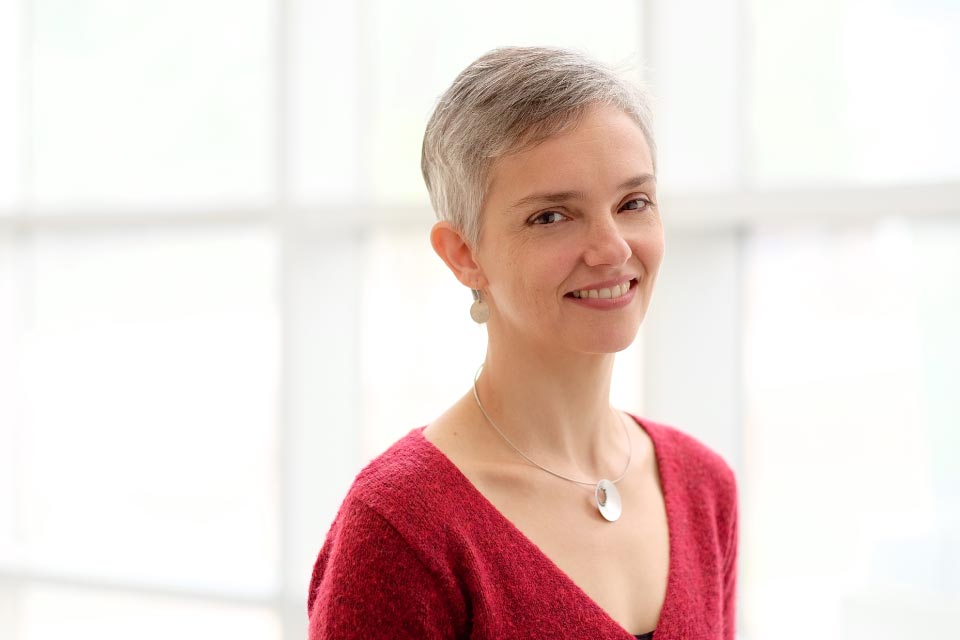 A member of the UNCSA faculty since 2012, Associate Professor Abigail Yager teaches her students to practice with a beginner's mind, insatiable curiosity and playful drive; move with silken fluidity and meticulous specificity; activate the space with a grounded and resonant presence; know and believe in themselves and trust in the power of simplicity.
Informed by the choreographic work of Trisha Brown and drawing on various practices including the Alexander Technique, Yoga, Qi Gong and Klein Technique, Yager's classes integrate somatic modalities as essential building blocks of contemporary dance technique with emphasis placed on the study of weight and gravity; the balance between freedom and form, and the cultivation of fluid, precise dancing.
My class is a place for discovery. It challenges students to explore from the inside out and to imagine movement as waves that travel through and beyond us into space.
Yager has taught at universities, festivals and studios worldwide, including the Kyoto International Dance Festival, Independent Dance at Siobhan Davies Studios, Le Centre Choréographique National de Rennes et de Bretagne and the Irish World Academy of Music.
Credentials
Member of the Trisha Brown Company, during which time she also served as Ms. Brown's musical assistant, 1995–2002
Danced in the companies of Donna Uchizono, Sungsoo Ahn, Joanna Mendl Shaw, Emma Diamond and Robin Becker, among others
Worked with Candoco in London, England, Lyon Opera Ballet in Lyon, France, La Monnaie National Opera of Belgium in Brussels, Belgium, Le Festival International d'Art Lyrique in Aix-en-Provence, France and has directed educational projects at the Taipei National University of the Arts, The Theatre Academy Helsinki, The Five College Dance Department, The Ohio State University, the American Dance Festival and at

Performing Arts Research and Training Studios

(P.A.R.T.S.)
Guest Professor at Taipei National University of the Arts from 2003-2005 and 2010-2012
Visiting Associate Professor at The Ohio State University, 2006-2010
Guest Professor at Korean National University of the Arts, 2005-2006
Faculty at the American Dance Festival since 2003
Career Highlights
Danced the "Cats" duet from

"

Set and Reset

"

with Trisha Brown at the Brooklyn Academy of Music
Performed as the "Spiriti" in Trisha Brown's production of Monteverdi's "L'Orfée" in Aix-en-Provence
Founder and Co-Director of Movement Laboratory Taipei, an annual movement research workshop for professional dancers, choreographers and students alike that focuses on the relationships that lie between technical training, somatic study, creative practice and performance.
Awards, Recognitions and Honors
UNCSA Mental Health Hero Nominee, 2014 and 2015
UNCSA Excellence in Teaching Award, 2020
Education
M.F.A. DanceHollins University
B.A. Compositional Studies: Theory and PracticeMount Holyoke College