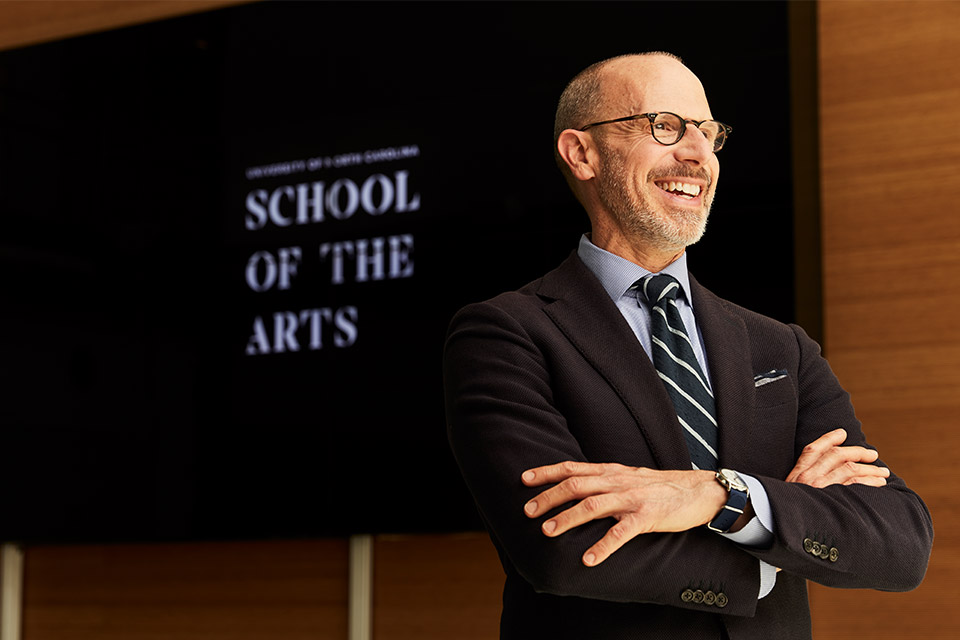 Lindsay Bierman is Chancellor of University of North Carolina School of the Arts (UNCSA), the nation's first public arts conservatory, one of 17 constituent campuses in the University of North Carolina System, and home to some of the top-ranked professional artistic training programs in the world. As the institution's eighth chief executive, Chancellor Bierman leads nearly 1,300 students from high school through graduate school, as well as 700 summer and 500 community school students, and more than 600 faculty and staff.
Since becoming Chancellor in the summer of 2014, Mr. Bierman has spearheaded the creation of a new strategic plan, "Creative Momentum," designed to deepen UNCSA's ties with the global arts and entertainment industries, propel the school to the forefront of performing arts and media education in the United States, and expand its cultural and economic impact across the region.
Mr. Bierman has overseen the school's reaccreditation by the Southern Association of Colleges and Schools, and has built a transformative academic leadership team including a new Provost, new Vice Provost, and four new Deans. He has also appointed several new Vice Chancellors and senior officers to reorganize the institution's advancement, IT, marketing, and performance facilities operations.
As a fundraiser, Mr. Bierman has shepherded the largest donations in the school's history. In 2016, he secured several lead gifts in the institution's first comprehensive fundraising campaign since 1999, including $10 million to support groundbreaking new programs, faculty endowments, and student scholarships; and $6 million to overhaul the largest performance venue on campus. In 2018, he announced an additional $4 million in estate gifts for music scholarships, and the total dollars raised overall have nearly tripled since 2014.
Mr. Bierman has passionately championed creative leadership, entrepreneurship, and innovation through new research, grant, and curricular programs. Since 2017, he has allocated $100,000 annually to "artpreneurship" grants, steered the development of a new Choreographic Institute in the School of Dance, launched a new animatronics program in the School of Design and Production, and established the leading-edge Media and Emerging Technologies Lab (METL) in the School of Filmmaking.
A former Editor in Chief of one of the country's most iconic consumer media brands, Southern Living, Mr. Bierman applied his digital media expertise to a complete rebuild of UNCSA's website, uncsa.edu — the first major redesign of the site in more than a decade, which has been honored with several national awards since its relaunch in December 2015. New integrated branding, advertising, and recruitment marketing strategies have driven significant increases in off-campus visitors, admissions inquiries, and audience engagement across all platforms. These changes drove a whopping 30 percent spike in applications to UNCSA in 2018 and boosted the quality of the school's pool of applicants.
Mr. Bierman has also led a steady rise in rankings and recognition for the institution's degree programs. In addition to being the highest-ranked arts specialty school in Money magazine, UNCSA has made the Top 10 in the country for Dance (Backstage), 2nd in the country for Design & Production (On Stage), 5th in the world for Drama (The Hollywood Reporter), 8th in the country for Filmmaking (The Wrap), and 5th of Top 25 for Music (The Hollywood Reporter).
An architect by training, Mr. Bierman has overseen numerous planning and construction projects to enhance the school's living and learning environment. He has engaged one of the world's preeminent design firms, Robert A.M. Stern Architects, to create comprehensive master plans for the main campus, a detailed proposal for new residence halls, and a long-term vision for adjoining properties. Mr. Bierman also commissioned Stern to develop conceptual renovation plans and cost estimates for the historic Stevens Center theater and 10-story tower—anchor of the downtown arts and entertainment district, home to local organizations including the Winston-Salem Symphony, and the school's largest performance venue.
In addition to his role as Chancellor, Mr. Bierman chairs the board of the Thomas S. Kenan Institute for the Arts; works with the city's top business leaders as a member of The Winston-Salem Alliance; serves as a member of the National Advisory Committee for the Reynolda House Museum of American Art; and sits on the board of directors of the RiverRun International Film Festival.
Growing up near Detroit, Mr. Bierman enjoyed drawing, painting, musical training, and acting from early childhood through high school. He graduated from Georgetown University in 1987 with a bachelor's degree in history and French, and earned a master's degree in architecture from the University of Virginia in 1993. He also studied abroad at the Institut d'Études Sciences Politiques de Paris and completed internships at Sotheby's, the National Gallery of Art, and on Capitol Hill.
In off-hours, Mr. Bierman cooks and gardens at his home on Lake Norman, and is training diligently to qualify for men's USA Masters Weightlifting.
Education
M.Arch.University of Virginia
B.A. History, FrenchGeorgetown University