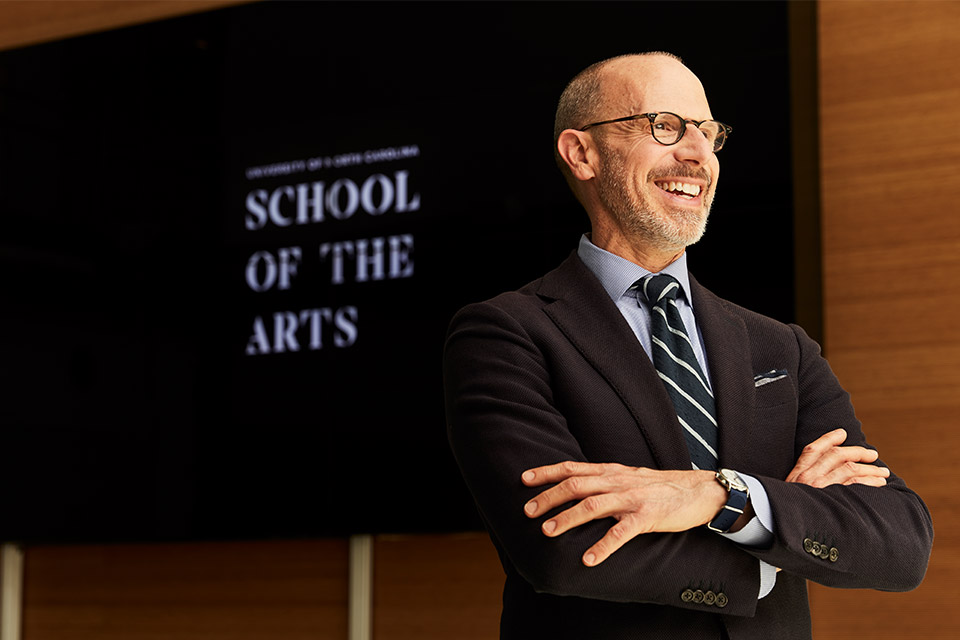 Lindsay Bierman is Chancellor of the University of North Carolina School of the Arts, where he leads nearly 450 faculty and staff and serves more than 1,200 exceptionally talented students in high school, undergraduate, graduate and summer programs at the nation's first state-supported arts conservatory.
I came here because this school unleashes creativity, beauty, passion, and joy with such unfettered abandon. People seem more alive here than in other places. There's more focus, greater intensity, and a sense of dedication to a cause … For 50 years the School of the Arts has aspired to great art. Let us cherish and support this institution for the next half-century, and never stray from our founding mission born of a good and earnest want for all of us to experience and appreciate the overwhelming fullness, inspiration, joy, and passion of life.
Mr. Bierman became the university's eighth Chancellor in summer 2014, transitioning to higher education after more than 25 years in high-profile design and media organizations. In the fall of 2015, he unveiled transformational strategic initiatives to enhance the institution's creative and curricular innovation, expand its cultural and economic impact across the state, and deepen UNCSA's engagement with the global arts and entertainment industry. In 2016, he secured two of the largest gifts in the school's history, including $6 million to serve as the lead pledge in a comprehensive fundraising campaign, and $10 million to establish a cutting-edge Institute for Performance Innovation. Mr. Bierman chairs the board of the Thomas S. Kenan Institute for the Arts; works with the city's top business leaders as a member of the Winston-Salem Alliance and the Wake Forest Innovation Quarter Task Force; serves as a member of National Advisory Committee for the Reynolda House Museum of American Art; and sits on the board of directors of the RiverRun International Film Festival.
Mr. Bierman began his career in New York City as a designer, researcher, and writer for one of the world's most renowned architects, Robert A.M. Stern (1987-90; 1995-96), and got his start as an editor in the early 1990s by reporting for top trade magazines on the most prominent architectural commissions in North America. Mr. Bierman's creative vision, business acumen, and distinct editorial voice led to key leadership roles on major magazine launches with global publishing giant Time Inc., including a lifestyle brand named "2005 Startup of the Year" by
Adweek
. By 2010 he had worked his way up to Editor in Chief of the Birmingham, Alabama-based flagship,
Southern Living
, where he led a top-to-bottom repositioning of the beloved cultural icon; drove diversified, eight-figure revenues; oversaw print and digital editions reaching more than 18 million consumers each month; and built out numerous franchises ranging from licensed home goods to a hotel collection. Mr. Bierman's team at
Southern Living
won more than two dozen first-time industry awards and attracted widespread consumer acclaim.
Growing up near Detroit, Mr. Bierman enjoyed a short, successful run in high school musicals until his voice changed— after that, he poured his creative energy into musical training, drawing, and painting. He graduated from Georgetown University in 1987 with a bachelor's degree in history and French, and earned a master's degree in architecture from the University of Virginia (1993). He also studied abroad at the Institut d'Études Sciences Politiques de Paris and completed internships at Sotheby's, the National Gallery of Art, and on Capitol Hill. Mr. Bierman maintains his peak performance by doing CrossFit and Olympic weightlifting, paying frequent visits to his parents' home in San Diego, and renovating a mid-century house on North Carolina's scenic Lake Norman.
Education
M.Arch.University of Virginia
B.A. History, FrenchGeorgetown University