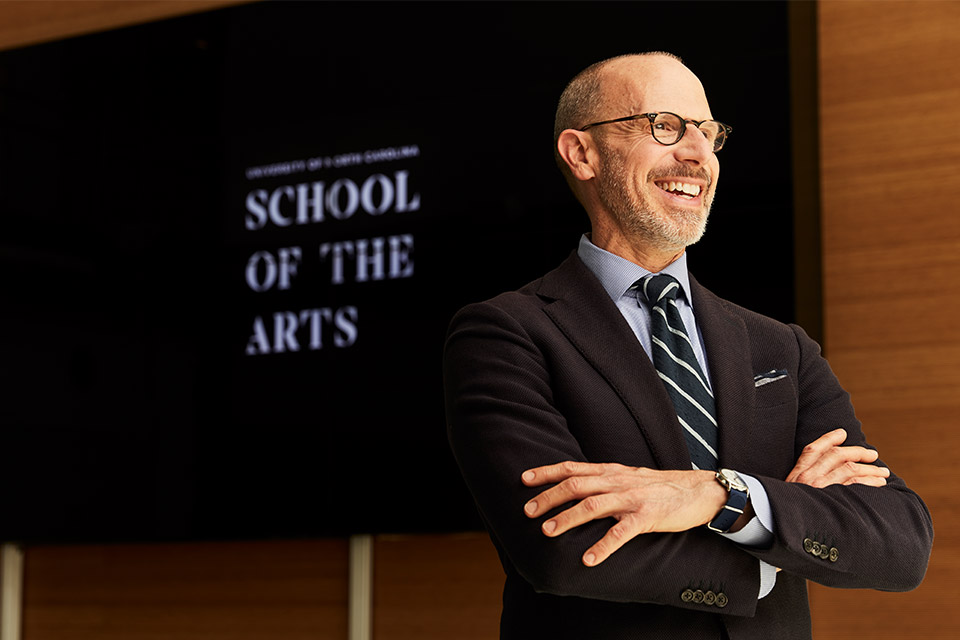 Lindsay Bierman served as the eighth Chancellor of University of North Carolina School of the Arts (UNCSA) from 2014-2019, succeeding Interim Chancellor James Moeser. He is currently serving as Chief Executive Officer of The Exploratorium.
LINDSAY'S SPEECHES LINDSAY'S LETTERS
Mr. Bierman spearheaded the creation of the "Creative Momentum" strategic plan, designed to deepen UNCSA's ties with the global arts and entertainment industries, propel the school to the forefront of performing arts and media education in the United States, and expand its cultural and economic impact across the region. He oversaw the school's reaccreditation by the Southern Association of Colleges and Schools, and built a transformative academic leadership team.
As a fundraiser, Mr. Bierman shepherded the largest donations in the school's history. In 2016, he secured several lead gifts in the institution's first comprehensive fundraising campaign since 1999, including $10 million to support groundbreaking new programs, faculty endowments, and student scholarships; and $6 million to overhaul the largest performance venue on campus. In 2018, he announced an additional $4 million in estate gifts for music scholarships and in 2019, he announced a $5 million pledge for the Kenan Excellence Scholars to increase the number of student scholarships awarded from 12 to 20 annually.
Mr. Bierman has passionately championed creative leadership, entrepreneurship and innovation through new research, grant and curricular programs. He allocated $100,000 annually to "artpreneurship" grants, steered the development of a new Choreographic Institute in the School of Dance, launched a new animatronics program in the School of Design and Production, and established the leading-edge Media and Emerging Technology Lab (METL) in the School of Filmmaking.
A former Editor in Chief of one of the country's most iconic consumer media brands, Southern Living, Mr. Bierman applied his digital media expertise to a complete rebuild of UNCSA's website, uncsa.edu—the first major redesign of the site in more than a decade. Mr. Bierman also led a steady rise in rankings and recognition for the institution's degree programs during his tenure.
An architect by training, Mr. Bierman oversaw numerous planning and construction projects to enhance the school's living and learning environment. He engaged one of the world's preeminent design firms, Robert A.M. Stern Architects, to create comprehensive master plans for the main campus, a detailed proposal for new residence halls, which received budget approval in 2019, and a long-term vision for adjoining properties. Mr. Bierman also commissioned Stern to develop conceptual renovation plans and cost estimates for the historic Stevens Center theater and 10-story tower—anchor of the downtown arts and entertainment district, home to local organizations including the Winston-Salem Symphony, and the school's largest performance venue.
Education
M.Arch.University of Virginia
B.A. History, FrenchGeorgetown University