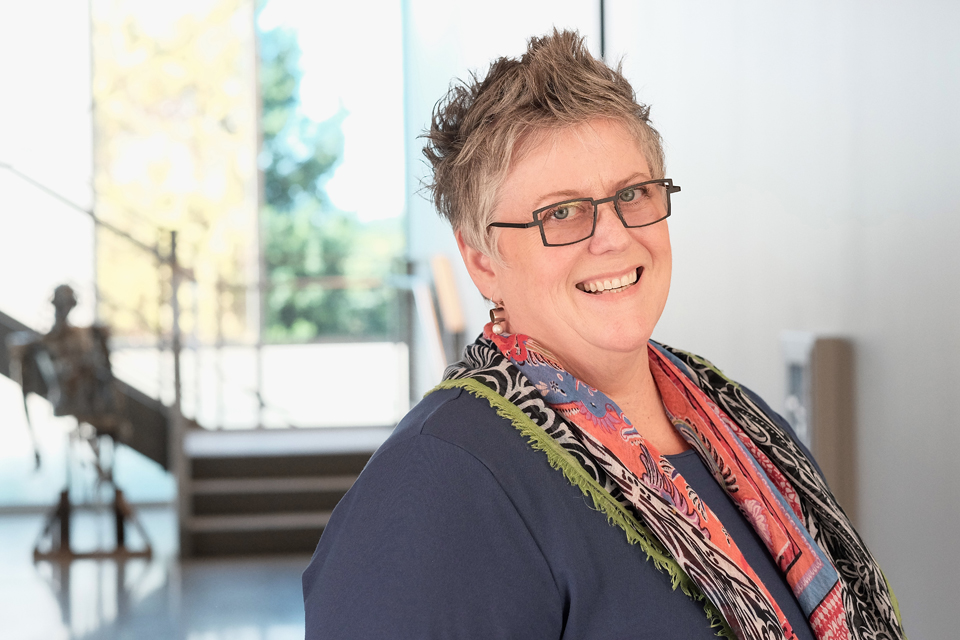 Pam is Co-Director of the UNCSA Costume Technology and Costume Design programs, and a faculty member in both the BFA and MFA Costume Technology programs.
I love working in the entertainment industry. I teach because I love what I do. I am a costume shop manager and technician. I love introducing the next generation to the endless opportunities this industry has to offer. I am very particular about the quality and the management of time needed to produce at a high level. It is my job to give the tools to the performer to help them tell the story. I do that by partnering with the designer. It takes a good relationship between design and technology to get that job done.

I call UNCSA a submersion conservatory. We build on skill sets in our classes. All of the jobs in the industry are held by our students. The faculty work as advisors. We are very present as the majority of our advising happens in the production class. We partner with the Schools of Drama, Filmmaking and Music and outside production teams to bring a variety of production opportunities in for both our Costume Technology and Design Programs.

In the spring semester we hold our annual Job Fair. We invite 20-30 employers from across the entertainment industry in and introduce them to our graduating class. All of our students have the opportunity to begin relationships with these employers. This, paired along with our Intensive Arts master classes, enhances the networking opportunities our students receive.
Career Highlights
The Santa Fe Opera, Santa Fe, NM

Interim Costume Director, 1 year
Costume Workroom Supervisor, 5 years
Costume Shop Coordinator, 1 year
Costume Apprentice Supervisor, 3 years
Production staff hiring team, 19 years

The Guthrie Theater, Minneapolis, MN

Costume Workroom Manager, 7 years

Managed costume builds for: Desmond Heeley, Paul Tazewell, Patricia Zipprodt, Martin Pakledinaz, Jess Goldstein, David C. Woolard, Gabriel Berry, Devon Painter, Adelle Lutz, Marina Draghici, John Conklin, David Zinn, Allen Moyer, Keith G. Lewis, Susan E. Mickey, Susan Hilferty, Catherine Zuber, Allen Moyer, Anthony McDonald, Veronique Seymat, Laurent Pelly, Paul Brown, Isabella Bywater, David Walker, Zack Brown, Robert Perdziola, Bruno Schwengl, Michael Stennett, Judy Levin, Candace Donnelly, Mark Wendland, Sonya Berlovitz, Adrian Linford, Leslie Travers, Jon Morrell


Television and film (as one of the following: set costumer, tailor and/or emergency studio service):

"Field of Dreams"
"Sleeping With the Enemy"
"House of Cards"
"Betsy's Wedding"
"Madea's Family Reunion"
"Meet the Browns"
"Medea Goes to Jail"
"Scary Movie 5"
"Freak Fight" promotion trailer

Guest Faculty/Artist:

University of Minnesota (Twin Cities Campus)
Clarke University
Niagara University
University of Mississippi (Ole Miss)
Grand Marais Playhouse
Guest lectures in: Costume Shop Management, Time Management, Portfolio and Resume, and Interviewing Skills
Awards, Recognitions and Honors
Excellence in Teaching award, UNCSA School of Design and Production
Who's Who of American Teachers (Nominated by Heidi Wolff, University of Minnesota)
Cirque du Soleil University partner
Organizations
USITT, active member since 1988
Co-faculty sponsor of the Student USITT Chapter at UNCSA since 2004