Rebecca Green finds success as a producer at Sundance with two 2015 films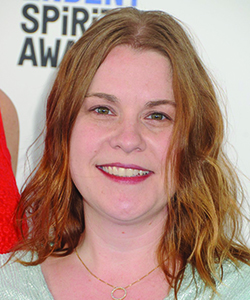 Rebecca Green ('01) always dabbled in the arts growing up, with interests ranging from flute and dance to photography and movies. Never did she once think of herself as becoming a Film Producer, and most certainly not one with films premiering at world-renowned film festivals. But the graduate of UNCSA's School of Filmmaking quickly found her niche in production while at school and has made a name for herself in the film industry.
Green grew up in Dearborn, Michigan, and Beaver Falls, Pennsylvania, surrounded by a large extended family of involved grandparents, aunts and uncles. Without her realizing, they were the ones who first sparked her interest in the arts.
Her grandmothers introduced her to Fred Astaire and Shirley Temple, and took her to her first musical, Cats. Abba and Donna Summers were regularly played, and so was "Gone With the Wind." Her uncle even happened to be quite the film buff, sharing his collection of film-criticism books and the idea that "films are not just the blockbuster movies the summer, but an art form."
Her mom was also an avid reader, encouraging her children to explore the world through books. Green acknowledges that it was this interest that really sparked and grew interest in the art of storytelling.
"The arts were all around me without me understanding that I was experiencing a part of the world that not every kid had access to growing up," Green said.
In school, Green shied away from sports and toward extracurriculars like band and dance classes, and developed an interest in photography.
"As a senior in high school, I spent most of my time taking photos for the yearbook and making magic happen in the darkroom," she said. This interest led her to enroll in photography classes at the Art Institute of Pittsburgh, as well as a film class that ultimately changed the direction of her studies.
"It was there that I realized movies had always been a big part of my life," Green said, "that I had always had a love for storytelling."
College, to Green, meant a time for her to explore her newfound passion of filmmaking, and she began researching film schools.
"UNCSA's School of Filmmaking was rare in that you were constantly shooting short films starting in your first year with the school paying for all the tools needed," Green said. This unique offering set UNCSA apart from the other reputable film schools, making it an easy choice for Green.
I had known enough about the arts to know that in order to master one, you needed to practice, so to me, UNCSA stood out in that you had hands-on experience from day one.
Upon entering UNCSA, Green was convinced she would study cinematography given her love of photography, but as soon as she started taking cinematography classes she realized it wasn't the right fit.
The intricacies of cinematography somewhat overwhelmed Green, who had only been accustomed to taking photos on her old SLR camera. But luckily for Green, during the first two years in the program she was introduced to all components of filmmaking, producing included.
"I had to produce at some point whether I wanted to or not and had that not been a requirement, I would have never realized that my skills and interest were in producing, not cinematography," Green said. "I liked being the person with the macro point of view on a film. The person who had to have a vision of the end result and figure out how to logistically get there."
She was continuously being shaped as an artist, refining her creative voice and developing her unique perspective on filmmaking through her classes and everyday life at UNCSA. Those around her, whether it was her opera-singing roommate or counterparts and professors in filmmaking, were essential to her growth as an artist.
One professor who had a profound impact on Green's development was Dan McKinny, who passed away a few years ago.
"Through his gentle approach," Green said, "he made me believe that my creative voice mattered. He gave me confidence to share my ideas and challenge others. I wouldn't be where I am today if he hadn't been in my life at a young age."
After reading producer Christine Vachon's "Shooting to Kill," Green applied for an internship at her company Killer Films, and was fortunate enough to be accepted. A summer internship in New York City resulted in her first real credit on the feature film "Boys Don't Cry."
Green also took part in the American Pavilion at Cannes Internship and was able to attend the Cannes Film Festival.
In 2001, Green graduated and did what most aspiring filmmakers did – moved to Los Angeles. A connection she had made in Cannes, who happens to be her best friend now, introduced her to a temp agency. That connection ultimately resulted in her becoming the Assistant to the Head of Acquisitions at Lionsgate where she remained for four years.
"I consider my time there my graduate school," Green explained. "I learned the ins and outs of the business side of the industry and who the players were."
She then moved on to work for veteran producer Lynda Obst, best known for "The Fisher King," "Contact," "How to Lose a Guy in 10 Days" and "Interstellar."
She finally felt it was time to try producing on her own, but unfortunately two of her attempts did not succeed. She was back to square one.
A job opened up at the Sundance Institute for Manager of Producing Initiatives, and Green was quick to apply and be accepted.
For three years she worked at Sundance, learning firsthand how independent films were made, a contrast to the process of making studio films she learned at Lionsgate.
Again, she went off on her own to try producing her own films. And this time it worked. Twice.
She produced the horror film "It Follows," which premiered at the Cannes Film Festival in 2014 and was released theatrically the following year. Her second film, "I'll See You in My Dreams" (written and directed by UNCSA alumus Brett Haley), premiered at the Sundance Film Festival in 2015 and was soon after released theatrically.
"Having not one, but two films at the festival exceeded any goals or expectations I had set for myself in my career," Green said. "When the lights went down for "I'll See You in My Dreams" in a theater of 1,500 people, I was overwhelmed with a sense of accomplishment I cannot describe."
Green describes the filmmaking process as individual start-ups, forcing producers and others involved to be entrepreneurs, facing the same ups and downs as a businessman opening a new business. But over the years she's faced those trials and tribulations, with some failures, but has come out on top.
"Before producing, making a big idea a reality seemed impossible," she said, "but now I'm able to look at an idea and dissect it into stages and steps to make it real."
Those entrepreneurial skills and mindset, she believes, can be translated to other industries, opening up Green's options in the future to tap into her other interests.
"Having produced and released two films back to back, I'm a little exhausted and have been putting off life outside of work for awhile," she admitted. "In this next stage of my career, I'm focusing on finding work/life balance and making sure that my personal accomplishments rise up to meet my professional ones."
But she's not trading in the producer role quite yet. She's already back to the drawing board raising funds for a film that will hopefully shoot next spring or summer.