Alumnus Brett Haley writes and directs the feel-good movie we need right now
2005 School of Filmmaking graduate Brett Haley has come a long way since his first venture into film. With no budget and childhood friends as actors, his first feature-length film was terrible, and he's the first to admit it. But what can you really expect from a 16-year old?
However, Haley's most recent film, "Hearts Beat Loud," shows just how far you can go with determination, passion and a well-rounded education. The film was the closing night selection at the 2018 Sundance Film Festival, where it was picked up for U.S. distribution by Gunpowder & Sky and by Sony Pictures Worldwide for international distribution. Additionally, it has won the "Best Narrative Feature Film" audience award at two prestigious film festivals.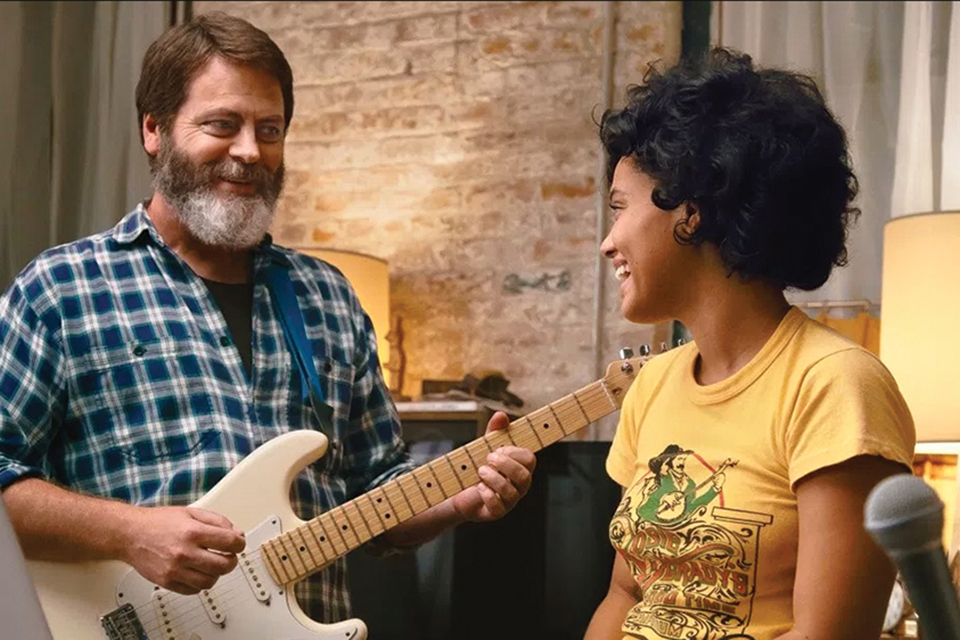 Watch the trailer for "Hearts Beat Loud."
Opening theatrically this June, "Hearts Beat Loud," starring Nick Offerman ("Parks and Recreation") and Kiersey Clemons ("Dope," Netflix's "Easy"), is not your cookie cutter movie premise. A feel-good story about a father and daughter forming an unlikely songwriting duo the summer before she leaves for college, this film leaves the viewers feeling like they just watched a real story unfold. And feel-good was exactly what Haley was going for, "It's a story about love," he told Variety. "I just wanted to put some goodness out in the world right now and make a film that makes people feel good."
Truly a UNCSA film, "Hearts Beat Loud" features alumni Quincy Dunn Baker (Drama '05), Alex Reznik (Drama '01) and Michael Abbott Jr. (Drama '00) as actors; Tiffany Little Canfield (Drama '00) as casting director and Zach Sievers (Film '06) as sound designer and supervising sound editor. Recent graduate Abraham Bengio (Film '18) was assistant to Haley on the film shoot.
Haley got his filmmaking start at an early age. He picked up his first VHS video camera at the age of 9, and has been making films ever since. "From a young age," he said, "I was a storyteller. I just knew it was what I wanted to do."
His older brother, Joshua Ferris, now a famous novelist, was very influential on Haley in those early days."He was a big influencer of taste," Haley said, "showing me movies I probably shouldn't have been seeing, like 'True Romance,' De Niro and Micky Rourke films."
When it came time for college, Haley knew the classic college experience was not what he wanted. He started looking into UNCSA, and was drawn to the conservatory approach where he would be surrounded by artists in a small, intimate atmosphere.
"It really is a safe haven for artists," he said, adding that for him it was a "constant place of inspiration with pure filmmaking, all the time."
After enrolling in the School of Filmmaking in 2001, Haley pursued the Directing concentration, eventually earning a coveted spot in the program.
Initially, all Haley wanted to do was direct. But after graduation he found himself asking, "Well, what am I going to direct?" He realized that in order to start directing films, he needed to write his own.
Haley eventually wrote and directed his first film, "The New Year," with only $5,000 and a ragtag crew of UNCSA alumni and friends back home in Pensacola, Florida. It premiered in 2010 at the Los Angeles Film Festival, surprising Haley with how well it was received.
Since then he has gone on to write and direct several films, including "I'll See You in My Dreams" (2015) starring Blythe Danner, Sam Elliot and Rhea Perlman and "The Hero" (2017) starring Sam Elliot, Laura Prepon and Krysten Ritter.
While he enjoys writing, he admits that it's the hardest part of the process. His true passion is directing. "Directing is so much fun. When you get a scene right, it just feels great," he enthused.
Luckily his time at UNCSA prepared him to take on multiple roles. "I learned a lot about what it means to be a collaborator at UNCSA," Haley said. "You learn quickly that film is very collaborative."
But success has not given Haley a big head; on the contrary he has found ways to give back to his alma mater. While in town to attend RiverRun International Film Festival, Haley gave a special screening of "Hearts Beat Loud" to film students and hosted a Q&A to share his insight from his time on campus, his work in the film industry and what his career has been like since graduation.
Haley recalled Renata Jackson's analytical film history course, and how she pushed her students to see film in a new light by thinking about the film, rather than just enjoying it. Two films that she screened were life-changing for him—"Children of Paradise" and "Day for Night."
The reflective approach of "Day for Night" perfectly captured for Haley what it means to be a filmmaker. "As a filmmaker, there's something very magical and special about the process," he explained, "but one day it's all over, and it's really bizarre."
Of his time at UNCSA, Haley said, "it was a really great learning opportunity because it was very intense in a good way. The pressure mimicked what I go through every day now."