Citizen Artist Lecture Series
Citizen Artist Lecture Series
The Citizen Artist Lecture Series features guest speakers from numerous disciplines covering topics related to active civic engagement. Lectures and workshops are open to all high school students, and occasionally to the wider UNCSA campus community.
We look forward to hosting new speakers at UNCSA during the upcoming 2022-23 academic year.
Past Speakers
Sherrill Roland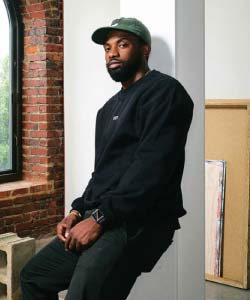 Sherrill Roland studied at Skowhegan School of Painting and Sculpture (2018) and earned his MFA and BFA from the University of North Carolina at Greensboro (2017 and 2009). He has had solo exhibitions at the Shirley Fiterman Art Center, Borough of Manhattan Community College, New York (2019); Maria & Alberto de la Cruz Gallery, Georgetown University, Washington, DC (2019); Brooklyn Public Library (Central Library), Brooklyn, NY (2017); Los Angeles Contemporary Exhibitions, Los Angeles (2017): among others. His work has been included in group exhibitions at the San Jose Museum of Art, San Jose, CA (2020); Tufts University Art Galleries, Medford, MA (2020); Addison Gallery of American Art, Andover, MA (2019); CAM Houston, Houston (2018); and Studio Museum in Harlem, New York, NY (2017). Roland is the recipient of the Creative Capital Award (2021); South Arts Southern Grand Prize & State Fellowship (2020); and was an Art for Justice Grantee (2020) in addition to many other awards and recognitions. He has had fellowships and residencies at Fountainhead, Miami; Duke University, Durham, NC; Otis College of Art and Design, Los Angeles, CA; among others. Roland's work is the permanent collections of the Studio Museum in Harlem, New York; Fountainhead, Miami; and Harvey B. Gantt Center for African American Arts + Culture, Charlotte, NC. He lives and works in Durham, NC.
Jupiter Neville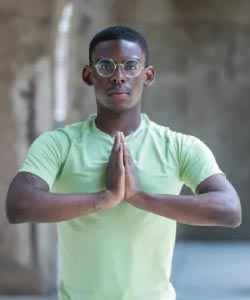 Jupiter Neville says of their work: "'We're holding each other's hands here trying to create a compassionate space in our community...It's teaching people to first give themselves a safe space to release any stigma or chains or internal prisons and then resonating that message out into the community.'"
At the end of 2019, Jupiter lost their father, Mr. John Elliot Neville, due to his death in the Forsyth County Detention Center, which spurred the 49-day occupation of Bailey Park from July-September 2020. Due to the persistence of those demanding justice for Mr. Neville, policy was changed by the Forsyth County Sheriff's Office to ban the prone restraint (hogtie) and notify the public of deaths in the local jail. Jupiter Neville found healing for themself through the advocacy community and yoga practices, and now teaches Ahimsa workshops for harm reduction and personal healing journeys throughout our Winston-Salem community. Jupiter will offer perspectives on wellness, care, and both self and community advocacy through guidance towards healing.
Tareake Dorill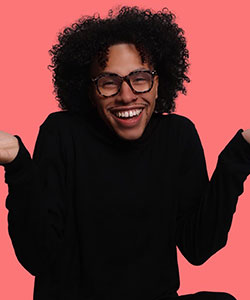 Tareake Dorill is an artist, educator, artpreneur, and most importantly, a DoER who was born and raised in the Lower East Side, NYC, which is his most proudest affiliation. He graduated from the University of North Carolina School of the Arts (UNCSA) with a BFA in Dance and Choreography and was elected Student Body President at UNCSA, serving as a voting member of the university's Board of Trustees from 2016-17. Currently, he serves as the founder and executive director of Dorill Initiative, a multidisciplinary arts nonprofit committed to empowering youth to tell their stories and transform communities through artistic and creative expression training, academic enrichment coaching, civic and community engagement workshops. Tareake has trained and danced professionally, performing in works choreographed by Robert Battle, Twyla Tharp, Paul Taylor, Jose Limon, Merce Cunningham, Doug Varone, Juel D. Lane, Cara Hagan, Brenda Daniels, Gregory Dolbashian, Gaspard Louis, Kira Blazek, Maria Torres and Susan Jaffe. He has trained young artists and professionals locally, nationally and internationally at various institutions. Residing in New York City, he is a proud alumni of Rosie's Theater Kids, Dancing Classrooms, and also serves as the Second Vice Chair of Manhattan Community Board 3.
Yvette Boulware and Sara Hines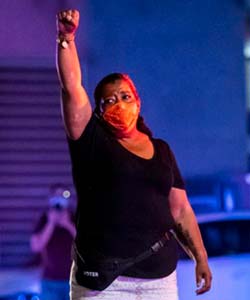 Yvette Boulware is a lifelong civil rights activist. She has had experiences with SNCC (Student Nonviolent Coordinating Committee) and SCLC (Southern Christian Leadership Conference), and she was mentored by the late US Representative John Lewis. Ms. Boulware continues her work through mentorship, and is an expert on designing advocacy actions that are original and unique to the passions of individuals. For example, Ms. Boulware mentored folks here in Winston-Salem to navigate local government in order to build access to monitoring elected official public meetings and organize public comments. WIth Ms. Boulware's guidance, the Winston-Salem City Council and the Forsyth County Board of Commissioners heard nearly one hundred public comments from community members in the 2020 fiscal year. Ms. Boulware's passions as a community advocate include voting rights, political education, immigration rights, and housing access.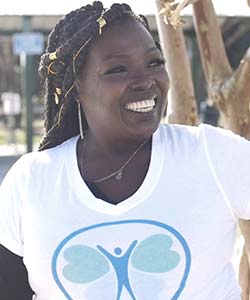 Sara Hines is a co-founder of Unity Wellness Center, which is a Winston-Salem organization dedicated to building awareness and access to mental health resources, holistic wellness, health advocacy, addiction recovery, and compassionate community care. Ms. Hines has stated that the collaboration on Unity Wellness Center started with a poem--a poem she read at a social justice event that built community by inviting Dr. Lindsay Peral to continue conversations with Ms. Hines about the gap in mental health resources for residents of Winston-Salem. Ms. Hines continues to write poetry and helps community members share their voices through stories, testimonies, and art.
Dr. Brittany Battle and Dr. Bailey Pittenger
Dr. Brittany Battle currently resides in Winston-Salem, where she teaches social justice-focused courses in the Department of Sociology at Wake Forest University and advocates for community and care-centered resources and initiatives with the grassroots organization, Triad Abolition Project, of which she is a co-founder. Dr. Battle exemplifies the power of grassroots organizing and the power of being a citizen artist via her expertise and experience with research, civic actions, and accessible tools of oral and written advocacy presentations. In the past year and a half, Dr. Battle has facilitated several virtual teach-in style video presentations, along with other community advocates, to educate and inform on topics of abolition, community care, and political education. In addition, Dr. Battle avidly writes essays and blogs on topics of social justice. Most recently, Dr. Battle has been awarded the Emerging Poverty Scholar Fellowship from the University of Wisconsin--Madison, which will provide substantial resources to support her research on dismantling poverty in US communities.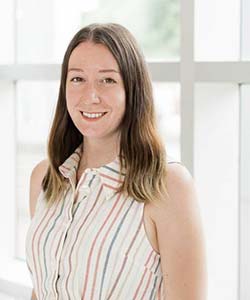 Dr. Bailey Pittenger is a UNCSA High School English Instructor, and also a co-founder of Triad Abolition Project. Dr. Pittenger shares Dr. Battle's passion for building care-centered initiatives and resources for our local Triad community. Dr. Pittenger is currently a 2021 Care Fellow with Caring Across Generations, a nonprofit that centers the voices of caregivers in civic actions while advocating for better care infrastructures across the US. She is also a Spatial Justice Studio Fellow with CDI, working on a project that will create a care infrastructure map of Winston-Salem, NC.
Together, Dr. Battle and Dr. Pittenger have recently facilitated a summer-long community education workshop series titled "Defund, Transform, Abolish?: (Re)Imagining Justice," and they are both at work on a book project tentatively titled Pathways to Abolition.
Lauren Baucom
Lauren Baucom is a doctoral student and graduate research assistant at the University of North Carolina at Greensboro. A former high school mathematics teacher of 11 years, Baucom has devoted her time to teaching students from both rural and urban areas, and her research primarily focuses on disrupting power structures in the educational system by seeking justice for students and teachers of marginalized populations in the content area of mathematics and statistics.
Baucom has been honored for her outstanding mathematics teaching: a recipient of the Presidential Awards for Excellence in Mathematics and Science Teaching for the state of North Carolina in 2015, the North Carolina Council of Teachers of Mathematics (NCCTM) Outstanding Secondary Mathematics Teacher in Wake and Union Counties, and the Wake County Teacher of the Year in 2013. Baucom hopes to continue her passion for mathematics education as she focuses her research on attending to students' and teachers' identities through the learning of critical statistical literacy.
Steven Banks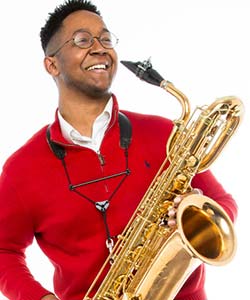 Steven Banks, a graduate of the High School Academic Program, is the first saxophonist to earn a place on the Young Concert Artists roster in its 59-year history, capturing First Prize at the 2019 Young Concert Artists International Auditions as well as the special Korean Concert Society Prize (for support of his Kennedy Center debut), Buffalo Chamber Music Society Prize, Saint Vincent College Concert Series Prize, Sinfonia Gulf Coast Prize, Tannery Pond Concerts Prize, Usedom Music Festival Prize, and Washington Performing Arts Prize.
Banks is an advocate for diversity and inclusion in music education, performance, and newly commissioned works in the classical realm. He gave a talk at the TEDxNorthwesternU 2017 conference with ideas about how to create change in institutionalized prejudices against women and people of color. Since the talk, Banks has written an article for New York City's classical music radio station WQXR and given guest lectures on the history of Black classical composers. Banks serves as a member of the first Committee on the Status of Women for the North American Saxophone Alliance, and was selected as a member of the jury for the first Female Saxophonist Competition.
Dr. Eugenia Cheng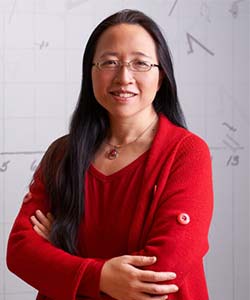 Eugenia Cheng is scientist in residence at the School of the Art Institute of Chicago. She won tenure in Pure Mathematics at the University of Sheffield, UK, and is now Honorary Visiting Fellow at City, University of London. She has previously taught at the universities of Cambridge, Chicago and Nice and holds a doctorate degree in pure mathematics from the University of Cambridge.
She is author of "x+y: A Mathematician's Manifesto for Rethinking Gender," "The Art of Logic: How to Make Sense in a World that Doesn't," and "How to Bake Pi: An Edible Exploration of the Mathematics of Mathematics." She was interviewed on "The Late Show with Stephen Colbert" and is a math columnist for the Wall Street Journal, and founder of Liederstube, a nonprofit organization to present and enjoy classical music in an intimate and informal setting.
Endia Beal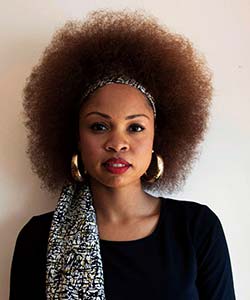 Endia Beal is a North Carolina based artist, curator, and author. Beal's work merges fine arts with social injustice. She uses photography and video to reveal the often overlooked and unappreciated experiences unique to people of color. Specifically, Beal's first monograph, Performance Review, brings together work over a 10-year period that highlights the realities and challenges for women of color in the corporate workplace. She lectures about these experiences, which also addresses bias in corporate hiring practices.
Beal is featured in several online editorials including The New York Times, NBC, BET, Huffington Post, and National Geographic; she also appeared in TIME Magazine, VICE Magazine, Essence, Marie Claire and Newsweek. Her work has been exhibited in several institutions including the Nasher Museum of Art at Duke University in Durham, NC; The Charles H. Wright Museum of African American History in Detroit, MI, and Aperture Foundation in New York, NY. Beal's photographs are in private and public collections, such as The Studio Museum in Harlem in New York, NY, Museum of Contemporary Photography at Columbia College Chicago in Chicago, IL, and Portland State University in Portland, OR.
She is a fellow of the Center for Curatorial Leadership and completed residencies at Harvard Art Museums, the Center for Photography at Woodstock and McColl Center for Art + Innovation. Beal received grants from the Magnum Foundation and the Open Society Foundation, among others.
Beal holds a dual BFA in art history and studio art from the University of North Carolina at Chapel Hill, and an MFA from Yale University.