Meet the Studio
Cello Studio
Meet the Studio
Students in the UNCSA Cello Studio range from high school to graduate-level studies. The studio is led by Dr. Brooks Whitehouse.
Brooks Whitehouse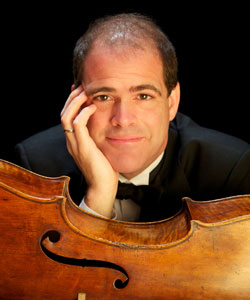 Dr. Whitehouse is Associate Professor of Cello at UNCSA. He has previously held faculty positions at the University of Virginia, University of Florida and University of North Carolina at Greensboro. He is cellist and arranger for the cello/bass duo Low & Lower and is on the faculty of the Green Mountain Chamber Music Festival, SummerStrings@UNCSA and the Apple Hill Center for Chamber Music. He has an international performing career that includes more than 300 concerts across the globe in the United States, Europe and Australia.
---
Elizabeth Cook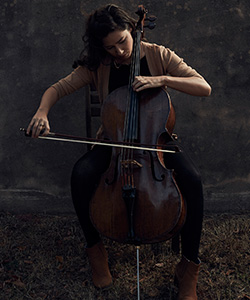 Elizabeth is a student in the Professional Artist Certificate program. Originally from Durham, NC, she received her bachelor's degree in music from the State University of New York at Purchase College where she studied with Julia Lichten.
In 2012, she moved to Israel to study with cellists Zvi Plesser and Michal Korman at the Jerusalem Academy of Music and Dance. She lived in Jerusalem for three years, where she freelanced and taught privately. Elizabeth participated in the Jerusalem Academy of Music and Dance's annual Chamber Music Competition and won first place in May 2012 and third place in May 2013. She also performed in a chamber music concert that was broadcasted live on the Israeli classical music radio station "Kol HaMusica."
In 2014, Elizabeth attended Mannes College of Music at The Newschool University, where she studied with Marcy Rosen for two years. She has participated in masterclasses with artists such as Peter Wiley, Gary Hoffman, Matt Hoffman, and Paul Watkins.
Benjamin Therrell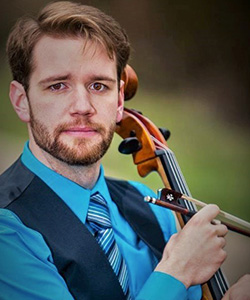 As a masters student at UNCSA, Ben Therrell is the cellist of Chrysalis Chamber Music Institute's Giannini String Quartet—one of three graduate ensembles housed within that elite program. He is also a member of the Fayetteville Symphony and has performed with many groups in North Carolina, New Mexico and Colorado, including the Winston-Salem Symphony, New Mexico Philharmonic, Boulder Symphony and others. Ben studied with David Schepps and Lisa Collins at the University of New Mexico, as well as with Tanya Carey and Susan Kempter—both major Suzuki teacher trainers. At UNM, Ben received a dual emphasis Bachelor of Music in Cello Performance and String Pedagogy and is a Suzuki-certified teacher. He has taught with the UNM String Pedagogy Lab School, the New Mexico School of Music and as a freelance private instructor. Ben has also played for such noteworthy cellists as Lynn Harrell, Alan Harris, Rhonda Rider, Wendy Warner, Antonio Lysy, Scott Kluksdahl, Alex Ezerman, Andrew Mark, Kim Cook, Jeff Lestrapes and Mark Votapek.
Gustavo Antoniacomi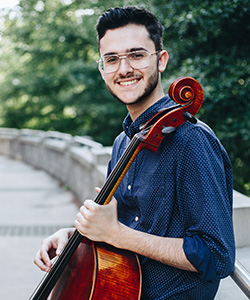 Gustavo is a junior undergraduate cello major. He began his musical studies early with Dr. Sandy Simmons of the Evangelical University of Paraná in his native city of Curitiba, in the south of Brazil. In 2012 he continued his studies with cellist Maria Alice Brandão at the Belas Artes School of Music of Paraná, and became principal cellist of the Chamber Orchestra of Belas Artes and the Central Adventist Orchestra. During this time he performed chamber music and solo work throughout Brazil. Gustavo became part of Dr. Whitehouse's cello studio in 2015. At UNCSA, his freshman year grades were As in his music classes — and even an A- in English! In February 2016, his string quartet performed for the Chamber Music Society of Lincoln Center's Rose Studio livestream master class in New York. Gustavo also attended UNCSA'S SummerStrings music intensive, where he served as concert master for the 12-member cello ensemble, and played in the Chrysalis String Quartet. Gustavo currently performs on a cello from The Virtu Foundation instrument collection.
Joe Collins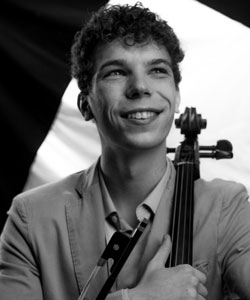 Joe is a musician from Newnan, Ga. who is currently studying cello performance. At the age of nine, Joe began his music study on guitar with John Verner of the US Army Band, and at age 15 began cello lessons with Spencer Brewer of the Chattanooga Symphony.
An eclectic and versatile musician, Joe is also an avid bassist and drummer, and he enjoys combining his classical education with a variety of genres including everything from jazz to classic rock, pop, R&B, punk, and metal. His past projects include collaborating with The Spins, Untold Salem, Maybe Tomorrow, and OK Sweetheart. Joe currently works with a jazz/funk fusion trio, the Space Cadet Orchestra, as a drummer and composer.
Joe takes pride in his passion for education, and he strives to give back to the community both in and outside of the classroom. He teaches private lessons and group sessions at Jackson Middle School and Jackson's Music. As an ArtistCorps service member, Joe gives individual cello lessons and leads pre-kindergarten music classes at Diggs-Latham Elementary.
Josie Greenwald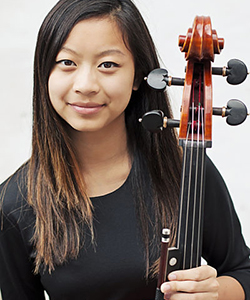 Josephine (Josie) Greenwald is a cellist from Scottsdale, Arizona, and one of three UNCSA students in 2017 awarded the prestigious Kenan Excellence Scholarship. She has played in the Phoenix Youth Symphony, the West-Central Regional Orchestra and the Scottsdale Unified School District Honor Orchestra, and was the principal cellist in the Chaparral High School Symphonic Orchestra. She has participated in the Green Mountain Chamber Music Festival and the Lamont School of Music Summer Academy. Josie ranked toward the top of her high school graduating class and has taken many Honors and Advanced Placement courses. She also tutors many students in mathematics, English and science. Josie played an active role in student leadership and community service at her high school. She and some of her classmates were the first students to start a school chapter of the American Red Cross and she was president of her school's Veteran Heritage Project, whose members interview U.S. veterans about their war experiences; these interviews are archived in the Library of Congress.
Christina Kim
Christina started playing cello in her school orchestra when she was 12 years old. She came to UNCSA in 2015 to study with Dr. Whitehouse for her senior year, and is now a first year undergraduate student in his studio. She enjoys playing in the UNCSA Symphony Orchestra, and her favorite performances have been the Saint-Saens Symphony No. 3 "Organ Symphony" tour and Tchaikovsky's Symphony No. 4. She also loves working in chamber music settings. Last year, she had the opportunity to perform with her quartet in a chamber music masterclass given by Ludvig Schmalhofer. Her favorite thing about UNCSA is being surrounded by talented and creative peers in a hardworking environment.
Adithya Muralidharan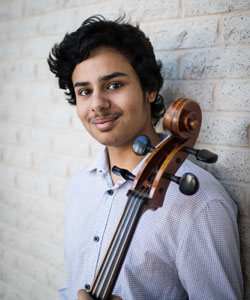 Adi began studying the cello at the age of eight, and has been at it ever since. He has been involved with many orchestras, including the Triangle Youth Orchestra, Triangle Youth Symphony, Triangle Youth Philharmonic and the Apex High School Orchestra. He was a winner in the MANC 16th Annual String Competition and a winner of last year's Euterpe Music Club competition. He has also played in many chamber music groups and attended the Green Mountain Chamber Music festival in Burlington, VT. Adi has a particular love of Bach, and hopes to become a soloist and travel the world. For that reason, he has dedicated his undergraduate study to the development of his technique and repertoire.
Helen Campbell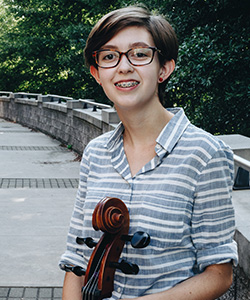 Helen is a high school student at UNCSA. As an elementary school student she had not yet discovered her love for music, and only began playing the cello in sixth grade so that she would not have to join the chorus! After a couple of months, she grew to adore the instrument and started taking music very seriously. In the seventh grade, Helen joined the Western Piedmont Youth Symphony and became the principal cellist of her middle school orchestra. In May 2017, she was first chair in the cello section of the Junior Western Regional Honors Orchestra. A dedicated student, Helen won the Top Scholar award from her middle school and receiving straight As from grades K-8.


Benjamin Carter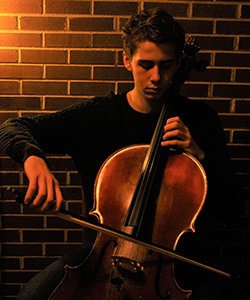 Benjamin Witt Carter was born in San Antonio, Texas, and is a high school senior at UNCSA. Benjamin's love of music began with five years of piano study before he discovered the cello, and his love for the instrument continues to grow. After moving to North Carolina, he joined the Winston-Salem Youth Philharmonic, and the following year served as principal cellist with the Winston-Salem Youth Symphony. Benjamin is excited about his experience at UNCSA, where he has the opportunity to learn from talented musicians in the cello studio, study with a fantastic cellist and teacher and also experience an environment where he is surrounded by inspiring artists in different concentrations. Benjamin has many interests and is exploring different programs for next year when he starts college. His passion for music and the arts will always be an important part of his life.
Johanna Di Norcia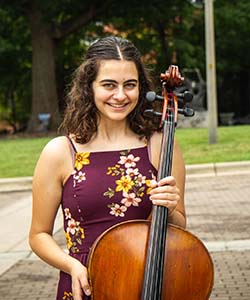 Johanna is a high school freshman. What she loves most about UNCSA is the people. The teachers and professors are wonderful, she says, and the students are so friendly and nice. Everyone helps each other grow and learn. Her goal as a musician is to have a career in a symphony, and to travel around the world making music. She loves to play gigs over the summer and hopes that all of her fellow cello students achieve their goals!
Jewel Kim
Jewel is currently a senior in high school. She started playing the piano when she was five and the cello when she was six. As a third grader, Jewel experienced the joy of making harmony with other musicians in her elementary school orchestra for the first time. It was at that moment that cello became a crucial part of her life. She loves playing with other musicians, and this is the reason she loves UNCSA. The school has various ensembles and tremendously talented people, and all the students share the same interest and have a passion for the arts. Born in the U.S. and raised in South Korea, Jewel has been very active as both an orchestra member and a soloist since moving to the United States again in early 2013. In addition to participating in school orchestras, she has played in the Triangle Youth Philharmonic, the Mallarme Youth Chamber Orchestra and the North Carolina Governor's School Orchestra. She was also a part of the North Carolina Eastern Regional Orchestra for four consecutive years and the North Carolina All-State Honors Orchestra for two consecutive years. Jewel was also one of the finalists of the Cameron Art Museum Young Musicians Competition in 2016 and received first prize in the Senior Strings division of the North Carolina MTNA Performance Competition in October, 2017.
Juwon Lee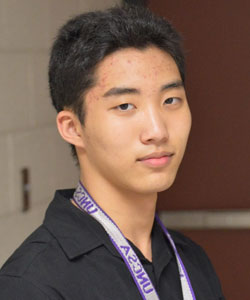 Juwon started playing cello when he was in the sixth grade, and for the first few years he played just for the school credits. However as he grew to love the cello, he started to play for himself. When he learned about the high school program at UNCSA, he decided to try for it, even though he had not been studying seriously for that long. He doubled his practice time to prepare for the audition. It was the first thing he ever really tried to reach for, he says, and he loved the work.
Juwon's hard work paid off, and he is enjoying his studies under Dr. Whitehouse and his collaboration with friends at UNCSA. He is thankful to the UNCSA faculty for giving him this opportunity and knows already that attending UNCSA will be one of his life's most unforgettable memories.
Hannah Maier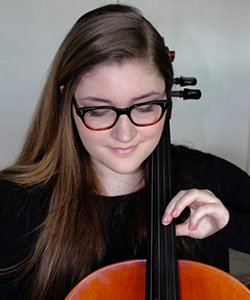 Hannah was born in South Carolina, but grew up in Germany and loved being surrounded by the arts from a young age. When her family moved back to the United States, she began piano lessons and eventually picked up cello through her elementary school orchestra in fourth grade. Hannah soon began taking private lessons with principal cellist of the Greater Grand Forks Symphony, Naomi Welsh, and is currently a member of Dr. Brooks Whitehouse's cello studio. She has been a part of multiple youth orchestra programs and chamber music ensembles which have included; Northern Valley Youth Orchestra and All State Orchestra in North Dakota, Upper Midwest String and Chamber Music Conference in Minnesota, and Winston Salem Youth Symphony. UNCSA is helping her work towards her dream of one day traveling to perform in orchestras around the world while taking aesthetically pleasing photos along the way. Now a junior in high school at UNCSA, she is excited to finally perfect her German and work on becoming a better student and musician.
Eli Kaynor
Cellist Eli Kaynor is currently completing a six-month Kenan Fellowship at the Lincoln Center for the Performing Arts. During his tenure at UNCSA, Eli received both a Master of Music degree and a Professional Artist Certificate, while acting as the graduate teaching assistant to Dr. Brooks Whitehouse. While at UNCSA, Eli held an active position in the Chrysalis Chamber Music Institute and participated in many exciting chamber performances, including sharing the stage with Silk Road Ensemble artist Wu Man and performing for world-renowned cellist Yo-Yo Ma. His chamber groups of the last three years were chosen to appear in master classes at the Chamber Music Society of Lincoln Center, performing for musicians Paul Watkins, Sean Lee and Daniel Phillips. In 2015, Eli's group also participated in a performance tour across Spain, leading concerts and master classes in Barcelona, Madrid, Valencia and Alicante. Eli has won major competitions, performing Bloch's Schelomo: Rhapsodie Hébraïque with the UNCSA Symphony Orchestra, the Schumann Cello Concerto with the Chapman Chamber Orchestra in Orange, Calif., and Haydn's C Major Cello Concerto with the Pro Arte Chamber Orchestra in Boston, Mass. Eli is also an avid runner, contradance musician and comic book enthusiast.
Benjamin Maxwell
Alumnus Ben Maxwell is from Durham, N.C., where he began playing cello in middle school. Studying with Nancy Green, he played in several chamber groups as well as with the Youth Symphony at the Duke University String School. He graduated high school in 2017 from UNCSA, where he studied with Dr. Brooks Whitehouse for his junior and seniors. He is a winner of the spring 2015 DUSS concerto competition, a finalist in the spring 2016 UNCSA concerto competition, the winner of the 2016 Music Academy of North Carolina Violin and Cello Competition and the winner of the 2017 NC ASTA competition. He has enjoyed playing for two years in the NCMEA High School All-State Honors Orchestra, and with the summer 2015 World Youth Symphony Orchestra. Ben studied with Hans Horgen Jensen at the Meadowmount School of Music during the summer of 2016 and was a recipient of the Kenan Fellowship at the Aspen Music Festival and School in 2017, studying with Richard Aaron and Darrett Adkins. Ben currently attends the New England Conservatory of Music studying with Yeesun Kim.
Kendall Ramseur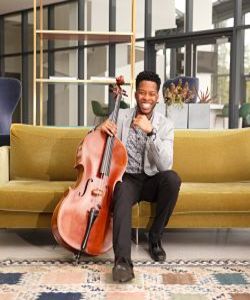 Raised in Charlotte North Carolina, Kendall Ramseur began his musical journey as a pianist at the age of seven, and switched to cello when he turned ten.
Kendall received his Bachelor of Music degree from the University of North Carolina School of the Arts (UNCSA). He studied cello under the instruction of Dr. Brooks Whitehouse. Upon graduating UNCSA, Kendall matriculated to Boston University's College of Fine Arts (BU) where he received his Master's of Music in Cello Performance with Marc Johnson, member of the Vermeer String Quartet.
As a soloist, Mr. Ramseur released his debut album T.I.M.E., in 2013. He was later awarded the Gospel/Inspirational Artist of the Year by the Boston Music Awards. Since then, Kendall has performed his original compositions at over 100 events in Massachusetts and around the country including: ArtsEmerson "The World on Stage", Cast Party for "Daniel Beaty", Wheelock's 2013 Metro Boston Race Amity Celebration, Kendall Square Concert Series and Boston Green Festival. Kendall was a featured panelist on the Boston University Music Symposium, "The Multi- modal Musician: The Success of Adaptability". Additionally, the Boston Globe recommended him as one of the top artists to see at the 2014 First Night Boston. In May 2017, Ramseur soloed with the Cincinnati Symphony Orchestra where he performed the Vivaldi Double Cello Concerto III Mvmt.
Kendall is one-fourth of the nationally-acclaimed and billboard charting quartet, Sons of Serendip who gained fame during Season 9 of NBC's America's Got Talent. As a group they average between 40-50 performances a year, traveling both nationally and internationally. Most notably, they have performed with the Boston Symphony Orchestra, the Cincinnati Symphony Orchestra, and the Boston Pops for the July 4th Fireworks Spectacular. Kendall has orchestrated various parts for the group's performances with the Boston Pops and the Boston Symphony Orchestra. The quartet was also invited to perform at the 2016 Creative Arts Emmy Awards for the In Memoriam segment. In 2017, the group released their third studio album Life + Love. As a member of Sons of Serendip, Ramseur has exercised his ability to arrange, orchestrate, compose and program material for both the group's performances and albums.
Kendall performs on a CR Series Electric Cello, endorsed by NS Design.