Meet the Cello Studio
Meet the Cello Studio
Students in the UNCSA Cello Studio range from high school to graduate-level studies. The studio is led by Dr. Brooks Whitehouse.
Brooks Whitehouse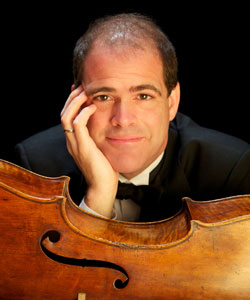 UNCSA cello professor Brooks Whitehouse has performed and taught throughout the US and abroad. With The Guild Trio Whitehouse won the "USIA Artistic Ambassador" and "Chamber Music Yellow Springs" competitions, and has toured extensively in the US, Europe, Canada and Australia. He is the co-creator with Paul Sharpe of the popular cello/bass duo Low & Lower, and is a member of the Reynolda String Quartet in residence at the Reynolda House Museum of American Art. As a member of the Black Mountain Trio he has performed in the Carolinas, Vermont and Ohio, as well as in Beijing and Shenzhen, China. Whitehouse has appeared as guest artist with the American Chamber Players, Villa Musica (Germany), the Ciompi Quartet, The Apple Hill Chamber Players, the New Zealand String Quartet and the Garth Newell Piano Quartet, with whom he performed at Carnegie hall as part of their fortieth anniversary celebration. For the past 12 years, Whitehouse has performed and taught at the Green Mountain Chamber Music Festival in Burlington, Vermont and has previously served on the faculties of the University of Virginia, the University of Florida and UNCG.
---
Undergraduate Students
Jake Anderson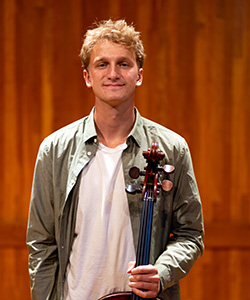 Jake Anderson is a fourth-year undergraduate cellist from Boise, Idaho. His musical interest is deeply inspired by his peers in the cello studio and in all of the different schools at UNCSA. Jake has been fortunate to have many mentors share their time and talent with him, including Dr. Brooks Whitehouse, Dr. Brian Hodges, Dr. Dmitri Shteinberg, Laurel Talley and conductors Robert Franz and Jen Drake.
Jake is a chamber music enthusiast and recently performed in the UNCSA Chamber Music Festival alongside violist Paul Neubauer. In the summer of 2020, Jake performed in a string quartet benefit concert for the Sphinx Organization and Equal Justice Initiative. He has been in multiple UNCSA productions including "The Nutcracker" and "La Clemenza di Tito" and has taken master classes from Jean-Guihen Queyras, Matt Haimovitz, Stéphane Tétreault and Wesley Baldwin.
This spring, Jake received the UNCSA annual Presser Scholar Award - a scholarship given to a rising fourth year music student each year. In addition to cello, Jake is a motivated student of the liberal arts and only occasionally gets in trouble for skipping class to ride his bike. He previously served as a resident assistant in the college dorms and a teaching assistant for the second-year music history course at UNCSA.
Elizabeth Coffin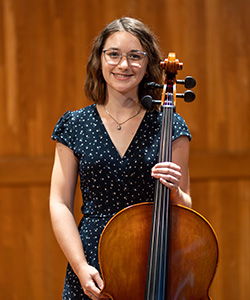 Elizabeth Coffin grew up in the cold weather of Menomonie, Wisconsin and began her studies at the age of eleven. She completed one year of undergraduate cello performance at Concordia College at Moorhead, MN before transferring to UNCSA. She was a finalist in the Chippewa Valley Youth Symphony's Concerto Competition, and received the Director's Award in her high school orchestra. Past teachers include Dr.Gregory Hamilton at Concordia College and Dean Langby, and she has performed in masterclasses for Dr. Simona Barbu and Tulio Rondón. Elizabeth plans to immerse herself in all things cello and see where that takes her for a career as well as future studies. In her free time you can find Elizabeth reading or running.
Becca Fuller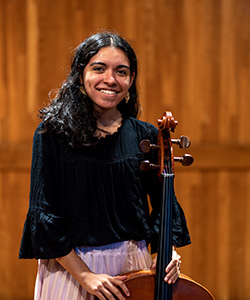 Becca Fuller is a first-year undergraduate student from Wake Forest, North Carolina. She began studying cello at age eleven after discovering her love of classical music through ballet. Soon after beginning her studies, she became principal of the Triangle Youth String Orchestra, and went on to play with the Triangle Youth Orchestra, the Triangle Youth Symphony, and the Triangle Youth Philharmonic. She has a particular love of chamber music and studied with the North Carolina Chamber Music Institute for four years, participating in several master classes with renowned chamber groups such as the Parker Quartet. Throughout high school she studied under UNCSA alum Jake Wenger as well as Kirsten Jermè and NC Symphony Assistant Principal Cellist Peng Li.
This past summer she attended Green Mountain Chamber Music Festival in Vermont where she studied and performed Shostakovich's String Quartet No. 3 in F Major. She has participated in many summer music events including Lamar Stringfield Music Camp, Berkshire Summer Music, and Furman University's Band and Orchestra Camp. Becca is excited to continue her cello studies at the college level and hopes to one day be a teacher, performer, and chamber music coach nurturing a love of chamber music in young musicians.
Johanna (Jojo) Di Norcia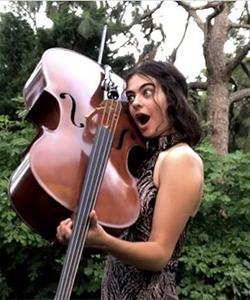 Jojo Di Norcia is a firm believer that in the world of music, the people involved in performing and listening to the pieces are just as important as the music itself. Yo-Yo Ma once said, "my twin passions are music and people," and Jojo shares the same sentiment. Now a third-year undergraduate student at UNCSA, she leaps at every opportunity to make solo performances more engaging between herself and the audience.
This year, Jojo Di Norcia was the highest scorer in the expert divisions of both the Medici International Music Competition and the London International Music Competition, the first prize winner of Tokyo International Youth Music Competition and a finalist in the UNCSA Concerto Competition.
Passionate about intersectional feminism, Jojo's favorite pieces to play are unheard solo pieces written by women of all backgrounds. She believes it is an honor to showcase pieces that audience members have not heard before, and believes an audience member saying, "Wow, I have not heard that piece before! Where can I continue to listen to it online?", is the highest compliment a performer can receive. Other artistic interests include making jewelry, running the cello studio Instagram account, and playing accordion at a beginner level.
Sophie Lyman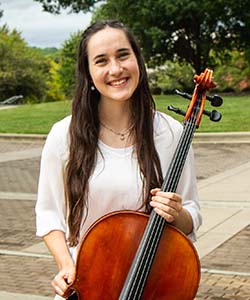 Sophie Lyman is a cellist from North Carolina and began her studies with her mother at the age of three. She completed one year of undergraduate cello performance at Brigham Young University in Provo, Utah before transferring to UNCSA where she is now a junior. She has won various competitions and soloed with the BYU Symphony Orchestra, the Idaho Falls Youth Symphony, and her high school orchestra on numerous occasions. She was the third place winner of the Grand Teton Music Festival's Scholarship Competition. She will be performing as the cellist for the solo string quartet in Jessie Montgomery's piece, "Banner," with the UNCSA Symphony Orchestra this fall. Sophie subs for the Winston Salem Symphony, Greensboro Symphony Orchestra, and maintains a cello studio in Winston-Salem.
This summer Sophie attended NEO EXCELLENCE in Spain where she studied with cellist and composer Andrea Casarrubios, and attended Vermont's Green Mountain Chamber Music Festival to study with Thomas Mesa, commissioner of Casarrubios's piece "Seven." She was the head counselor and guest artist at Lamar Stringfield Music Camp in Raleigh where she conducted their youngest orchestra. In past summers she's toured China with the BYU Chamber Orchestra, and attended the Prague Summer Nights music festival; the Brevard Summer Institute; the Credo chamber music camp at Ohio's Oberlin Conservatory; the BYU Summer Festival and Institute; the Mountains and Strings Chamber Music Retreat at Harriman State Park, Idaho. She currently studies with Brooks Whitehouse. Her past teachers include Robert Tueller, Benjamin Karp, and Michelle Kesler. She has had lessons with and played in masterclasses for Johannes Moser, Amit Peled, Jean-Guihen Queyras, Anthony Elliott, Anne Francis Bayless, Christine Lamprea and Alberto Muñoz Vicente.
Ella McGovern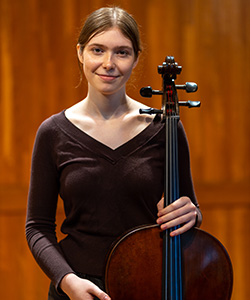 Ella McGovern has been playing cello for ten years. Originally from Dallas, Texas, she studied with Tess Crowther for the past five years before being admitted to Brooks Whitehouse's studio. Ella played in the Booker T. Washington HSPVA Symphonia Orchestra for four years before coming to UNCSA, and in multiple TMEA regional orchestras as well. She enjoys playing for her community, and has been gigging for weddings and professional events since 2020. Some of her major concert experiences include a Carnegie Hall performance with the Booker T. Washington Symphonia Orchestra featuring Gershwin's American in Paris and Debussy's Danse Sacrée in 2020, and a performance of the Saint-Saëns Cello Concerto No.1 at the Nasher Sculpture Center in Dallas in December 2021. This past summer Ella attended the Green Mountain Chamber Music Festival where she performed the Mozart Quintet No.2 in C minor, k.406 in a master class with the Parker Quartet. Ella is a recipient of the Posse Foundation Full-Tuition Leadership Scholarship and is a Posse Arts Scholar. In addition to cello, she is also learning flute and piano, and one day hopes to be fluent in all three instruments. As an undergraduate freshman at UNCSA, she looks forward to four years of study with Brooks Whitehouse along with her UNCSA cello studio colleagues.
Sam Mihavetz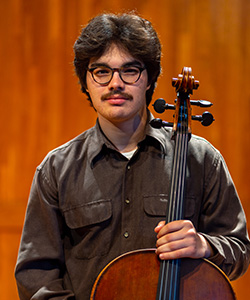 Sam Mihavetz is a fourth-year undergraduate cello performance major. Born and raised in Baltimore, he started playing the cello at six years old and attended Baltimore School for the Arts from 2015-2019. Since attending UNCSA, Sam has had several opportunities to perform pieces from all eras of music from baroque pieces with harpsichord to the Nutcracker to a piano trio premiere for the Forsyth County Audubon Society. This past summer he traveled to Europe as a member of the Prague Summer Nights festival, performing in the Estates Theater and the Rudolfinum, venues where Mozart and Dvorak both premiered some of their most famous works. In more recent years, Sam has garnered interest in Appalachian folk traditions and enjoys researching folk music from around the world. Sam is an avid supporter of contemporary and cross-genre music, having recorded on Matt Ellin's 2017 album, "All Is Not Lost."
Emi Smith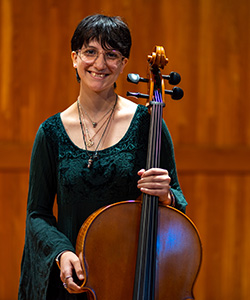 Emi Smith is a first year undergrad from Greenville, NC. Their interest in cello was inspired in seventh grade by the movie "If I Stay," and they have played cello for six years. They participated in the Tennessee Cello Workshop in 2018, 2019 and 2020, and attended the Green Mountain Chamber Music Festival in 2021. Emi was in the youth orchestra in Knoxville for three years, and attended the Honors orchestra for multiple years. They came to UNCSA as a junior in high school, and have chosen to stay for college.
Emi also loves Shostakovich with a passion, and performing his Fifth Symphony last fall with the UNCSA Symphony Orchestra was a dream come true. Emi hopes to be able to play in many different orchestras including the pit orchestra for some of their favorite musicals such as "Miss Saigon" and "Les Mis," while also being an active chamber music performer.
Carlene Soderberg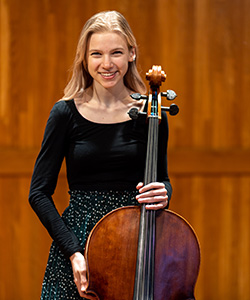 Carlene Soderberg is a sophomore at UNCSA. A native of Knoxville, Tennessee, she started playing the cello at eleven years old, and has studied with cellists Morgan Johnson, Alicia Randisi Hooker, Tanja Betchler and now Brooks Whitehouse. She was the youth winner of the Scruffy City concerto competition, a finalist in the Knoxville youth orchestra concerto competition, and a finalist in Tennessee cello workshop High School division competition. She attended Chamber Music on the hill from 2018-2019 and Green Mountain Chamber Music Festival in 2021. Carlene was principal cellist for last year's UNCSA winter opera "Linda di Chamounix."
Carlene's passion for music is diverse, playing in quartets to jazz bands to folk groups. In her free time, Carlene enjoys arranging and composing music. She is a historical instrument enthusiast and loves to show off her viol as well as historical keyboards. After completing her bachelor's degree, Carlene plans to pursue further studies in performance and musicology.
Elijah White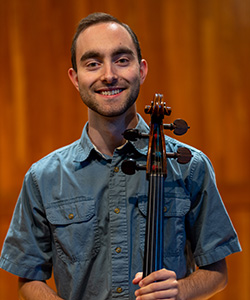 Elijah White is a third-year undergraduate cellist from Asheville, North Carolina. He began studying cello with Isabel Castellvi in his freshman year of high school after finding a love for classical music and has only gotten more passionate since. Elijah is a member of the Western Piedmont Symphony and has played in ensembles including the NC Honors Orchestra and NC Western Region Honors Orchestra. He has attended the Green Mountain Chamber Music Festival, Cannon Music Camp, and the UNCG Summer Music Intensive. In 2019, Elijah placed as a finalist in the ASYO Concerto Competition and has played in masterclasses with Sam Mcgill, Jan Vogler, Jessica Bodner and Ken Hamao.
In addition to playing the cello, Elijah is fascinated by music theory, composition, and recording, particularly when it comes to film scores. At UNCSA, Elijah enjoys collaborating with his peers through many different genres, getting to know other arts students, and studying German. Outside of school, he likes to play with his cat, rollerblade, and bake. After completing his bachelor's, Elijah hopes to pursue further studies on the cello, possibly abroad.
High School Students
Andrew Cho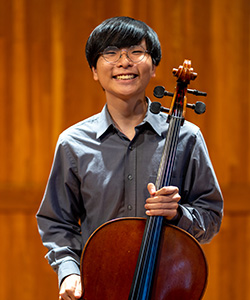 Andrew Cho is a high school sophomore from Fayetteville, North Carolina. He started learning cello in fourth grade after playing the piano for three years, and then continued cello study for five years with Peng Li, the Assistant Principal of the North Carolina Symphony. In middle school he was in the Youth Orchestra and the Junior Eastern Regional Orchestra, and was a member of the Fayetteville Symphony Youth Orchestra for four seasons, serving as principal cellist for his last season in which they performed Tchaikovsky's Serenade for Strings. He also participated in the Salute to Youth Solo and Ensemble Competition in late 2020 and was given the Superior Rating. As a freshman he performed in "Linda di Chamounix" by Donizetti in the UNCSA Winter Opera orchestra. He is currently a residential Peer Coordinator on Moore Hall.
Chloe Scarola
Chloe Scarola is a high school junior who is excited to be in her first year at UNCSA. Originally from Wilmington, North Carolina, Chloe began learning the cello in sixth grade at Murray Middle School, where she won the performing arts award. She began taking private lessons first with Michelle Collar, and later with Andrew Anagnost in 2021. She attended her first two years of high school at Coastal Christian High School where she got involved in several music groups. Chloe has performed with the Brooklyn Arts Music Academy, the Wilmington Youth Symphony Orchestra, the Junior Eastern Regional Orchestra, Unchambered (a contemporary chamber group in Wilmington), various CCHS musicals, Tri-M (a music group that performed for nursing homes), and served as the principal cellist of both the CCHS Chamber Orchestra and the Honors Instrumental Ensemble.
Sam Tripp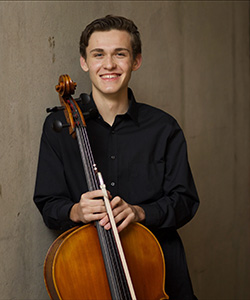 Cellist Sam Tripp is a high school senior at UNCSA. Originally from Wilmington, Sam began private cello lessons with Jake Wenger at age 12. Since then, Sam was awarded the ACSI Fine Arts award for 2020 and the CCHS Department Award in Performing Arts (20-21), and made his orchestral debut in February of 2022 with the Winston-Salem Symphony Orchestra as the first place winner of the Peter Perret Youth Talent Search. Sam is also very passionate about chamber music, and his Blue Ridge Piano Trio made it to the semifinal round of the Fischoff National Chamber Music Competition in 2022. Outside of the trio, he directs, composes, and performs with the cross-genre ensemble Unchambered, a non-profit based in Wilmington, NC. Although his primary focus is cello, Sam has been composing music regularly since 2019, and has written original solo and ensemble works as well as soundtracks for theatre and short films. In December of 2021, he collaborated with the internationally renowned artist Sirintip, who co-produced Sam's original piece Nocturne. Outside of music, Sam is passionate about leading the Bible Study Club at UNCSA.
Evan Vorhis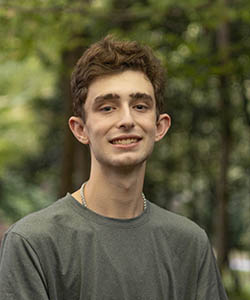 Evan Vorhis is a senior high school cellist from Asheville, North Carolina. He began his orchestral career with string ensembles offered throughout his middle and high school years, additionally performing with the Asheville Symphony Youth Orchestra. He has attended summer festivals at UNC Greensboro and within his own school system of Buncombe County. In addition to cello, Evan is studying photojournalism whenever his schedule allows, most recently taking an internship with Ángel Franco, a former New York Times photographer. Evan hopes to use his time at UNCSA to both improve his cello performance and diversify his photographic portfolio with the next generation of artists that choose to study at UNCSA.
Notable Alumni
Elizabeth Cook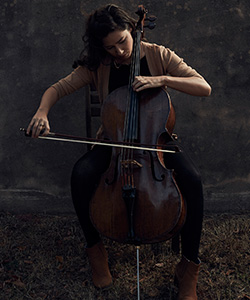 Elizabeth Cook is a double alumnus of UNCSA, graduating from our high school in 2006, and returning in 2016 for a Performing Artist Certificate. Originally from Durham, NC, she received her bachelor's degree in music from the State University of New York at Purchase College where she studied with Julia Lichten.
In 2012, she moved to Israel to study with cellists Zvi Plesser and Michal Korman at the Jerusalem Academy of Music and Dance. She lived in Jerusalem for three years, where she freelanced and taught privately. Elizabeth participated in the Jerusalem Academy of Music and Dance's annual Chamber Music Competition and won first place in May 2012 and third place in May 2013. She also performed in a chamber music concert that was broadcasted live on the Israeli classical music radio station "Kol HaMusica."
In 2014, Elizabeth attended Mannes College of Music at The Newschool University, where she studied with Marcy Rosen for two years. She has participated in masterclasses with artists such as Peter Wiley, Gary Hoffman, Matt Hoffman, and Paul Watkins.
Jewel Kim
Jewel Kim is an alumnus of the UNCSA high school class of 2018, and is currently studying cello performance at Boston University with Rhonda Rider. She started playing the piano when she was five and the cello when she was six. As a third grader, Jewel experienced the joy of making harmony with other musicians in her elementary school orchestra for the first time. It was at that moment that cello became a crucial part of her life. She loves playing with other musicians, and this is the reason she loved UNCSA. The school has various ensembles and tremendously talented people, and all the students share the same interest and have a passion for the arts.
Born in the U.S. and raised in South Korea, Jewel has been very active as both an orchestra member and a soloist since moving to the United States again in early 2013. In addition to participating in school orchestras, she has played in the Triangle Youth Philharmonic, the Mallarme Youth Chamber Orchestra and the North Carolina Governor's School Orchestra. She was also a part of the North Carolina Eastern Regional Orchestra for four consecutive years and the North Carolina All-State Honors Orchestra for two consecutive years. Jewel was also one of the finalists of the Cameron Art Museum Young Musicians Competition in 2016 and received first prize in the Senior Strings division of the North Carolina MTNA Performance Competition in October, 2017.
Eli Kaynor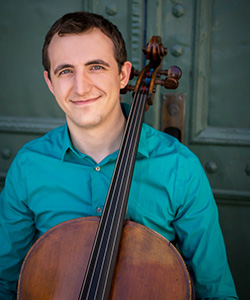 Cellist Eli Kaynor has just completed a six-month Kenan Fellowship at the Lincoln Center for the Performing Arts. During his tenure at UNCSA, Eli received both a Master of Music degree and a Professional Artist Certificate, while acting as the graduate teaching assistant to Dr. Brooks Whitehouse. While at UNCSA, Eli held an active position in the Chrysalis Chamber Music Institute and participated in many exciting chamber performances, including sharing the stage with Silk Road Ensemble artist Wu Man and performing for world-renowned cellist Yo-Yo Ma. His chamber groups of the last three years were chosen to appear in master classes at the Chamber Music Society of Lincoln Center, performing for musicians Paul Watkins, Sean Lee and Daniel Phillips.
In 2015, Eli's group also participated in a performance tour across Spain, leading concerts and master classes in Barcelona, Madrid, Valencia and Alicante. Eli has won major competitions, performing Bloch's Schelomo: Rhapsodie Hébraïque with the UNCSA Symphony Orchestra, the Schumann Cello Concerto with the Chapman Chamber Orchestra in Orange, Calif., and Haydn's C Major Cello Concerto with the Pro Arte Chamber Orchestra in Boston, Mass. Eli is also an avid runner, contradance musician and comic book enthusiast.
Benjamin Maxwell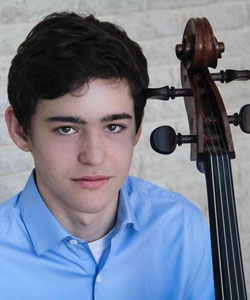 Alumnus Ben Maxwell is from Durham, N.C., where he began playing cello in middle school. Studying with Nancy Green, he played in several chamber groups as well as with the Youth Symphony at the Duke University String School. He graduated high school in 2017 from UNCSA, where he studied with Dr. Brooks Whitehouse for his junior and seniors. He is a winner of the spring 2015 DUSS concerto competition, a finalist in the spring 2016 UNCSA concerto competition, the winner of the 2016 Music Academy of North Carolina Violin and Cello Competition and the winner of the 2017 NC ASTA competition.
He has enjoyed playing for two years in the NCMEA High School All-State Honors Orchestra, and with the summer 2015 World Youth Symphony Orchestra. Ben studied with Hans Horgen Jensen at the Meadowmount School of Music during the summer of 2016 and was a recipient of the Kenan Fellowship at the Aspen Music Festival and School in 2017, studying with Richard Aaron and Darrett Adkins. Ben currently attends the New England Conservatory of Music studying with Yeesun Kim.
Kendall Ramseur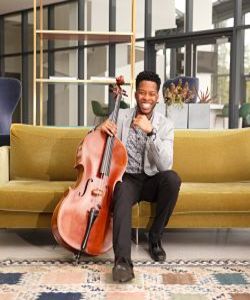 Raised in Charlotte North Carolina, Kendall Ramseur began his musical journey as a pianist at the age of seven, and switched to cello when he turned ten.
Kendall received his Bachelor of Music degree from the University of North Carolina School of the Arts (UNCSA). He studied cello under the instruction of Dr. Brooks Whitehouse. Upon graduating UNCSA, Kendall matriculated to Boston University's College of Fine Arts (BU) where he received his Master's of Music in Cello Performance with Marc Johnson, member of the Vermeer String Quartet.
As a soloist, Mr. Ramseur released his debut album T.I.M.E., in 2013. He was later awarded the Gospel/Inspirational Artist of the Year by the Boston Music Awards. Since then, Kendall has performed his original compositions at over 100 events in Massachusetts and around the country including: ArtsEmerson "The World on Stage", Cast Party for "Daniel Beaty", Wheelock's 2013 Metro Boston Race Amity Celebration, Kendall Square Concert Series and Boston Green Festival. Kendall was a featured panelist on the Boston University Music Symposium, "The Multi- modal Musician: The Success of Adaptability". Additionally, the Boston Globe recommended him as one of the top artists to see at the 2014 First Night Boston. In May 2017, Ramseur soloed with the Cincinnati Symphony Orchestra where he performed the Vivaldi Double Cello Concerto III Mvmt.
Kendall is one-fourth of the nationally-acclaimed and billboard charting quartet, Sons of Serendip who gained fame during Season 9 of NBC's America's Got Talent. As a group they average between 40-50 performances a year, traveling both nationally and internationally. Most notably, they have performed with the Boston Symphony Orchestra, the Cincinnati Symphony Orchestra, and the Boston Pops for the July 4th Fireworks Spectacular. Kendall has orchestrated various parts for the group's performances with the Boston Pops and the Boston Symphony Orchestra. The quartet was also invited to perform at the 2016 Creative Arts Emmy Awards for the In Memoriam segment. In 2017, the group released their third studio album Life + Love. As a member of Sons of Serendip, Ramseur has exercised his ability to arrange, orchestrate, compose and program material for both the group's performances and albums.
Kendall performs on a CR Series Electric Cello, endorsed by NS Design.