Meet the Cello Studio
Meet the Cello Studio
Students in the UNCSA Cello Studio range from high school to graduate-level studies. The studio is led by Dr. Brooks Whitehouse.
Brooks Whitehouse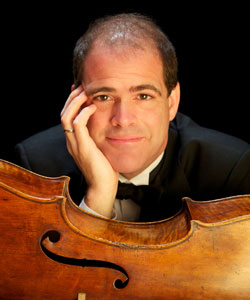 UNCSA cello professor Brooks Whitehouse has performed and taught throughout the US and abroad. With The Guild Trio Whitehouse won the "USIA Artistic Ambassador" and "Chamber Music Yellow Springs" competitions, and has toured extensively in the US, Europe, Canada and Australia. He is the co-creator with Paul Sharpe of the popular cello/bass duo Low & Lower, and is a member of the Reynolda String Quartet in residence at the Reynolda House Museum of American Art. As a member of the Black Mountain Trio he has performed in the Carolinas, Vermont and Ohio, as well as in Beijing and Shenzhen, China. Whitehouse has appeared as guest artist with the American Chamber Players, Villa Musica (Germany), the Ciompi Quartet, The Apple Hill Chamber Players, the New Zealand String Quartet and the Garth Newell Piano Quartet, with whom he performed at Carnegie hall as part of their fortieth anniversary celebration. For the past 12 years, Whitehouse has performed and taught at the Green Mountain Chamber Music Festival in Burlington, Vermont and has previously served on the faculties of the University of Virginia, the University of Florida and UNCG.
---
Graduate Students
Blake Kitayama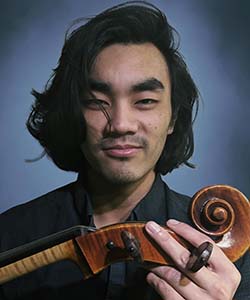 Originally from Boulder, CO, Blake Kitayama began playing cello at four years old. He has had the pleasure of performing in ensembles around the country such as the Jackson Symphony and the Huntsville Symphony, and has been heard on NPR's Performance Today. As a member of the De Sterke Quartet, Blake has received first prize in the MTNA Chamber Music Competition at the state and divisional round. An advocate for collaboration and new music, Blake has continuously worked across genres. The passion and artistic diversity at UNCSA inspires him greatly. Blake earned a B.M. from Vanderbilt University under the instruction of Felix Wang and is currently pursuing his M.M. at University of North Carolina School of the Arts with Brooks Whitehouse as a member of the Chrysalis Chamber Music Institute.
Undergraduate Students
Jake Anderson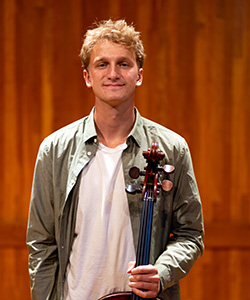 Jake Anderson is a first year undergraduate cellist from Boise, Idaho. His musical interest was inspired by his peers in the Boise High School Chamber Orchestra and Boise Philharmonic Youth Orchestra. Jake was fortunate to have many mentors who shared their time and talent with him, including his private teacher, Dr. Brian Hodges, his orchestra teacher Miss Talley and conductors Robert Franz and Jen Drake.
Jake is a chamber music enthusiast; he was the cellist of Boise's Eighth Street Quartet and toured Germany and the Czech Republic with the Boise High Chamber Orchestra. He has attended multiple summer music festivals including the Idaho Orchestra Institute, Fairbanks Summer Arts Festival and the Sun Valley Summer Music Festival. He has taken master classes from Stéphane Tétreault and Raman Ramakrishnan. Over the last couple of years Jake began teaching private lessons through the Orchestra Buddies program at Boise High and has been an instructor at the Young Maestros Summer Music Camp since its inaugural year. When he is away from the cello, you can find Jake whitewater kayaking, skiing, mountain biking or trail running.
Christina Kim
Originally from Fayetteville, NC, Christina Kim is currently in her final year as an undergraduate student at UNCSA. She began her musical studies on piano and switched to cello when she was twelve. Prior to entering the studio of Brooks Whitehouse as a high school senior, she studied under Nancy Green for four years. Christina has performed in a variety of ensembles at UNCSA including UNCSA's symphony orchestra, several chamber ensembles, winter opera productions such as "Werther" and "Florencia en el Amazonas" and the school's annual production of "The Nutcracker." Outside of UNCSA, she is an instructor at Separk Music and is a substitute cellist for the Western Piedmont Symphony. She is an avid chamber music performer and has participated in chamber music masterclasses with artists such as Wu Han and David Finckel, Dmitri Atapine, the Daedalus string quartet and Ludwig Schmalhofer.
Josie Greenwald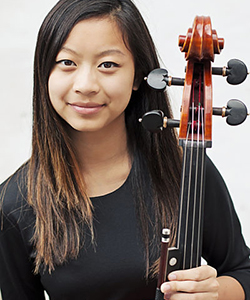 Josephine (Josie) Greenwald, 20, is a cellist from Scottsdale, Arizona. Since 2017, she has been pursuing a bachelor's degree in cello performance at the University of North Carolina School of the Arts (UNCSA), as a student of Brooks Whitehouse. She was a recipient of the Kenan Excellence Scholarship and has performed in many UNCSA productions, including Tchaikovsky's "The Nutcracker," Bernstein's "MASS" and "Collage." Josephine is also an avid chamber musician; she has attended the Green Mountain Chamber Music Festival in Burlington, Vermont and the International Music Festival of the Adriatic in Duino, Italy, and performed in chamber recitals at both festivals. In addition to performing, Josephine is passionate about music education. She currently teaches at UNCSA's Community Music School and Jackson's Music in Winston-Salem, North Carolina. She has previously taught at Tetra String Quartet's Chamber Music Workshop in Scottsdale, Arizona and worked at Interlochen Arts Camp.
Sam Mihavetz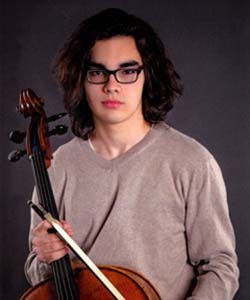 Sam Mihavetz is a first year undergraduate cello performance major. Born and raised in Baltimore, he started playing the cello at six years old and attended Baltimore School for the Arts in 2015-2019. In addition to playing at BSA, Sam also played in the Peabody Preparatory's chamber music program, Baltimore String Orchestra Camp, Apple Hill Center for Chamber Music and The F.A.M.E. Youth Orchestra, in which he played the C.P.E. Bach B flat Cello Concerto in 2018. Sam is an avid supporter of contemporary and cross-genre music, having recorded on Matt Ellin's 2017 album, "All Is Not Lost." He hopes to have a career in chamber music performing and teaching.
Adithya Muralidharan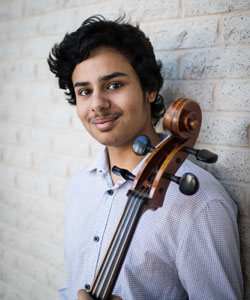 Adithya (Adi) Muralidharan is currently an undergraduate senior at UNCSA and is a distinguished graduate of the high school program as well. He plans to get his B.M. and pursue a career as a soloist. Born in California but raised in Apex, North Carolina, Adi has won numerous prizes in the MTNA competition, the Euterpe Music Festival, MANC competition, the NC Symphony Youth Concerto Competition among others. This past summer he won first prize in the Prague Summer Nights Festival Concerto Competition, and he will perform the Dvorak concerto with the festival's orchestra in June 2020. Adi has been studying with Brooks Whitehouse for six years, and has played in masterclasses for Darrett Adkins, Paul Watkins, Paul Neubauer, Violaine Melançon, Matt Haimovitz, Zuill Bailey, Natasha Brosfky, Tamas Varga and Julian Schwartz.
High School Students
Noah Allemeier
Noah Allemeier is a high school sophomore who was born in Germany, but has lived in North Carolina since age two, and he is looking forward to his second year of cello studies with Dr. Whitehouse at UNCSA. He started playing the cello at age four and joined his school's orchestra program in fourth grade. In sixth grade he began regular lessons with Dr. Mira Frisch at UNC Charlotte, and also joined the Charlotte Symphony Junior Youth Orchestra. Noah played in the CSJYO for 3 seasons, including as principal cellist, and has performed in the Charlotte Mecklenburg Schools Honors Orchestra, the NC Junior Western Regional Honors Orchestra and the NC ASTA All State Orchestra, where he was also served as principal. He has participated in the UNCSA Summer Strings program, the Tennessee Cello Workshop at the University of Tennessee, the Great Midwestern Strings Clinic in Iowa and was a Tosco Music and Symphony Guild of Charlotte Scholarship participant in the Charlotte Community School of the Arts Summer Orchestra program. His favorite orchestra piece last year was "The Firebird" and he enjoyed performing with his UNCSA chamber music ensemble and being part of the #bighappycellofamily. This past summer he performed at the Anchorage Chamber Music Intensive and hiked in Alaska with UNCSA Double Bass Professor Paul Sharpe. In school, Noah enjoys studying math and history. He is a residential Peer Leader in Moore Hall and is also the sophomore music representative in student government.
Helen Campbell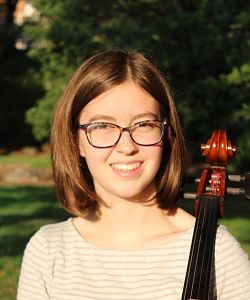 Helen Campbell is currently a junior in high school at UNCSA. Though she was reluctant to begin playing an instrument in the sixth grade, she began to really enjoy the cello after just a few weeks of playing. Before coming to UNCSA, Helen was the principal cellist of the NC Junior Western Regional Honors Orchestra and her school orchestra. Over the summer of 2019, she participated in the Hilton Head Chamber Music Institute, studying with Dr. Felix Wang and playing music with new friends. Helen has many interests outside of music as well. She loves literature and is especially fascinated by her favorite author, Haruki Murakami. Helen writes about books—as well as television and movies—for her Media Review column in the UNCSA high school newspaper, The Dill. She also likes her academic classes, particularly Spanish. Helen hopes to improve her Spanish and perhaps work towards a career where she can draw upon her knowledge of a foreign language. Though she does not know what exactly the future holds for her, Helen aspires to live an enriching life, filled with travel, family and friends.
Johanna Di Norcia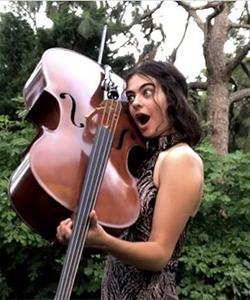 Johanna (Jojo) Di Norcia is a senior in the high school program at UNCSA. Over the past two summers, Jojo attended Green Mountain Chamber Music Festival and the Summer Chamber Music Institute at ECU and last year she won 2nd prize at the 2018 NC MTNA Competition at the Senior Level. Jojo has also been involved in Student Government for the past three years, acting as the Sophomore Music Representative, the Vice President and now the President. As part of Student Government, she works with other student organizations such as Artists of Color and College Student Government Association to support a more inclusive campus, high school involvement within the entire university and collaboration between the schools of art. She also writes a letter in each edition of the High School Newspaper, makes speeches at events such as convocation and assemblies and organizes meetings with various faculty and staff because of Student Government. Jojo plans on continuing her cello studies through college and in the future wants to be a role model for young women cellists aspiring to be professors, orchestral principals and soloists.
Davin Shim
Davin Shim is a high school sophomore at UNCSA. He started taking cello lessons in second grade, following the example of his sister, who had already been playing cello for three years. He kept at it. At nine he entered the Winston Salem Symphony Premiere Strings and at twelve moved on to the Youth Philharmonic. In seventh and eighth grade he took part in the junior western regional orchestra, while also taking part in his school's math team and the academic league team, which won top prize for two years in a row. While doing all these school related clubs his grades suffered from his lack of organizational skills until the end of eighth grade when he got his act together. Now at 15 he is more studious and dedicated to his instrument, and has moved on to the Winston-Salem Symphony Youth Orchestra as well as the UNCSA Symphony Orchestra.
Justin Taylor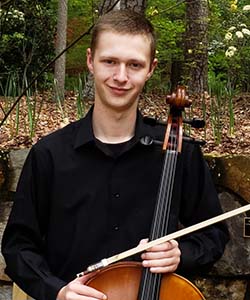 Justin Taylor is a high school senior at UNCSA who decided he wanted to play the cello when he heard Bach's G major Prelude in second grade. At that point he fell in love with not only the cello but with classical music in general, and wanted music always to be a part of his life. Justin was principal cellist of both his middle and high school orchestra programs as well has his county's honors strings festival. In 2018, he joined the Duke University String School in Durham, NC where he studied with Carlos Bardales and was a part of several chamber groups and their Youth Symphony.
Justin attended the UNCG summer music camp in 2017 and 2018, and was assistant principal cellist of the Appalachian State University's Cannon music camp symphony and string orchestra in 2019. In 2018 Justin was selected to be a part of the Honors Performance Series and performed Stravinsky's Firebird Suite at Carnegie Hall. Aside from practicing and performing, Justin loves to teach and conduct, and hopes to become a high school and youth orchestra director. In his spare time he enjoys being outdoors, playing duets with his younger brother who just started violin, and spending time with his family.
Phoebe Turvaville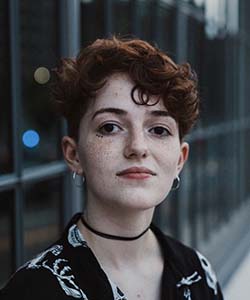 Phoebe Turvaville is a high school junior at UNCSA. Originally homeschooled, she is a Winston-Salem native with a passion for the arts. She started taking piano lessons at age 5 and added cello in the fifth grade when she was invited to join a private school orchestra. In addition to her school orchestra, she has participated in chamber music workshops and been a part of two musical theatre productions as a cello soloist in the pit. She was also a part of the Winston-Salem Youth Philharmonic before advancing to the Youth Symphony. In middle school she earned a chair in the Jr. Western Region Honors Orchestra two years in a row and in high school earned a chairs in both the Western Region Repertory orchestra and the Western Region Honors orchestra. She has qualified for the North Carolina All-State Honors Orchestra twice, once as an alternate. She loves to play and listen to Romantic and Contemporary Russian music and her favorite composer is Dmitri Shostakovich. Her cello role model is Mstislav Rostropovich. When she is not playing cello, she loves comedy, history, Shakespeare and playing rock music with her friends.
Sydney Urmston
Sydney Urmston is a high school junior at UNCSA. She has been taking cello lessons since seventh grade, but has loved cello since elementary school. In a third grade music class, she heard "The Swan" by Saint-Saens and instantly fell in love with the instrument. After beginning lessons, she began playing in orchestra at the Duke University String School in Durham, NC. She studied there for three years with Carlos Bardales and worked her way to a leadership position in the Youth Symphony. Sydney also participated in the chamber program at the Duke University Strings School for two years and was invited to perform with her chamber group at the NC Symphony Ovations Pre-Concert Performance Series in 2017.
Sydney attended the Summer Strings Intensive at UNCSA in the summer of 2016, the ECU Four Seasons Next Generation Winter Workshop in 2016, the Green Mountain Chamber Music Festival in 2018 and 2019 and the ECU Summer Chamber Music Institute in 2019. She also participated in the Duke University String School Summer Camp two years as a camper and three years as a volunteer. She performed with the Junior Eastern Regional Orchestra in 2017 and Eastern Regional Symphony Orchestra in 2018. Sydney's passion is orchestra and chamber performance, but she also enjoys spending time with her friends, parents, and pets.
Notable Alumni
Elizabeth Cook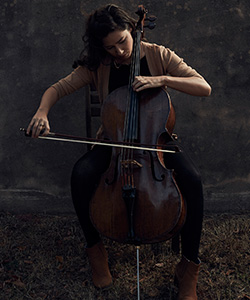 Elizabeth Cook is a double alumnus of UNCSA, graduating from our high school in 2006, and returning in 2016 for a Performing Artist Certificate. Originally from Durham, NC, she received her bachelor's degree in music from the State University of New York at Purchase College where she studied with Julia Lichten.
In 2012, she moved to Israel to study with cellists Zvi Plesser and Michal Korman at the Jerusalem Academy of Music and Dance. She lived in Jerusalem for three years, where she freelanced and taught privately. Elizabeth participated in the Jerusalem Academy of Music and Dance's annual Chamber Music Competition and won first place in May 2012 and third place in May 2013. She also performed in a chamber music concert that was broadcasted live on the Israeli classical music radio station "Kol HaMusica."
In 2014, Elizabeth attended Mannes College of Music at The Newschool University, where she studied with Marcy Rosen for two years. She has participated in masterclasses with artists such as Peter Wiley, Gary Hoffman, Matt Hoffman, and Paul Watkins.
Jewel Kim
Jewel Kim is an alumnus of the UNCSA high school class of 2018, and is currently studying cello performance at Boston University with Rhonda Rider. She started playing the piano when she was five and the cello when she was six. As a third grader, Jewel experienced the joy of making harmony with other musicians in her elementary school orchestra for the first time. It was at that moment that cello became a crucial part of her life. She loves playing with other musicians, and this is the reason she loved UNCSA. The school has various ensembles and tremendously talented people, and all the students share the same interest and have a passion for the arts.
Born in the U.S. and raised in South Korea, Jewel has been very active as both an orchestra member and a soloist since moving to the United States again in early 2013. In addition to participating in school orchestras, she has played in the Triangle Youth Philharmonic, the Mallarme Youth Chamber Orchestra and the North Carolina Governor's School Orchestra. She was also a part of the North Carolina Eastern Regional Orchestra for four consecutive years and the North Carolina All-State Honors Orchestra for two consecutive years. Jewel was also one of the finalists of the Cameron Art Museum Young Musicians Competition in 2016 and received first prize in the Senior Strings division of the North Carolina MTNA Performance Competition in October, 2017.
Eli Kaynor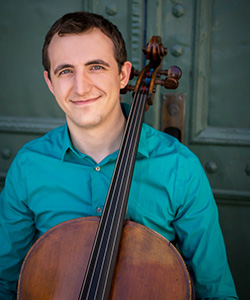 Cellist Eli Kaynor has just completed a six-month Kenan Fellowship at the Lincoln Center for the Performing Arts. During his tenure at UNCSA, Eli received both a Master of Music degree and a Professional Artist Certificate, while acting as the graduate teaching assistant to Dr. Brooks Whitehouse. While at UNCSA, Eli held an active position in the Chrysalis Chamber Music Institute and participated in many exciting chamber performances, including sharing the stage with Silk Road Ensemble artist Wu Man and performing for world-renowned cellist Yo-Yo Ma. His chamber groups of the last three years were chosen to appear in master classes at the Chamber Music Society of Lincoln Center, performing for musicians Paul Watkins, Sean Lee and Daniel Phillips.
In 2015, Eli's group also participated in a performance tour across Spain, leading concerts and master classes in Barcelona, Madrid, Valencia and Alicante. Eli has won major competitions, performing Bloch's Schelomo: Rhapsodie Hébraïque with the UNCSA Symphony Orchestra, the Schumann Cello Concerto with the Chapman Chamber Orchestra in Orange, Calif., and Haydn's C Major Cello Concerto with the Pro Arte Chamber Orchestra in Boston, Mass. Eli is also an avid runner, contradance musician and comic book enthusiast.
Benjamin Maxwell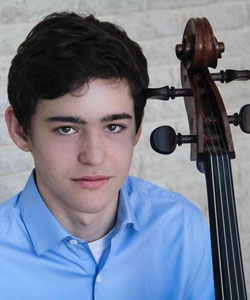 Alumnus Ben Maxwell is from Durham, N.C., where he began playing cello in middle school. Studying with Nancy Green, he played in several chamber groups as well as with the Youth Symphony at the Duke University String School. He graduated high school in 2017 from UNCSA, where he studied with Dr. Brooks Whitehouse for his junior and seniors. He is a winner of the spring 2015 DUSS concerto competition, a finalist in the spring 2016 UNCSA concerto competition, the winner of the 2016 Music Academy of North Carolina Violin and Cello Competition and the winner of the 2017 NC ASTA competition.
He has enjoyed playing for two years in the NCMEA High School All-State Honors Orchestra, and with the summer 2015 World Youth Symphony Orchestra. Ben studied with Hans Horgen Jensen at the Meadowmount School of Music during the summer of 2016 and was a recipient of the Kenan Fellowship at the Aspen Music Festival and School in 2017, studying with Richard Aaron and Darrett Adkins. Ben currently attends the New England Conservatory of Music studying with Yeesun Kim.
Kendall Ramseur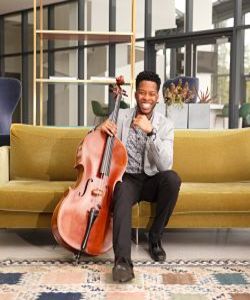 Raised in Charlotte North Carolina, Kendall Ramseur began his musical journey as a pianist at the age of seven, and switched to cello when he turned ten.
Kendall received his Bachelor of Music degree from the University of North Carolina School of the Arts (UNCSA). He studied cello under the instruction of Dr. Brooks Whitehouse. Upon graduating UNCSA, Kendall matriculated to Boston University's College of Fine Arts (BU) where he received his Master's of Music in Cello Performance with Marc Johnson, member of the Vermeer String Quartet.
As a soloist, Mr. Ramseur released his debut album T.I.M.E., in 2013. He was later awarded the Gospel/Inspirational Artist of the Year by the Boston Music Awards. Since then, Kendall has performed his original compositions at over 100 events in Massachusetts and around the country including: ArtsEmerson "The World on Stage", Cast Party for "Daniel Beaty", Wheelock's 2013 Metro Boston Race Amity Celebration, Kendall Square Concert Series and Boston Green Festival. Kendall was a featured panelist on the Boston University Music Symposium, "The Multi- modal Musician: The Success of Adaptability". Additionally, the Boston Globe recommended him as one of the top artists to see at the 2014 First Night Boston. In May 2017, Ramseur soloed with the Cincinnati Symphony Orchestra where he performed the Vivaldi Double Cello Concerto III Mvmt.
Kendall is one-fourth of the nationally-acclaimed and billboard charting quartet, Sons of Serendip who gained fame during Season 9 of NBC's America's Got Talent. As a group they average between 40-50 performances a year, traveling both nationally and internationally. Most notably, they have performed with the Boston Symphony Orchestra, the Cincinnati Symphony Orchestra, and the Boston Pops for the July 4th Fireworks Spectacular. Kendall has orchestrated various parts for the group's performances with the Boston Pops and the Boston Symphony Orchestra. The quartet was also invited to perform at the 2016 Creative Arts Emmy Awards for the In Memoriam segment. In 2017, the group released their third studio album Life + Love. As a member of Sons of Serendip, Ramseur has exercised his ability to arrange, orchestrate, compose and program material for both the group's performances and albums.
Kendall performs on a CR Series Electric Cello, endorsed by NS Design.