Meet the Viola Studio
Meet the Viola Studio
---
Dawson Yow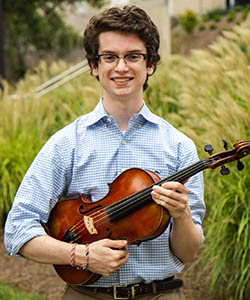 Dawson Yow is 20 years old from Winston-Salem and began playing viola during freshman year of high school. He transferred to UNCSA for senior year of high school and continued there into college. Besides classical music, Dawson enjoys classic rock and alt-roots rock. His favorite experience as a musician is working together with other musicians in a chamber ensemble. He has attended the Green Mountain Music Festival several times. In his free time, he likes to read, listen to music and go for walks.
---
Yujie Wang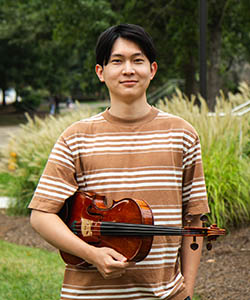 Yujie Wang is a first-year graduate student at UNCSA where he is currently studying with Ulrich Eichenauer. Born and raised in China, he started playing the viola at age 13. He studied viola performance at Tianjin Conservatory of Music from 2017 to 2021. During this period, he participated in various Chinese concerts as an orchestral player. He came to the United States for the first time in 2018 to participate in the Frostberg State University music festival. He also self-studied coffee brewing and enjoys photography as a hobbyist.
---
Laurence Brooke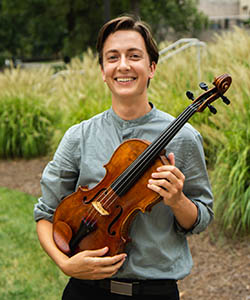 Raised in the mountains of southwest Virginia, Laurence Brooke began studying violin at the age of ten with Mike Mitchell of Floyd Music School, after being exposed to the fiery, toe-tappin', foot-stompin' genre of bluegrass and old-time music in his town of Floyd, VA. During his studies with Mitchell, Brooke was taught a classical technique that went hand-in-hand with an appreciation for traditional and heritage music.
Brooke graduated from the University of Miami (UM) with a Bachelor of Music in 2019, bringing to a close an undergraduate career that was highlighted by performance and collaborative opportunities. During his time at the UM Frost School of Music, he developed a passion for chamber music that grew to match his love for orchestral works. He attended the Castleman Quartet Program during his undergrad summers and also worked as a strings ensemble director for the Roanoke Symphony Orchestra's summer program for the youth symphony. He has studied with Benedict Goodfriend, Charles Castleman and graduated from UNC School of the Arts in May 2021 with a Master of Music studying under Ida Bieler and Janet Orenstein. He is currently at UNCSA for a master's degree in viola under the tutelage of Ulrich Eichenauer.
---
Jui-Fan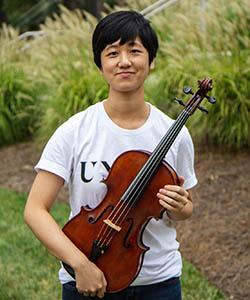 Jui-Fan is a second-year graduate student from Hualien, Taiwan, on the east coast of the island with beautiful mountains and ocean views. She began studying viola when she was eight and played in a small ensemble in Hualien. After studying marine biology, she still thought about music when she was working. Therefore, she decided to pursue a music career. She graduated from film music composition at UNCSA in 2021 and composed for several student films. Jui-Fan played in the orchestra while she studied film music composition, which guided her to study the viola with Professor Ulrich Eichenauer, who inspired her to learn more about viola. She hopes she will compose more music for viola and films and also intends to keep playing various types of music with her friends.
---
Marija Seselgyte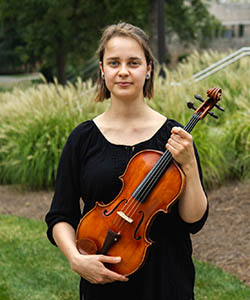 Marija Seselgyte was born in Vilnius, Lithuania. She started violin lessons at the age of seven and after graduating high school in Lithuania, she went to study with Prof. Ida Bieler at the University of Music and Performing Arts in Graz, Austria. During her studies there she started playing viola. Marija has participated in masterclasses and festivals in Austria, Belgium, Italy and has performed in a variety of chamber music ensembles and orchestras all over the Europe. She is passionate about chamber music and collaborating with other musicians. Currently Marija is persuing her bachelor degree at UNCSA, in viola major under the tutelage of Prof. Ulrich Eichenauer. Besides her musical studies, Marija enjoys hiking, reading, painting.
---
Xue Mei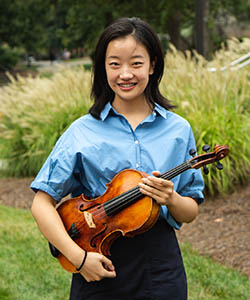 Xue Mei is a graduate student at UNCSA from China. She began to learn viola at the middle school attached to the Tianjin Conservatory of Music at the age of 13. She began studying chamber music at the age of 15 and became a member of the Tianyin Middle School Quartet. She earned her bachelor's degree from Tianjin Conservatory of Music. During her college years, she joined the Tianjin Conservatory of Music Youth Symphony Orchestra and Tianjin Baroque Chamber Orchestra, and performed around China.
---
Cydney Williams
Cydney Williams is a second-year viola student from Hope Mills, North Carolina. She started playing the viola at the age of 11. Cydney performed in many ensembles such as school orchestras, school district orchestras, summer camps, summer workshops, clinics, recitals, solo and chamber ensembles, church orchestras and also as a volunteer performer with the Fayetteville Symphony Youth Orchestra. She was a volunteer teacher assistant at Cumberland County Schools. She also earned her B.M. at the University of North Carolina at Pembroke. Cydney's favorite musical experience was playing in the Snyder Memorial Baptist Church Christmas Symphony Orchestra in the fall of 2019. Besides her love for classical music, she also likes synthetic pop, ambient pop, indie rock, pop and rap music. Cydney Williams is also an alumna sister of Sigma Alpha Iota from the Eta Beta Chapter (UNCP). Cydney's favorite hobbies are working out, traveling, learning different languages, searching the web and drawing.
---
Amanda Harrell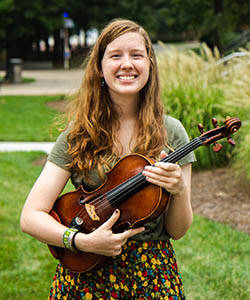 Amanda Harrell is a first year college student from Durham, NC. She began playing on violin, took up viola in middle school and dabbled in cello at the beginning of high school. She began playing collaborative music at the Duke University String School and the North Carolina Chamber Music Institute. For her junior year, Amanda decided to apply for the UNCSA high school program, where she finished high school and is continuing her path towards professional musicianship in the UNCSA undergraduate program. Amanda enjoys playing in chamber ensembles, teaching and fiddling.
---
Ella Paschal
Ella Paschal is a third year high school student at UNCSA. She grew up in Winston-Salem and started playing the viola in 2016. Ella started taking the viola seriously in late 2018. She joined the Winston-Salem Youth Philharmonic in September 2018 and participated for two years, under the direction of Margaret Rehder who inspired Ella to continue her musical studies. Ella then decided to move up to the Winston-Salem Youth Symphony during the pandemic. In 2020, she realized she wanted to pursue music and applied to the UNCSA high school program. She hopes to continue her music at UNCSA so she can improve her playing and looks forward to all that is to come.
---
Joshua Forbes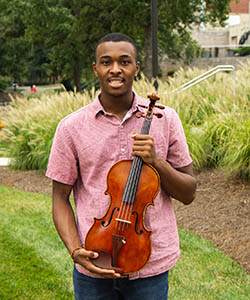 Joshua Forbes, a college sophomore, hails from Durham, North Carolina. He started playing viola seven years ago at Durham School of the Arts and applied to UNCSA in 2018 for his junior year of high school. He has been to festivals such as the Northern Lights Music festival and Green Mountain Chamber Music Festival. In the future, Joshua would love to go on concert tours and spread great music around the world, teach and open a string shop later in his life. His favorite teas are Oolong and Black.