Welcome from High School President
Incoming Students
Welcome from High School President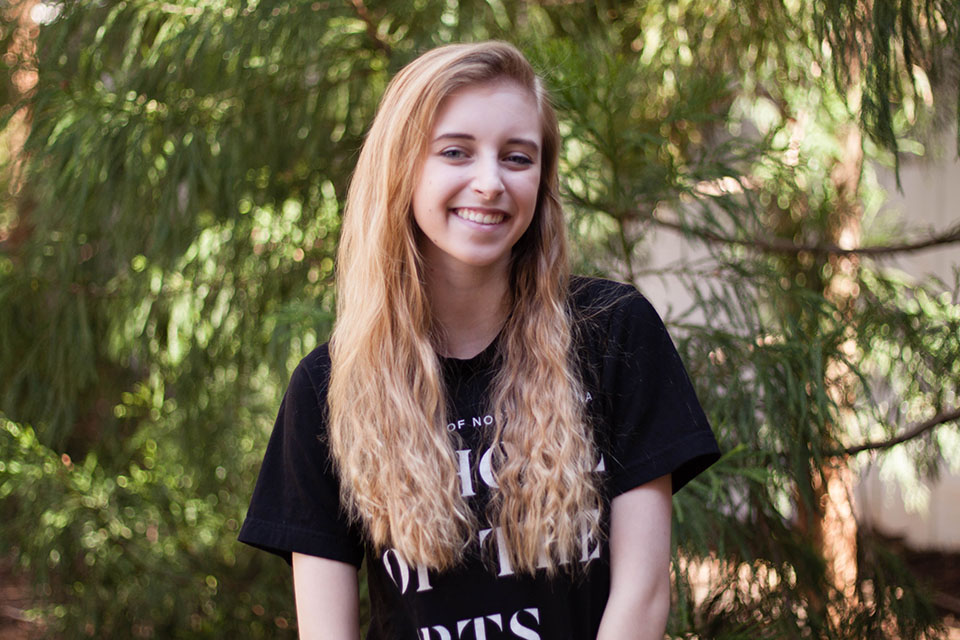 Hello, my name is Greer Gage and I will be your Student Body President for this upcoming school year. This year one of my biggest goals for UNCSA is to become much more involved with our community and to reach out more to the local elementary schools to educate them in our respective art forms. I plan to bring much more recognition to the High School program and form a stronger voice on campus and throughout our Winston‐Salem community. On that note though, our job as Student Government is to listen to your concerns, ideas, and thoughts about improvements throughout the campus to better your experience here at UNCSA. I know you are probably tired of explaining to all your friends that you are going to a school who has a pickle as their mascot, but this school is truly one of the greatest out there.
I am currently a rising senior in the ballet department at UNCSA and I have been attending the high school program since my freshman year. Being relatively local though I started attending the UNCSA Preparatory Dance Program when I was around 8 years old, so I have definitely discovered all the ins-and‐outs of the school. Knowing that, if you ever have any questions or are confused on where something is and or what to do in a situation, I am always open and willing to help you or point you in the direction of someone who can help you, along with the rest of Student Government and the Student Leaders.
This coming year you are going to be thrown so many curveballs and so much work that you really must learn how to time manage and accept everything with an open mind and be willing to listen to other people's thoughts and opinions. You are going to develop such a strong bond with your roommate and friends over these next few months that you will learn how genuinely unique UNCSA is as a high school with its people, atmosphere, and everything else! This is the place to be your truest self, and never let fear hold you back from anything. This campus practically screams creativity and pushes students so much to their beautiful potential, so take in all the opportunities while you can. If you have not been told this already it is strongly encouraged to try and reach out to your roommate(s) beforehand, it makes the process much easier and a lot less awkward, I promise. I also urge you to recognize that this is one of the most talented schools around and you are about to be submerged into a concentrated group of talent. With that you will most likely have people who are stronger than you in their respective art form already, but trust that the point of being here is to learn and grow and to continue believing in your ability to achieve success.
I cannot wait to see all your fresh, and hopefully excited, faces this August and get to know you throughout the year. Enjoy what is left of your summer before you transform into a Fighting Pickle!
Yours truly,
Greer Gage
UNCSA High School Student Government President