Amor Brujo Postmoderno show in NYC mixes fashion and all five UNCSA schools
Original sets, lighting, animation, choreography and dance by UNCSA student-artists will join forces with Agatha Ruiz de la Prada's design to celebrate the 100th Anniversary of composer Manuel de Falla's masterwork, "El Amor Brujo," in a multidisciplinary concert in New York City on Sunday, March 13.
Oskar Espina-Ruiz, Amor Brujo Postmoderno co-producer and School of Music faculty, explains how it all started as a dreamers' project.
"How do you like Agatha Ruiz de la Prada's design?" Espina-Ruiz asked co-producer John Coyne, Design and Production faculty, at UNCSA's dining hall back in the spring of 2015. Ruiz de la Prada is one of the most successful fashion designers in Spain today.
"I love it; do you know her?" was the response.
"No, but I can call her," said Espina-Ruiz boldly. He was based in New York City for 20 years prior to coming to Winston-Salem in 2011 and, with the assistance of the Consulate General of Spain there, managed to connect with Ruiz de la Prada via a Skype video-call. Ruiz de la Prada agreed to the collaboration as soon as she heard about the students' involvement.
"This is great, but you know we can't afford you?" Espina-Ruiz continued, leading to Ruiz de la Prada's donation of all her work, including her design team's involvement, once she heard about the added purpose of the production: to launch the Andrés Segovia Scholarship Fund to help support talented students at the School of Music.
Espina-Ruiz received a Kenan Faculty Leadership Award for the project in the fall of 2015 and used that funding to purchase materials for the production. The goal was to present it at UNCSA in January and, if he managed to double that funding, to present it in New York City in March 2016. He more than doubled the original funding in the end.
The purpose of this production is to help UNCSA students become leaders in their respective areas of expertise, while learning to work effectively with other student-leaders and with Ruiz de la Prada. In addition, the production is very much like a "real-life" project according to Espina-Ruiz, "it happens on top of everything else we do, and raising the funding for it is a painstaking process all participants are aware of."
Ruiz de la Prada's dance costumes came first, serving as the guide for everything else: the sets, lighting, animation, choreography and music. To celebrate Falla's Amor Brujo, Ruiz de la Prada chose the culture of Flamenco and bullfighting as inspiration—the yellow and fuchsia colors in the costumes are the colors of the bullfighter's cape; the polka dots used recall the typical pattern in the Flamenco dancers' dress; and the graphic play of two distinct halves comes from the bullfighting ring, where one can sit on either sun or shadow.
Each participating student had a supporting faculty assigned and, by meeting on a regular basis, the production developed throughout the fall and Intensive Arts 2015. Espina-Ruiz curated the music program, with works by Boccherini, Falla, Shaw and Gaigne, featuring the Giannini String Quartet, guitarist John Culwell and himself on clarinet.
Justin Sanchez developed a fractal animation to be projected on a floor screen during the performance of Gaigne's Ke. Bailey Reese created the choreography for Falla's Amor Brujo, featuring herself and Anthony Santos wearing Ruiz de la Prada's dance costumes.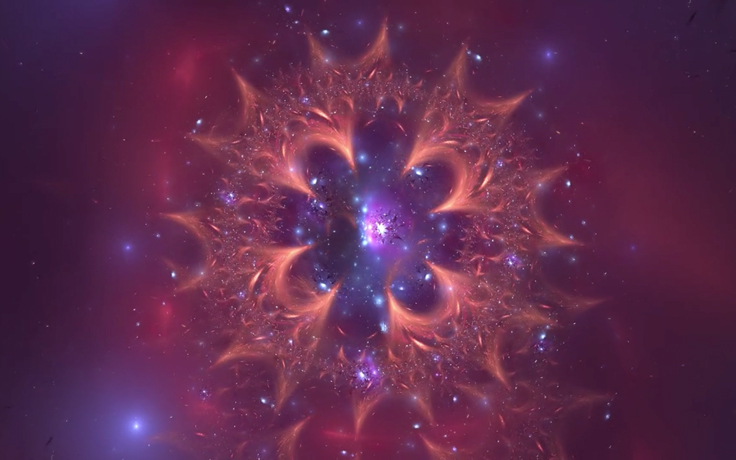 Fractal animation by Justin Sanchez, with the performance of Pascal Gaigne's Ke featuring Oskar Espina-Ruiz, clarinet.
Alexa Ross designed the sets, with a backdrop that recalled the rhythms in the music and the colors of the production, and with three hanging moons extracted from the costumes' polka dots. Ryan O'Mara's lighting design helped bring together the whole production, including original moving lights for Gaigne's YET, a theatrical work.
Drama alumnus Ryan Pater joined the production in New York to tell a story throughout the program, including poetry by Federico García Lorca, letters between Andrés Segovia and UNCSA's first president Vittorio Giannini, and letters between Lorca and Falla.
One of Falla's life-long achievements was to distill the essence of the Flamenco music he grew up with, and to create internationally acknowledged classical works with this essence. But Falla also paid back his appreciation, for Flamenco brought him to organize the first Contest of the Deep Song (Cante Jondo), at the Alhambra, in 1922, in collaboration with poet Federico García Lorca, guitarist Andrés Segovia and many others.
At the event, Segovia performed Falla's Hommage to Debussy for guitar solo and, a year before the event, Lorca wrote his Poema del Cate Jondo (Poem of the Deep Song) for the occasion. A long list of artists brought the spotlight on Flamenco at this event and, in addition, non-Flamenco artists interacted with the culture, gaining deep awareness of it and creating rich new art, not unlike at the production of Amor Brujo Postmoderno.
March 10, 2016