Beloved 'Elephants' sculpture to be moved
UNCSA's "Elephants" are moving to greener pastures. This beloved campus sculpture between Hanes Student Commons and the college residence halls originally arrived on campus in 1971. Nestled under large trees and near the beach volleyball court, the "Elephants" are a sculpture designed for interaction. A place to study, to talk with friends or to eat a snack, this iconic campus hub will be missed. But like elephants, UNCSA will never forget them.
"They've got to go," says an anonymous source close to the project, but who is not allowed to speak publicly on the matter. "They are actually a safety hazard. We have some pretty ardent volleyball players and they could run right into those stone shapes and get hurt."
Though where the "Elephants" will be migrating to hasn't been determined, one location idea being tossed around is near Parking Lot N—also known to the students as "Egypt"—not because of its sandy surroundings but because it is the farthest lot from the center of campus.
In place of the "Elephants" we will install a bell tower—or better defined as a smart bell tower. To ensure the students will pay attention to it we decided the tower should not ring bells, but a gentle, soft, chiming "ping" like a text message alert.
"Can you believe that?" says the anonymous source. "I can't get a person's attention if I carried around a bullhorn, but have that little ding go off and it's like driving past a dancing tube balloon."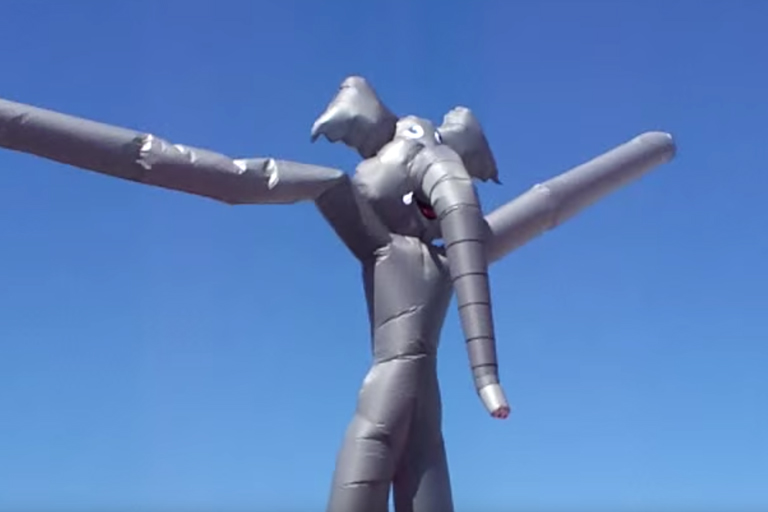 Dancing tube balloons and smart bell towers are sure to grab your attention.
In order to support social media sharing on campus, the smart tower will be camera-ready. Students can connect their phones to get the perfect birds-eye view shot of their food while eating on the outside balconies of the "Caf" and Pickle Jar or an action selfie from the volleyball court. Social & Digital Content Producer Hannah Callaway says she hopes this new tool will increase sharing and the popularity of our new hashtags #weeathere and #weselfiehere.
"Yes, life was much simpler back in the '70s," says the anonymous source. "Back then you could create a sculpture people can interact with and would last for nearly 50 years. Now, it's replaced with a tower that will need an update at least every two years, but I guess that is 'irrelephant.'"
April 1, 2017 (April Fools' Day)