Dance alumna Camille A. Brown receives Ford Foundation fellowship
Award-winning choreographer and dancer Camille A. Brown, a 2001 graduate of the School of Dance at the University of North Carolina School of the Arts (UNCSA), has been awarded a $50,000 Art of Change Fellowship from the Ford Foundation. She is one of 25 recipients, a group that includes Mikhail Baryshnikov, one of the greatest dancers of our time, and Gustavo Dudamel, internationally renowned symphonic and operatic conductor.
The fellowships support visionary artists and cultural leaders in creating powerful works of art that help advance freedom, justice, and inclusion, and strengthen our democracy.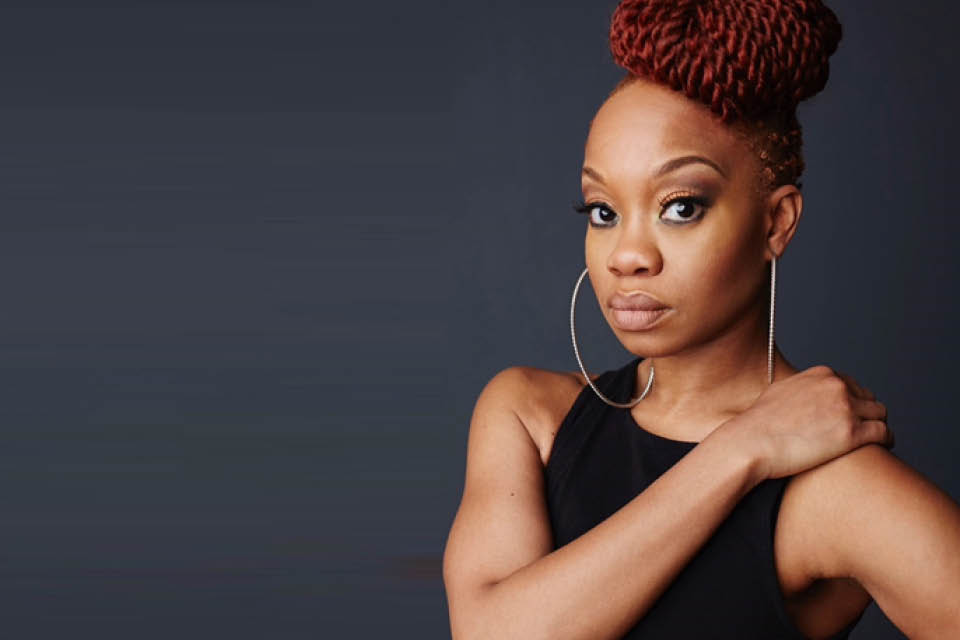 Brown is a four-time Princess Grace Award winner (2016 Statue Award, 2016 Choreographic Mentorship Co-Commission Award, 2013 Works in Progress Residency Award, 2006 Choreography Award), a Jacob's Pillow Dance Award recipient, a Doris Duke Award recipient, and a TED fellow.
She returned to UNCSA as a guest artist in 2015.
Dean of Dance Susan Jaffe said students are profoundly inspired by Brown. "She is an exemplary role model for what we teach: A successful dance career is built with hard work, discipline and passion," Jaffe said. "Camille's powerful and beautiful choreography gives voice to issues that she cares about."
Brown has created a trilogy of work exploring culture, identity and race. The first work, "Mr. TOL E. RAncE," won a Bessie Award (the equivalent of a Tony Award for professional dancers and choreographers) as Outstanding Production in 2014. The second work, "BLACK GIRL: Linguistic Play," was nominated for a Bessie for Outstanding Production in 2016.
Camille's powerful and beautiful choreography gives voice to issues that she cares about.

Dean of Dance Susan Jaffe
"With 'BLACK GIRLS,' I knew I was going to talk about black girls and black women, but it took the creative process to actually figure out 'What about them?' You can go in so many ways," Brown said. "I thought there must be something else that I can still contribute to this political climate, but something that can make people feel good about who they are. I decided to talk about black girls from our authentic selves through game play."
The third work, "Ink," which she developed as a Guggenheim Fellow, will have its world premiere at the John F. Kennedy Center for the Arts in December.
She is choreographer for the Broadway revival of "Once On This Island" which opens in November.
"Art is essential in a free and flourishing society. Artists are the visionaries who can shine light on complexity and possibility, and inspire us to make those societies more just and more beautiful," said Elizabeth Alexander, the Ford Foundation's director of Creativity and Free Expression. "This fellowship recognizes an extraordinarily diverse group of brilliant artists and innovators whose works embody social justice, and enables them to come together and collaborate toward a more just and inclusive future."
During a yearlong fellowship with unrestricted stipends, fellows will create work exploring questions of freedom and justice, which they will showcase in late 2018.
More about Camille A. Brown
Originally from Queens, New York, Camille A. Brown is a prolific choreographer who has achieved multiple accolades and awards for her daring works. Informed by her music background as a clarinetist, she utilizes musical composition as storytelling and makes a personal claim on history through the lens of a modern black female perspective. She leads her dancers through excavations of ancestral stories, both timeless and traditional, that illustrate stories which connect history with contemporary culture. Her versatility is effortlessly demonstrated in works that range from light-hearted ("Groove to Nobody's Business," "Been There, Done That") to spiritually based ("New Second Line," "City of Rain") and politically charged with comedic flare ("Mr. TOL E. RAncE") to personal ("BLACK GIRL: Linguistic Play").
In addition to the Art of Change, Guggenheim and TED fellowships, she has been awarded fellowships and grants from USA Jay Frenke & David Herro, New England Federation of the Arts National Dance Project, MAP Fund, Dance/USA Engaging Dance Audiences, Jerome Foundation and New York City Center Choreography.
She performed at the 2015 TED Conference in Vancouver, Canada and gave talks at both TEDx Beacon Street and TEDx Estée Lauder Companies. Her TED-Ed talk "A Visual History of Social Dance in 25 Moves" was chosen as one of the most notable talks of 2016 by TED Curator Chris Anderson, and has more than 15 million views on Facebook.
Additional awards include the International Association of Blacks in Dance Founders Award, Joyce Award with Dance Cleveland, the Mariam McGlone Emerging Choreographer Award from Wesleyan University and the City College of New York Women & Culture Award. She was nominated for a Lucille Lortel Outstanding Choreographer Award for "Fortress of Solitude" with The Public Theatre.
Brown is artistic director of Camille A. Brown & Dancers which strives to instill cultural curiosity, introspection and reflection in its audiences by providing outreach activities to students, young adults, and incarcerated women and men from local communities across the country.
In 2014, she founded two initiatives: The Gathering, an annual open forum for intergenerational black female artists to advocate for greater cultural equity and acknowledgement in the dance world; and BLACK GIRL SPECTRUM (BGS), a multi-faceted community engagement initiative that seeks to amplify the cultural and creative empowerment of black girls and women through dance, dialogue, and popular education tools. BGS had its inaugural symposium in 2016 with the theme "Social Dance for Social Change" at Dr. Barbara Ann Teer's National Black Theatre in Harlem, N.Y. This year Brown will expand the mission of BGS by launching two more initiatives – one focusing on young black men/ adults through gesture, step, and social dance, and the other connecting with homeless shelters across the country.
Her work has been commissioned by Alvin Ailey American Dance Theater, Philadanco!, Complexions, and Urban Bush Women.
She has numerous theatre credits, including "A Streetcar Named Desire" on Broadway.
Brown danced with Ronald K. Brown's Evidence, A Dance Company for six years and was a guest artist with Rennie Harris' Puremovement and Alvin Ailey American Dance Theater.
About the Ford Foundation
Across eight decades, the Ford Foundation has invested in innovative ideas, visionary individuals, and frontline institutions advancing human dignity around the world. It was founded in 1936 by Edsel Ford, the son of Ford Motor Company founder Henry Ford, with an initial gift of $25,000. Today the foundation has a $12 billion endowment, making $500 million in grants around the world every year.