High school composer's work premiered by orchestra in Berlin
The National Youth Orchestra of the United States of America (NYO-USA) is an extraordinary opportunity for any young musician. For Tyson J. Davis (HS Composition '19), the honor was twofold. His apprenticeship with the orchestra included the premiere of his original composition, "Delicate Tension," a piece commissioned by the U.S. Embassy in Berlin to commemorate the 30th anniversary of the fall of the Berlin Wall.
When Davis applied to the orchestra at the beginning of 2019, he was already familiar with the program from friends in the School of Music who had participated in previous summers. In fact, he saw the Carnegie Hall concert a few years ago that included sisters Emilia and Ella Sharpe.
"It's an orchestra, run by Carnegie Hall, with the top teen musicians from around the country," he says of the opportunity. He submitted the application for apprentice composer with two recordings of his work and within a few weeks, learned that he was in the program, along with two fellow UNCSA musicians.
Expanding his palette
Writing for orchestra is a particular area of interest for Davis, and he draws from the visual arts to explain the allure of the process. "Writing for orchestra gives you a larger color palette to work with," he says. Whereas composing music for a single instrument may be comparable to working with the color red, writing for larger groups of musicians like an orchestra "allows you to bring in shades of fuschia and burgundy."
The NYO gives young musicians the chance to learn alongside their peers in the orchestra through a series of master classes with guest conductors and a performance tour that includes Carnegie Hall and concert halls across Europe.
Davis' apprenticeship also included a mentorship with composer Sean Shepherd. "I learned a lot about the challenges modern composers face and how to deal with those in my own work," he says.
Commemorating history
Shepherd contacted Davis earlier in the year to tell him that the American embassy in Berlin had commissioned a piece for the 30th anniversary of the fall of the Berlin Wall—and to offer him the chance to write it. "For me to be an 18 year old composer," Davis says, "to have that honor was extraordinary."
He composed the piece over a period of about two months. "It was very little time and it was extremely intense," he recalls. "But, it was a challenging year for me and I poured all of that into the piece."
The piece, "Delicate Tension," is based on the painting of the same name ("Zarte Spannung") by Wassily Kandinsky. The feelings of the period following the first World War, when Kandinsky created the painting (1922), were also reflected in the tension of the Cold War, Davis says. "In 1922, artists were focusing on humanity and what it means to be human," he says.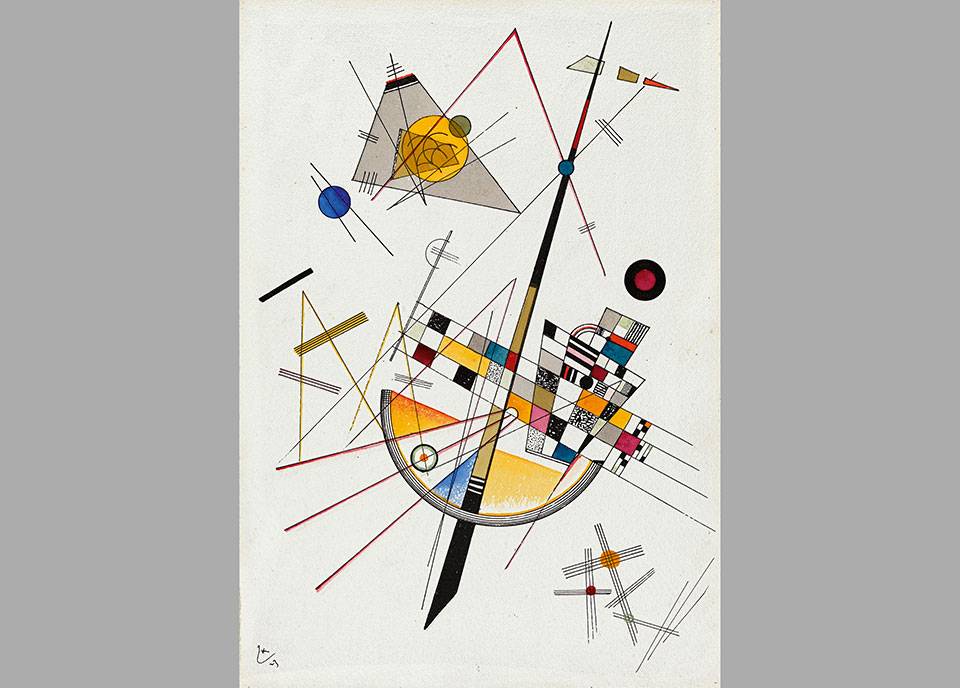 Listen to the recording of the Hamburg performance of Davis' piece "Delicate Tension," based on the Kandinsky painting of the same name (pictured), by the National Youth Orchestra of the United States of America.
"Delicate Tension" was performed by the National Youth Orchestra and premiered at the orchestra's performance at Konzerthaus Berlin on August 6. Much of Davis' preparation included rehearsals with the orchestra and working with a coaching conductor, as well as guest conductor for the Berlin performance, Sir Antonio Pappano.
In addition to rehearsals and one-on-one sessions, the days leading up to the premiere included meeting with officials from the U.S. Embassy and several interviews. One of those interviews included a camera crew and a trip around Berlin to see the city and its landmarks, including a portion of the Berlin Wall that still stands as a memorial.
"Going to the wall was eerie and incredible," he says. "You can still see a slight crevice where the wall once was, and to see the section still standing … you don't realize how tall it is." The structure, about 12 feet high and 200 meters in length, was imposing, he says, and filled with signs of the lives of people who lived on either side.
It's an important reminder of the meaning of his piece to remember the past. "We can never forget the past," Davis says, "because history can repeat itself." Current world events, he adds, underscore why paying attention to history is as important as ever.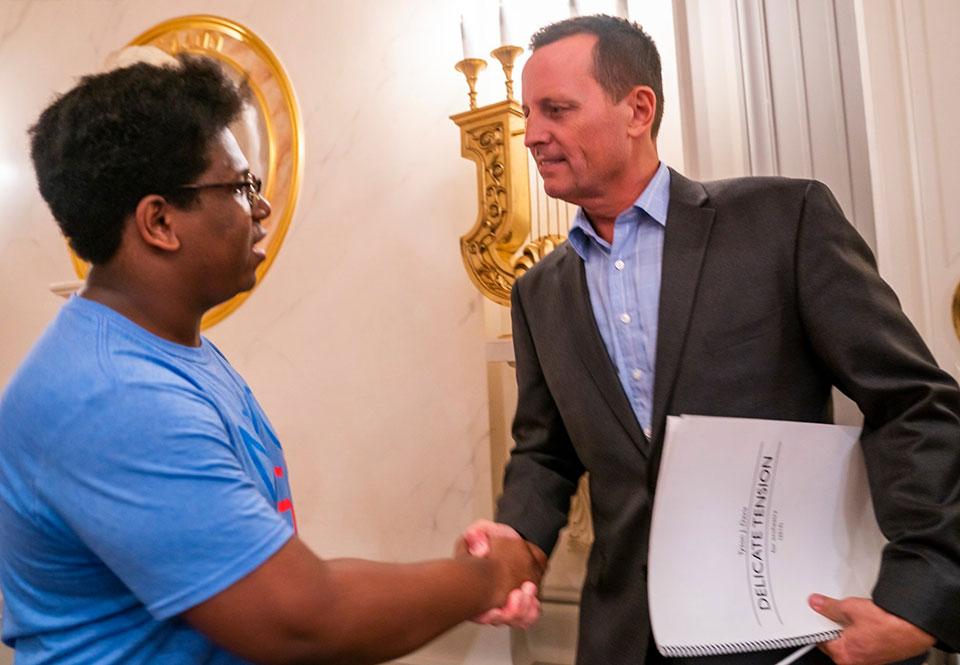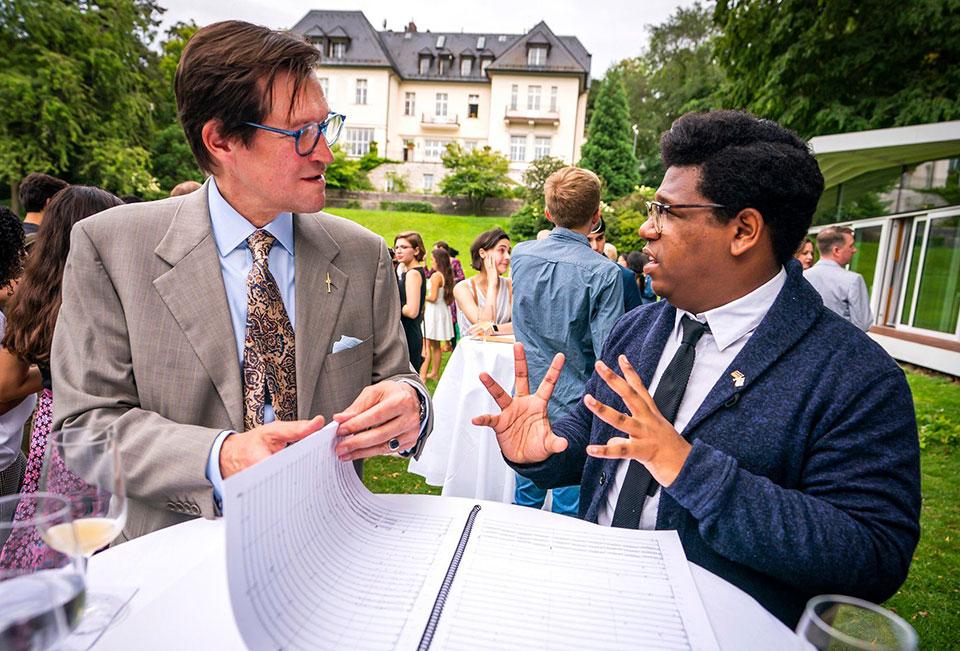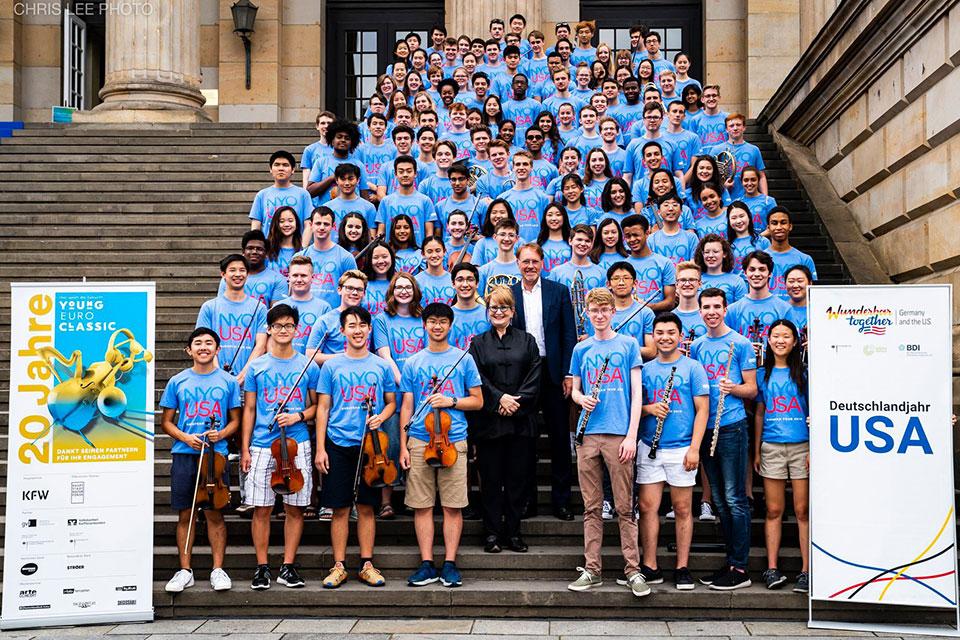 Moving forward
After wrapping up his summer with the NYO, Davis is now beginning his undergraduate studies in composition at Juilliard. In fact, he says, he has classes in the same room his instructor at UNCSA, Dr. Lawrence Dillon, did during his time studying at Juilliard.
Davis studied with Dillon throughout his four years in the high school program in the School of Music. "My time at UNCSA was an incredible experience that I'll never forget. I can't thank Dr. Dillon enough," he says. "It helped me grow as an artist and as a person. The things I learned there will continue to shape me."
That growth has influenced his work. "When I first came to UNCSA, I hated music like what I'm writing now, I didn't understand it," he says. "It's so raw, with in-your-face emotion."
But, he adds, "I started to open my mind to music more at UNCSA, to music that is more 'abstract.' Now, I write music that looks like a Kandinsky piece. It's more challenging, for the audience, too, but it goes deeper psychologically. It's extremely meaningful."
He's already moving forward at Juilliard and in New York, composing a piece for solo violin for a friend he met at a competition, and he is also considering writing pieces for solo piano or for piano and orchestra. The New York music scene, too, opens up a new world of possibilities.
What he's brought with him, though, are the friendships he's made along the way at UNCSA, music competitions, summer festivals and experiences like the National Youth Orchestra.
For Davis, those friendships are some of the most memorable and significant moments of his budding career. "I feel like creating friendships is so important and often, the significance of that is overlooked," he says. Through his work as a musician, he's made friendships that will last for years and will extend those moments indefinitely, into whatever experiences come next.